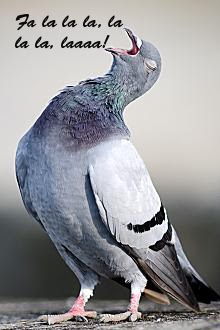 It was a Sunday evening and I had my feet tucked up under me on the sofa as I watched an episode of The Antiques Road Show with a nice cup of tea in hand.   Set in the beautiful grounds of Newstead Abbey, the once former home of romantic poet Lord Byron, the show had all the trappings of BBC loveliness.
 And then this happened:
Along came a lady with a framed print of a pigeon. This was no ordinary pigeon, oh no.  This was was , Now, this scrap of a bird was one of the few pigeons to win an award called the Dickin medal for bravery during WW11 for " homing from a crashed aircraft over Cologne although seriously wounded, while serving with the RAF in 1943." 
At first, I was moved at the courage of such a brave little pigeon; a species that we now try and annihilate or disable by putting spikes and sticky stuff on our buildings to rip their feet out.  Oh, how we forget! 
It was then that I noticed that at the bottom of this fine, framed print that the pigeon's name was misspelt as 'Colonge' and not 'Cologne'.  I have to say that this tickled me. At the same moment, BBC presenter, posh totty, Fiona Bruce spotted the very same mistake.
"Oh, It says here 'Colonge' and not 'Cologne'…. You did say he was called 'Cologne', I thought?"  Her sweet plummy tones oozing forth in momentary confusion to the woman with the picture.
"It's Cologne,"  said the woman flatly, the comment from Fiona sailing straight over her head like a Lancaster over a damn. 
Fiona, for a brief moment, was flummoxed and then in true British style carried on regardless. I proceeded to fall off the settee laughing. 
I am sometimes rather disturbed at the things I find hilarious.
Anyway, a few day later my mother called round with a proposition.
"I think we should go to a Christmas market again this year," she announced.
Memories of last years trip to Bruges, trolls on baubles and Hotel California danced in my head like painful reminders and I looked around for a quick exit. 
"I was thinking maybe Germany," she continued. 
"Will I be allowed to shout 'Achtung Spitfire!' in the middle of the market if I go?" I asked.
"No."
"But the Germans have such a great sense of humour and would love that kind of acerbic wit,"  I pressed.
My arm deadened as she hit me viscously and I thought that mentioning Basil Fawlty at this point would be a mistake. 
"I was considering Berlin, it has sixty Christmas markets!"  her face was all lit up at the mere thought of it whereas mine dropped and contorted into a mask of pain.
"No. No way am I traipsing round sixty bloody markets. It will be like Scooby Doo on a death wish passing the same thing every two seconds. Hut after hut after hut with the same woolly hats, wooden toys and gingerbread cake. Woolly hats, wooden toys and gingerbread cake.  Woolly hats, wooden toys and gingerbread cake.."
"OK.  I get it!"  she snapped.
"Unless you are prepared to drop me off at a Gluhwein station and pick me up later then it's a no-go. I'd rather go somewhere, pretty and medieval and smaller." And as I spoke the words it hit me; like the great god of antiquities had spoken and reminded me of the sign he had given me a few days prior.
"I want to go to to COLONGE"  
And so it was. And like most of my hell raising and disastrous trips when one 'Travels with Mother' I'm hoping that I too will have the ability to fly home in one piece. God knows I deserve a bloody medal.