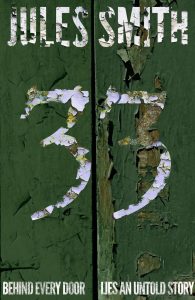 Jules Smith ~ 33 ~ brings you a collection of thirty -three, flash fiction stories offering a snapshot in time and delving into the many layers of human behaviour. Each tale exposing the rich tapestry of emotion that we all prefer to hide behind closed doors.
There's nothing quite as interesting as human behaviour. People are all about their public presentation and how well they are perceived to the outside word. But me, well I like to tear through those veils and pull out all the real human emotions and flaws that stay locked within.
Those of you who know me well or have followed this blog for sometime, are aware that I have an odd penchant for photographing doors from around the world. I don't know why, but I find doors fascinating; particularly really old, weathered doors that have stood strong against the years and been passed through by many.
Some doors stay barricaded; some are always open; some hang on their hinges bearing the tattered scars of life. Doors have stories and so do people.
My new book ~ 33 ~ brings you a collection of thought provoking short stories: sometimes dark, truculent or moving and at other times, cynically humorous. I guarantee there will be a story in here that resonates with you.
33 is a book that is suitable for ages from 20-100 and any gender which means I have thoughtfully got your Christmas presents for everyone all wrapped up. They'll even gift wrap and post it from Amazon leaving you with spare time to enjoy the festivities whilst everyone else trudges the streets with carrier bags slicing into their fingers. You're welcome.
So,
If you love me, you'll buy my book.
If you like me, you'll buy my book.
If you don't like me, why are you here? GET OFF MY PAGE! Go to another page – preferably Amazon and buy my book ~ 33.
Good karma comes to those who buy – Bad JuJu comes to those who don't…
Available now as a paperback or on Kindle from Amazon platforms around the globe.
BUY: HERE FOR UK –  BUY: HERE FOR USA