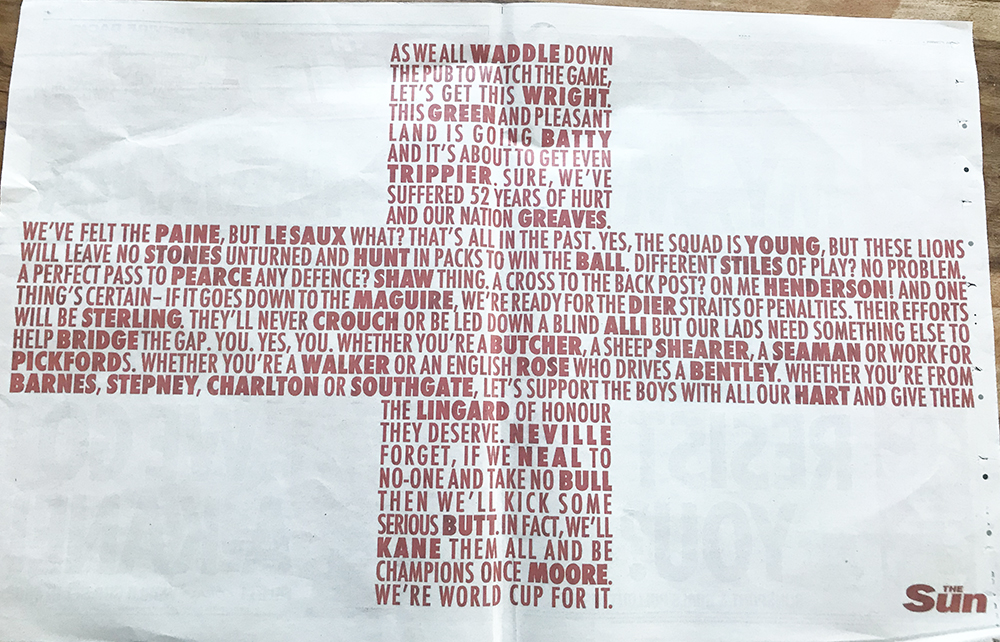 Satirical Snapshots Bringing You Whimsy And World Cup On A Wednesday!
Look, you know how I am about themes and it just so happens that the semi-final between England and Croatia falls on a Wednesday. Today.  At 7 pm.  And if we don't win I'm going to be atrocious. But we will.  And then it's the French in the final. I expect global positive energy from the lot of you tonight or we will be having words. The sort that needs soap to wash them away. 
Three Lions!
Talking of animals…
It has come to my attention that the small island of Jersey, south of England, sitting in the English Channel, has a problem.  In my opinion, it has a lot of problems as when I went on a short break with my mother there I found out.  
Jersey is very beautiful and you can only live there if you're a millionaire.  This often results in problems because very rich people sometimes don't know how to deal with reality.  On my trip I witnessed the following things:
1:  They have the biggest Lavender Farm. I insisted on visiting it because I am a big fan of lavender and all its properties. 
"Should we look up where it is?" my mother asked as we went to get in the car. 
"We are on an island no bigger than a shoe with the worlds biggest lavender farm," I scoffed. "I think we will be able to find it." 
No signs.  None.  Not until the point we were racing down a country road about to give up when I spotted a handmade wooden sign, four inches long, at a left-hand turn saying, "Lavender farm." 
"LEFT!"  I screamed as my mother swung the car into several doughnuts, took out a hedgerow and landed us safely in a field of purple.  I spent the next hour being treated with lavender balm for whiplash. 
2: Listed in "MUST SEE" things to do in Jersey was something called the Shell Garden. Intrigued at what this might be I suggested we visit.  I nearly asked for my money back from the guy sitting in his deckchair outside his house who charged me to enter his garden. Decorated completely in shells.  And not in a good way.  The most prominent feature being four decorated shell graves for his lost dogs, Itsy, Bitsy, Teeny, and Weenie.  No, I didn't make that up. You couldn't.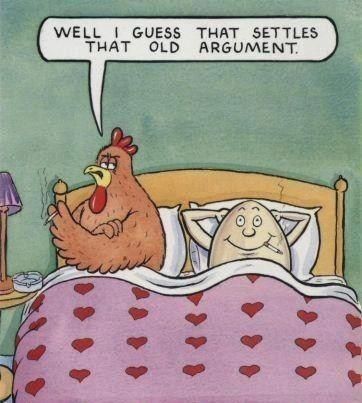 Turns out that Jersey is now overrun with feral chickens. Why? Jersey people have taken to having them as pets thinking it might be novel to have chickens and eggs and be all harmonious with nature.  But, when they start defecating everywhere and spoiling the garden the folks get rid of them by setting them free. This has resulted in more than one hundred feral chickens causing mayhem to the dwellers by wandering into the road, crowing at 3 am, and pecking at ornamental garden flowers. There are no foxes on the island so the situation is getting worse and causing major distress to the inhabitants.
Really?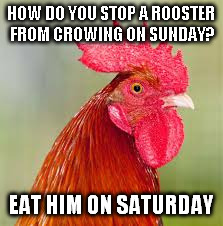 See, if you lived somewhere normal this problem would be seen as a gift.  There are a hundred Sunday dinners running around, a ton of scrambled egg and maybe somebody could open a feather garden and stupid people would pay to see it. 
Talking of cocks…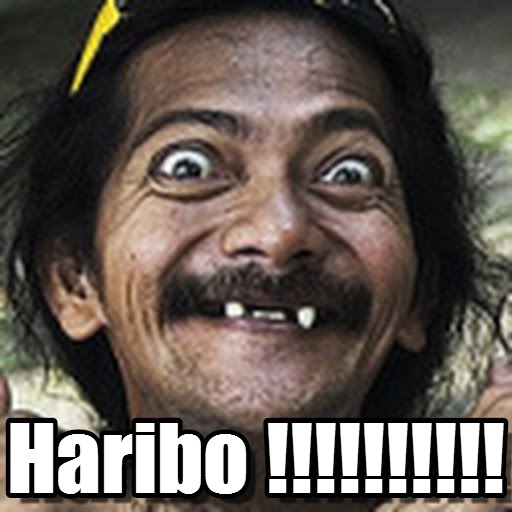 A naked jog pervert was caught out by a packet of Haribo's in the UK recently.  A guy has been jumping out on women and running alongside them in nothing but a pair of trainers.  I won't tell you what I would've done because that's another story. 
 However, officers found out he used to spy on women from a disused railway whilst eating a packet of Starmix and were led to him by an empty sweet packet and a receipt.  That should teach you not to litter and more so to be vigilant about the additives in your food because they turn you into a sexual deviant.  But, worry not, because sex addiction has now been classified as an illness (???) and is available for treatment on the NHS which is just what our struggling health service needs to be dealing with.
I don't know how this is treated but I've got a few ideas of my own. See there's a bunch of feral chickens need sorting out in Jersey and the people there need a touch of reality along with a much better visitors attraction than a bloody shell garden. Kerr-Ching.
You're welcome.