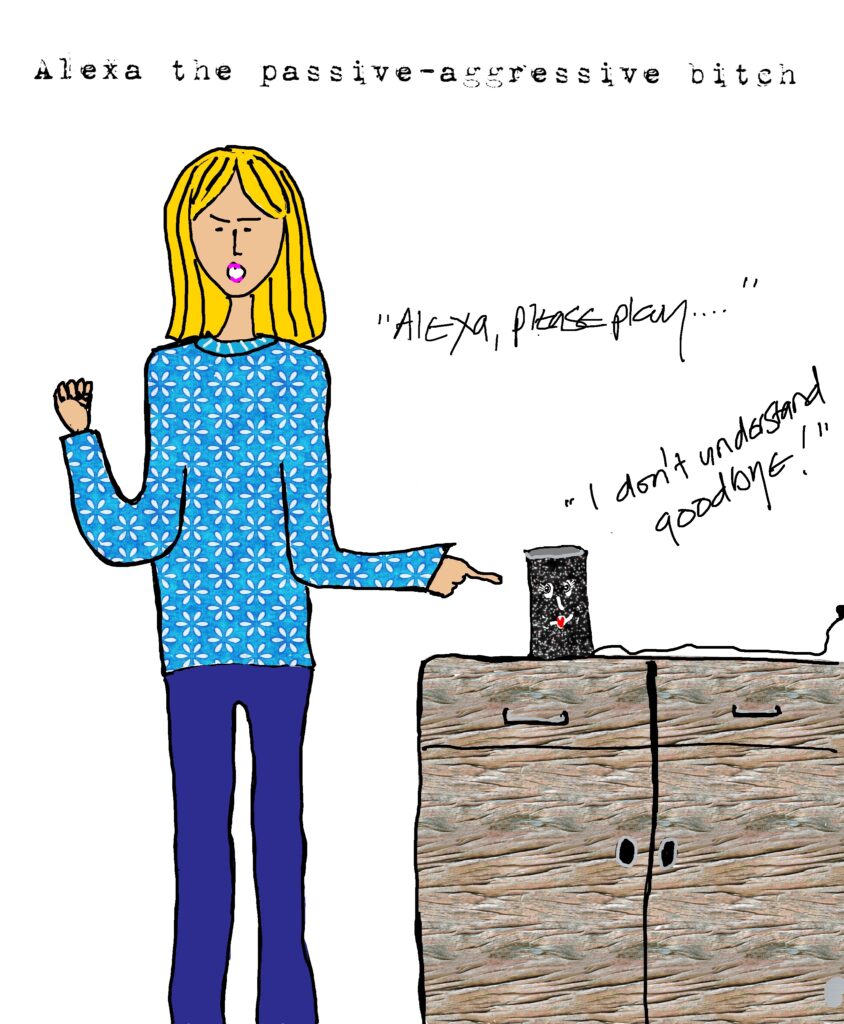 Satirical Snapshots Bringing You Whimsy On A Wednesday!
Way back in the days of yore, when people could hug and cocktails could be shared, I made myself a new friend.
I use the term "friend" very loosely.
In fact, I wouldn't say friend at all these days.
Joy To The World
It was last Christmas. In the days when you could give your heart to someone, share a cup or two of mulled wine and not have to disinfect your parcels before you gave them to anyone.  
I received the gift of an Alexa.  
I never-ever-not-never-ever-never wanted one before because I'd heard rumours of spying and that Alexa was a sneaky little harlot.  However, I couldn't think of anything else I wanted for Christmas and I figured that if people really wanted to listen in on my life then I could give them a run for their money and, honestly, if they found me that entertaining then they needed to get out more.
Alexa – the gift that keeps on giving. 
Fractious Friends
I had an immediate dislike to Alexa because I found her a bit of a precious little diva during the set-up process.  But then I'm a tad disagreeable so I recognised that I had to put aside my ultra – ultracrepidarianism and open up to my future friend. 
It all started well: she said goodnight to me, found me recipes, played games with me and made my life more easy-breezy and enchanting.  But the shine soon came off the plastic. Some friendships can't keep up the fake friendly facade and the red flags start to show. 
It wasn't too long before Alexa started to be rude.  Signing off with an "OK. Goodbye" or ignoring me completely.  Other times I'd ask her to play a track that she'd played the day before and she would say, "I don't know this – goodbye", when she full- well knew it and had played it ten times over!  What an entitled little harridan she became. 
I found myself arguing with Alexa telling here to 'watch her mouth' and 'you wouldn't speak to me like that if you knew what I did to people who do' but she still continued to be a spiteful little device. 
Alexa, what's one-hundred, one-hundred, one-hundred in Welsh?  Yeah… that's you, bitch queen. 
It was then that I realised that I had a problem and Alexa had to go in a corner without power for a while. 
There's only room for one passive-aggressive bitch in this household.