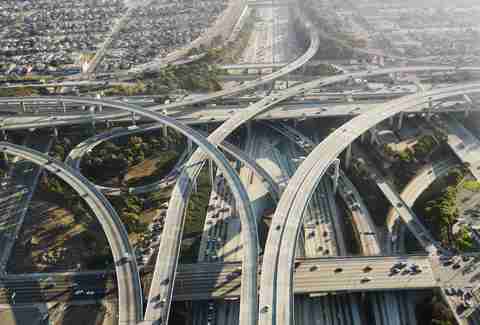 Satirical Snapshots Bringing You Whimsy On A Wednesday!
I am concretely towned out. From my concrete balcony of my concrete building I sit and watch the cars travelling along the concrete highway and feel frazzled. I think I should go camping in the countryside to even out the balance.  Or glamping.  I need a nice pillow in order to wake up civil. 
Talking of Road Trips…
Everywhere I go in Texas they are building another road. I don't know how many roads are needed in America but it seems to be somewhat excessive. I'm baffled as an English person on how roads work over here: You have a highway. Next to that you have a frontage road. Both are going in the same direction because American infrastructure is built in squares. Then you have a flyover, which, just as luck would have it, is also going in the same direction. One might consider taking the road less travelled but there doesn't seem to be one. I am totally confused. 
The Holy Grail of Endless Retail
I have come to accept that everything in America is in a strip mall which we in England call retail parks. You have tons of these and we have few. Generally, in the UK, everything is huddled in one place in the town and you walk around getting what you want from clothes to shoes to pubs to restaurants, etcetera. In America, you have to find the correct retail park and there is one after another after another. 
"I want to go to Pinto Ranch."
"It's in the strip mall"
"We've just passed 75 of them…"
"It's in the 80th."
"Oh.."
Strip malls, I have found, have no rhyme or reason to them. You can have a cafe, a reclining chair shop, a place to get a nice smile, a clothes shop, a fat reducing clinic and so on.  It's pot luck on what you're going to find apart from one major mainstay. 
The ubiquitous Mattress shop.
Seriously.
Every single strip mall has one. 
Why?
No Sleep For Leaf Blowers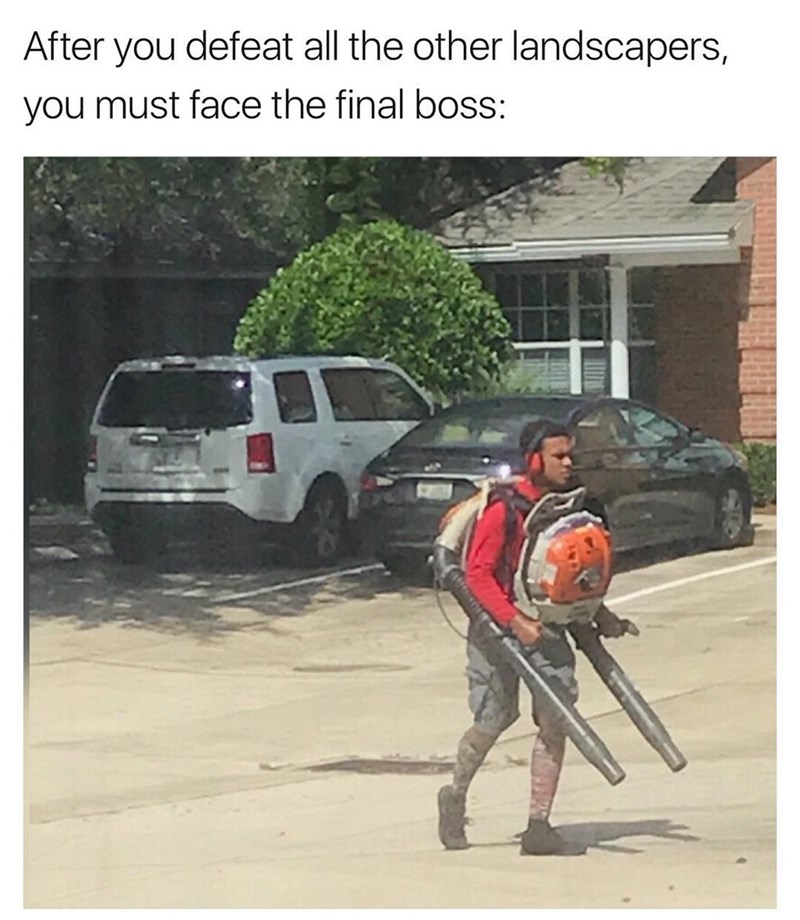 Is leaf blowing a disease?  I think it is. Never in all my days have I seen so many leaf blowers in my life than I have in America. Since I usually come to the States in Spring or Autumn I have accepted that blowing leaves away was somewhat justified given the time of year even if I did find it a little over the top.  However, here I am in the height of summer where every single leaf is stuck to a tree and yet they are out in force.
I marvel at this madness as guys come out daily in competition with their thundering machines, sometimes two in each hand, blowing God knows what away into the abyss. 
I have noticed that the most aggressive blowers seem to be very short Mexicans. They can't seem to stop.  Maybe we have a Napoleon complex going on here and the rip-roaring growl of the phallic leaf machine gives Mr. Shorty a sense of manly prowess. 
FAIL.
Really? Go and buy a muscle car, mate. Drive it hard and fast along the endless highway and go and treat yourself to a nice mattress. Feel free to take your leaf blower to bed with you, do us all a favour, and knock yourself out. 
Talking of Mind-Numbing Activity…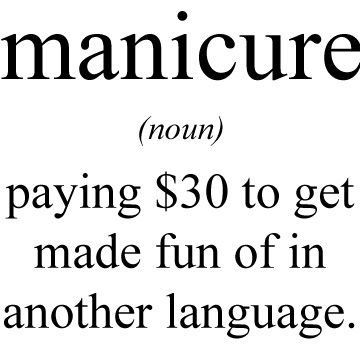 In pursuit of calming therapy I visited the nail salon for a pedicure and manicure. The first time I went to one of these in Austin, TX, I got raped by the mechanical chair.  Most unfortunately, Fortunately, this didn't happen again.  The massage chair stopped at my coccyx then took a fast run up my spine like a dodgy rollercoaster to the back of my head and began to beat the crap out of my frazzled brain.
"Errr…can we turn this off before I have an aneurysm?"
"Sure lady, you relax – relax.  Putting feet in water!'
"OW! Water very boiling!"
All nail salons are peculiarly run by Koreans or Chinese and I find myself stupidly adopting the accent when in situ and I don't know why this is. 
I also sit there listening to them talk to each other and find myself mouthing the words without realising.
"Lady, you say something?"
"Oh! Err… no! haha!  Just errr…practising my face exercises!"
"Where you from? Australia?"
"No, England."
"Australia very niyyyyce!"
"I'm sure it is."
"You lika the kangawooo?"
"Yep. Goes great with Yorkshire pudding."
Don't you just love peoples listening skills?
"What colour you want?"
"Red"  This is me now being deliberately pedantic because nail salons have at least 456 variations of red.
"Maybe you wanna try somethin' differennnt.  Maybe the green or sexxxxy blue."
"I have an aversion to gangrenesque phalanges.  I'll stick to my Australian class."
"You very funny. You wanna drink?"
"Sure, what ya got?"
"Sprite (obvs) water, wine – red or white."
The Brit in me is unable to pass up on free alcohol so I asked for a red wine.  I should have known that this was a mistake because a nail salon is not going to be offering a nice glass of Elvivo Cogno Barolo, but I was tragically exhausted and not thinking straight.
Out she came with a white wine.
"I bring you very special white wine, lady."
How pleasantly surprised I was to be given something I didn't want. Not to be rude I took a sip and instantly regretted it. How I inwardly curse my English manners sometimes. Warm, cloying cheap-as-chips wine that wouldn't even pass a dehydrated urine test. Yum.
"It's good, yeahhhhh?"
You are a psychopath,  Name me a good Asian wine if you would, missy,  I absolutely frikkin' hate it and you for giving it to me, Where can I spit this out where it won't blind anyone? 
"Delicious."
Talking of Whimsy…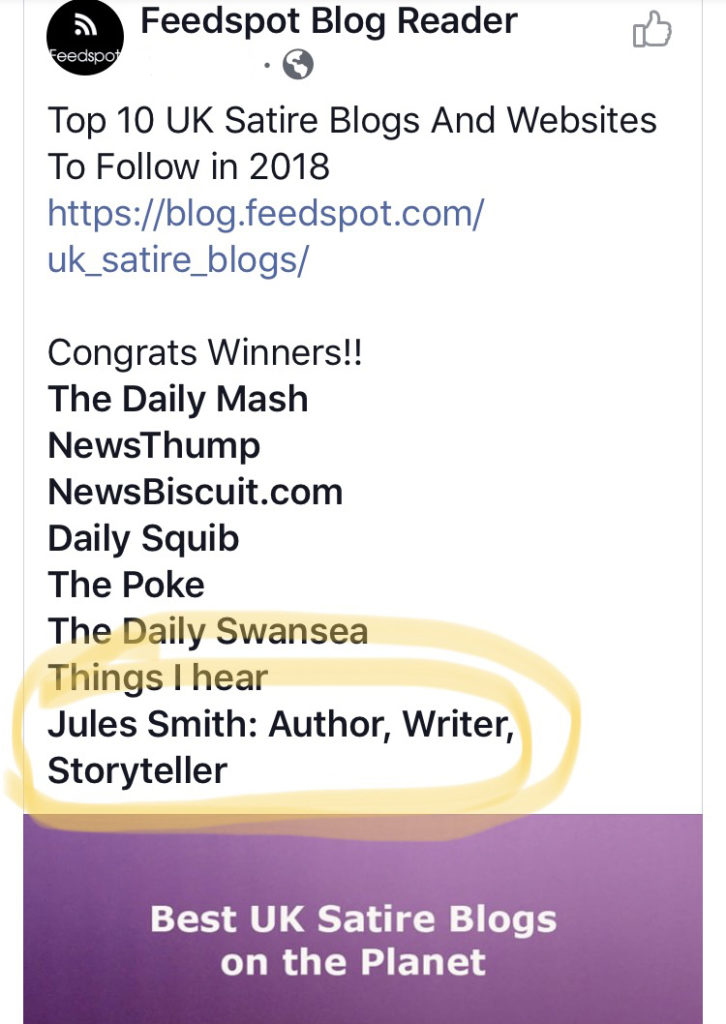 I have recently been informed that this here blog has been listed in the top ten of Best UK Satire Blogs on the planet.  
Sadly there wasn't any cash prize, trip to Bora Bora or golden trophy but it's very nice to be acknowledged after ten years of bleeding snark out onto a keyboard and I'd like to thank everyone who has supported me over that time.
I'm only saying that because I now have nice red nails, my teeth are bleached beautifully white from the acid wash at the nail salon and the resident leaf blower is off sick which has put me in a good mood. Count your blessings.