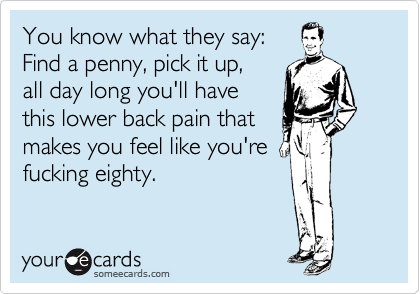 Satirical Snapshots Bringing You Prolific 'Off Piste' Posting!
Look – there are things on my mind and if I don't get them off my chest *looks at chest – can't see things – what a weird saying. I digress…* then I can't concentrate on the million and seventy-seven proper things I'm supposed to be doing. Don't worry, you'll still get your Whimsy On A Wednesday – I already have it prepared. THAT'S how good this week has been already…
So, let's roll.
Back At Ya, Jules!
I hurt my back. Viciously. It happened on Thursday evening. Thus, my whole weekend has been totally ruined by disability and has caused me to fester and over analyse everything in the world. I have answers to every single problem on the planet – Go on – ask me!
On Saturday morning, after realising that paracetamol, rhubarb gin, my heated car seats and walking like a supermodel and yelling at everyone wasn't working, I made an appointment with Physio The Rapist. Oh yeah.
Out strolled a gigantic, Amazonian woman. Brilliant. She isn't gonna take any prisoners, is she?
"Juliette," she snipped. "My room."
Whoa…steady on chickadee. I ain't down for those kinds of games…
"How have you hurt your back?" No small talk.
"Dunno. I wouldn't mind if I'd fallen off an 'oss or a pub stool or danced myself dizzy in a den of iniquity, but no.  Didn't do a thing."
"You must have done something. Explain to me the day it happened."
Sheesh…strict!
"Well, I sat bleeding at a computer as usual. Not at my normal desk though. And I wasn't on my normal, spinny, I look like a bossman chair, no. I had to sit on a hard dining chair at an angle cos I couldn't get my laptop on the desk properly."
She took a sharp intake of breath and shook her head.
"And then I walked for 45 minutes to meet my pal at the pub in ill fitting cowboy boots. Well, they're not so much ill fitting but they aren't trainers. Still, they're the only ones I can get my Texan blade tucked into should I want to peel an apple."
"It's the desk. Sitting awkwardly will have caused serious spasms." I wasn't going to argue with her because she looked the sort that was well up on spasms. Besides, that meant walking in cowboy boots is OK. Like.
Protects Boots, Nearly Pukes And Leaves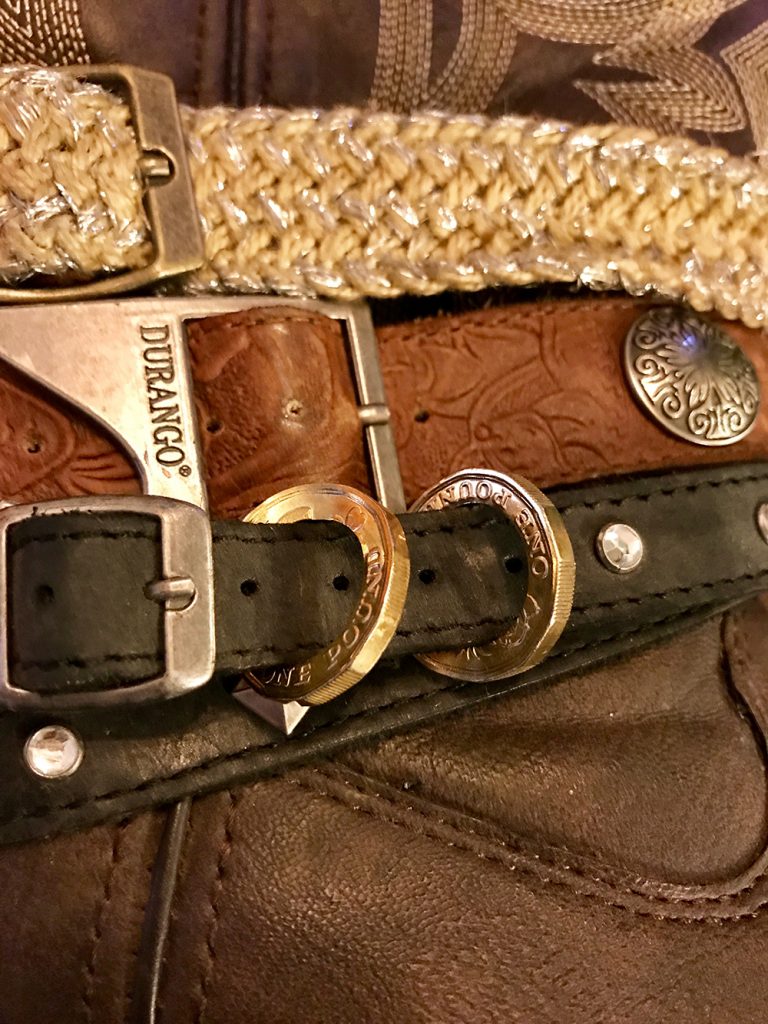 "And the boots. This is still stupid."
"Err, hold on a minute, love. Nobody calls my boots stupid. They are a work of art with shot pound coins and all manner of memory trinkets."
"Walking for this length of time in bad footwear will bring you problems."
GASP! How very dare she call my bewwwts, bad footwear! I nearly strode out but didn't have a stride in me. Walking at a snail's pace was effort enough."
"Lie down. On front."
"K…"
"This very bad. Whole of left side is locked. You will need at least four sessions before OK."
Oh yeah…This equates to 'I need at least a ton twenty in cash to make it worth my while,' therapist talk.
"Look, just go for it and let's see how we go. You can't hurt me, I like it hard."
Dear Lord! Pain? I nearly puked through the face hole in the bed onto her gigantic feet.
She made it worse. Evil Dark Queen. Now I really do have to have four goes on the medieval punishment rack in case I break.
Talking of break…
The Kindle Swindle
It took me a long time to embrace the virtues of a Kindle. I'm very much a paper person. I like proper books and refused to be modernised. But then, with all the travelling I am forced to do, sigh, I realised that too many books were taking up essential shoe space in my luggage. Hmm.. I conceded and asked for one for Christmas. If you don't buy it yourself, it doesn't count against your principles. Of which I have many, obviously.
I didn't use the bloody thing for four months. I didn't like the feel of it. If you've got one, you'll know what I mean. It feels like rough toilet paper. Or something. I ignored it. This resulted in the person who bought it for me, taking it away! Rude!
"Gimme my Kindle."
"Why? You don't use it so I am."
"D'ya want a fight? Fine. I'll use it. Give it back now before I feed it to you. " I downloaded 36 books in the space of an hour to make a point. Then I got the usefulness of this funny little tablet.
So, what does it do? It goes and breaks. Well, I'm not sure if it was really the fault of the product or the fact I couldn't remember which charger ( of the gazillion wires I have in my study) went into it. Having forced a few contenders, it ended up with the real one not going in. Bugger. Broke the port hole.
Amazon – Your Friendly Online Store
I've had a few run ins with this place because of the following:
*They once made me pay some Prime membership that I never asked for.
*They once sent me a gavel (oh yes, it's true) instead of sending me a  Zen singing alarm clock.
*They delivered a whole pile of my books to the mad old bint down the road with the three legged dog and an aversion to strangers wanting their books back.
*Getting hold of them is the most painful experience ever.
Still, they're the only ones who can mend the Kindle. Well, apart from some dodgy bloke just outside Gatwick airport who reckons he can sort it out but I didn't like his ballsy tone and the way he dropped his H's.
The Online Chat.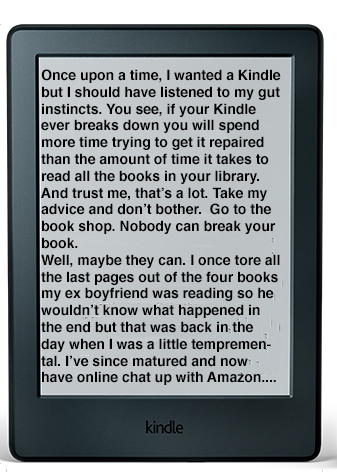 Thankfully, not the chess chump sort but just as irritating.
After several wasted minutes trying to rip through the site and actually find someone to speak to, I got the chat line. For Kindle.
'Hi- Kindle's broke. Can you mend it?'
……. Vehesteen is typing………………………………………………………………………………………………..
…………. Bloody Hell, Vehesteen, have you only got one sodding finger? Crack on!
………………. No Joke. Siri has learnt new curse words because of me. Well, because of Vehesteen.
'Hello. My name is Vehesteen and I am here to help.'
I KNOW. I CAN READ.
'Cool. So, my problem – can you sort it?'
…………………. Really?
'It is very nice to meet you, Jules'
I'd like to say the same but FFS……
'Right. My Kindle, V, it's bollocksed."
'Would this be the Jules Kindle?'
No – it's Harold's – what do you think?
'Yes, V. That will be the one."
"Let me just check. Two minutes.
………………LIES…..ZZZZZZ…..LOSING WILL TO LIVE HERE………FEEL ONSET OF STRESS INDUCED HEART ATTACK…………..I COULD HAVE WRITTEN A BOOK BY NOW…….
'Hello, I'm back.'
Hello. I'm pissed off.
'Great.'
'You have to go to the UK centre we are in US.'
'But I WAS on the UK site! Why would I come to American Amazon? Besides, I don't know what bloody time zone you're in but it's night – night time there!'
'The link automatically brings you here, but here is the UK link."
So help me God.
I had to go through it ALL. AGAIN. This time with Marihinsia who, I believe, didn't actually have any fingers and probably types with a carrot.
'Can you give me the Kindle serial number.'
'Where's that? Can't find it.'
'On the box.'
'Not got the box. Why would I keep the box?'
'Go into settings on Kindle and into device info. It will be there. '
'Right….'
Kindle battery low. Yeah, yeah I know. That's cos I can't charge you because you went and broke. I found it and started to type it in the chat box to Marihinsia.
'G190 …….' Sudden Kindle death. Kaput. Fin. 'Err.. my Kindle just died.'
'I need this to verify product.'
'No. No, you don't, M. I can't give it to you. Just fix it. You'll know it's mine when you get it. I wouldn't send Harold's back and pay to get it mended, would I now? I cannot stress enough how close to the edge of violent frustration I am right now. I may self-combust.  Go and get a supervisor or the Kindle man, whatevs, but get me someone who is going to sort this out.'
'I will be back shortly…………………………………………………………………………………….
………………………………………………..Maybe in twelve years…….before one of us dies………..or the ice age begins……….and Bruce Jenner is President…………………
I got so annoyed that I stood up very quickly in utter frustration, pulled my already pulled back, dropped my laptop and lost the chat connection.
I never wanted a blasted, stupid, horrible Kindle in the first place.