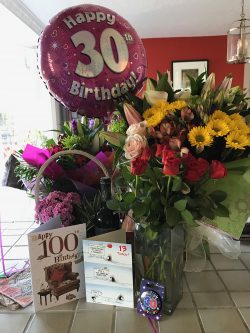 Satirical Snapshots Bringing You Whimsy On A Wednesday!
It's all about me.
This week is mine because it was my birthday t' other day which always lasts for a week. Activity after activity.  I'm completely worn out already and it doesn't end until Sunday.
As you can see from a section of some of my well wishes, people are a little confused as to my age. Am I 13, 30 or a 100? Looking at that armchair, pair of slippers and  glass of fine malt scotch, I think I'm happy to take a century.
I don't know how these people dare be so cheeky to me. Their cards have been marked.
Phoenix nights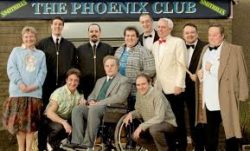 For those of you that aren't from the UK and may not have watched this show, let me explain.
Phoenix Nights is a British sitcom about a working mens club in northern England.
A few of my friends and family threw me a surprise party at such a place.
So, I got randomly invited to a "country night" at this local Miners Welfare by someone.
"What? Why in the hell would you want to go there?' I asked.
"It'll be a laugh! Come on!"
"No, it won't. It's not like a Honky Tonk in Texas, you know. It's a shithole down the road."
"So what! They've got a gig on, let's have a look. We can go and take the piss and leave if we don't like it. Wear your cowboy hat."
I arrived at the said venue just to appease. When I walked inside there sat loads of my sneaky friends.
"Surprise!" You can say that again.
Apparently, before my arrival the "locals" were very sour -faced and most put out at a gang of rowdy revellers arriving. My clan had re organised the room creating a big circle of chairs and stealing tables for bottles of champagne, cakes and pressies. Bit like a wagon circle protecting themselves from Injuns. They were told under no uncertain terms, several times,  that there better not be any noise when the turn came on.
Well that worked out well. Half way through the night after line dancing on the wooden floor as "Travis" belted out his country classics on his bass guitar, I noticed that half of my friends were missing. I went in search only to find them huddled together in a quiet room in the back of the club.
"Are we boring you?" I asked.
"No! We got asked to leave for making too much noise. They've put an old geezer on the front door to stop us coming back in!"
My friends got barred from the Miners Welfare Club. Priceless.
In next weeks episode
You will be pleased to know that somebody bought me some horse riding lessons starting this Saturday. Cleverly booked on a morning right after a cocktail bonanza with my friends in the city the night before. Hungover on a horse may not be smart. However, I shall be taking my GoPro so I can show y'all next week how much horses hate me.
I'm now off to a spa all day. The last time I went to a spa I set fire to the table. Being the genius that I am, I tried to put the fire out with a paper napkin. You can imagine how that went.  I got asked to leave.
Getting barred from the most unlikely places seems to be a theme…