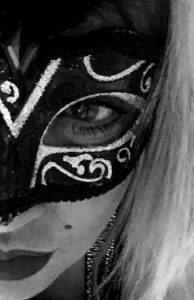 Oh, well hello, and fancy seeing you here, big smile, winky face, you need to pull up a chair, dear.
And please, ignore my common mask all painted up and pretty, that's just to keep you feeling safe, to make you think I'm normal, cos underneath the usual is really rather gritty. The joker smiles and don't you know, that on the whole, I find it kind of funny – oh there's a pun! Why thank you, hun, yeah this one's on the money. No matter if you're close enough or even really far, I'll assess you like a buyer might a classy, pricey car. I'm noting those reflections and the way the alloys spin, and I'll enjoy the show, cos that's all it is, charades, charades in buckets and spades, but honestly I'm more intrigued with what's going on within. So take a pew, just me and you and shoot some whisky with the breeze, keep up your easy, playful style and I'll pretend so effortlessly, that I can't see the wood for all the monkey trees. Are you sure…really sure? Well hello, Jackdaw! Tell the barkeep to line me up another full score. Keep it coming, don't be wary it's a game of give and give and a dozen Hail Mary's; a social kind of interactive tennis match of fake, but darling let me tell you that will be your first mistake. Are you strong? Courageous? I implore that you are; like a dirty, jacked – up pick-up truck complete with steel bull-bar. Cheers! Clink glasses, to health and to happy; mundane, mundane and years all the same- I'm bored with all that, care to show me your pain? Let me see you, tell me do, it's safe in this harbour, OOPS! Did I just spot a chink in your armour or is that amour; let me push this some more. Well, you opened up a crack in the the great guarded door! Good lord, pardon me, did that make you sore, when I poked at your fleshy parts with my double edged sword? But I'm certain I saw it, that glowing red button, and should I press it will I get an almighty explosion, ejection or ejacul….WHAT? You really think I push boundaries without hesitation? And all of a sudden I have your attention. Let's quickstep this through and I'll spin you anew, the perfect, whirling, deflective dancer for if you ask me a question you won't like the answer and I can't have that and you letting me down, so down, I can feel the frowning despair and I might need to call my emergency clown. I might feel inclined, so very in fact, if that's how I'm going to get into your mind. Cagey and cryptic, that's what you spin, but I just took your bishop whilst you played at mystic and now we're this far, this far but still left in the dark till the night becomes morning but I tend to get restless so don't leave me yawning; monotonous time and its usual ticking and ticking and twirling my locks when I'd much rather be jumping adventurous tocks and taking my angle from outside the box. Chin chin! to another, has it made you feel dizzy? And whilst you were busy running the gauntlet, I don't want to flaunt it, but you should have thought or you should have said, oh dear, well here's to the death of it, 'Off with his head!' But sure, I'm just playing, here look at my smile, it's always best kept in a jester style status so that this situation stays inviolatus.
Awkward Annie they call me, but what's in a name? And my black and white board's always set for the game.