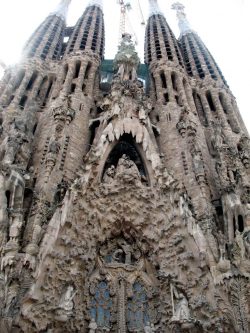 "What do you mean your purse is gone, we've been WATCHING OUR BAGS, it's not possible" I said at double speed, in disbelief.
We checked the tiny handbag, again and again (just incase) I began to pat myself all over (Why?) incase it had somehow, as if by magic, found it's way onto my body. But no. The purse was gone. The purse, 400 euros, 2 credit cards, a debit card, a driving license and an E111. The whole kit and caboodle. Destitute before we'd even unpacked.
"I've been robbed, robbed, it's all gone" said my Mother.
"We need a credit card for the room please" repeated the receptionist.
"What IS the spanish word for 'Empathy' " I asked as I tried not to throw my credit card at the lovely sinorita.
I was incensed that my Mother had been pick pocketed right in front of my beady eyes. I thought of the journey and who could have done it.
"It's that MAN. The well dressed man, who helped you with your case, YEAH.. WHILST HIS OPPO nicked your purse!"
See how I deduced that. Sherlock.
Whilst my Mother spent hours in our room, cancelling all her cards and begging for money to be delivered to Western Union, I nipped downstairs to get a well earned beverage for us both.
"A jug of sangria por favor" I said to the waiter "And make it a good one" I added with a wink. Trust me, this sangria was so potent I made him write down the recipe for medicinal purposes.
Two hours later, with a future mobile bill from hell, my Mother had managed to secure a transfer of money and cancel her cards. Next stop- police station.
We decided, as it was now 10 pm that we'd get a taxi. I threw my bag, phone and card into the safe and stuffed some cash into the pockets of my tightest jeans. Even Boy George couldn't get her frisky hands in there.
The Argentinean taxi driver listened intently as my Mother told her story. When he dropped us at 'The Ramblas' he said "Be VERY careful. VERY BAD PEOPLE on Ramblas. Knives"
"Oh goody. Just what I wanted to hear mate" I replied with a smile.
Off we went through the hoards of revellers. I clutched the arm of my Mother as though she were a 4 year old and gave the black eyed stare of a psycho vigilante, to anyone that came within 5 feet of my aura.
First stop – Western Union.
"Watch your passport" I urged as my Mother collected her money. I stood, like a hungry Dobermann, waiting for potential robbers/murderers/nutters/etc to attack. I think I have mastered the ability to instill fear.
Then we had to find the police station. The on duty copper, behind the desk, was far more interested in the pert little arse hanging out of a g-string style pair of denim shorts, of the blonde girl as she was leaving the building.
After writing down our incident with about as much enthusiasm as a teenager on a saga trip, he told us to wait in a large room opposite. A bland room with chairs, a clock and white walls. Have you ever played eye spy in a Spanish police station? I have. With very little to go on we had to really use our imagination. I have to say I've played easier games of chess. It took two hours and several trips back to the police counter before they decided, in their wisdom, to let my Mother fill out the form herself. It took them two hours to come up with that solution. Awesome.
I've got to be honest, at this stage I wasn't feeling the love. Though the sangria was helping, I was weary, annoyed, upset and hoping that the robbing bastard was choking on his tapas.
Eventually, at some point past midnight, we crawled into our beds.
The next day, I decided that though vigilance was the word of the day, I was not going to allow the incident to ruin our weekend. So, here's what I loved about Barcelona:
One of Gaudi's houses. The man is genius.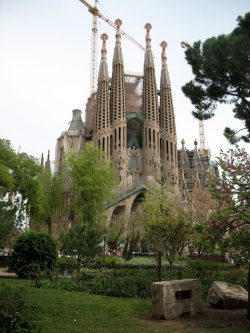 Sagrada familia. Like something out of a fairy tale book. I loved it.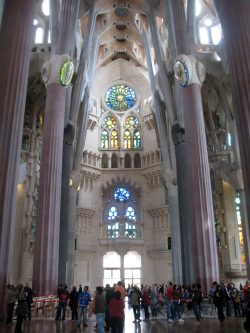 Just look at the inside. Supposed to resemble a forest as Gaudi took his inspiration from nature. Did I mention that I love him?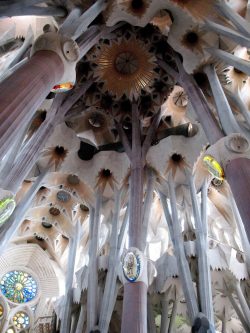 Just LOOK at that ceiling. The detail! I know, I'm obsessing.
Just one of the many sculptures built into the crevices.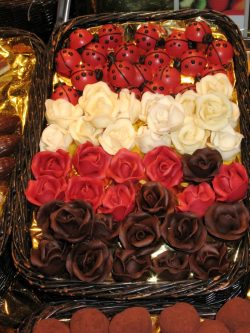 All of a sudden I was distracted by chocolate.
Food can be very artistic, don't you think?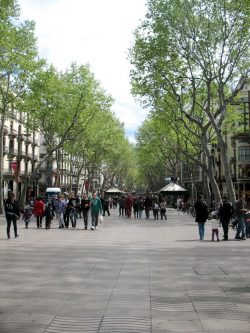 La Ramblas. Very bad people. I think it's ok if you watch your bag.
The harbour.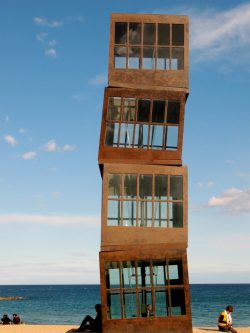 A marvellous, arty construction on the beach.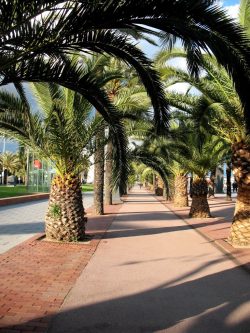 Doesn't this just make you want to walk down the street!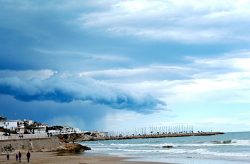 Sitges. A beautiful, little seaside town, half an hour by train from Barcelona.
See that storm coming? I got soaked.
Highs: Barcelona is beautiful city with with wide boulevards, fabulous architecture, wonderful food (and sangria) cheap metro travel and oozing with culture.
Lows: Watch your bag. Oh, and listen to your parents even though they don't practise what they preach.