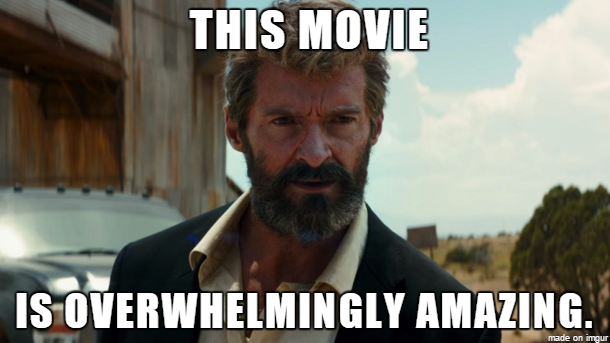 Satirical Snapshots Bringing You Whimsy On A Wednesday!
I've been watching a film for days. I can't remember what it's called or what happened in the beginning; I'm also pretty much lost as to what went on in the middle. I could have sworn that the main character's name was Bill but it turns out it's Ben. However, since I've had the odd margarita, grown an inch of hair and aged considerably since then, forgetfulness is to be expected.
See, I started this movie when I arrived in America last week and due to the INSANE amount of commercials, it's still on. I mean credit where it's due, you certainly get value for money. Who knows, maybe the TV company are on a pigs back and just keep rolling this film out on a loop because it will take weeks before anyone figures out what the hell is going on.
Talking of value for money…
However, I have learnt something much more valuable than whether or not Bill or Ben make it out alive and get the girl. It has come to my attention, mostly because I have been browbeaten by it after every ten seconds of Bill and Ben's adventure, that everything in America costs $19.99.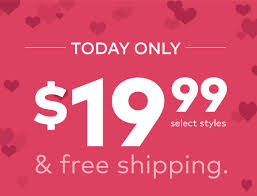 The first thing you need to buy is the youthful hormone drug. Starting here is key because you can live long enough to try out all the fabulous things that are on offer for the fascinating, one-time offer price of $19.99. There is a slight chance you might die of the many side effects but there's no risk without reward and you will be transformed into a super-gadget-maestro within days.
Unless you shave….
Whilst you can have the best double-edged razors for the rest of your life for only $19.99, there's a pay off and you might want to grow a beard instead. The man selling them insists they are the sharpest thing you will come across; unfortunately, he is not and if he ever had any razor-sharp wit, he clearly rinsed it away with his bristles. Evidence would suggest that shaving with these razors scrapes away all of your personality and leaves you as dull as dishwater. Don't get me wrong, the guy is a silver fox with a very young face and has obviously been popping the youth pills, but I'd prefer it if he cut his tongue out. Maybe I'm being harsh here and it's nothing to do with his razors and he's actually been watching the same film as me and lost the will to live.
Talking of sharp…
The next on the list is the double-action knife sharpener. There seems to be a "double action" theme amongst all these products that you can buy for the amazing price of just $19.99 but not the sort you might be craving. Anyway, this knife sharpener is the biz-nizz. Not only can it sharpen any given knife, it can also sharpen your credit card and slice right through a juicy tomato. Well, I was blown away by that.
Just imagine, if you could just humour me for a moment, that you lost every knife in your kitchen…it could happen… Shrug your shoulders, fish out your wallet, slip out the old Visa, give it a quick swipe through the double-edged sharpener and hey presto, you've got yourself a lethal weapon. Personally, I think this should be marketed differently and they should think outside the box. You could sell this gadget for double the price if you marketed to guys with the strapline, "Next time your misses takes off with your credit card, the bitch will lose her fingers!'
Talking of marketing…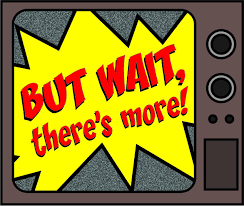 The amazing products for sale at the spectacular price of only $19.99 come with so much more! Not only do you get one but you GET ANOTHER ONE FREE! Not to be pedantic or anything but since these are sold as "lifelong lasting products or your money back" why do you need two?
Did I mention the FREE SHIPPING? No? I'm sorry, I was mesmerised by the best bang for your buck – and no, I haven't skipped TV channels though it would be interesting to see how long an orgasm can last on American TV.  As tempted as I am, I can't leave Bill and Ben hanging now we've gone this far. I'm sorely tempted to buy them the pills with FREE SHIPPING to see if they EVER get there and Bill or Ben don't die before the film ends.
Talking of my favourite people …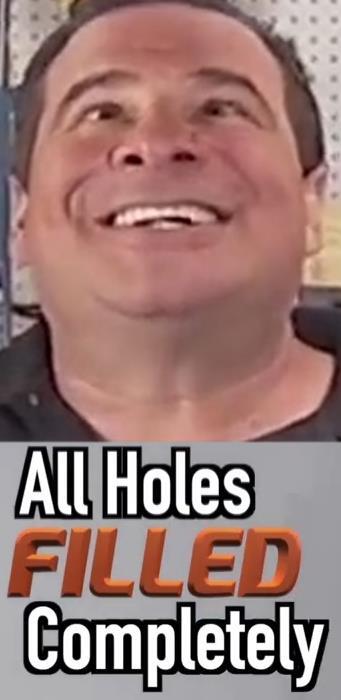 Phil Swift isn't one of them. Under normal circumstances, I might get along with this guy if he was being quieter and sitting at a bar with something more interesting to say. Phil, let me get something straight: I DON'T CARE how good your bloody Flexi Tape is, how ridiculously you enthuse about it, or that I can get it for the one time amazing price of $19.99 with an extra bottle of Flexi Foam thrown in for free, with FREE SHIPPING and a free trip to Bali with bells on.
NO.
No, Phil. I've had enough and the only thing I want to do with your Flexi Tape is stick it right over your preaching, whiney, irritating gob.
OK. I feel better now. Must go, I have a film to finish.