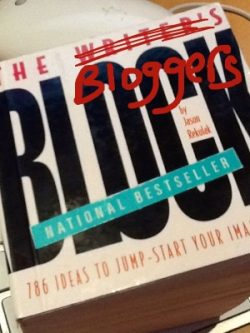 I don't know what's happened but I find myself with nothing to talk about. My creative juices have been squeezed out of me by being used elsewhere and when it comes to blogging today I am without news. I'm POSTLESS!
"How can this be?" I wailed. Will I become a dried up has been on the blog slush pile?
I knew it was bad when I went to bed last night at 9.30 pm. Way too early for me as I'm usually a night owl but I found my eyes closing like I'd been sedated and the tea dribbling out of my mouth of it's own accord. Not attractive. I was rather shocked at my fatigue as I was watching an episode of 'Rome' where I happen to be quite taken with the character who plays Mark Anthony and have realised a penchant for men in skirts and bondage bracelets. Anyway, I decided to go to bed which is unheard of at this hour and would normally terrify me incase I miss out on something. I slept right through the night and woke up like I'd never slept at all. I went downstairs in zombie like fashion in my polka dot pyjamas, pom pom, boot style slippers and pulled on last nights furry hoody that had protected me from the evenings minus 10 degrees c temperature. Breakfast was too much of an ordeal for my fuzzy brain to cope with so I had a 16" piece of gingerbread (that was meant to make a gingerbread house) left over from Christmas and a cup of hot ribena blackcurrant juice (ran out of milk).
Then I got the call. The one you don't want when you feel like this.
"I NEED A LIFT INTO TOWN RIGHT NOW, PLEASE HELP"
No time to change. No inclination to either. Off I went, gingerbread in mouth, car keys in hand to fulfill my kindly favour.
Most people accept my oddness so not a word was breathed about my bedtime attire as I drove through the icy streets in my jim jams and slippers. I have to say that there was something quite liberating about doing this although I have been advised by a few people since that it's illegal. WHY? Ok, if I'd been stopped and had to step out of my vehicle it may have caused a rubber necking pile up at the mad chick in her polka dots but other than that I don't see a problem.
On my return I received this e mail about waking up and feeling great. Serendipity. After all those hours sleeping I felt dreadful and here was my answer. Apparently you put in the time you want to wake up and it tells you when to go to bed so you receive the perfect levels of sleep and wake up singing like Snow White. I'm prepared to give it a try despite the fact it's telling me what to do which goes totally against my nature. Here's the link if you'd like to be part of my survey: WAKE UP LIKE A SWEETHEART.
Anyway, back to the subject of BLOG BLOCK – Here's what I'm asking:
To all my fellow bloggers, followers, friends and mysterious others- your help and inspiration is required.
Please send me one sentence (in the comments section underneath) that I can use as the start of a new post. Any sentence you like – I'm even prepared for you to be mean and hilarious and push me out of my vortex of unimaginative hell and into a wild and creative abyss! I will use your sentence to continue writing a story or poem or maybe it will bring back a memory of something to me. I will dedicate this post to you for your kindness and I'm more than happy to reciprocate at any time if blog block knocks on your door or if you just want a challenge!
Thanking you in anticipation. Now then, where's my hot water bottle…