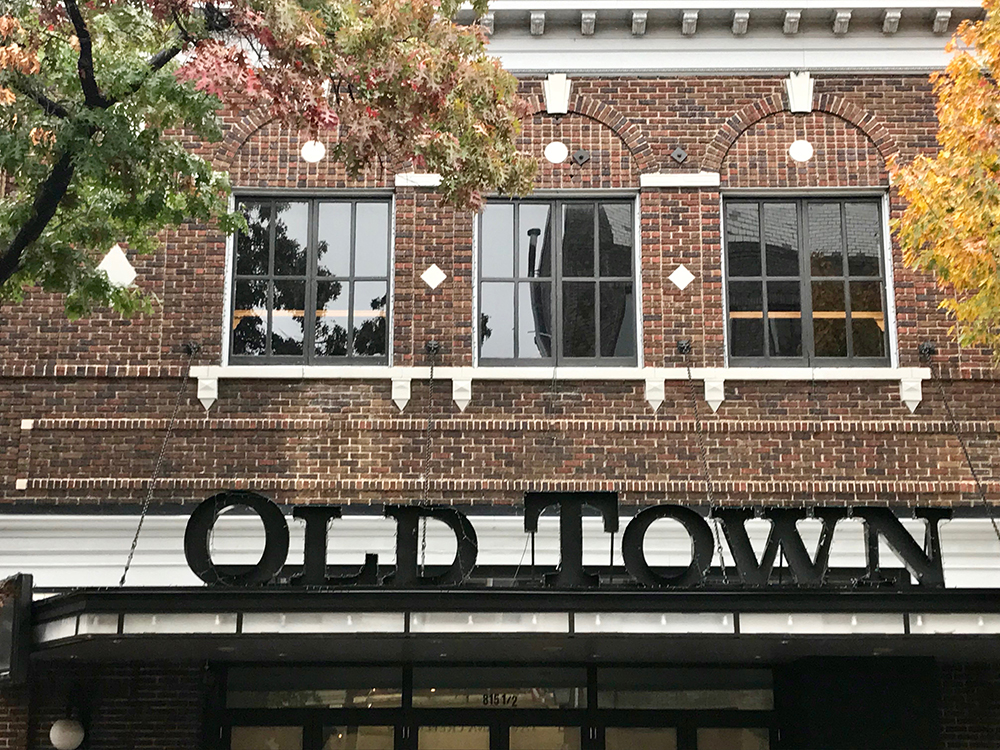 Satirical Snapshots Bringing You Whimsy On A Wednesday On A Friday Because I Forgot What Day It Is!
This is what happens when you commit to something: You stick to it. Unless you're called Jules Smith then the rules can be changed at any time.
I think it was because I went from…
Rural To The Capital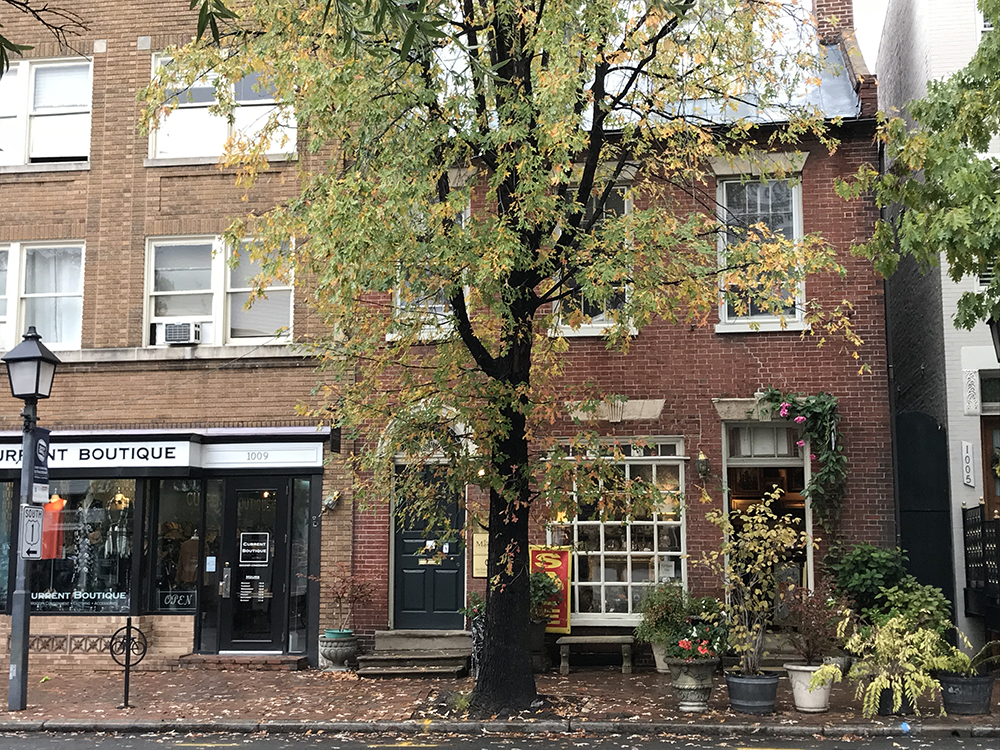 My friend, Double D, who works in immigration for the big scary government ( kind of useful when you're a targeted alien like myself) put me up in a lovely hotel in Old Town Alexandria, just outside of DC and in VA. Thank you very much, very nice. Had my own mini suite overlooking a swanky atrium.
The first night I was there I noticed a load of guys dressed in some fancy shmancy get up. Seems the atrium had turned into a black tie affair and nobody told me to take my jeans and bewwwts off.
I had to ask…
Devil Dogs
"What are you lot all trussed up for?" I asked as I wandered towards the bar. "Is this some secret club I need to know about?"
"It's Marine dress, Ma'am, we're having an event here."
I watched as my hotel turned into some Prince charming and Cinderella Disney ball and decided to take myself off to the local Sports bar, where I'd fit in better, in search of bacon wrapped BBQ shrimp. I sat at the bar eating my delicious food between a retired Navy Commander and a Spec-Ops Pilot talking about rubbish. You can't move for military people around these parts so in order to fit in I pretended to be a spy.
The next morning I wandered bleary eyed to the lift to go to breakfast. There's a proper nice omelette lady who doesn't skank you on the bacon sides. In fact, she doesn't know when to stop and it's like a bacon heaven overload. Win.
The lift door opened and it was full of people in camouflage. Two of them stepped out and braced the lift doors. I wondered if we were under attack. I stood there for a few seconds to see what happened but nothing did. Apparently, it seems that military people have to hold back the evil lift doors in case they crush you to death. Whatever. Very OTT respectful. When it hit the bottom floor they did the same thing and waited until I stepped out first. I almost wished I'd put on my princess frock and tiara.
The queue for breakfast was also lined with camouflaged people waiting for the omelette lady to work her genius.  I got my plate and stood at the end of the line, but here's what happened: The guy in front of me stepped aside and said, "After you, Ma'am" and so did the next and the next until I got to the front of the queue and to the egg station in rocket speed.
Anyone who lets me get to the bacon first has my total respect.
I am totally bowled over by the manners of the Marines in this country and have decided that every male should be forced to join up. This isn't just for my selfish reasons, much, but I think the world would be a much better place with people who behaved like this in it, and women would be nicer cos they'd got their breakfast first.
Home From Home
Apart from a few swanky meals in Georgetown and a walk around the capital I spent the rest of my time in Old Town Alexandria. This place looks just like England. As it should. Quality settlers, see.
This is Captains Row in  Alexandria.  Looks the spit of an English village with red brick townhouses and Irish pubs around the corner.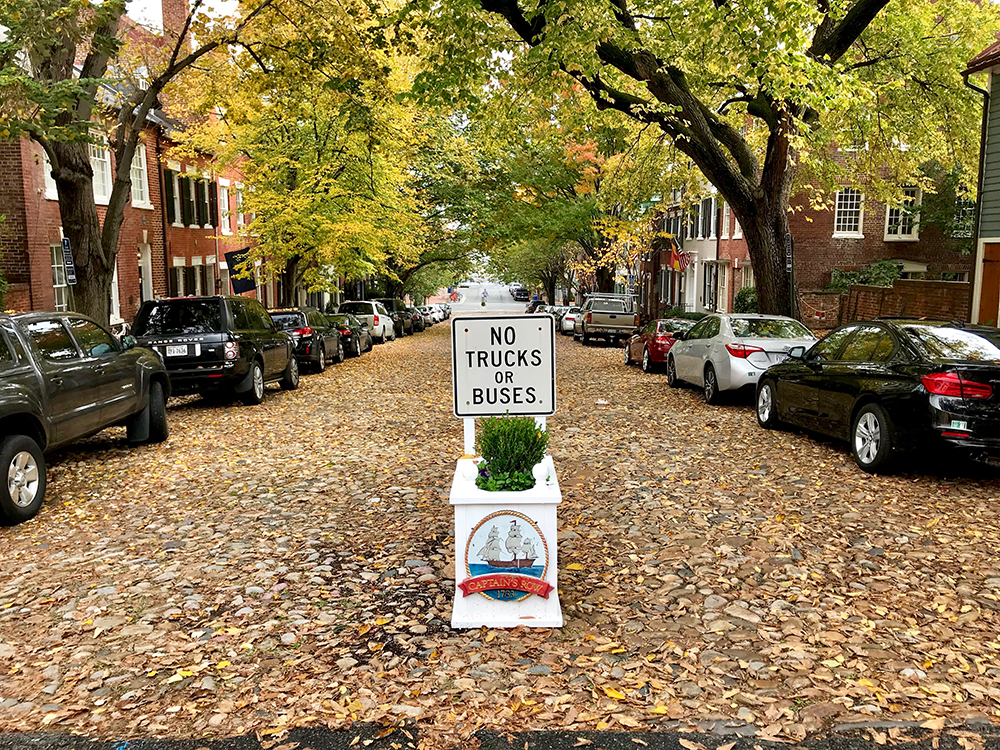 The waterfront ~ where I hoped to steal a yacht.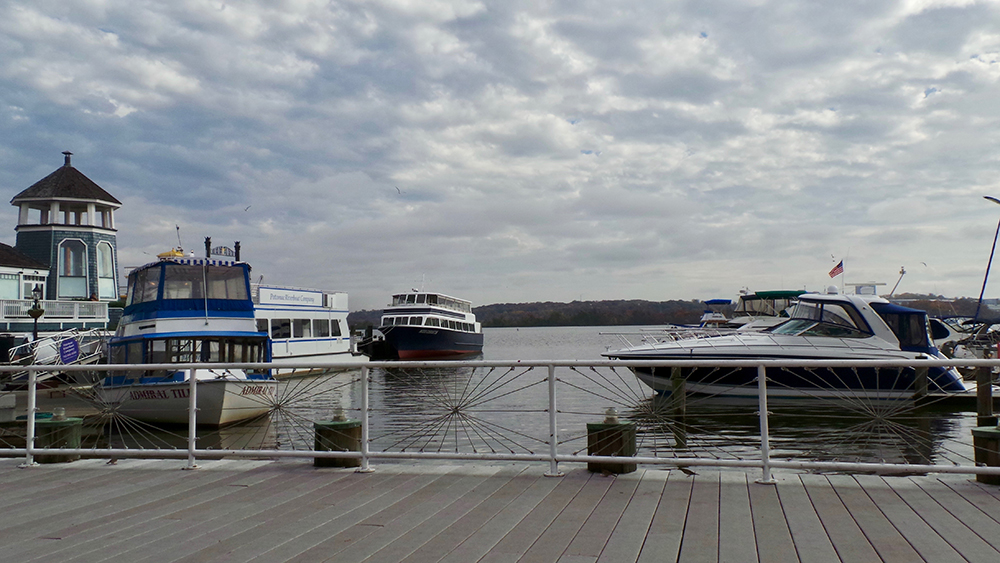 Time for some much needed Art Philosophy so I visited the Torpedo Factory Arts centre which is an old munitions plant and now home to artsy fartsy artists.  It also has a torpedo.
And a very scary lift ~ like 'The Scream' tenfold. Where are the Marines when ya need 'em?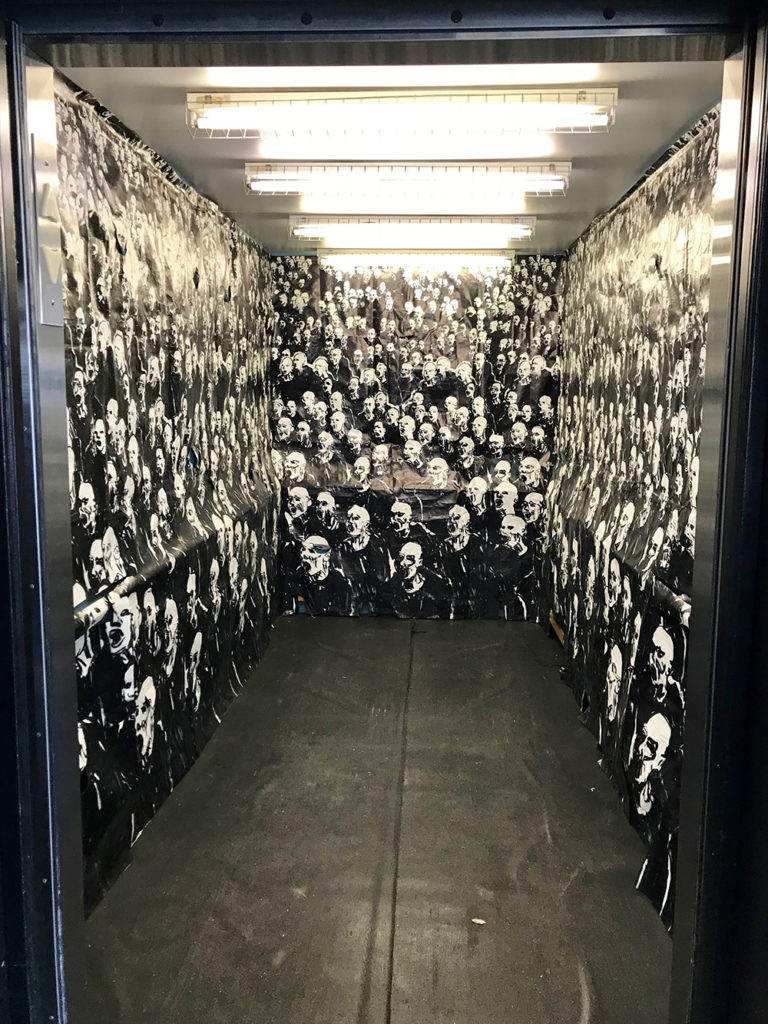 WELL HOLD ON A FLIPPIN' MINUTE – I spy a decorate your door exhibition! Why was I not informed about this, being the doory door lady of the world?  Because I would've won, that's why.  There's no fun in a competition when there is no competition.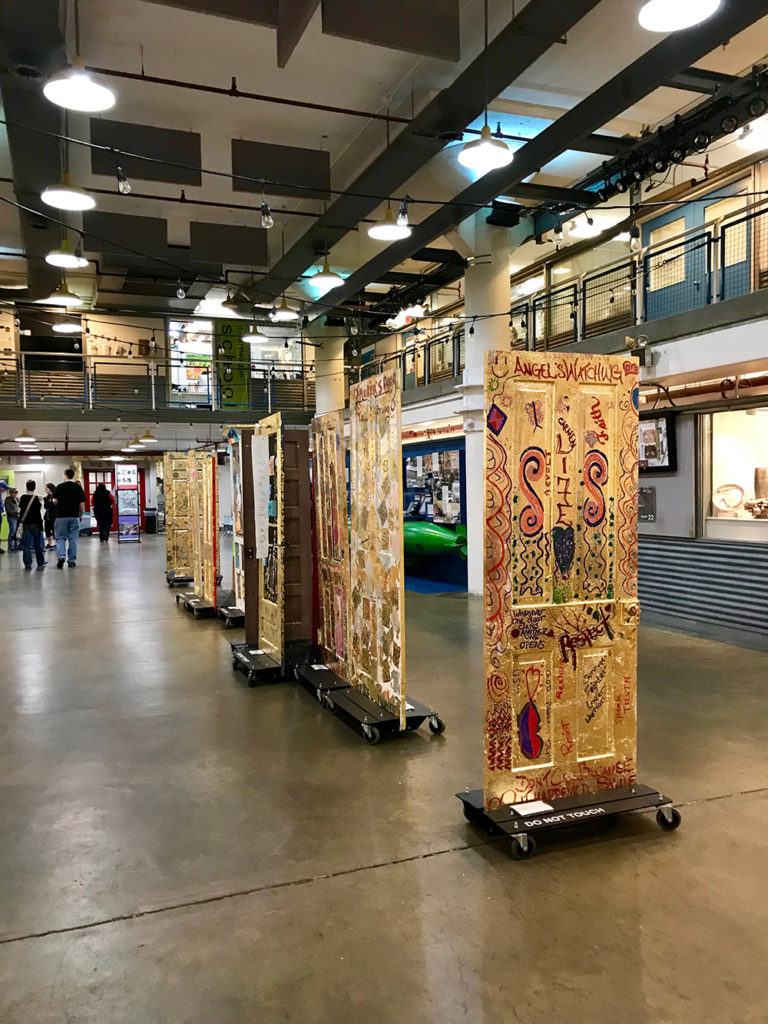 Annoyed by this slight, I walked back up King Street and came across 'The Hollywood Wig Store'  Hmmm. It quotes, "You too can look like a Hollywood star."  Right.  Because this dude looks like a throwback from a dodgy 70's show who would likely be wearing super tight budgie smugglers as he strolled along the Florida seashores staring lasciviously at sunbathing chicks.  Which, brought to mind a friend of mine. Had I had the $200 for this handsome looking wig and moustache set I'd have sent it to him for Christmas. Heh.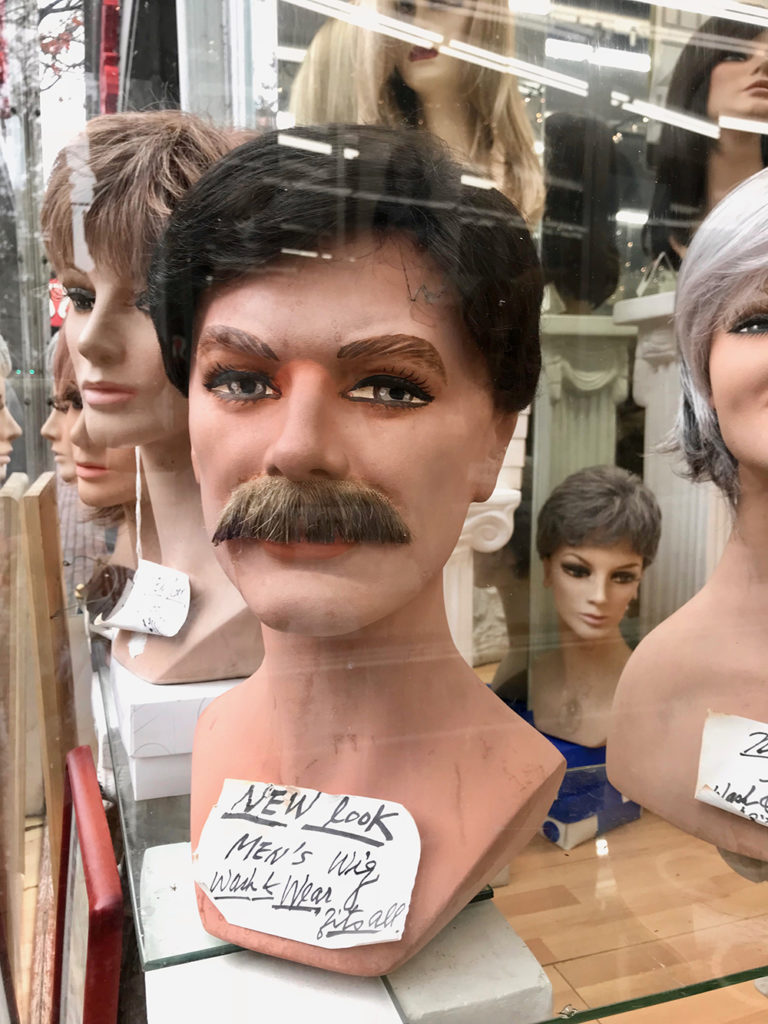 I decided to go back to the sports bar. I made some new friends from San Diego.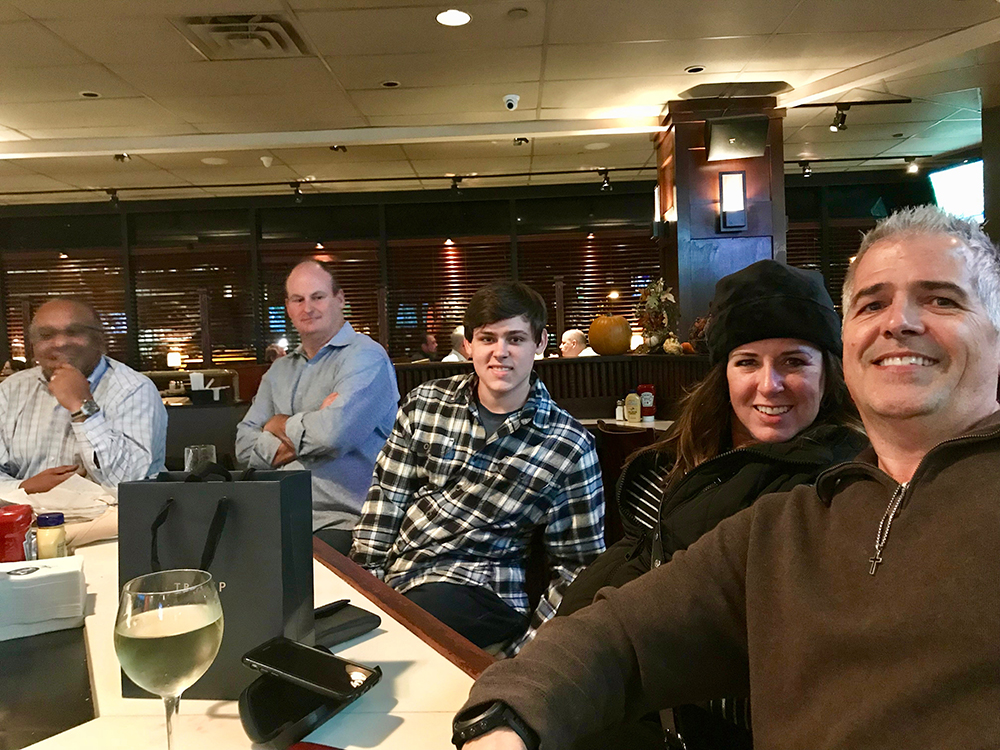 Proper nice folk.  And here's the barman who tried in vain to explain the football rules to me and made me repeat them before he made me a Lemon Drop Martini.  Honestly, I felt like I was in an episode of 'Cheers" except I wasn't in Bawwwstun.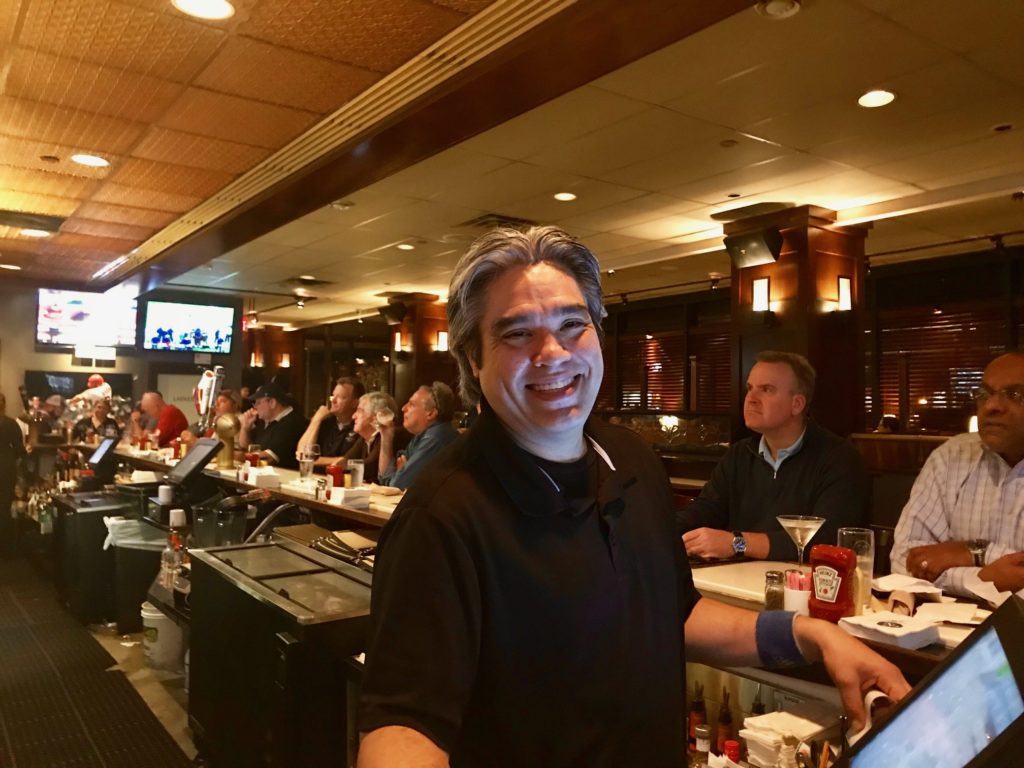 Call the shrink.