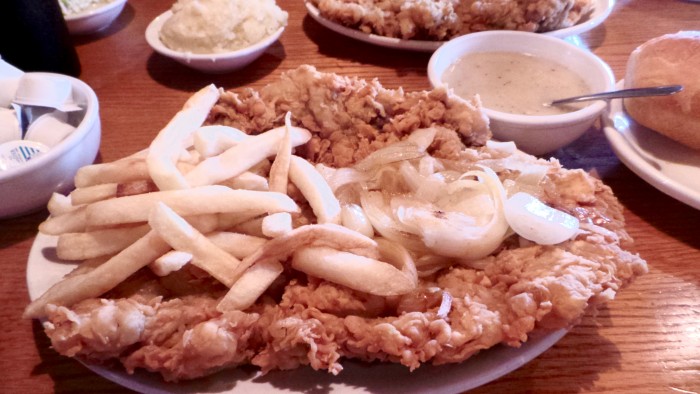 Now when I was first told I was being taken for a chicken fried steak I naturally thought it was chicken. I mean why else would it have the word 'chicken' in it otherwise, right? Except it's not poultry but a proper beef steak seasoned with flour and pan fried.
For those of you back in the sunny UK, don't be thinking that this is the size of a piece of meat you might get there that is the size of the palm of your hand, oh no. This beast fills a plate that is bigger than my head!
"I can't eat all that!" I exclaimed.
"It's the law, you have to."
"No I don't. Have you seen my crossbow?"
"Eat it."
"Do I get a prize if I eat it all?" I asked.
"Yes, you get another one free."
LOL.
Along with this mammoth cutlet came sides like fries and beans and coleslaw and gravy that isn't gravy like we know it but some kind of sauce that they call gravy, and…and… so on. Like you need ANYTHING ELSE.
Cue Monty Python:
Maitre D: And finally, monsieur, a wafer-thin mint.
Mr Creosote: No.
Maitre D: Oh sir! It's only a tiny little thin one.
Mr Creosote: No. **** off – I'm full…
Maitre D: Oh sir… it's only wafer thin.
Mr Creosote: Look – I couldn't eat another thing. I'm absolutely stuffed. Bugger off.
Maitre D: Oh sir, just… just one…
Mr Creosote: Oh all right. Just one.
Maitre D: Just the one, sir… voila… bon appetit…
(As the Maitre D' takes cover, Mr. Creosote swallows the mint, expands and then blows up dramatically,
spewing vomit and guts on everyone and showing his open rib cage and still beating heart.)
Maitre D: Thank you, sir, and now the check.
I made it to the halfway point. It was tough going but I nudged the boundaries at least. It's incredibly difficult to keep room inside for breathing. I don't think I'm going to fit in my cowboy boots by next week.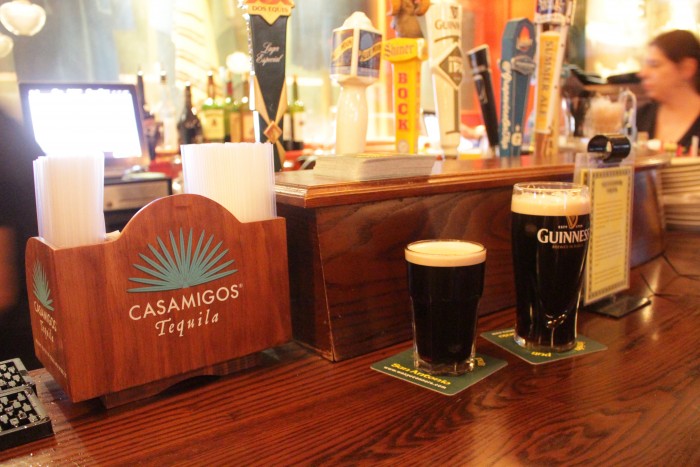 Finished up with an extra cold, watered down version of Guinness in an Irish pub. Why can I say? Everything you drink here is super cold. Good job the people here are as warm as hot buttered toast.
PS:  I had my first Root Beer last night and even though it really does smell like germolene, I like it.  Bit like Dandelion and Burdock.