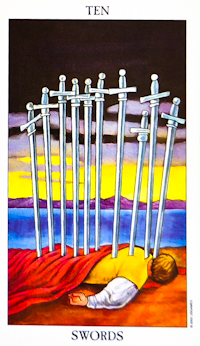 So, I hopped in a taxi, pink hair and all to go and see a witch. I'm not even kidding.  I happen to know many witches, wizards and goblins.  They find me challenging.  I find them…odd.
"I need my years Tarot card reading."  I said, "I have had an unfortunate incident with a fortune cookie and need to be placated.  Lie if you have to."
"Can we do it tomorrow, I've had some witches brew.."  said witch.
"Well that's not the bloody attitude is it? Where's the white magic and love?  I've just been told that I will never be loved and here you are, saying exactly that!"
"Fine…shuffle the cards…and why have you got a pink wig on?  Fancy dress?"
"No, the dress is old.  The pink hair is new.  I think it lends itself well to my bubbly personality, you know, that one I dream of having…"
I shuffled and shuffled thinking of all things positive like chocolate and gold coins and cheese on toast.
The cards were put out in front of me, one month at a time.  And it went like this:
Jan: Ten of Swords.  See that card up there?  Well that's how my tomorrow starts.  Low point.  Stabbed in the back again and again.  Rock bottom.
"I told you to lie if you had to."   I reminded.
"Lies won't help you."
"I don't know if I like you anymore." I pushed.
Feb: Three of Pentacles.  You will join a group.
"What kind of group?"
"I don't know.  A group of people with a common goal." Witch sighed.
March: The Hierophant. Schools, clubs and societies.  Learning with experts and knowledgable teachers.
"Ok…well that sounds like it might be interesting.  So, I'll be stabbed in the back but I'll join a secret society and learn a shed load of something useful?"
"Yes, something like that."
April:Four of Cups. Ah….you're going to get bored.  Apathetic. Wrapped up in your own world.
May:  Five of Pentacles. Oh dear…Several kinds of lack here…
"Several? Oh my God…what does THAT mean?"
Hmmm.. rejection..exclusion from a club.
"HOW VERY DARE THEY!  You mean to say I join a club and by May they've gone and turfed me out!  That's outrageous!"
June: Seven of Swords.Well, you go it alone, throw your toys out of the pram and run lone and free.
"Well can you sodding well blame me?! That's it.  If anyone invites me to a club I'm not going. Life ruiners."
July: The Tower. A sudden dramatic upheaval. Reversal of fortune. Explosive change.  Something wrong and you will be very uncomfortable.
"Are you doing this on purpose?"  I asked, "Can it get any worse?"
"Yes."
"Pass me that witches brew."
August: Three of Swords.  Stabbed in the heart.  Let's just say that again:  STABBED IN THE HEART. Nice. A nasty little curveball to break my heart.  Listen to your inner voice.
"Well right now it's telling me to go back to bed and wait 9 months before getting up again!"
Sept: The World.  Straight after a colossal heartbreak I'm going to have the world at my feet, be happy, thankful and truly fulfilled.
"Am I really that fickle?"
"Not saying a word…"
Oct: Two of Swords.  You won't let anything in and you won't let anything out.  Complete denial. Totally barricaded.
"Well, personally I think that's very wise of me, given the state of my year thus far!"
Nov:  Queen of Pentacles. Welcoming, nurturing, caring, warm and generous…that's how you have to be.
"Well you can bloody well sod off!"
Dec: Five of Swords. Be careful you are not being cheated or tricked.  Look after your own interests.  Put yourself first.
"I shall be doing that from tomorrow, let me tell you."
"And your overruling card is…Strength.  This year you will need inner strength and perseverance. Do not despair and do not give up.
"Too late.  You've ruined my life and I'm going to the pub."