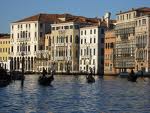 My nearest and dearest. I am off to the beautiful country of Italy for one week in about..check watch…2 hours. Please try not to work too hard or think of me basking in the glorious sunshine whilst sipping a nice bardolino and eating a home made spaghetti bolognese. Of course, I will be thinking of you all on a daily basis.
I shall be visiting Venice first where I intend to get gracefully into a gondola without falling out and dropping my ipad into the canal. My second stop will be at a higgledy- piggledy village called Malcesine on the shores of Lake Garda where I will be trying to relax and take in the delights of the Italian cuisine and scenery. I shall then be going to Verona to see the wonderful 'Juliet' and telling her to BACK OFF since I am the real 'Juliette' and she needs to step down. Apparently you can write letters to her and put them in the wall so currently trying to put together a nice little 'ditty'. I will also be calling for Romeo from my balcony so listen up as I will be shouting! I am going to the ampitheatre in Verona to see the opera Aida and apparently I have to sit on a stone for 3 hours. Hmmm, not sure how I feel about that but I'm sure the atmosphere will be amazing.
For all my word friends I am taking a fully charged ipad and iphone (yes, I'm sad – so what!) so I can hopefully play during the week although this will depend heavily on the WI-FI situation and how much wine I've had. Thankfully, I have remembered how to order wine from my long term stays in Italy and have been practicing my affected Italian accent! I only have 200 euros thanks to the vet bill but I'm sure this will make for a more interesting experience!
Ciao miei amici – ti amo x