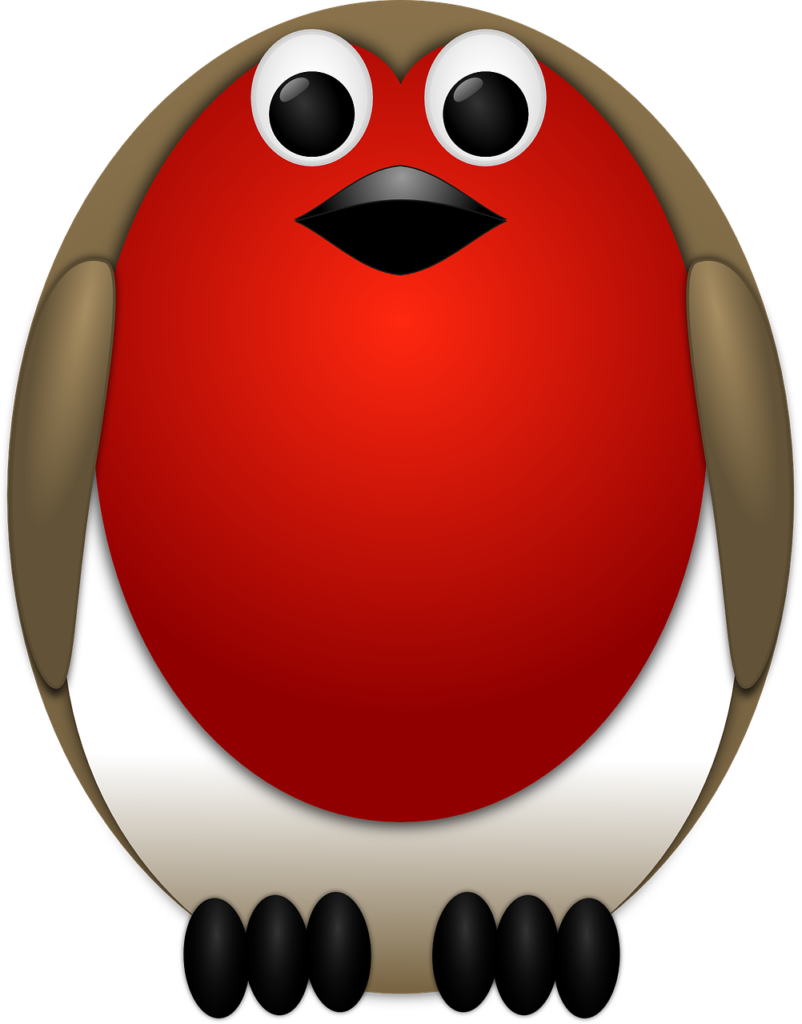 Satirical Snapshots Bringing you Whimsy On A Wednesday!
People say that the best form of defence for your home is a dog. Mans faithful friend is the first to raise the alarm when something is awry. They're loyal, protective and wouldn't think twice about taking a chunk out of an intruder. A few weeks ago I would have agreed with this but not anymore.
After placing a bird table and seed feeder in my garden to combat the hysteria in the wisteria last year, I have now created a flocking lot of trouble. All sorts of birds come to my pad to fill themselves up on a variety of "taste the difference" seeds. I have gone to the trouble of making dining at mine a bit of a gastronomic affair. I offer a variety of seeds and nuts which I layer in my feeder like a Rothko painting in order that the birds won't get bored eating the same thing; it also looks pretty – like the seed version of a mocha chocca latte.
The result is a testament to my ingenuity, bringing along a myriad of beautiful birds to feast at my five-star garden restaurant.
Right up until my new pet arrived…
Robin And His Merry Malice
Allow me to introduce you to my new guard bird – Little Robin Redbreast: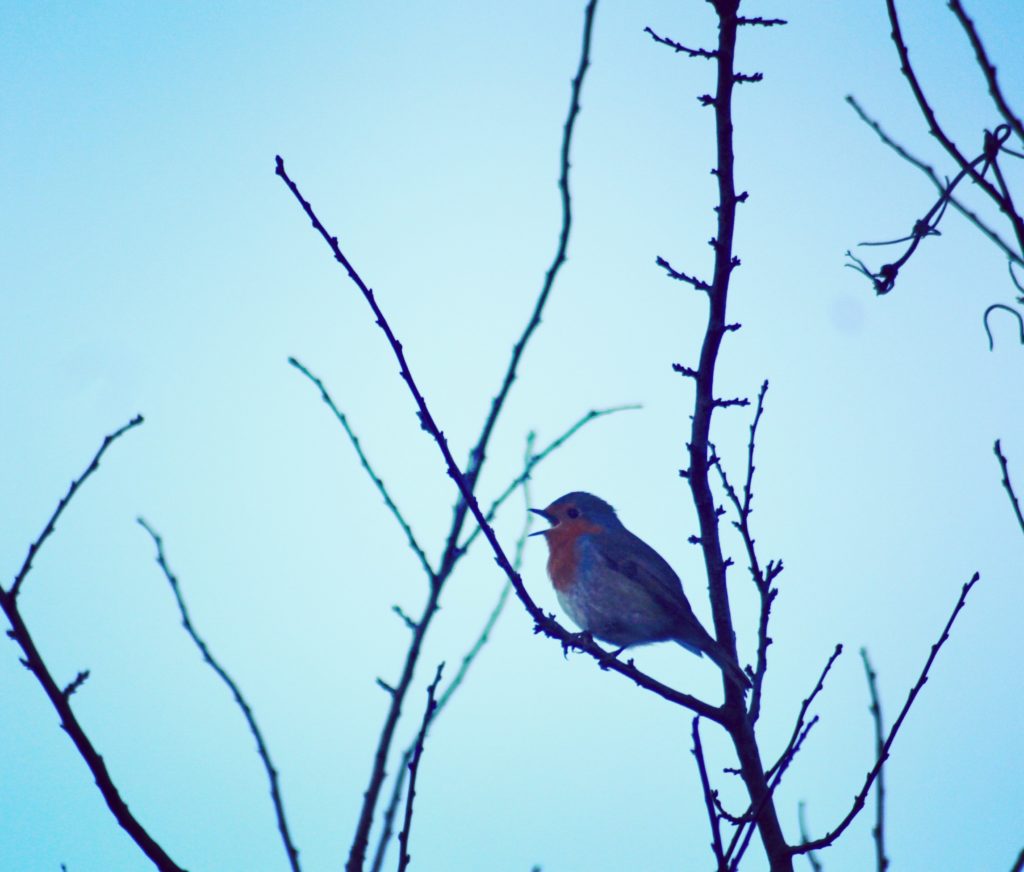 Isn't he adorable? No. No, he's not. In fact, he's proper nasty.
I'm assuming his territorial behaviour is due to wanting to breed somewhere in my garden. This is somewhat alarming as I recently read that robins will nest almost anywhere. Recorded nest sites include plant pots, a pigeonhole in a desk, the engine of a WWII plane, and in the body of a dead cat. Charming.
At first sight, my little red-breasted friend looks like a picture-perfect specimen: he sits in my tree at the back of the garden singing his little head off from dawn till dusk. How beautiful. Nature at its finest.
However, what's really happening is he's surveying the garden like a predator. What you think is melodic birdsong is actually thuggish and aggressive cursing in bird lingo threatening other feathered friends of his intent should they put a feather wrong.
If some other bird dares to come and feast or stop for a break on his cherry tree, he has 'em. I've seen him dive out from his branch and chase them off.  He will dart like an arrow across the garden and slam them into the clematis whilst screeching like a banshee at the same time. My robin is so fast that he nearly had my eye out last week when he went after a blue tit.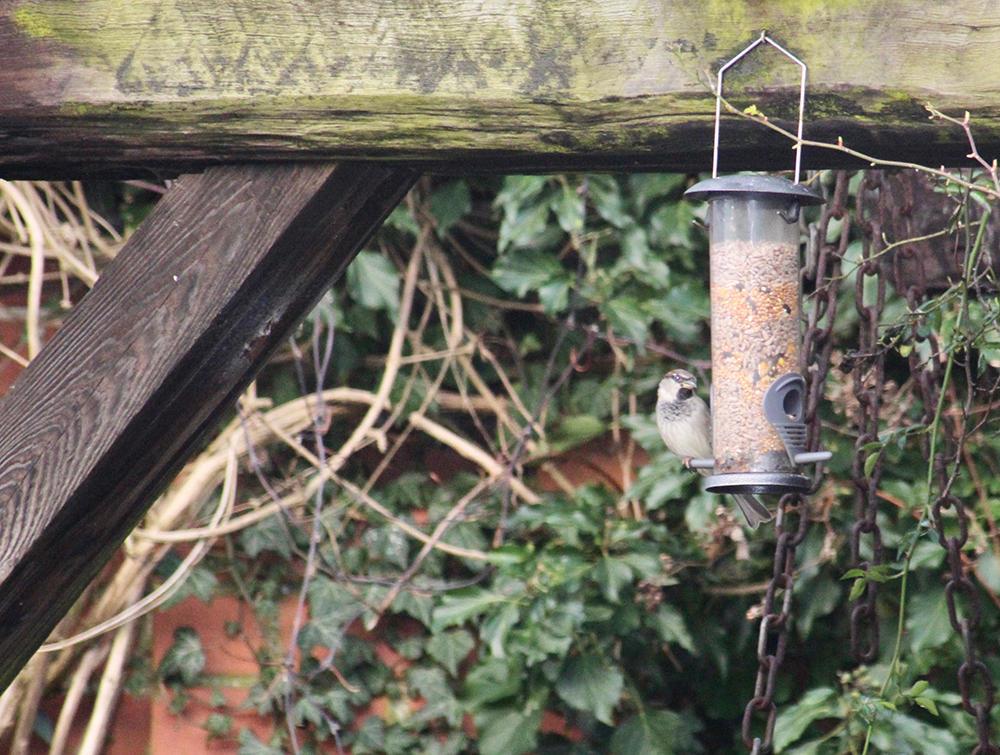 See this harmless little sparrow having a chance feed? That was a mistake. He now has a skull cavity and a bald patch.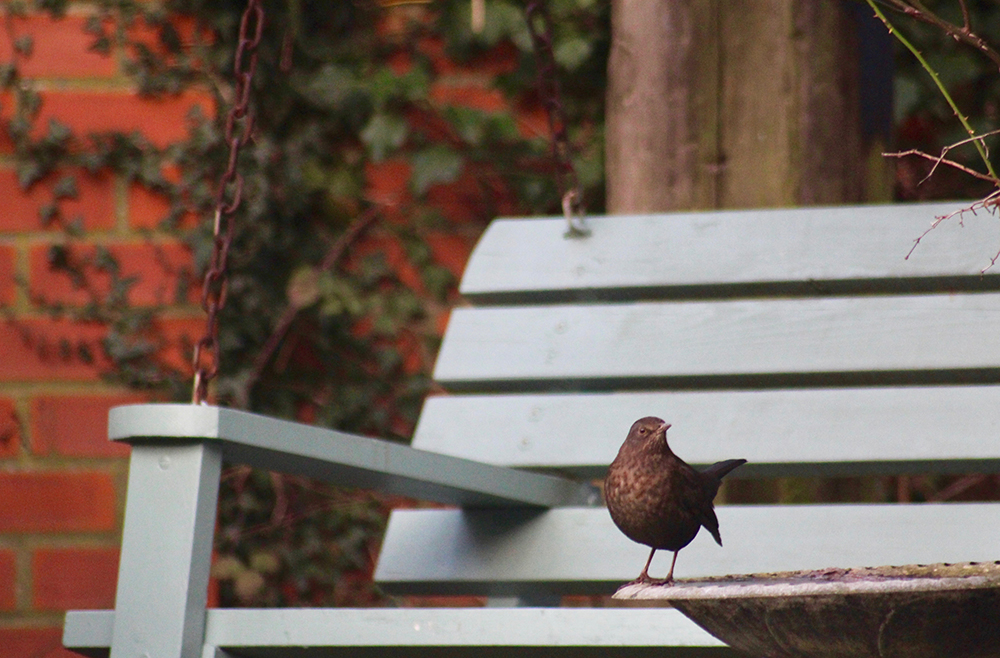 Witness this serene, female blackbird pausing for a bit of a drink. She now has missing tail feathers and has never been seen again. Probably can't fly due to losing her tail fin and likely falls to the ground like a dart.
Reap What You Sew
I haven't managed to get any tit photos (don't even go there) because they are on and off the bird feeder faster than the speed of light, they're so petrified. And the now grown up baby pigeon that started all this malarkey wanders around oblivious to all this and still feeds on the floor like the village idiot of birds. All because of last summers pigeon fiasco I have to contend with a gladiatorial aviary in my garden.
In order to create balance and harmony in the ghetto, I decided to buy more bird feeders. My logic being that if there was plenty to go around, my ferocious little robin might calm down and learn to share. I hung them in various places all over the garden as he watched from his tree. I even made him some butter and suet seed balls *Plat du jour* and put them on his bird table, because naturally he's laid claim to that, and he swooped down and ate them. I felt sure that peace would reign.
Fail.
Now he just darts around the garden like a bloody bullet covering each and every feeding station and I'm going to have to buy a crash helmet if I want to remain intact.
My advice? Don't feed the birds.