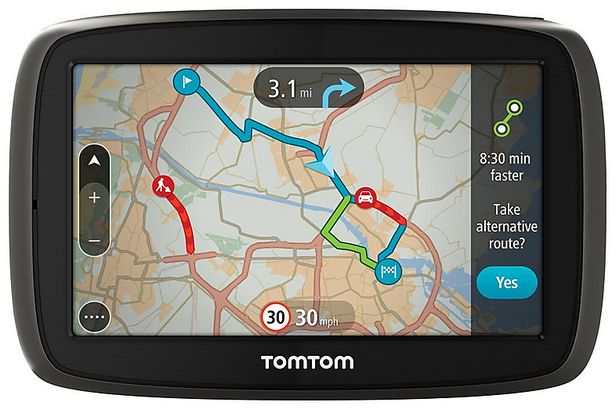 Sat Nav's are wonderful things. Wonderful in the fact that they're programmed from Ordnance Survey maps and tell you where to go. Allegedly.
I sat in the office one bright, sunny morning, tucking into one of 'Old Tuckers' breakfast cobs, when I received a call from Mr. Singh. Mr. Singh is a quiet chap and he'd been on the road to the 'Gateway of Wales' to collect and fill his trailer full of of roast turkeys.
"I'm stuck," he said.
"Stuck? What do you mean?" I asked with a mouthful of sausage and runny egg dribbling down my chin. There's always some bright spark who spoils the attention needed to feast on such a morning delight whilst also analysing page 3 of the paper.
"I can't go forward and I can't go back," he said.
"But you're on the road to Abergavenny aren't you? That's a dual carriageway. How can you be stuck on a dual carriageway?"
"Yes but I followed the Sat Nav to this place."
"And?"
"Well I'm not on a road. I'm on some sort of track," he said. "I really need help. When I say I can't move, I mean, I can't move."
Senior management didn't like the sound of this and the top dogs asked me to meet them at the given co-ordinates of Mr. Singh.
"Take a solo unit down there Brad and we'll see what the hell is going on." So, off I went on the road to Abergavenny.
Some while later I met up with an infuriated big cheese waiting in his company beemer.
"Now before we start, " he said, "none of this gets leaked. No photos, no talking, no reports." (Narrators note: oops…cue Jules Smith the rule breaker)
"O….K," I replied with wariness.
"Get in the car," he said.
We drove for a further fifteen minutes, the roads getting narrower and tighter until we arrived at Mr.Singh's 40 foot artic, wedged down a farm track in-between a hill and two dry stone walls. Mr. Singh was stuck in his cab receiving a tirade of abuse from the local farmer waving his shotgun because he couldn't get his sheep out.
I regarded the situation in utter disbelief and turned to the manager. "Why the fuck didn't he stop? Why? How? "
The big cheese with all his 'ever so clever' qualifications couldn't even answer that one but wore his opinion with the beetroot red exasperation of a man close to a heart attack.
In order to save Mr. Singh and stop any deaths from Farmer Ferocious, a building firm had to be called in with a bulldozer. The bulldozer had to dig out and level the ground in order for 600 ton of stone to be laid. This was just so we could actually get a crane to go down, lift up the whole rig and turn it around.
The cab was totally destroyed in Mr.Singh's attempt to squash it into its current position along with a burnt out clutch. The write off cost the company £85 K.
Shop steward or not, there was no way of saving Mr. Singh who got fired on the spot and had to find other means of singing for his supper.