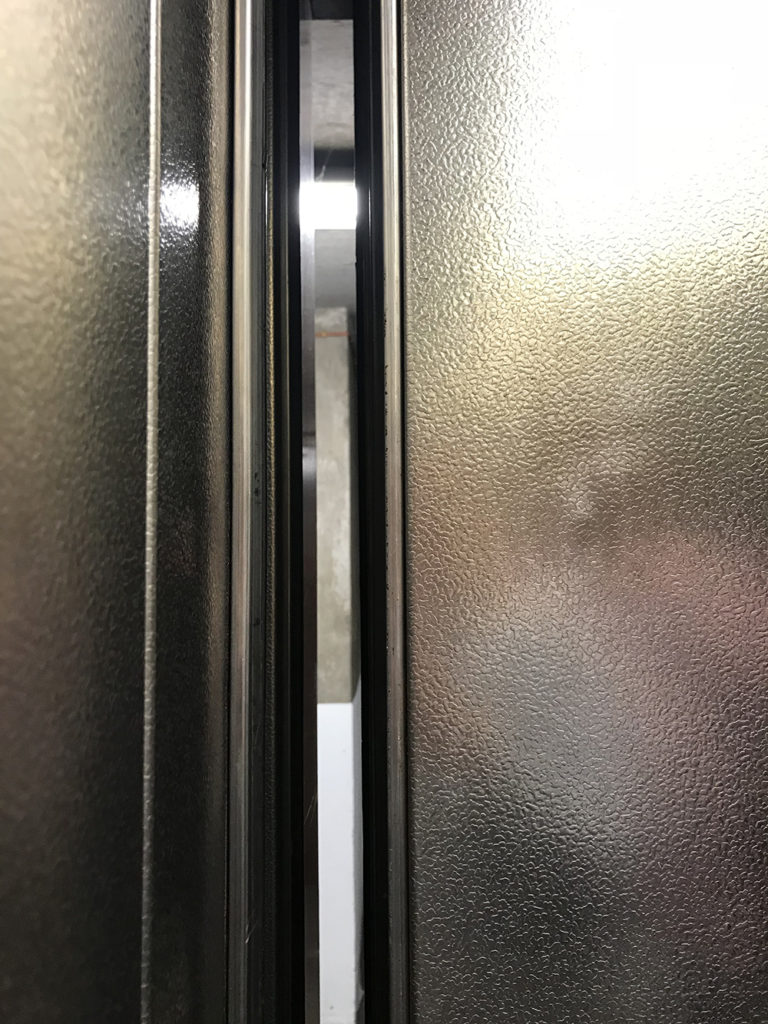 Satirical Snapshots Bringing You New Year Whimsy!
It's the final day of the year; what could possibly go wrong?
My December has been utterly atrocious having contracted virus after virus. I have lived like a hermit, housebound and mostly bedridden and swathed in layers of pyjamas, onesies and Vicks vapour rub. Two days before Christmas I ended up with the emergency doctor and put on antibiotics. Well, Merry Frikkin' Christmas.
Jeopardy Junket
I've been poorly for 7 weeks now and it's getting ridiculous. So, today I decided to go out. I'm much better than I was but I still have no business going out yet. I basically have no immune system; it's gone. Totally. However, I thought a nice trip to the city for breakfast, coffee, and some much needed fresh air might make me feel better.
I parked in a private car park in the city. Because I'm incredibly famous, well known, manipulative, I know people in this town and therefore do not have to pay the extortionate car park fees of a public car park.
The parking establishment was empty. Nobody is at work in these offices since it's a Sunday and it's also New Year's Eve. I entered the secret code, parked up and walked to Bill's for some scrambled egg and bacon on a muffin. Nice.
Swedish Snake Oil
I then had a little walk to the health store for more alternative medicine.
"How can I help you?" asked the hippy health shop person.
"Well, I'm not sure. See, I've already had your super strength vitamin C, D and B and have had practically bathed in your extortionate Manuka Honey like a modern day Cleopatra, but I still feel poorly. I have no energy whatsoever. What else can you give me that will cure me of this wicked and dreadful illness?"
"Ahh – try this!" he said. "This is a Swedish formula (that alone should have caused doubt to sear through me but my instincts are off due to viral attack) that has been around since the 60's. It's perfect for post operations and illness. People swear by it."
I parted with my hard earned cash and went outside with my new miracle potion. I sat on a bench and decided to have a spoonful of it immediately. It was then that I realised I must have misheard the man. People don't swear by it, they probably swear at it because that's what I did. This tonic is the most disgusting thing I have ever put in my mouth. Imagine the tar being milked from a thousand cigarettes and that's what it both looked and tasted like.
I'm going to feed it to one of my plants for a week and see if it dies.
I have spent so much money in this bloody health store that I could have bought a Bugatti Veyron.
Shafted
After this experience, I decided I needed to go home. The whole breakfast event had worn me out and my face was exhausted, if that makes sense. I walked slowly back to the car park and called for the lift as right now I have the fitness level of a 90 year old and couldn't even contemplate the several flights of stairs.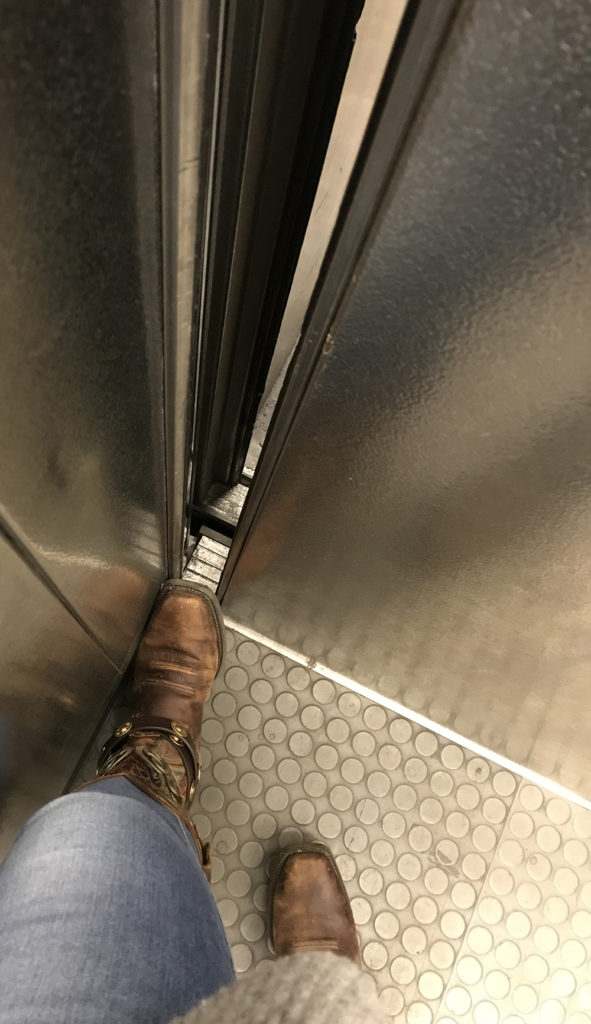 Somewhere just before the 4th floor, the lift stopped. It stopped and the door opened 2 inches. I might have lost a bit of weight with the virus from hell but there's no way I was getting out of a two-inch gap.
I pressed the button again.
Nada.
I tried with all my post-viral strength to prize the door open.
Nope.
I kicked it with my cowboy bewwwts.
Stuck.
I pressed every single button in the lift several times over.
Nothing.
I was well and truly stuck in the lift and the only person with a car parked in the whole office complex.
Then I saw this: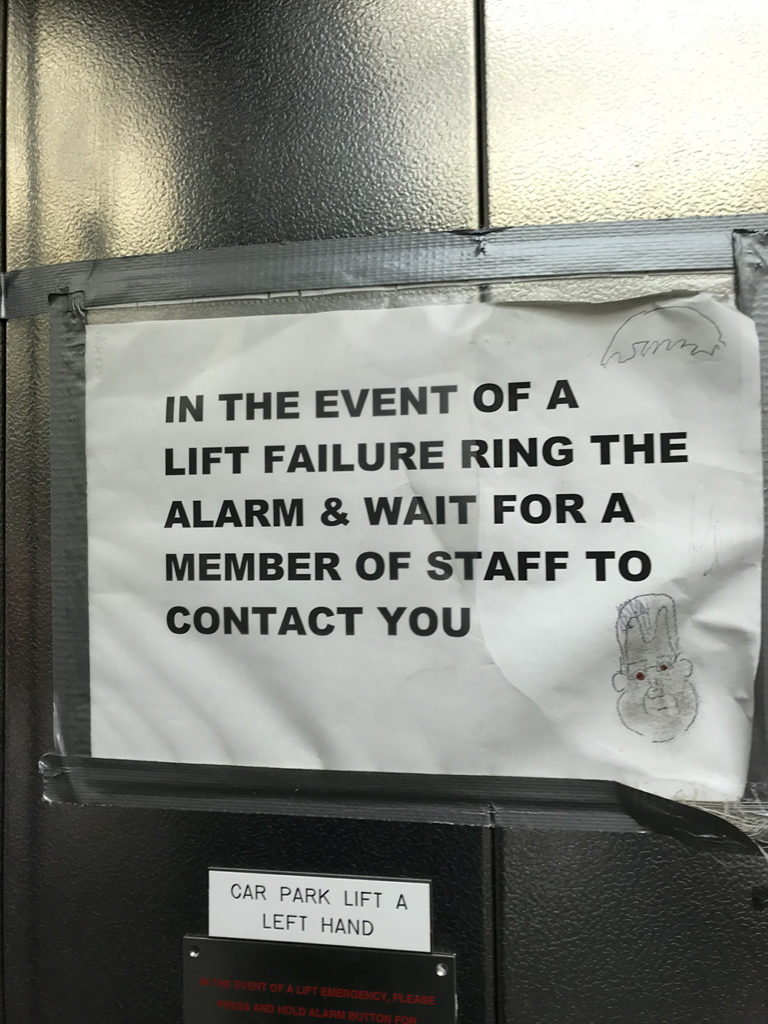 I rang the alarm button for 5 seconds.
Nobody came.
I did it again.
Nobody came.
Eventually, the alarm connected to the emergency line that it clearly stated would happen when one gets stuck in an elevator.
It rang and rang and rang but NOBODY WAS AT THE OTHER FRIKKIN' END.
All of a sudden I went into panic mode. I had visions of being stuck in this lift for the whole of the New Year period until people came back to work and found me dead in this tiny box with my fingers bleeding from having tried to claw my way out. This was it. The end of my life. Rather neat and tidy what with this being the last day of the year and all, but not how I had envisioned slipping off the dish.
I pressed my mouth up to the gap and began to call for help. This totally stressed out my not used for several weeks vocal chords and sent me into a violent coughing fit where I nearly bust a hernia. I sat on the floor of the lift gasping for my final breaths and wanting to cry but not having the energy to do so.
Then, I had a horrible vision of the lift suddenly plummeting to the ground and me ending up like the contents of a juice maker. I stood up and tried to remember if you had to jump before it hit the ground or hold on because you go head first through the roof. I'm not very good at physics, particularly when hysterical.
There was no other thing I could do but to call for emergency help. This is not something I have ever done before and felt somewhat stupid at having to ring 999 but what else could I do?
I called for the Fire Brigade.
That's a nice long hose you have there, Mr Fireman
I always imagined that if I were to be rescued by hunky firemen I would be dressed in a sexy negligee with pretty hair and high heels on and would be carried out by a square-chinned brute and given the kiss of life.
Instead, here I was, sweating like a bastard in a tiny box with a pale, unflattering complexion and no makeup on. I fished in my bag for some mascara or lipstick but since I've not been out forever and a day there was nothing in there that could save me except for the nasty Swedish elixir that may, quite possibly, have been able to double up as fake tan. I took off my fur coat because I was dripping with fear and would have removed my fluffy jumper too but I had gone out without a bra on and there's no way I was going to go all wet T-shirt in front of a bunch of firemen without my lippy and tangled hair.
I made a little bed with my coat on the floor and lay down to conserve energy and stave off a massive heart attack.
I heard the sirens in the distance and felt somewhat thrilled if not a little guilty for not being on fire.
"Hello?" shouted the burly voice of a fireman.
"Hello!" I returned, getting to my feet.
"Coming to get you!" shouted another.
*Swoon* Not from being saved but from heat stroke and claustrophobia.
I heard some banging about in the lift shaft and whatnot and then 5 minutes later a giant claw hammer prized open the door and I was free!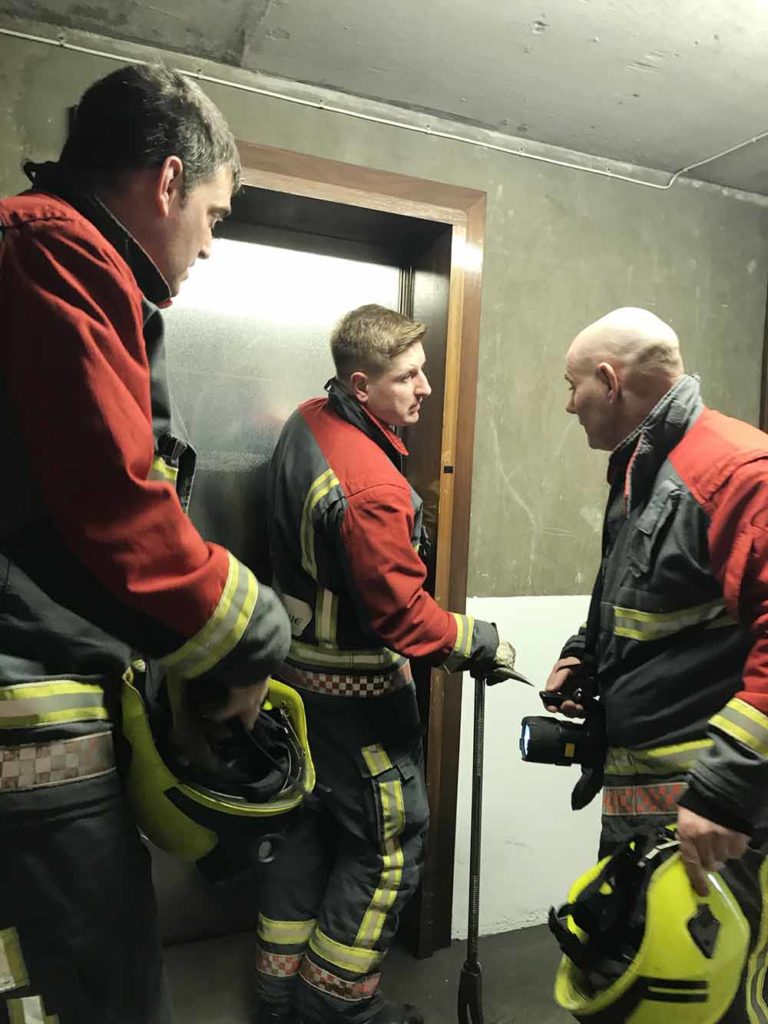 "Thank you ever so much, ever so grateful, " I mumbled.
"Our pleasure," they said.
I shuffled off to the car fuelled by adrenaline and shame and somehow made it back to the safety of my home.
I am now suffering from massive PTSD and the Swedish elixir isn't helping.
Despite the fact I shouldn't have been in that particular car park, I'm going to tear the landlord a new arsehole if he doesn't compensate my 'trapped in his shitty lift' trauma with a therapeutic holiday to Bora Bora.
Happy New Year.