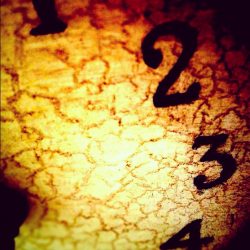 Time has been very relevant to me over the last few weeks: What little of it we have, how much I waste, how each moment has swam into the next and I don't know what day it is.
My stepfather passed away at the end of June and there's no doubt about it, death sucks. I have found it very difficult to talk to people about because of the following reasons:
They are too emotionally distraught.
They don't know what to say.
They ramble and gush because of the above.
I have noticed that everyone handles it in a very different way and have come to the conclusion that you can only deal with it in the way that is right for you.
My stepfather and I had a very complex relationship which in many ways makes his passing harder to deal with. Sometimes I think about the things he did that really upset me and I feel very angry with him and other times I remember something really nice and I feel upset. There are a myriad of emotions that come and go in random order. One thing I hate is seeing my Mother so distraught and feeling a great sense of responsibility to make her feel better. But I can't. There is no making it ok when it comes to death, no damage limitation, no way round it. Time. Time to adjust.
My Mother and close relatives decided they would visit my stepfather in the chapel of rest. I, of course, accompanied my Mother to do this. I was most uncomfortable. Whilst this worked for others it didn't work for me. He had a massive character and all of that was missing. The personality that makes a face come to life was gone and the man lying there was not the man I remember yet it is the last image imprinted on my mind.
A few close relatives decided they were going to write letters to him and leave them in his pocket. I found this odd, awkward, dramatic and upsetting. He can't read it can he? Plus what would I write? I would rather have had the conversation with him or said what I needed to say beforehand. Anyway, a few days later I thought of the perfect thing.
My stepfather was very competitive. We used to play a card game called 'Chase the Lady' The object is to either win all the hearts and the Queen of Spades (the Lady) or get rid of her and all your hearts. Either way scoring little or no points. Every time we played he would insist that I sit next to him or I couldn't play. He did this because you have to pass cards on to the person next to you at the beginning ( except the Lady, you can't pass her over, you have to drop her on someone else or win the rest) ergo, he was able to have some control over my cards. We had many fall outs over this game and some extremely heated evenings. I found the Queen of Spades in my card deck and this is what I put in his pocket. Now he can't give it back to me and I know this would have made him laugh as he had a sardonic sense of humour!
You can't really say "It was a nice funeral" as that sounds ridiculous but as ceremonies go it was very fitting. As one of the people giving a speech I made sure I was very smartly dressed with beautifully applied make up. This, I decided, would mean I couldn't cry or I'd look horrid. FAIL. The thing is, relevant songs are played at a funeral and whilst I used to get upset at 'Waylon Jennings' playing in the background, this time it was for very different reasons. I also never want to hear Elvis sing 'Silent Night' again. Ever. I must say though that waterproof mascara has come on remarkably and I managed to deliver my speech just as I wanted to.
Losing someone who has been a big part of your life is very difficult but I remember a couple of things the Minister said at the time that really stood out for me.
One was By Khalil Gibran 'The Prophet' – "When you are sorrowful look again in your heart and you shall see that in truth you are weeping for that which has been your delight"
He also said that whilst we are celebrating the life of someone who has passed, remember to celebrate your own. This is very true as there's nothing like a death to make your own mortality slap you hard in the face.
TICK, TOCK