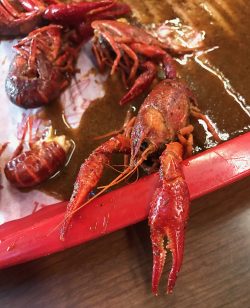 Satirical Snapshots Bringing You Whimsy On A Wednesday!
In order to advance my palate ready for a trip down south, I got taken out for a bucket of crawfish. Apparently they're in season.  The place I visited was called The Rajin Cajun.
Well, let the good times roll…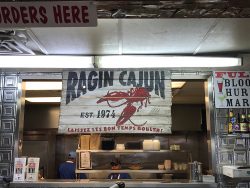 Here's what happened.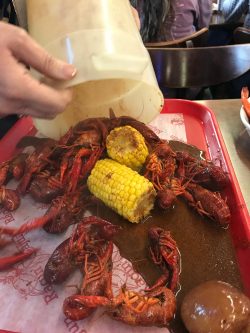 A whole bucket full of these little blighters got tipped out onto a tray and put in front of me.  I looked at them to see if they were still alive.  One of them was looking at me suspiciously.
"Now you have to pull off its head," said my Fairy Godmother.
"I can't."
"Yes you can, Jules.  Pick it up."
"Look, this is why I go to restauraunts so I don't have to do this and they do it for me.  I cant pull somethings head off."
"Yes. You. Can." Fairy Godmother replied, trying next  to encourage me by making one of them dance in front of me.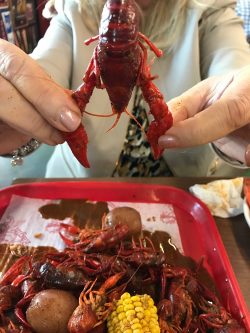 Well, I tried.  What a bloody palaver.  I couldn't pull its head off because it was stuck on.  When I pulled its tail off, brown gunk came out of the things body.  That was it.  No.  Not even with a knife and fork would I do this.  I ate the corn though.
Ooh La La
The following day I got invited to a very posh house in a very lah-dee-dah area.  The event: a cookery class with ladies who don't have to do anything because they are married to husbands "in oil"  From what I could glean, they spend their time learning to cook an array of amuse bouche, changing the French language to American and getting stressed about organising their closets.   It's all very difficult.
The kitchen of this lady's house had the same footprint as the entire ground floor of my pad in England.  I very nearly got lost.  We were taught by a master baker from Central Market how to mix, pipe, bake, fill and decorate a Macaron.  These are called Macaroons in Texas because they can say it however they want.  Naturally, I corrected them because I had to gain superiority by having a lesser closet.  I also demanded tea in a china cup which I got because this kitchen had everything.  I drank it with my little finger sticking out just for kicks.
Snickerdoodle
I beg your pardon?
What in God's name is Snickerdoodle?
Turns out, it's some sort of cookie.  In my case it was one of the fillings for the beige Macarons.  I squirted some in my mouth from the piping bag ( English class) and decided that whatever it was, I liked it.  Better than crawfish.
As it happens, I excelled in Macaronessing and didn't get barred despite writing "Bonjour" with edible Sharpie pen on my lil' French cakes.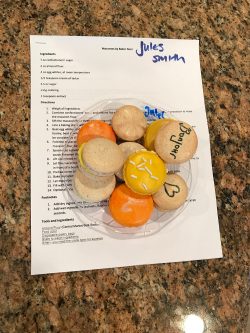 Life is Good and it's getting gooder
I got invited to Int'l Texas Cowboy Church to celebrate  Pastor R.O Murray (total legend) re-affirm his marital vows with his wife, Laurie, of 50 years.   As usual I got called up to the stage and received a beautiful gift of the Cowboy Ten Commandments.  I don't know what they're trying to say..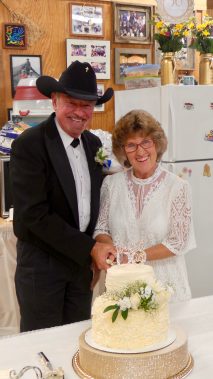 I LOVE these people.  They're like famalam to me.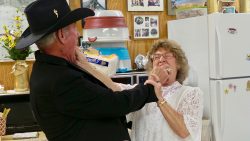 It is traditional for the newly weds to feed each other the first piece of wedding cake.  In England, this would start a food fight.
The blessing was followed by exceptional BBQ, beans, pies and cakes.  I am a massive fan of American beans with apple and bacon.  Proper nice.
These boots were made for walking
My favourite pair of cowboy boots had to go to hospital.  Yes, in the land where the bewwts are king, there is a hospital for them.  I kid you not.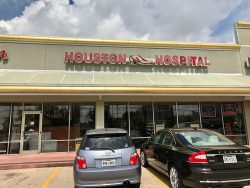 My matter was taken very seriously.
"My boots are dirty.  Can you clean them and make them all beautiful again?" I asked.
"Let me see," said the surgeon.  " Ah, what are all these marks and blemishes?"
"They're scars from all my adventures."
"You leave them with me, pumpkin an' they'll be good as new," he said with the most excellent  bedside manner.
He kept his word and I was so pleased that when I fetched them, I put them straight on to go out for a meal.
Well that was a colossal mistake because the numpty of a waiter spilled a whole bottle of beer over them within ten seconds.  Brilliant.  Back under the knife they go…