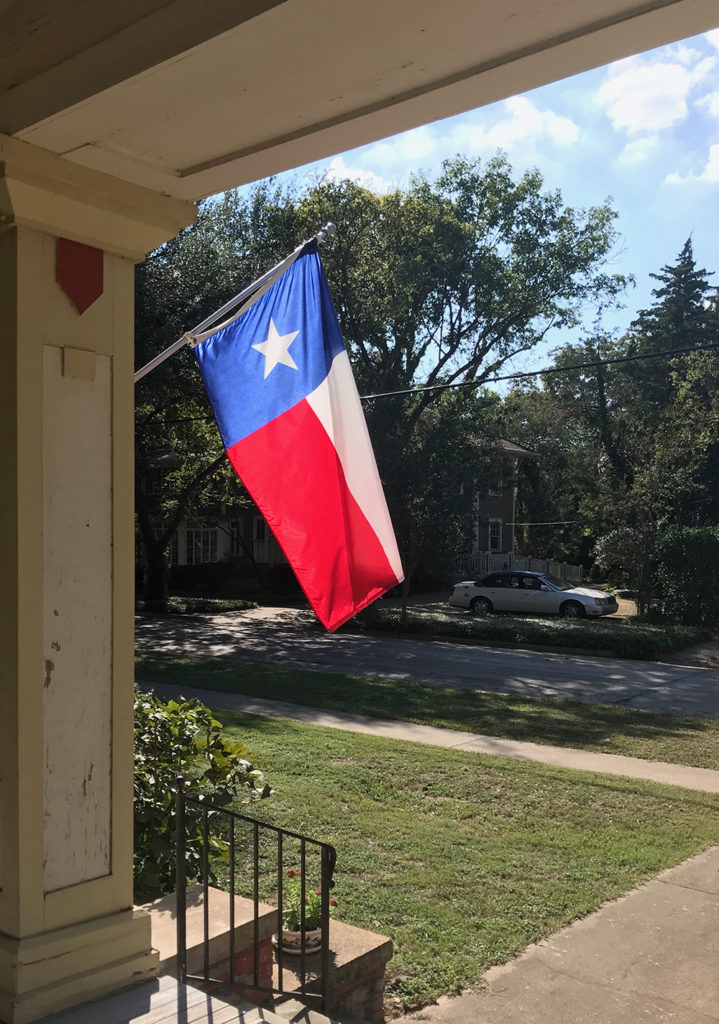 Satirical Snapshots Bringing You Stories On A Sunday!
I met George last year in Texas at a cowboy wedding. We spoke for a while and he told me that he loved watching all those English shows like 'Doc Martin' for example. A few days later I visited him and his wife Carleen at their ranch where I went shooting. Afterwards, we sat in the kitchen drinking ice tea and George told me he could sit and listen to me talking all day long. Not likely because I had anything of worth to say but because he liked the English accent. When I got home I received a lovely handwritten letter from George and I sent him one back with a postcard of Sherwood Forest as his ancestors were from there. He wasn't too impressed by the picture as he expected it to be much wilder!
Just before my visit back here George fell ill. Unfortunately, before I had a chance to go and say hello to him again he passed away. Carleen told me that he wanted to visit England so badly that they put a map and directions on how to get there in his casket.
Yesterday I attended his wake and came across his story laying on the table. I found this tale so moving and interesting that I asked his son's permission to post it on here. Even if you didn't know George it's a beautiful insight to a boy growing up in old America and I post it here, in his words, in memory of a wonderful man.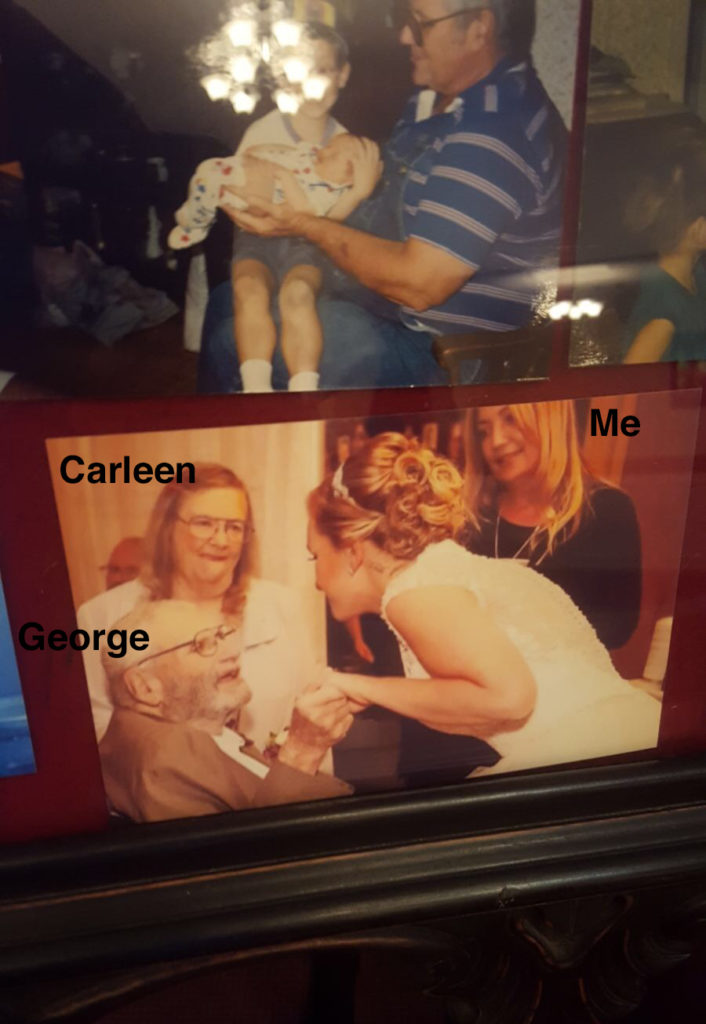 George Griffith Harris Sr. (1936 – 2017)
It was cool that morning when Dr R.M Burgess came to the house where my being started on a Monday morning at 7:05 am on August 17, 1936. I was born in the southeast part of Fort Worth, just east of the Masonic home. My father was John Amos Harris born at Cottondale in Parker County, Texas and my mother was Margueritte Marie (Lindsey) Harris born in Decatur in Wise County, Texas. Mother's aunt Jewell and Uncle Clarence Ferguson (Better known as uncle Frog) lived across the street from us.
When I was two years old my father and mother bought a house in the Poly area of Fort Worth. It was the old farmhouse of a dairy and farm where the Poly addition was constructed. When I was about six, daddy remodelled the house making it into a duplex and adding a second storey with three bedrooms and a bathroom. Daddy was a teacher for the Fort Worth public schools and at that time he had the summers off. Daddy, grandpa Harris and daddy's brother Emmett worked on the remodelling. I can remember pulling my wagon around with the scrap lumber.
I started school on September 8, 1942, at D. McRay Elementary school only a block and a half away from the house. At this same intersection was Cullep's grocery catty-cornered across from the school. On the other was Chambers drugstore that had a soda fountain and I stopped in when I had a nickel and got a double-dip strawberry ice-cream cone, that wasn't very often.
Mother would send me to the store to get groceries for that day. Most of the time that was the way we bought groceries – in those days we didn't have supermarkets. After WW11 started they began to ration everything, meat, sugar, and many other things and we were issued stamps and tokens to purchase items at the store. Meat was hard to get and if you weren't at the store when it came in you probably wouldn't get any until the next time it was delivered. We had a charge account at the store and daddy would pay it once a month when he got paid.
We also had an ice box on the back porch and the iceman would deliver 100 pound block of ice at a time to keep things cool. The milkman would deliver milk in one-quart glass bottles and place them on the ice to keep it cold, and then he would pick up the empty bottles.
Also during the war daddy got some chickens and rabbits to keep our family in meat, he also sold to our renters and other people on the block. He had about ninety rabbits in rabbit hutches with about twenty-four chickens running under the hutches. We had eggs and rabbit with almost every meal and chicken on a Sundays.
After the war daddy and I went to the courthouse to get a permit to build a three-car garage with an apartment above. They wouldn't let us have the permit but the man in line behind us wanted a permit to build a servant quarters and they issued the permit. Daddy and I went into the hall and waited until that clerk went to lunch. We went back in and asked for a permit to build a servant quarters and this clerk issued us the permit.
That summer daddy and uncle M, daddy's uncle, started laying out the foundation. We had a neighbor that was a contractor and daddy and he had to do everything over that uncle M had done. Uncle M wasn't a good carpenter. I got to help the contractor by carrying concrete blocks in a wheelbarrow about three at a time, boy that was fun at the time.
When we moved to Ave. M. there was a family that lived across the street by the name of Russell. They had a boy that was a year older than me by the name of William Joy Crosby Russell. We became good friends and played and went places together on our bicycles. There were quite a few children in the neighborhood and we played a baseball game called 'scrub' and played in the street. We had to watch for cars in during the rush hour, all two of them, daddy and Mr. Cherry. All the other people took the bus to and from work. We played football on church grounds around the corner on Little Street. There was a vacant lot across the street from us where we played basketball until the Cottons had a house built. Then we had to go up the alley and play on a vacant lot on Ave. N. There was no little league sports when I was growing up – just make-up games to entertain ourselves when we weren't getting homework or in the summertime.
I can remember someone gave me an old pair of skates that I made a scooter from 2X4's and old wooden apple crates. I took one skate apart and mounted it on 2X4 put it on for the wheels. We could ride it only on the sidewalk or in the street. We decorated them with pop bottles caps and other things. William also made a scooter and we went up and down the block.
At that time we listened to the radio, every night and I would sit by the radio and listen to the Lone Ranger at 6:30 pm. There were a lot of radio shows, The Green Hornet, Amos and Andy, Fibber McGee and Molly and more. You had to have a lot of imagination to understand these shows.
By the way, there was no TV on our block until we got one when I was in ninth grade. That was my last year at junior high school. The stations did not come on the air until 6 pm in the evening when the news came on and went off the air at 12 midnight at night. Sometimes we would sit and stare at a test pattern before the TV shows came on. The only thing on Saturday was wrestling and all the kids in the neighborhood would come to our house to watch. Mother would pop popcorn and make kool-aid for us kids and most of the time would keep popping popcorn until about 10.pm. This was a lot of fun – at times we tried to help the wrestlers.
When I went to Technical High School I took wood shop and we had three hour classes. This High School was designed for boys and girls that couldn't afford to go to college but would have a trade after graduation. After school we would go to one of the high schools and repair the typewriters in the classrooms that were not working or broken by the students, where they didn't have to learn to type. At times it would be 10:30 pm before we would get home and eat and for me to get my school homework. In the summer we would clean and make repairs to one half of the Fort Worth ISD, classroom and the administration typewriters, mimeographs and business machines.
In 1952 we bought 252 acres of land at Burleson and started a cattle ranch. It had an old house and barn. The house was one long large long room with an additional lean-to room used for a kitchen. We had coal oil lamps for us to use at night for light; we had no electricity. There was no electricity for a year. Daddy kept going to the electric Coop to get them to put a line to our house. When we finally got electricity, so did all the neighbors.
There was an old wood stove in the lean-to that we tore down and we moved it outside and we used it to cook on. I had to get the firewood and get the stove going for mother ; those were the best meals. There was also a porch all across the front of the house that we ate on when it was warm.
We had to run an electric line to the well for the pump, before that we had to draw water by hand from the water well. This was the only water on the place for us and the cattle. Keeping water drawn for the cattle was a chore. Later that summer of 1953 we put in nine hundred feet of water line so we could have water at the house. Daddy had the water tested and we couldn't drink it, but we could use it for washing dishes and in the bathroom. We had to haul water from Burleson to drink.
In the winter daddy would send mother and I to feed the cattle on the weekends. I put out hay for the week and moved the hay where mother could get to it when she would go out on Wednesdays to check on the cattle and put more out if needed.
Mr. Wilkinson told daddy that if he could get an old Farmall tractor started we could use it. This was a real old tractor, it had a hand crank to get it started and had lug type wheels. Daddy got it started and got it to the house along with 5' cycle mower and a disk plow. It was my job to cut part of the pasture and to plow about 25 acres where we could plant a hayfield. It took me about five days to plow this field.
I graduated from High School in June 1954, which was a good year. I went to Arlington to register for college and standing in line I thought to myself, 'I have had all the schooling that I wanted ' and turned around and walked out. Later on in life I found out this was a mistake.
Lowell Morris a neighbor boy that lived up the road asked me to go with him to a Saturday get together at the Methodist church for the youth of the area, so I went. This was the best day of my life; I met a young lady named Carleen. On the way home I asked Lowell if he would see if she would go on a date with me. Lowell asked later that week if she would go that coming weekend and she said that she would if it was a double date with him and Betty Sue. We went out that weekend and after this date I knew that she was the one that I wanted to spend the rest of my life with; it was love at first sight.
We dated the rest of the year and January 15, 1955 we were married. I was 18 and she was 19, we were married in Weatherford, Texas. It was one week before we told our parents. We moved into a furnished apartment in south Fort Worth. I worked for Kyle Machine Shop making $1.00 an hour.
The next great day was when Griff was born in 1956. Daddy asked us if we would move to the farm and take care of the cattle and mow the pastures, he would not charge rent and would pay the utilities. In 1960 daddy gave me 25 acres and we bought a small house that took three years to build. In those days I was paid once a week and on the way home I would stop at Hurne Wrecking and buy lumber for that week, sometimes several weeks.
Another good day was when the adoption agency called us to come and pick up our daughter, Tina in Houston. She was only 4 days old.
In the fall of 1966 we bought a Ford station wagon and the next summer we took a vacation. This was the first vacation I had ever taken. Daddy didn't believe in vacations, this was the way I was raised so I didn't either. But after our first we took a vacation every year after. We went to Ruidoso, New Mexico and camped in the mountains just outside of the town. We had a piece of foam rubber that we put down after letting the back seat down. We also had a tent that fit over the back of the station wagon and we slept in the car. Carleen, Tina and I slept on the foam rubber and Griff slept in the front seat. While there we had to carry water to wash dishes and to take a bath. Taking a bath was something, I made a shelter from tree limbs and then wrapped a tarp around so we could take a bath. Carleen, Griff and Tina got their baths but when I took mine the makeshift bath fell on top of me. Had to hold the thing up and try to get the soap rinsed off was quite a task.
~~~~~~~~~~~~~~~~~~~~~~~~~~~