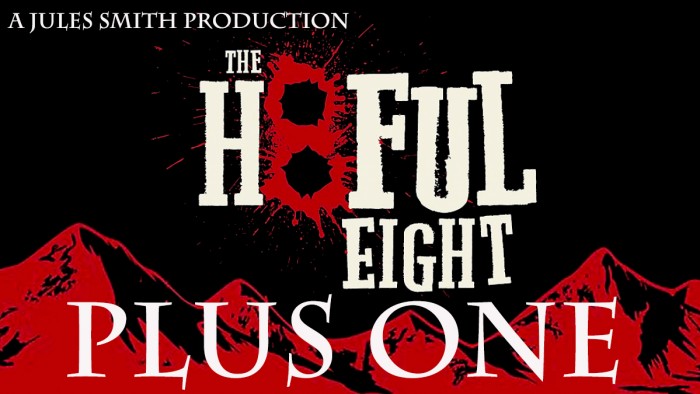 Last night myself and a group of pals went off to the cinema to see Hateful Eight which I've been looking forward to seeing since Christmas which was ages ago.
I'm not going to tell you about the film because I don't want to spoil it but it is a typical Tarantino with a slow build, pay attention to clues, suss out which character is not who he seems, who is going to kick off first and when will brains start turning into raspberry smoothies.
Now the normal cinema I frequent in the city wasn't showing this film because of some argument with the distributor and it being screened in 70mm. If you got me an STM microscope I couldn't locate my interest in the why's or wherefores of this particular squabble. Because of this we went to another big complex, on the outskirts. One of those like they have in America where you basically find a great big car park and then build things around it like cinema's, eateries and bowling alleys and call it a night out. A bit like people who go on holiday to Marrakech, stay in their 5* complex for the whole two weeks and pretend they're travellers.
Anyway, this particular cinema has had a refurb since I last went to it and I have got to say they've proper glammed it up. Firstly, it was cheaper than Cineworld costing me only a tenner. Secondly, when I went to get a Ribena soft drink in the foyer, I found they were serving alcohol. Now, despite being on a healthy regime at the moment I was distracted by a night out.
"Can I take that there alcohol into the showing?" I asked.
"If you don't mind having it in a plastic cup, of course!" said the friendly server.
"Pffft," I think I made some sort of guffaw at the shock of the answer, " Mind? Moi? A plastic cup it is, Sir, filled with your finest…err…let me see… Smirnoff Ice…that'll do. Make it a double since your cups are plentiful. Oh and throw a bag of Revels in, I'm feeling rebellious!"
At this stage of the game my mood was chipper.
Off into screen 6 we ventured with seats that had been chosen beforehand at the desk.
"I'm sitting at the end of our line," I insisted. "Don't be sitting me in the middle or next to someone I don't know."
"Fine, you choose," in unison.
To my delight, the complex had changed all the seats into big, comfortable reclining leather chairs complete with four different controls to change height, leg extension, lower back and so on. It was fantastic. I chose my seat, right in the middle of the screen at the end of our group and got to playing. Backwards -forwards-almost horizontal- no, that's no good, I'll fall to sleep – up a bit -down a bit and a little bit higher and…Perfect! Basically, I'm like a ten year old in an adult body. My friends ignore this and decide to find it charming. So, I'm all comfy, I've taken both sides of the cup compartments, one with sweets and one with my drink.
At this point my mood is bordering on ecstatic.
Then a couple came to our row. Like, right next to me. However, they looked liked they'd brushed their hair, smelt of Hugo Boss and had a bag of Revels like me so I knew we were on the same page.
"Is this my hole or yours?" said the woman's husband, pointing at the drinks compartment.
"Not a sentence you expect to be hearing in a darkened cinema unless in a Carry On film," I replied.
"Oh you can't take him anywhere!" his wife laughed.
"Haha, haha, " we all laughed like old friends.
"Oh, and by the way, it's mine," I said.
OK, they were nice people and I was very happy with my line of viewers. Relax. Commercial time. Adverts normally irritate me because they go on for flipping ages. I mean, this film is already three hours long never mind all the other crap. Everyone knows I can't sit still for more than twenty minutes but, the lovely chair kept me stable and content. Until…
Another couple arrived and started to question the already seated couple next to me, with whom I was happy with.
"No, these are our seats…see…E4 and E5.."
"Oh so terribly sorry, yes you're right, we thought this was B. Oh my Goodness we are so silly."
The nice couple left and we said our Goodbye's. I felt like I'd just lost my Mum and Dad. I glared at the new people but then she smiled and I caved. I liked them because they sat one seat removed from me leaving a spare seat at my side which became a table for my coat, handbag, scarf and jumper. I always take lots of layers to the cinema as I find they have a sick and twisted delight in freezing your arse off by dropping the air con to minus five. However, this one was quite warm so I had to de-layer and needed a makeshift wardrobe.
So, we are all settled and ready for the film which was just about to come on, surely because I've already seen about five trailers of things I want to go and see.
"What time is it?" I whispered to the friend at my side. This friend didn't have a watch on so it chinese whispered up our line until I got an answer. I did have a watch on but couldn't be bothered to scrutinise it in the dark. This is why you have friends.
All of a sudden and to my utter horror a skinny, young, lone man appeared at my wardrobe looking at my clothes and wanting the seat. Goddam it! Now this person put me on edge straight away because he didn't talk, just stared at the chair. So, I, who had arrived in time and all comfy had to zip my seat up to normal so I could move all my clobber and put it at my feet. Selfish bastard.
Then I had to find my perfect position which had taken me ages to get to and couldn't. Buzz…bzzz..bzzzz…
"Shhh!" went my friends.
"It's not MY fault"
The film started with a stagecoach travelling along in a snowy storm which went on for ages and I said I wasn't going to tell you anything but this isn't going to make a difference. This gave me time to scrutinise the man sitting in my wardrobe because like I said, he put me on edge and I like to pay attention to my sixth sense and gut instinct. He was sweating profusely. Thankfully, because it was a snowy scene on the big screen, the light allowed me to notice this. Not only was he sweating like a labourer in a heatwave but still had his big, padded jacket on in a hot cinema.
Hmmm…that's odd, I thought. Now why would he be keeping that on whilst sweating? Then I noticed his laboured breathing like he was anxious about something. What? And why was he sitting in the middle of the cinema, in-between people when there were other spare seats? Oh…My…God…
I elbowed the friend next to me and beckoned their ear to my mouth, " I think the man next to me is a terrorist," I whispered harshly.
"What? Why? Don't be ridiculous."
I explained my reasoning. They had a peek at him and looked a bit worried.
"See!" I said.
"He's just a bit odd."
"And…what do odd people do at cinemas apart from the obvious? They either go on a mass shooting spree or keep their explosives under a padded jacket, right?"
"Just watch the film. "
"He's putting me off. And, what a brilliant film to come and do this at.."
"Shut up, you're scaring me now."
"How do you think I feel? I'm right next to him! I'm the one who's going to get it first."
"Well YOU wanted to bloody sit there."
"Well I don't now, I want to swap." I insisted.
"NO. We can't move now the film's started!"
"Well fuck off, now you can't have any of my sweets," I snapped, snatching the Revels out of the cup holder.
Maybe it was better to be right next to the man as I was the only one in the cinema who was going to keep tabs on him and it was better to die instantly than to move and be maimed.
I had one eye on Samuel L Jackson and another on my compadre adjacent. It's a good job I can multitask. Then I noticed him unzip his coat slightly and put his hand inside his jacket.
Oh, God, this is it, I panicked. He removed his hand. I checked for a detonator. Nothing. He started to fidget and I noticed, he remained sitting up. Now who does that when you've got this 'lie back and chill 'comfy chair, eh? No one. I glanced around the cinema and everyone was lying down. I decided that it would be prudent to sit up the same.
A: This would let him know I might be onto him
B: I am ready to react to sudden movements and will be able to take him down if necessary.
Buzz…bzzzzz…buzz… I sat up.
"Will you keep still!" said friend.
"You'll thank me when I save your life."
"I'll die too."
"Yeah well you deserve it, being mean to me."
Then, he proceeded to go to sleep. Yes, sleep. Who goes to see a Tarantino film and goes to kip? Was he ill or was this just a ruse?
The breath coming out of his mouth smelt like stale beer and horse manure and I wanted to punch him because of course, he was facing in my direction. So bad, that I had to find my scarf in the dark and wrap it around my face so I couldn't smell him.
"What the fuck are you doing now?"
"He stinks. How do you think I feel? I'm having to not breathe properly and now can't eat my sweets and keep an eye out and watch the film. I'm not happy."
"You should've said."
I came to the conclusion that he wasn't going to kill us just yet as if he were to do this, he'd wait till the end when all the action started. That would make sense. Get everyone when they least expect it and won't know the difference between real gunfire and shotguns from the surround sound.
He left before the end of the film. Clearly he knew I was on to him.
Thanks to me, everyone is still alive although I left that movie fraught, like I'd had a long day at work and also pissed off that I'll never be good enough to write a story as cool as the one I'd just seen.
The thing about Tarantino films, I think, is this: They have the capacity to make you laugh at the humour attached to someone being horrifically blown to pieces. Not in any other situation would this be amusing except in a Quentin movie. I'm sure his films have the ability to turn a person into a psychopath. I think I need to see a Disney movie.