Satirical Snapshots Bringing You Whimsy On A Wednesday!
Off I galavanted to New Mexico to meet my pals, Matt and Jane, all the way from old Blighty to go on a photo shoot. The air was dry – oh-my-goodness-pass-me-my-strawberry-lip-balm – and hot and it had that suffocating thing going on a bit like Colorado. Ah yes, time to slow down the pace, drink water instead of margaritas and pay attention to the mountains.
Breaking Bad
The mission was about breaking bad in many ways: Get yours truly a new author profile out in the desert by breaking  bad juju. Develop a more bohemian, devil-may-care persona (cos I didn't have one of those already) like a cowgirl drifting from adventure to adventure with just a few bucks and a mind full of stories.
And, of course, to go and shoot in the location of the great TV series 'Breaking Bad' because that is just an awesome thing to do.
Albu- QWERTY

Props were needed to create the 'just up and out on the road' imagery. Cowboy bewwwts, jeans and a dodgy checked shirt from Walmart – not a problem. But in order to capture that old skool feeling we needed a typewriter. Matt located one of these old relics back in the UK and it travelled over in his luggage allowance. I don't know how he managed this as my luggage set off sirens at Heathrow for being 9kg over the limit even though I'd taken things out.
Jane named the typewriter QWERTY and we took it with us everywhere should a golden shot opportunity arise.
We got up just before the crack of dawn and drove out to the Tohajiilee (Navajo) Reservation, Albuquerque, right to the spot where Walter and Jessie first started cooking meth in the RV in the genius TV show, Breaking Bad.
The scenery was fantastic. Watching the sun rise and hit the red rocks was inspirational and enchanting. I understand why they call it the enchanted state because the views are magical. There must be enchantment at play because Matt and Jane took some brilliant shots of me where I can actually pass as semi professional looking and even like I seriously know what I'm on about.
Photos by whitbyphoto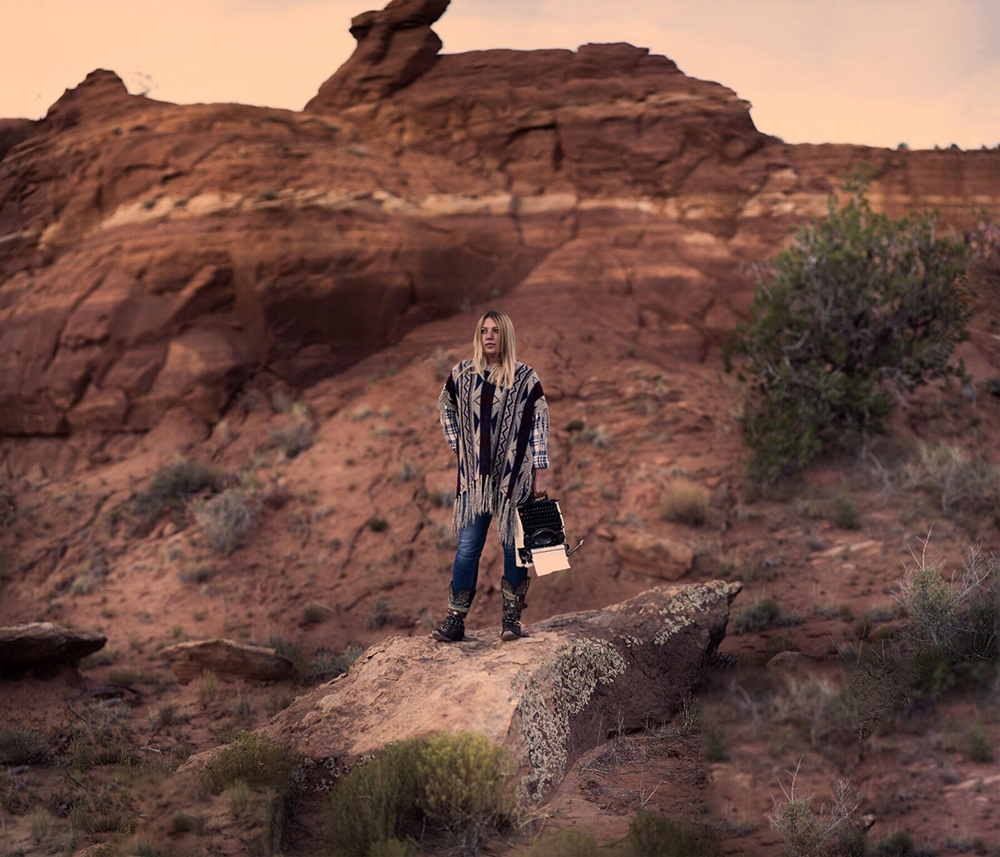 Very serious in my poncho.  There might've been Indians with arrows.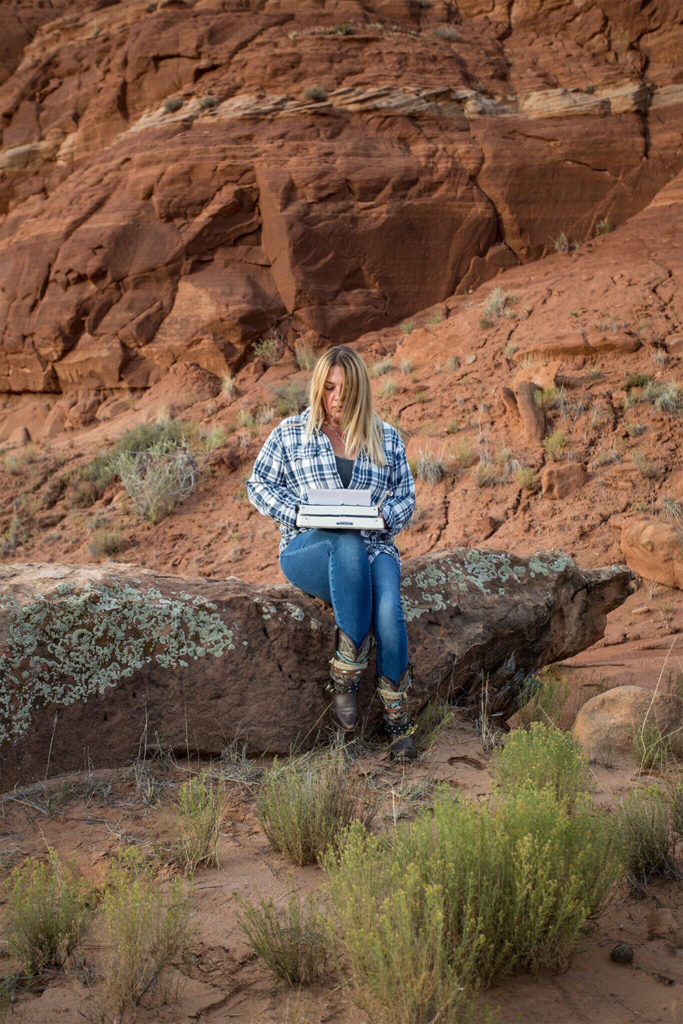 Writing very seriously about incredibly serious things. On a rock as one does.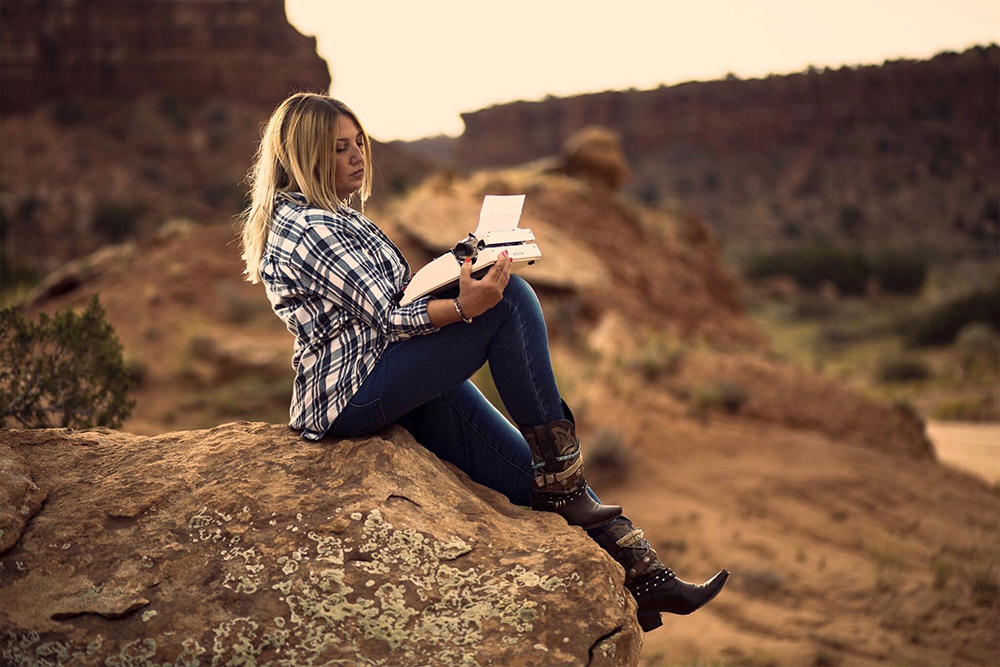 Typing in this position is easy. Ask anyone.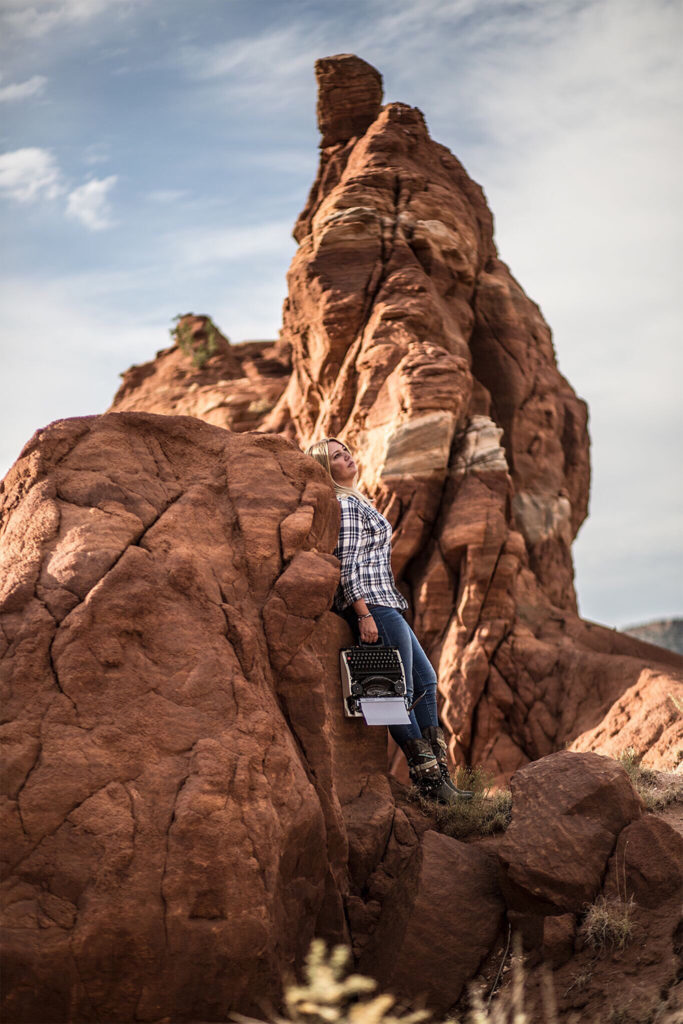 Rock resting after very serious typos.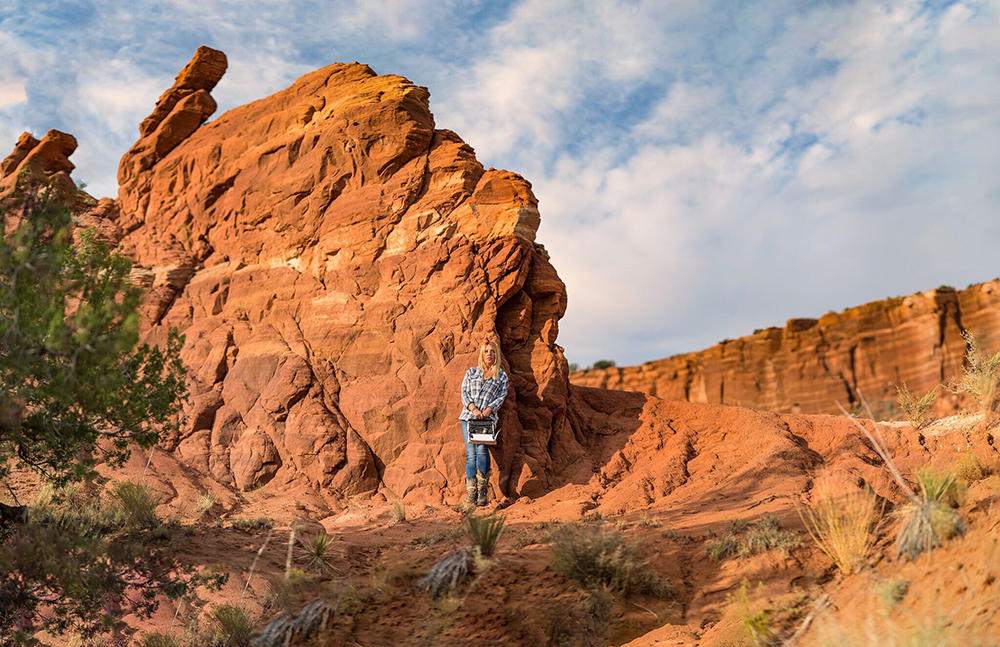 Blending in with the scenery…
Los Pollos Hermanos
After a lengthy few hours work we drove to the Breaking Bad restaurant, Los Pollos Hermanos, now cunningly disguised as a Twister franchise. This made me terribly excited although I would have been happier to see a few dodgy Mexicans and Gus behind the counter.
La Villa Real de la Santa Fe de San Francisco de Asís,
Which is more of a mouthful than the name of any Welsh town and I thought they held the torch on that one. Nobody wants to write all that malarkey on an envelope so they shortened it to Santa Fe. Founded by European colonists and established in 1607.
Off we drove to 'Holy Faith' which I prefer to call the 'the land of hanging chilli peppers and Adobe houses.' How utterly gorgeous and quirky. Unfortunately, Jane fell down the stairs at our hotel and ended up in hospital for four hours. She came back in a sling, plied with drugs and off we went to top it up with cocktails and Cinnamon Whiskey. She felt exceptionally better the next day despite being one handed. Matt says she does this on every holiday and it's getting old. Not the Cinnamon Whiskey shooting but the falling over bit.
I have far too many pictures of this most excellent adventure so I've put them all in a video for you because I'm so bloody thoughtful and have obviously evolved as a better human being already. This magic stuff works.