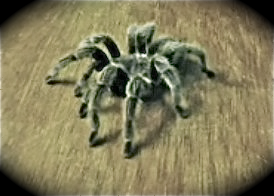 I'm not even kidding.  And if you'd have said to me, this fine Sunday morning, "Jules, today you will hold a tarantula," here is what I would have said:
"Are you stupid?  Do you know me?  I am terrified of spiders.  In fact, if a house spider comes into my living room, I leave.  This will never happen; not even if you gave me a million pounds."
If only I'd have held out for that….
So off I went with a group of friends to the animal farm.  I love animals and I was in need of some nice, gentle, Sunday therapy. I would like to reiterate that I HATE spiders. Off we trotted, looking at all the fluffy, lovely beasts and then I decided I'd like to go back to the reptile house and hold a snake.   Only this time, when I turned the corner, snake man had gone for a Burger King and Spiderman was in his place…..with a tarantula.
"EWWWWWW…"  I shrieked, doing a hop, skip and a jump, panic dance.
"Would you like to hold her, she's called Cynthia."  Spiderman asked, like this was a normal, everyday thing.
"I would rather poke my eyes out with a hot stick," I replied flatly, "I can't even look at that thing…gahhh…I'm scared of spiders and of anyone who thinks of them as pets."
"But this will cure your fear."  He said, like it was only a fluffy bunny or something.
"No. If you put that thing ANYWHERE near me, I will die. Nice to meet you, weirdo, I'm off to play with the meerkats."
But oh no, he couldn't leave it at that could he?  No, look it's Jules, the person that people seem hellbent on challenging.
"Just come and sit next to me.  Baby steps."  He offered. "You don't have to do it, but you might change your mind."
"HAHAHAHA!  I.Might.Change.My.Mind…Not."   Of course, a crowd began to gather and look at me in that "Go on..don't be a baby…be brave!" kind of way, because they were too shit scared to have a go themselves.
I sat down next to spiderman who I found out was called Corey, trying to think of a million ways to get out of this horrid situation with a captive audience.  However, all I could do was stare at the awful, gigantic spider and hyperventilate.  I trembled like I was on a come down, began to perspire in places I never knew sweat could come from and my poor little heart started making a violent bid for freedom.
Corey was magic.  He is one of those people that I could do with babysitting me everyday of my life.  He was calm and soothing and made Cynthia the gigantic tarantula, seem as harmless as a guinea pig.  I think he must have drugged me or used some kind of hypnotherapy or psychobabble because after half an hour of cajoling and dripping pretty words in my ear, there I sat with Cynthia in the palm of my hand.
You can witness my bravery in the video below and then you may sing my praises, LOUDLY, in the comments.