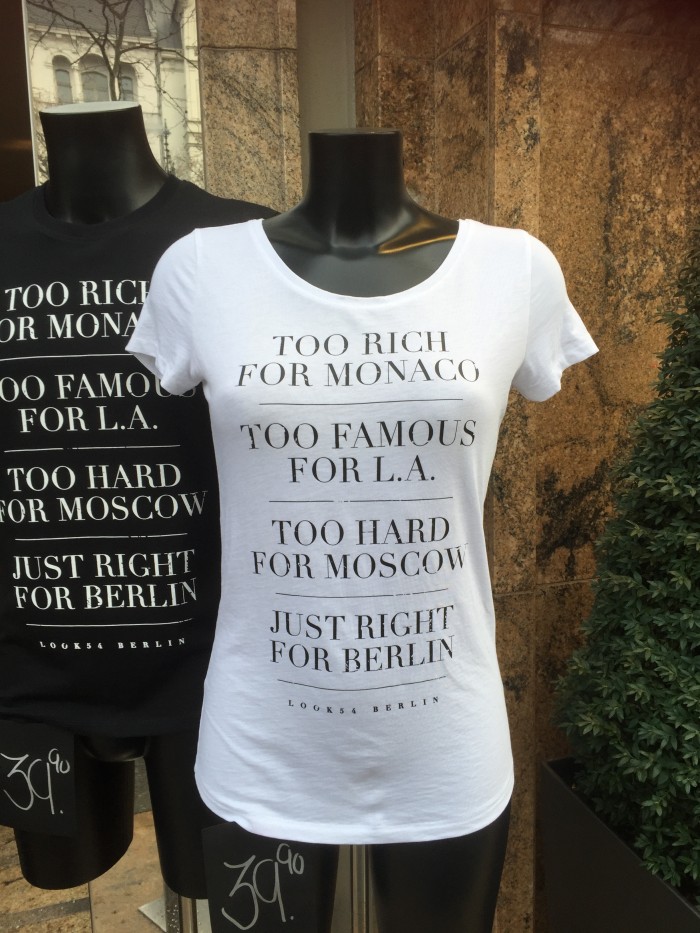 My Mum came round.
"Do you want to go to Berlin?"
"Nein, " I said.
"No, seriously," she snapped in that Mummy voice. "My other half can't go."
"I don't flippin' blame him. You know it's winter, right? It's FREEZING over there."
"It's only -7 C."
"Oh well in that case, get my bikini!"
"It's in a few days, so you have to decide now!"
I sensed a Cold War coming on. "Ja, mein Fuhrer…but..can I shout "Achtung Spitfire!" out loud when I'm there."
"NO. You did that in Cologne."
"Deal or no deal…."
So off we went to Deutschland. Instead of getting a taxi from the airport, which I swear to God was somewhere in Austria, we decided to do a remake of Planes, Trains and Automobiles, choosing instead to take the bus the metro and THEN a car when I'd had enough. I'd never been so cold, not never ever. Except for the time I went to Boston and it was – 14 and I couldn't blink, but that's another story.
Here's one thing I noticed on my travels: I have never seen so much graffiti in one city. Its EVERYWHERE.
"I only want to eat German food," I said. "Authentic, off the beaten track cuisine in Deutsche Kitchens."
As luck would have it and before I froze to death, we found a rather lovely restaurant come bar. It was perfect. We entered and were greeted by a throng of activity and a very tall barman.
"Haben sie ein tisch fur zwei, bitte!," I said proudly.
"No," he replied. I thought he was just being sarcastic but he wasn't.
"Well, what about later?"
"No."
"Tomorrow?"
"No."
I turned to my Mother and whispered in her ear "For Christ's sake don't mention the war, this one's a bit prickly."
We left and found another but on the way home, she decided that we'd go back for a drink at the bar with Herr NO and see if we could get a table on the Sunday.
"You're back," he said.
"Missed me?"
"No." But I noticed a faint smirk in the corner of his mouth. Game on.
"Can I have a white RUSSIAN, please?"
"No."
"Ok then, a Vodka Martini," I retorted.
"No."
I waited it out with English defiance.
"Does it say 'Cocktail bar' on the side of this building?' he asked me.
"NO!" I said. Yeah, see how he likes it.
"So, you can have beer, wine or spirit. Choose."
"Polish spirit? Oh no wait, crush that…"
I chose wine.
"You should speak German when in Germany."
"Nein," I said. See, I was coming back strong with a taste of his own medicine. "Besides, I DID speak German when I first came in and YOU spoke back to me in English so what's the point?"
"From now on we will not speak English then, " he said.
So I started talking to him in French.
That didn't work because of course, he spoke 5 languages and answered me back fluently. However, he couldn't pull it off as well. He didn't have that soft, fluid roll so I felt slightly victorious. England 1 – Germany 0
"What's your name?" I asked.
"Martin." he said it just like the English version.
"How do you say it in German?"
"Martin," he replied, just the same as before. That did make me laugh which I berated myself for.
Martin put two glasses of Schnapps on the bar.
"What's that?" I asked.
"Medicine."
"Danke, Dr. NO."
It was then that the truce was met. After that, Martin was cool and his place became our local. If you ever go, I'll tell you where to find this friendly joint because it's worth the visit.
And on to the photos…..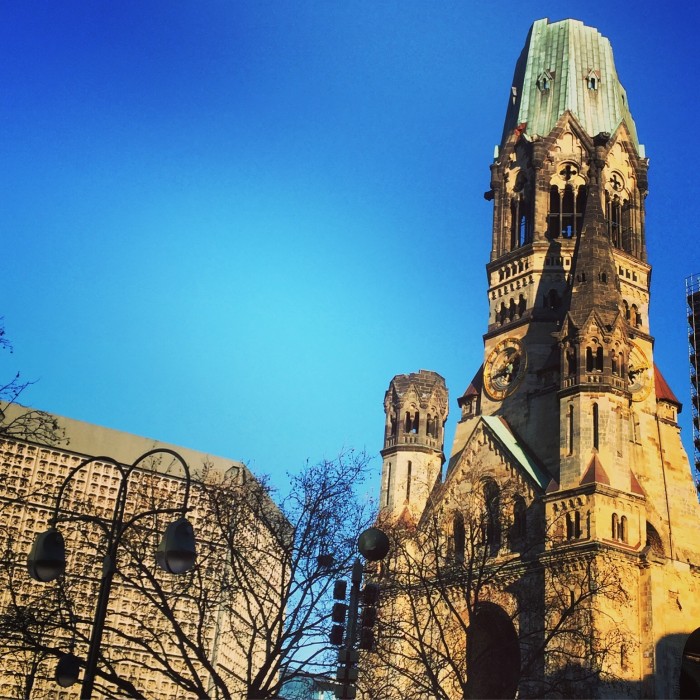 TheKaiser Wilhelm Memorial Church with no steeple.  Something to do with Lancaster's and B-52's.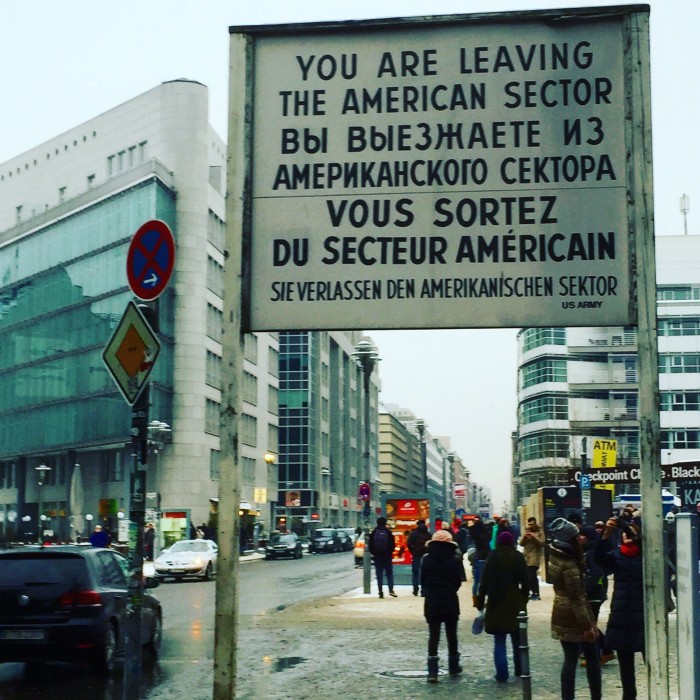 Checkpoint Charlie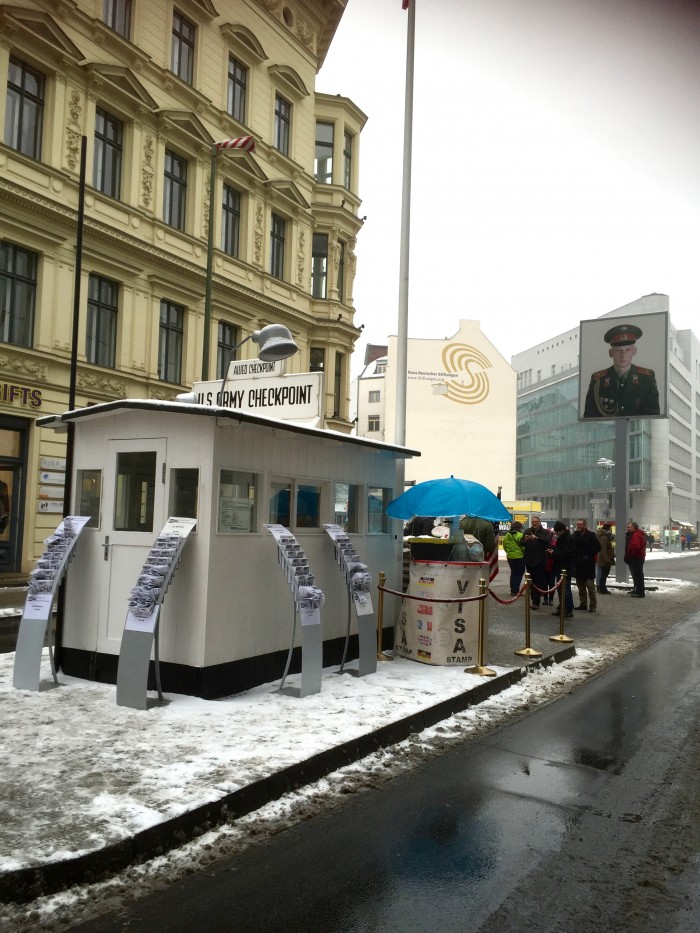 Which as you can see is a little white hut right next to McDonalds and has Germans dressed as American soldiers.
Then decided to Foxtrot Oscar Juliette….to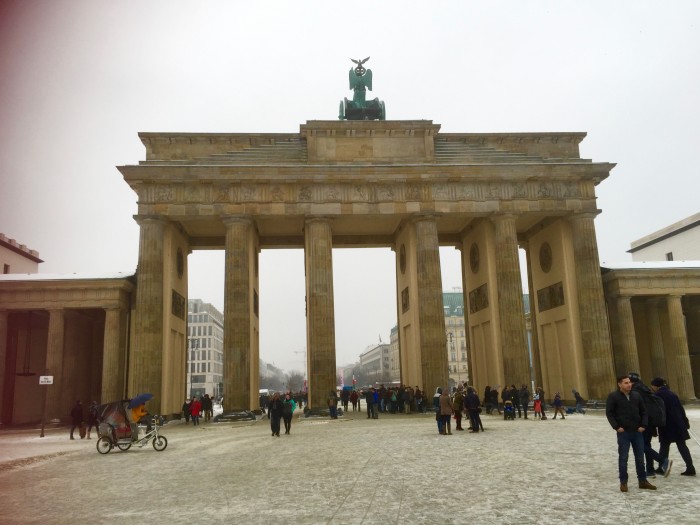 The Brandenburg Gate
You are lucky I'm still alive to show you any pictures after this as my Mother decided I should experience a tuk tuk.  I sat in a bubble of plastic amidst roaring Mercedes and Audi's wondering how long it would be before I bounced off one of their bonnets.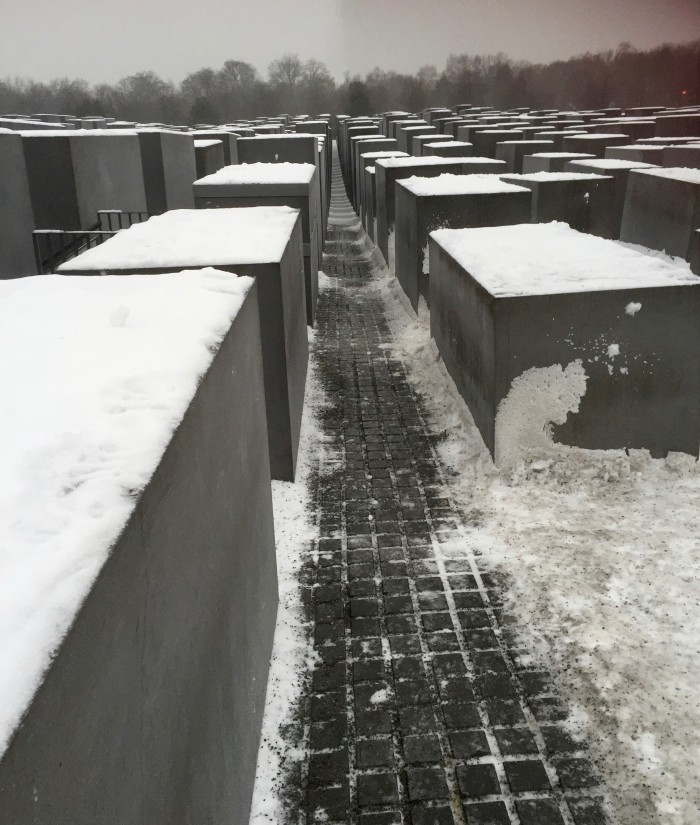 The Jewish Memorial.  Yes, it is as somber and sad as it looks.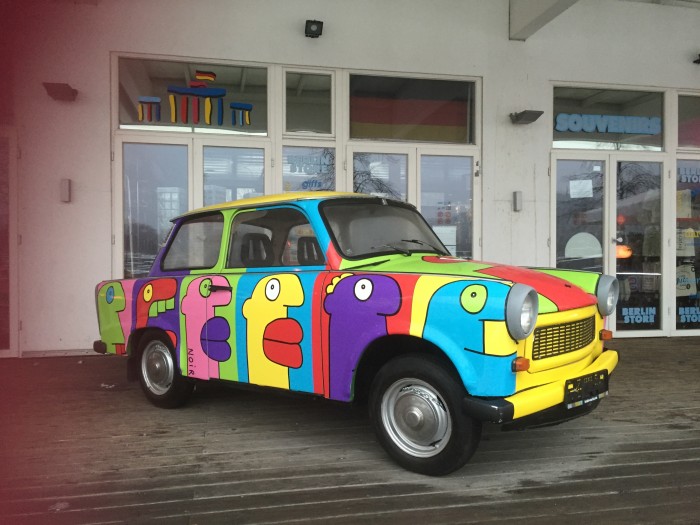 The Trabant! East Germany's mechanical pride and joy.
Now I'm going to show you a few shots of the Berlin Wall.  There are some original preserved sections and lots of it that have been painted by various artists.  I took many photos of this as I thought some of the art was spectacular but I'll just show a few pictures.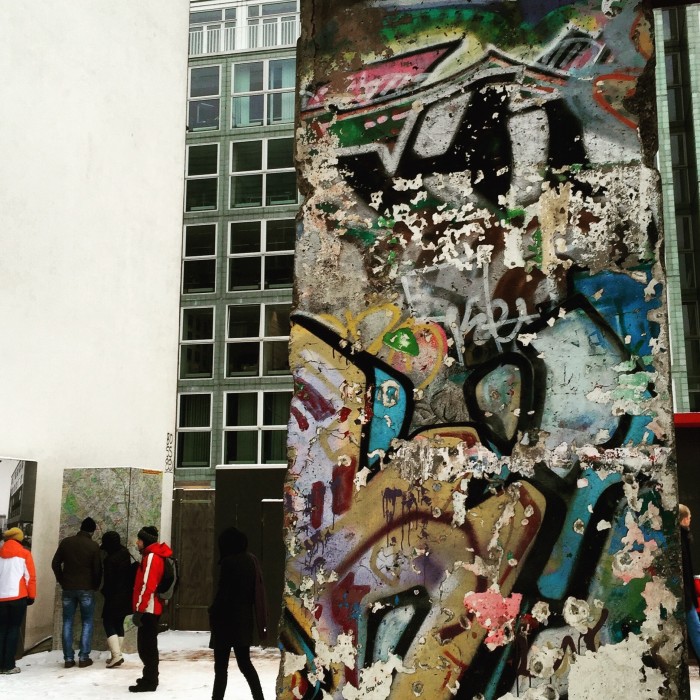 Original piece.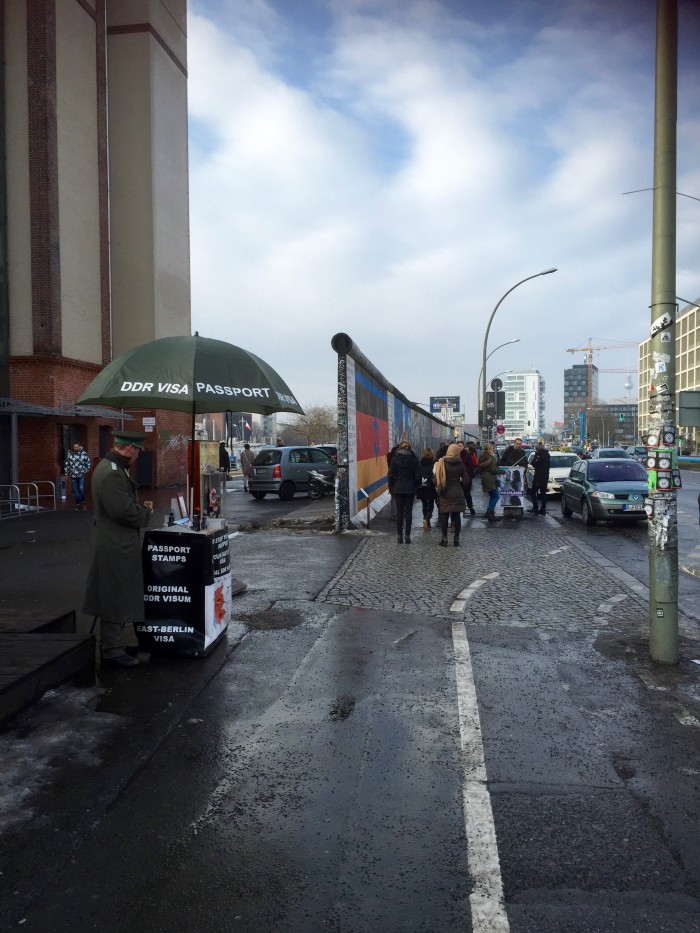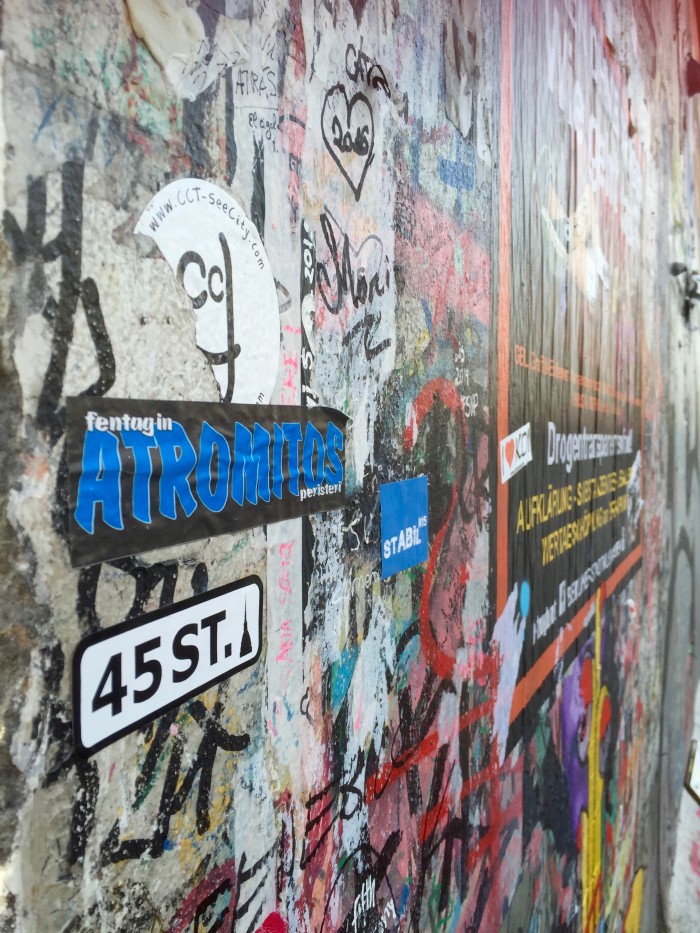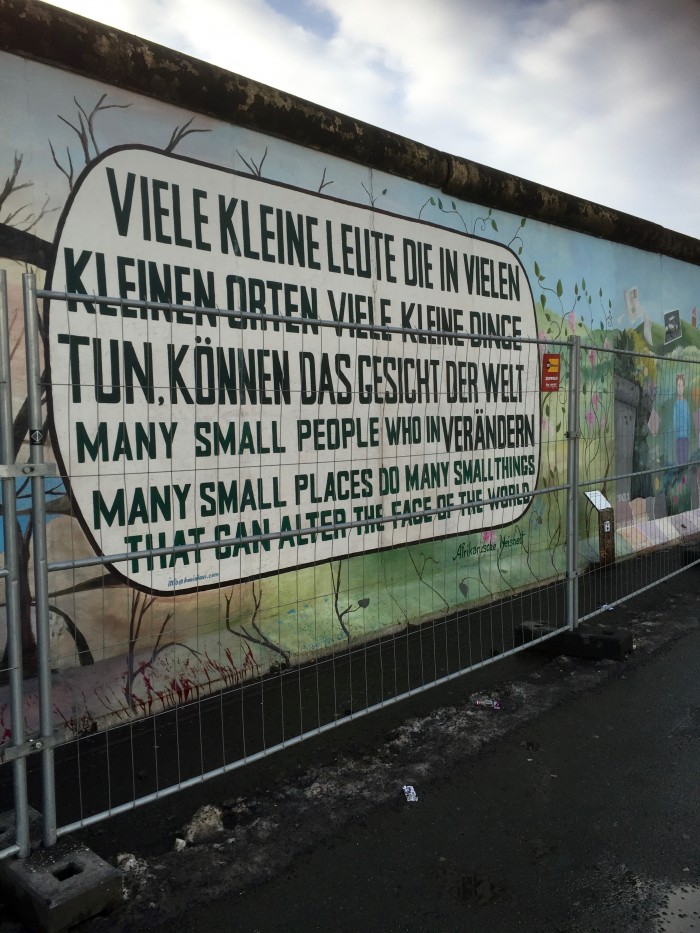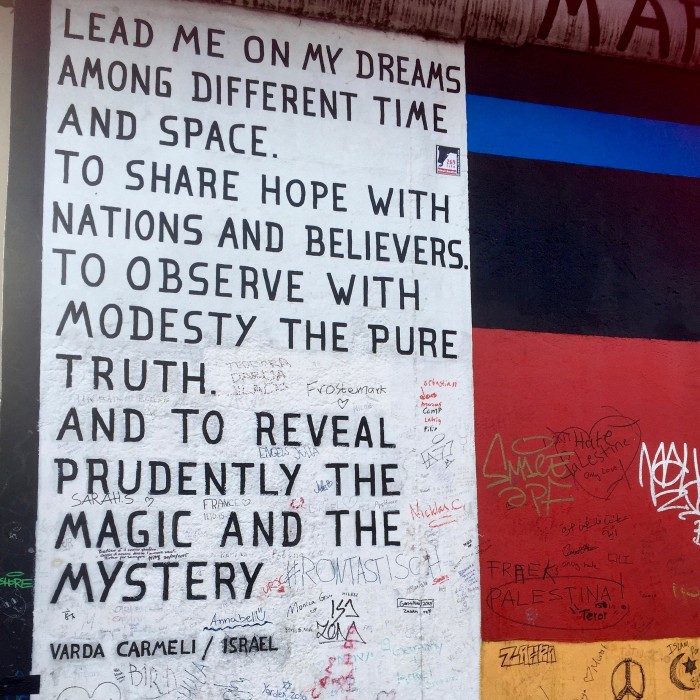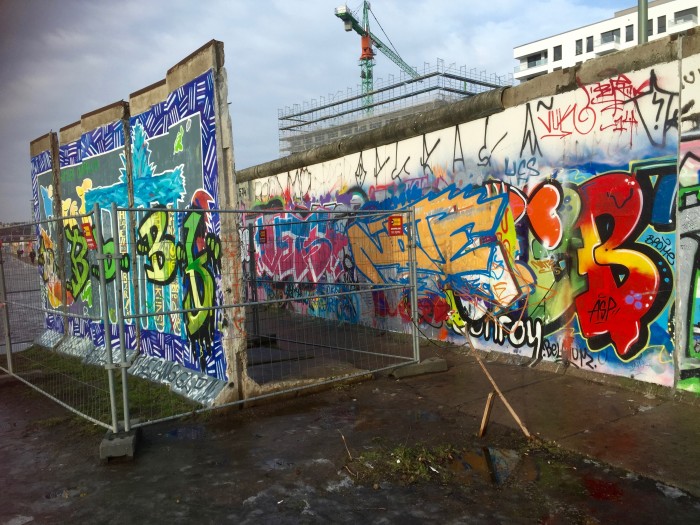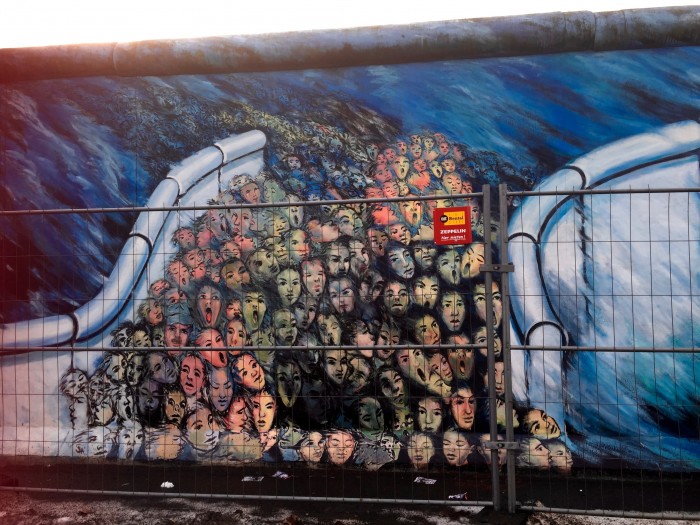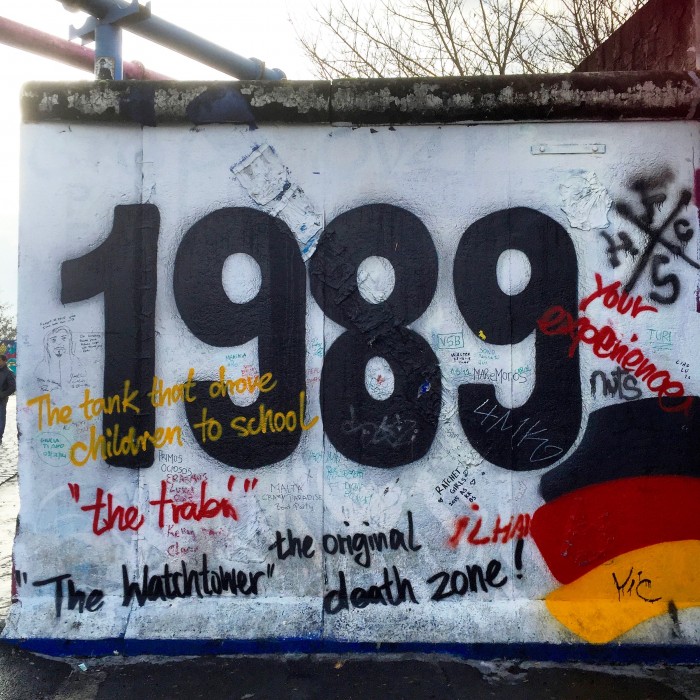 A good year for pulling down divides.
Auf Wiedersehen.