After being cursed by the troll maker I felt it was time for a stiff drink. As it happens, there was a famous little pub at the bottom of a very thin alleyway. Famous for having 365 beers, one for every day of the year. Now how cool is that. Needless to say it was packed solid with people wishing to sample the fineries of Belgium. We eventually got a seat and I put my troll delicately on the table. The bartender noticed and rushed over…yeah, he'd seen this kind of trouble brewing before no doubt and asked what we wanted.
"Please" I said "You choose for me because I will not have the ability to choose from 365 since I often find it impossible to choose between two. What I'd like is something reminiscent of a fine traditional ale, maybe sweetish or fruity and with the after effect of a class A drug"
He clearly took this seriously as after a few sips of my Christmas ale I felt wondrously dizzy and giggly. As did my Mother. On the table there was a booklet with a story about this famous little inn but only in Belgian. Since I am a lazy Brit who relies on everyone speaking English I was at a loss. Whilst I am able to speak a modicum of French/Italian and German I tend to get them all mixed up and end up speaking, what I fondly refer to, as "Splinglish' It tends to work well for me as long as I use a lot of hand gestures. Anyway, the bartender was way too busy to translate and the European couple opposite didn't look very friendly. I don't think they liked the way my troll was looking at them. So, my Mother and I took it upon ourselves to translate it as best we could. (If you are a Belgian reading this and can translate it properly, PLEASE DON'T as I think my version will attract more trade to this fine pub)
Reads: Bruges is very romantic. In the middle of the town there are plenty of streets. Camels on streets….streets that never end….Branded streets and the God forgotten street of goals where you'll find…. "De Garre"
De Garre (this pub) is 600 years old – zippetydoodaa! We've stood here for ages in our zingy fabric (s). Even though we are Brugian we have our own official 'street talk' and we have called it '"De Garre' speak.

Reads: On the streets in 1860, a Frenchman called Zekere Cornielle came over and said "Bruges has had its best now, it's out on it's heel. Operation 'Slag" will bring Bruges back and we will open a "Garre on the corner"

Reads: From March 21st – April 1984, 17 hours a day we are open for drinking
Sin is then the topic of the hour if you're still bloody standing…
De Garre is only for those with a typical type of stamina and no fear. We don't want those that are rusty. On sluts day, we do not tolerate toe rags.
Reads:Weekdays we open at 12 (on saturdays at 11) and get ditched around midnight. (Friday and Saturday we can make it 'til 1am) Monday is only for sluts day.
It tends to get very active when dudes like the whore bar and we dance the Bolero and latin in a blustery way. We find ourselves so friendly that each moment we get better (staying "on the wagon" is a great problem)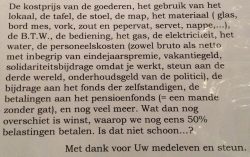 Reads: It may cost you a good amount but you will get through it with a local, a table, a stool, a map, some material (a glass, a messy board, a fork, salt and pepper a serviette and a nap) and BY THE WAY., in the beginning you'll get gas so being near electricity and water is at your own personal cost.(bowels get brutal as the nectar takes it grip and premium beer jars, filled with gold, brings about solidarity and putting the world to rights- but avoid talking politics) We are fond of our standing brigade and them spending their pension fund ( = mandatory for getting in) And that's all. What we do oversee is winnings, where we hog a small 50% of whatever you bastards bet on. Isn't that good?
We thank you for meddling on site.
I think I shall have Belgian as my second language.