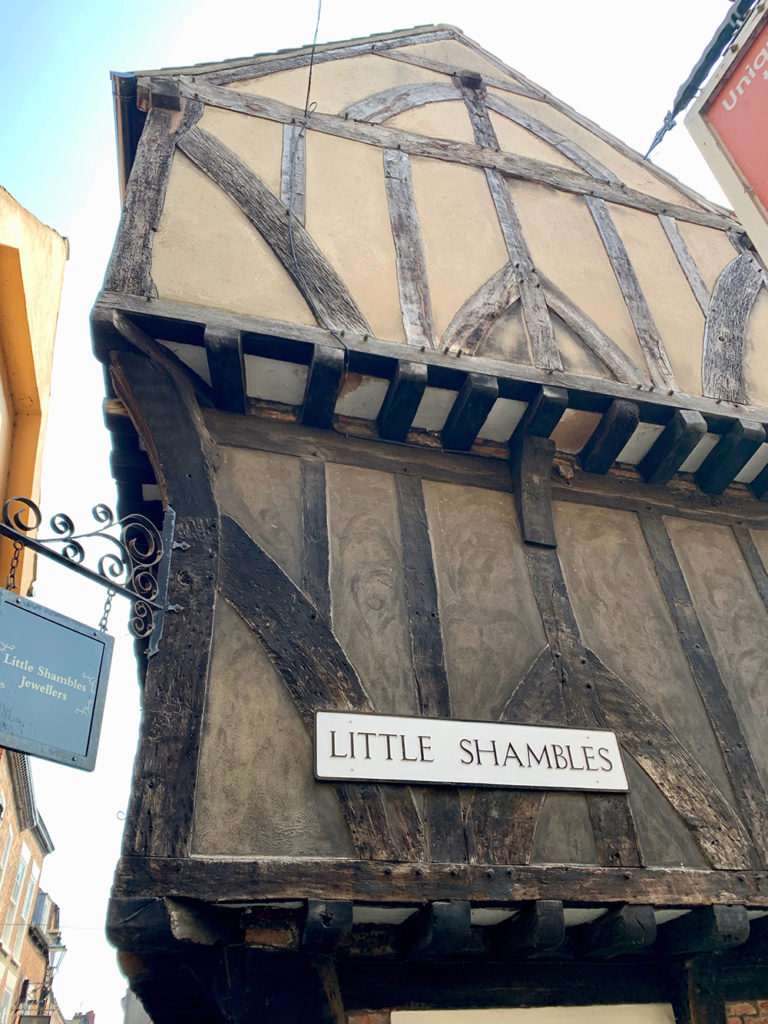 Satirical Snapshots Bringing You Whimsy On A Wednesday!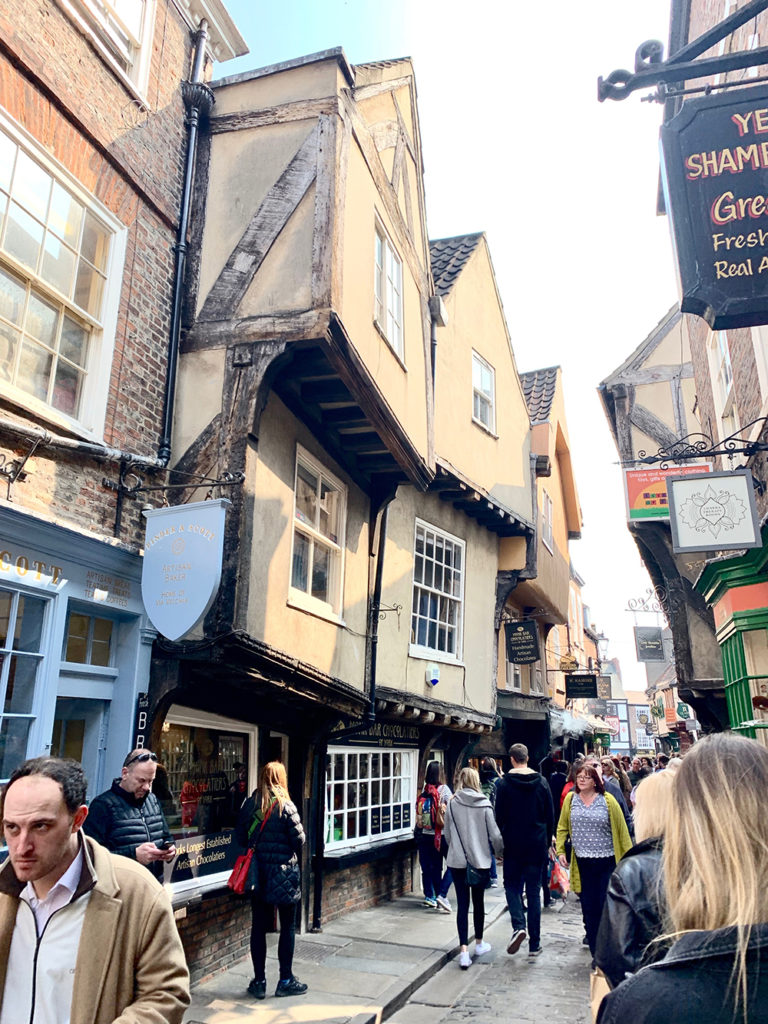 They say you should pay attention to your journey because there are messages everywhere. Mine seem to be shockingly accurate. When I can be arsed to pay attention. 
On a recent junket to York, I came across The Shambles. Ah! A place I know well. Walked down that menacing lane many a time, and, as usual, it wasn't a straight forward "from start to finish" experience. Littered with obstacles – in this case, dawdlers and tourists standing right in the middle of the narrow street to examine the wonky buildings of yore. Look pal, can you just sod off to the side to do your adoring because weaving in and out of you all is making me seasick. I have to get through this alive and without either one of us causing grievous bodily harm. 
From The Mighty To The Meek
I am fascinated with doors and York boasts a collection of the finest.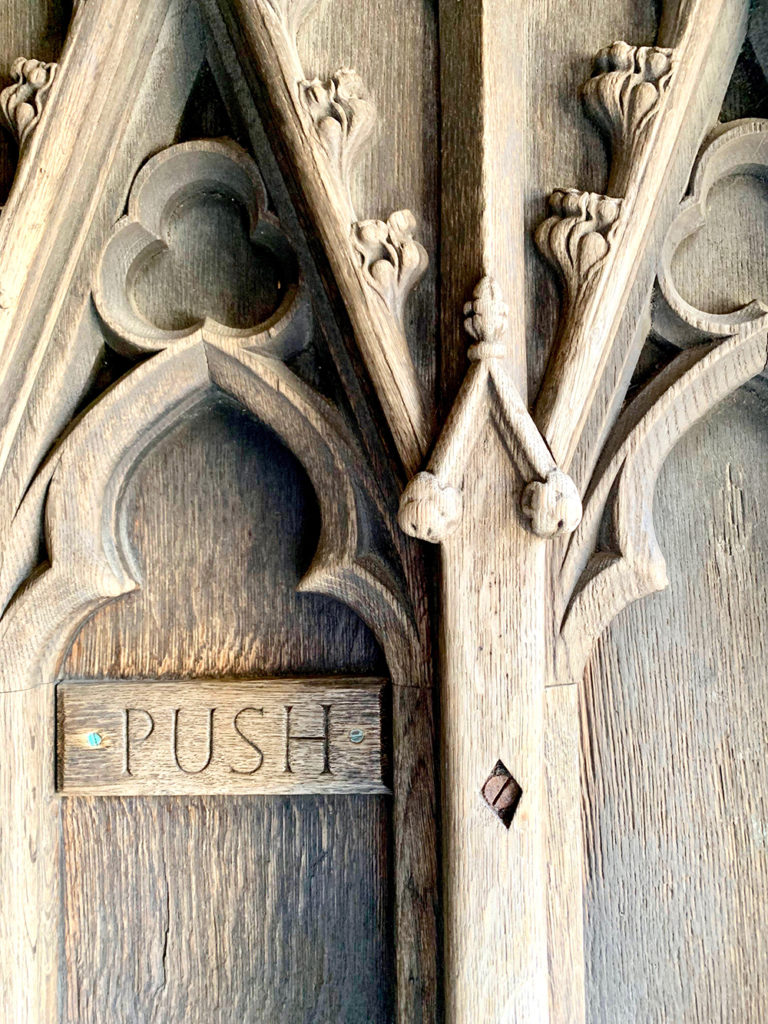 There seems to be a lot of pushing going on of late. Tons of effort and hard work. The temptation is to heave-ho when confronted with such a magnificent entrance displaying a command.  What delights could be behind? Or not. Will the effort be worth it? 
Standing at the edge, admiring the great portal (because I have street manners) I felt tempted to go behind and explore. However, that meant ducking and diving through a gaggle of Japanese tourists moulded to the floor with craned necks, a couple of kids having an ice cream fight, a 4×4 pushchair worthy of making it to 'Top Car' status, and a dog so small and hyperactive it was like a live yo-yo; an unavoidable, moving tripwire that would have you face down in seconds doing gobble on a cobble. 
As everyone looked up, I looked down, and that's when I spotted it…
The worlds smallest door.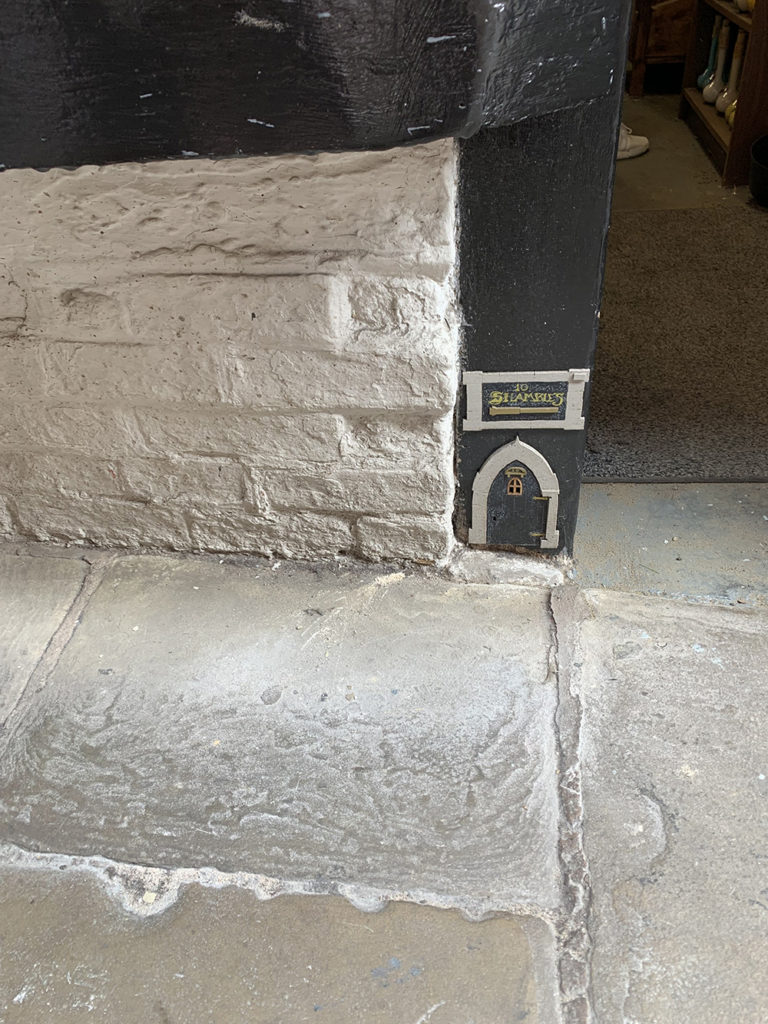 Well. I was enchanted!  I looked around for the 'Eat Me – Drink Me' potion but reckon the psychopathic pug had beaten me to it.  Trust me to find the one and only door that I'm desperate to enter but can't. Rats! Probably…
I shut my eyes and willed myself to shrink. Come on, brain!  You can do this! Despite what everyone says, I know there's more to you than you let on. 
Careful Which Wormhole You Wish For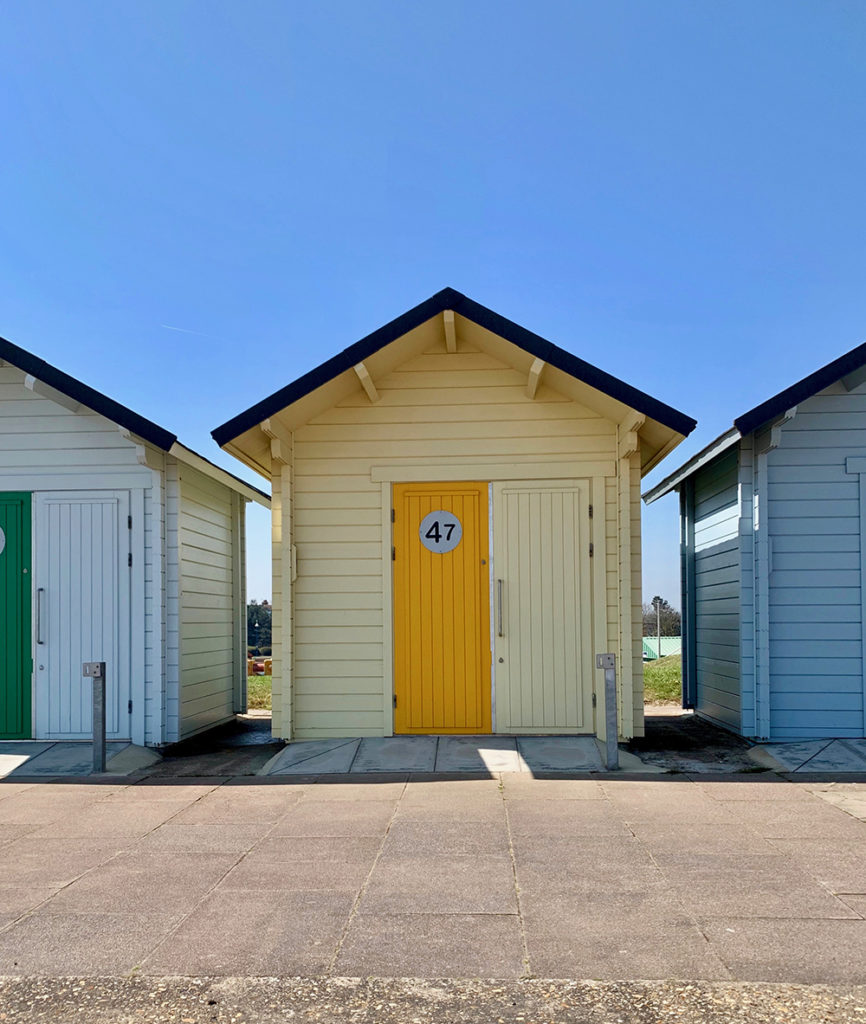 47 seconds later I was at the seaside. 
A gloriously hot and sunny Bank Holiday Monday, and where's the worst place you can be? 
The East Coast.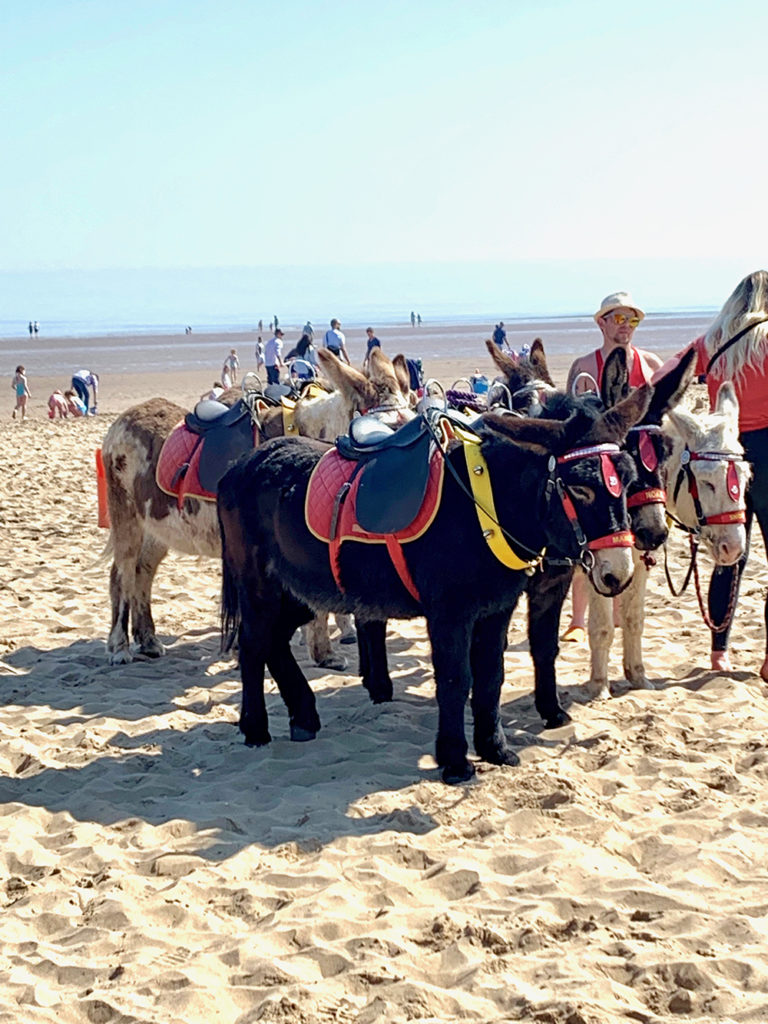 Full of donkeys.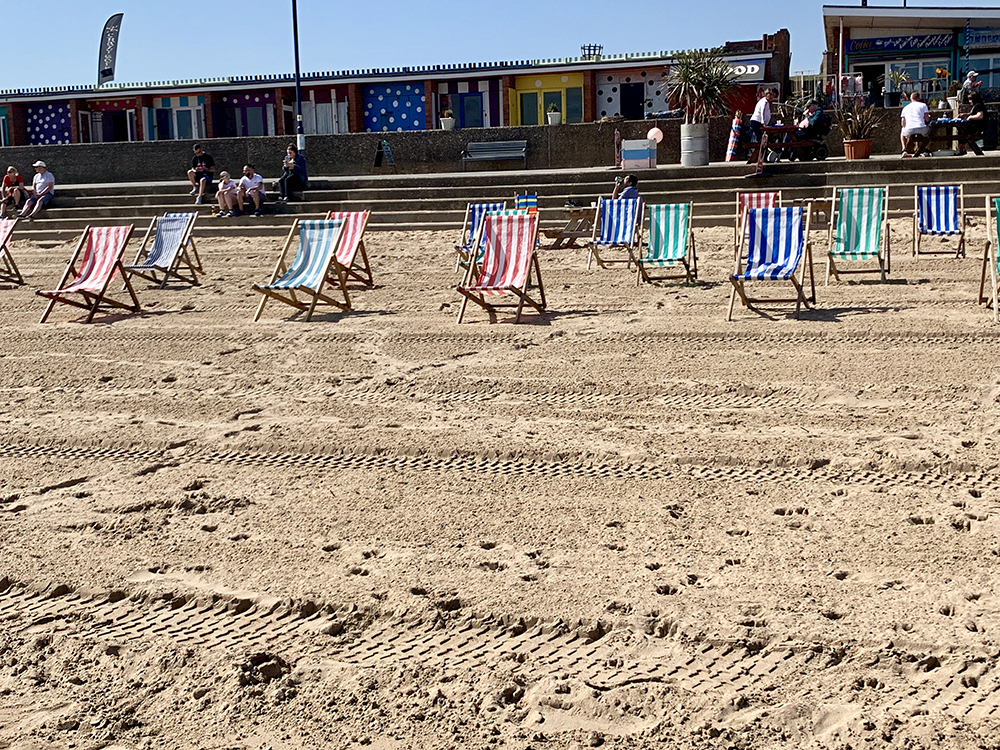 And deckchairs that NOBODY sat on. 
I think they were situated too far from the chippy. Nobody wants that kind of effort at the Great British seaside.  
I had an urge to paddle which may seem surprising as the North Sea isn't renowned for its thermals unless it's been pissed in nearby. However, the tide was 4,687 miles out and I knew I would have lost my childlike fervour long before my toes were lapped with freezing spume and plastic wrappers. So, I opted for a cock on a stick and a meander back up the beach to the car park. 
That's when I heard the whispering. Low-level chuntering weaving through the brisk winds. Don't get me wrong, that's not an unusual sound at the Great British seaside. People cursing at their windbreakers as they struggle to stay vertical, impatient mothers swiping at irritable kids who have overdosed on too much sugar and resort to violent screaming because they can't make their sandcastle stand up – too dry because the sodding water has receded back to France. Teenagers who have had one too many rides at pleasure beach and can feel the dodgy burger making a bid for freedom, and the straining of a wiry mutt as it takes a dump on "Baz Woz 'Ere" written in the sand.  You can't help but feel elated. 
But this sound was different. And that's when I saw them.
Cache Your Chips In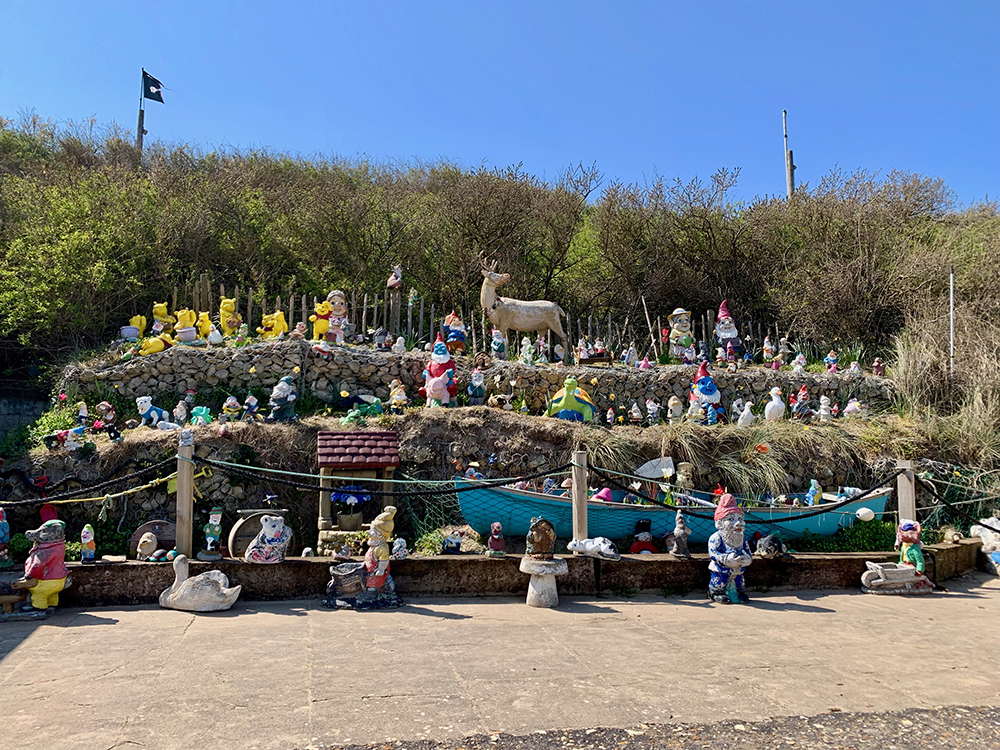 The many small statues of bearded wisdom in pointy hats. Randomly collected together on the dunes. 
Gnomes. Why? 
Known to be protectors of treasure. What possible bounty could they be guarding, I wondered, for about ten seconds.  One of them looked like a wizard and so I asked it if I could please go home. I'm sure I heard him say…
On Yer Bike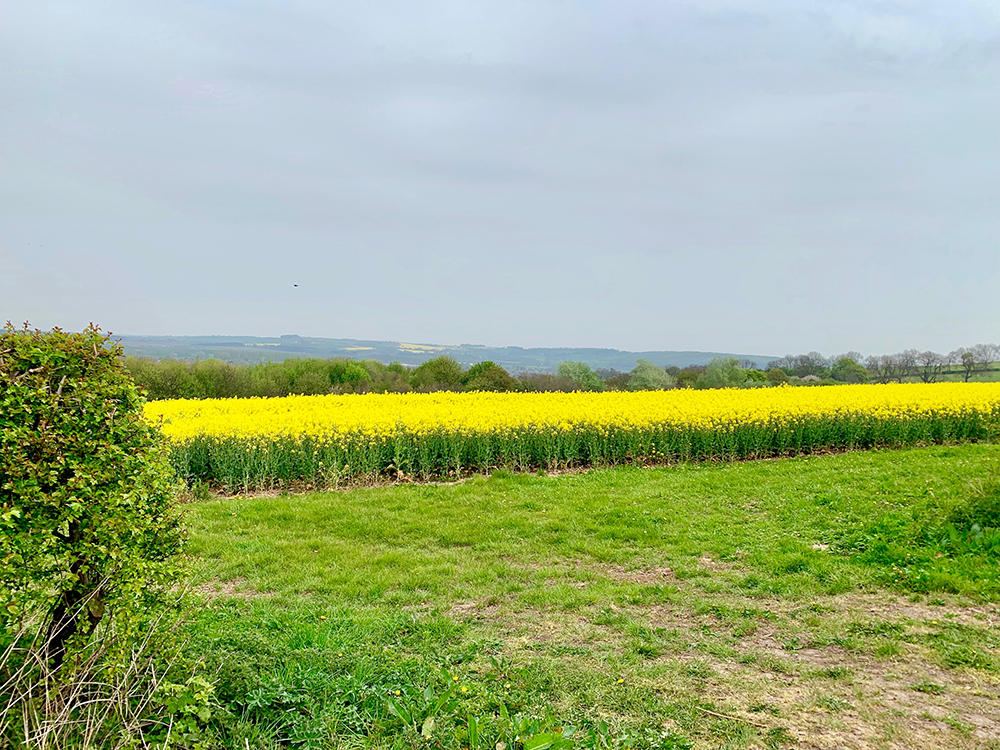 And that's when I found myself back in the beautiful countryside. The bright yellow fields are stunning at this time of year. 
"Wow. Rape is so beautiful", might sound a very dodgy thing to hear coming from a British mouth should you ever visit, but please note we are referring to the rapeseed plant that grows abundantly in our farmer's fields.  We're not weird or inappropriate. If you go to the seaside you'll see for yourself. 
And I got to thinking about the joys of riding a bicycle. I decided I should buy one so I could pedal around for the forthcoming summer season.  
I've always wanted an old fashioned bike with a basket on. The kind you see in a subtitled movie, set in in a French village.  Where the heroine rides through the village with a straw hat and flowing, floral skirt, filling the basket on her bicycle with pain de jour and local wine. 
So, that's what I bought. 
In yellow.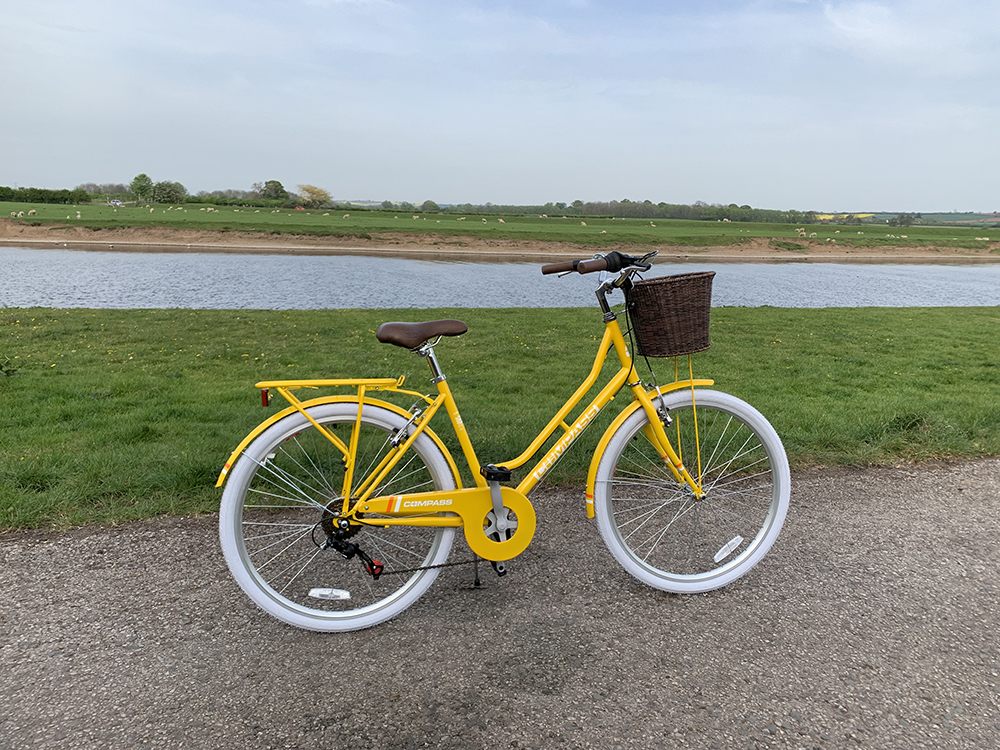 However, I don't have a long flowing skirt yet and have had to buy a helmet because the bloke who sold me the bike put the fear of death into me about brain damage. It doesn't look quite as elegant when I'm sitting on it looking like an overgrown child having a crisis. 
I decided I would take it to pretty places, like by the river or national parks. However, it won't fit in my car.  Not without extreme hassle, blood, sweat, tears and an incredible amount of cursing. 
Solution? I went to buy a bike rack. 
They don't do them for my car unless you have a tow bar. To have that fitted and buy a bike rack from my car dealer is a mere  £1200. Even at a local car place called Halfords, it's £800. 
Range Rover has done this on purpose. Now I can't take my bike anywhere pretty unless I change my bloody car.  Which I'm now going to do as a matter of principle. 
My advice? NEVER, pay attention to your journey and never follow the yellow brick road!