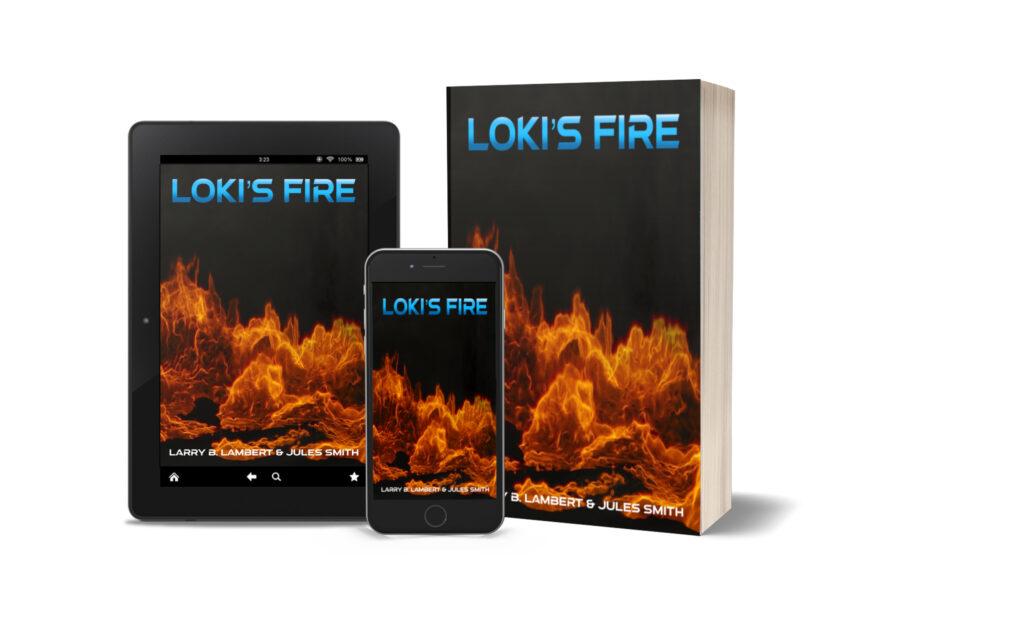 HAS NOW BEEN RELEASED!
The much awaited sequel to Red Mist 
Loki's Fire – By Larry B. Lambert & Jules Smith
Five years have passed since the Norse Goddess Eir appeared in the red mist of the erupting Bárðarbunga volcano.  Very little has been heard from her since she vanished from the safe house in Herefordshire, England.
The effect of neutrino research in China still results in volcanic eruptions, halting the planned forced expansion of the People's Republic of China out of fear of forces that they don't fully understand. However they're making moves to remedy that situation through the recruitments of assets that can get them what they want. The Long March has been delayed, but can never be stopped.
In the Manila underworld, where nobody is quite who they seem to be, Mike Vega is working as an arms merchant against Chinese interests and is removing meddlesome people in favor of those same interests.
French/Korean Sylvie Kim, working as an agent of the Chinese Fourth Bureau of Guojia Anquan Bu in The Philippines, has a mission too, and that mission is Mike Vega.
Ilya Sergeivich Zavrazhin an upwardly mobile operative of the Russian SVR is under orders to beat everyone to the punch.
It is a land of chameleons embracing each other where the laws of cause and effect are confusing and the outcome is far from predictable and none of the actors have any genuine belief in Norse deities returned to Earth or in Loki's Fire. 
But that's about to change.
Loki's Fire available to purchase now from:
Amazon – Apple Books – Google Play – Barnes & Noble – Baker & Taylor – SCRIBD – Tolino – Vivlio – Borrow Box – Kobo
Have you got yours yet?