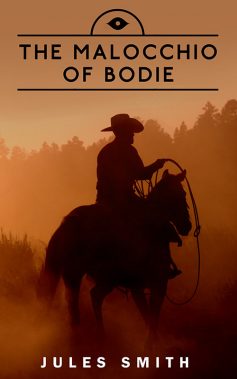 The Blurb
The Evil Eye "Malocchio" seems to circle Alonzo Augusta, especially when he arrives back in the town of Bodie to capture the heart of Estelle Winburne. But the girl he is sweet on is protected by the big men in town who are hell bent on having the broody 'Eye-Tallion' put in the ground. Under suspicion for the gold robbery on Dutch Schmidt, Augusta finds his real friends come in the form of a black magicker, a dry goods sourpuss and a Mormon blessed by God. But can the unlikely underdogs win the day and save the girl when it comes to a shoot out along the gold road?
What's in it for you?
This isn't just any western, this is a Jules Smith western which means this: 
A gripping, page-turning story filled with crazy adventure that will whisk you away to the freedom of the wild west and ravage you with romance, danger, duplicity, gun slingin' and consequence!
What to do next
Buy it.  Available in paperback and kindle from an Amazon retailer near you.
Y'all just press that link below, now – Go Git 'Er Done!
For UK here.
For US here.