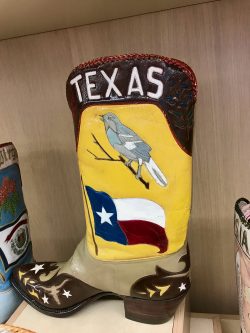 Satirical Snapshots Bringing You Whimsy On A Wednesday!
(well about bloody time, Jules….)
Memorial Weekend In Texas
"What do you want to do, Jules?" my Fairy Godmother asked.  What do you want to see?
"Well,  high rises and flashy strip malls can be seen anywhere in America," I replied wisely.  "What I'm looking for is real life out in the rugged Texas countryside:  little towns, sprawling ranches, and country townsfolk.  Things I haven't seen and places I ain't been, sister! Take me on the unknown highway.  Let's roll out somewhere in the mysterious yonder on the road west to Fuch knows where …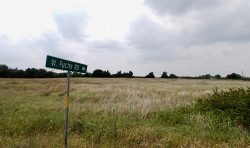 Well, how about that for a sign I was on the right path, eh?
Remember The Alamo!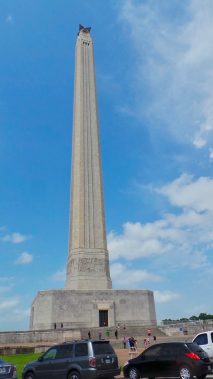 First stop – The San Jacinto Monument.  What better place to start Memorial weekend than to visit this shining symbol of Texas Independence.  I was rather chuffed about seeing the battleground where Sam Houston defeated the Mexicans to reclaim Texas because just before I left England I had watched a five-part documentary on the battle of the Alamo.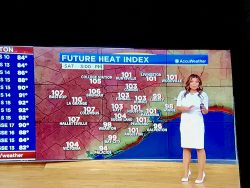 And that's how hot it was.  Insanity.
Harris County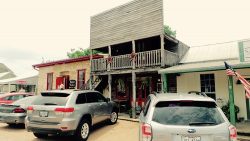 Old Town Spring started growing in the early 19th century when the Spanish and French came to trade with the Indians. Back then, the town's name, "Old Town Spring," is said to have originated after one of the worst winters in Texas history when a group of tired railroad workers were so happy at the approach of spring that they named their new camp "Camp Spring. The small town grew consistently until the early 20th century. At one time the town had as many as 5 saloons and a gambling hall. The town thrived on the booming railroad business in South Texas.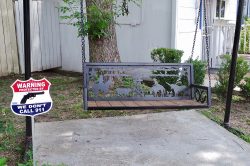 I love these little Texan towns.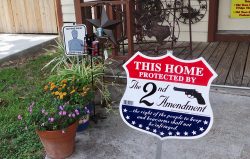 No messin'!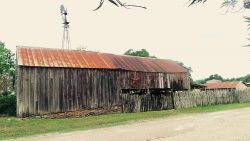 Sadly, a lot of these little shops are having to close down.  It would be such a shame to lose these kind of places to the glamour of the modern world which is all so draining and commonplace.  I hope that America can hang on to them and protect their history.
Feed me
Next stop, Kemah boardwalk by the water and a battle of a different sort between me and the seagulls.  A second plate of coconut shrimp had to be ordered when one of these greedy birdies dived right into my food with shameless abandon.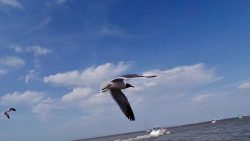 You can't blame 'em. That stuff is delicious.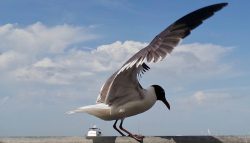 Spooky!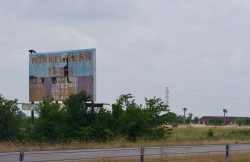 Wilkenman, Texas.  A small ghost town just outside of Brenham.  Apparently,  a  Mr. Winkelman moved the buildings onto the property from different areas around Texas. He wanted to make it a town for bed and breakfast and little cafes. The area never took off due to family issues and is inhabited by squatters now.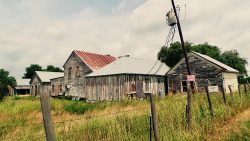 Lavender's blue, Dilly Dilly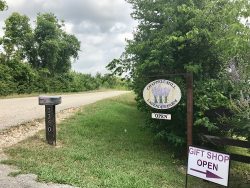 I have a thing about lavender so asked to visit a lavender farm.  Off we went to Chappel Hill, Washington County. I sat on a rocking chair on the front porch overlooking a glorious ranch, listening to the sound of cicadas in the trees and sipped on homemade lavender lemonade.  Glorious.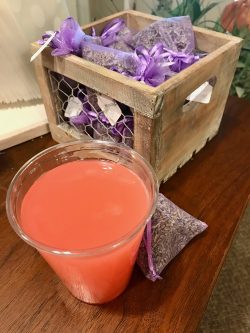 Round Top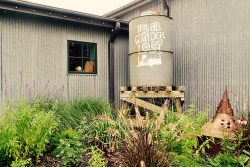 Off to Round Top, named so because the postmaster lived in a house with a round tower.  This is a gorgeous little town with an enormous population of 90.  I wanted to live here for the rest of my life.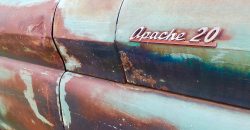 Old, rusty American cars.  Art.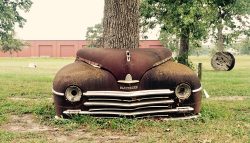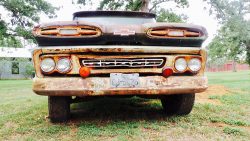 I want one in my garden.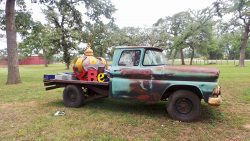 I wish I had enough money to buy and restore a little, western ghost town.  Send me your money now for this worthy cause and I'll invite you for free drinks at my saloon.
Catch y'all next week.  And be good, ya hear?