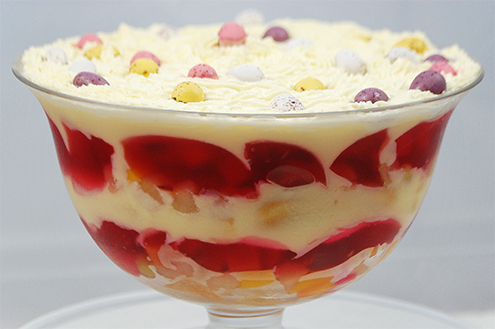 As you've probably noticed, if you love me enough, I've been somewhat absent. The black comedy that is my life has taken on a new level of madness and if my days were to be televised I would be a millionaire.  Anyway, that aside, I got invited to another French party.   Not one to look a gift horse in the mouth and realising that escape was far preferable to my current situ, I snapped their bloody hand off.   Now this time, I thought I'd make a bit of an effort to redeem myself by offering to make a cake for the second day of the party. Allow them to realise that I'm not just a drunken party animal that has problem with vertical hold, but that I can actually excel in various other areas. I also felt it was time these French cuisiniers stopped taking the piss out of British fodder because when it comes to cakes and puddings, we have it globally nailed, in my opinion.
"I know!'  I thought excitedly, "I'll make a trifle! That's proper British and rather suitable for the time of year.  Plus, I have never seen a trifle in France.  Or anywhere else for that matter…."
I felt on top of my cake game and stuffed my suitcase with various ingredients in between my knickers and toothpaste and carefully rammed the double cream into one of my high heeled shoes. Everything arrived in tact and I celebrated on arrival with a nice Martini Gin.
Now trifle is a game of layers.  Each level has to be given time and attention and left to evolve before the next one.  As the trifle master, I am a perfectionist at this level of culinary precision.  I started on Saturday which was day one of the party and got my layers of cake and jam and jelly and raspberries and custard all going on in a French glass fruit bowl cos that's all they had.  All went very well and I left the concoction in the fridge leaving all but the last layer of whipped cream until the morrow and got ready for the party.
NB: I partied until 5 am, filled with kir, champagne, vin de all colours and even vodka shots.  I danced all manner of dances with the enchanted and even learnt a new one called the island hop.  It was very fast and I don't really know what happened but I turned into a whirling dervish. I even managed to talk to people using only hand signals.  I did all this without falling over once.  Aren't you proud?  English class restored.
Got to chez residence at half five in the morning and crawled into a bed, begging for death.
Two short hours later, a baby that was sharing said residence woke up.  Loudly.  Sleeping was futile but I lay still listening to other house members getting up and willing them all sorts of evil. I wondered why French peoples parties had to be on for two days and which bright spark had that idea.  Clearly a teetotaller.  I mustered as much bon courage as I could and raised my expiring self to vertical.  It wasn't pleasant.  I made my way to the kitchen to get a cup of tea.  The way everyone looked at me as if I were a new species, made me realise how shit I must have looked.  Bovvered?
"Bonjour"  I said sarcastically.  There was nothing bon going on whatsoever. "Please don't talk to me.  Not even in my own language."  I insisted.
"You 'ave only one hour before we leave for the party again." Said French.
That's alright, I thought.  I can down two cups of tea and brush my hair in that time. No sweat..except….ARRRRRRRRRR…. I haven't finished the bloody trifle!
Panic ensued.  Out came the trifle from the fridge which looked decidedly unappetising at this stage of hungover.  I poured the cream into a nearby bowl and looked for my Kitchen Aid machine.  It was at home.  It was going to have to be a hand job.  The challenge of all challenges and hungover or not, I was not about to let the English girls down on that one. I whisked and whisked until my hair stood on end and I fought the cramp in my forearm with determination, sweat and bitter tears like an emotional triathlete. Result:  I over creamed and nearly made cheese. Trying to spread the over whisked cream over the final layer (which is custard) was impossible.  It was so stiff that the custard layer kept blobbing over the top.  Then I ran out of cream halfway over.  I wept. Silently.  I was way too dehydrated to produce tears.  After a short lived strop I went back in and made the best of a bad job. Doesn't matter! I remembered, I've brought along some rainbow coloured, hundreds and thousands!  A heavy sprinkling of those on top and nobody will even know.  I located the pot I'd brought with me at the bottom of my make up bag, ripped off the top and began to sprinkle.  Turned out, I forgot to select the delicate sprinkle hole and when I shook the pot the whole bloody lot fell out like a bulldozed building.  I watched with awe as they began to melt into each other in various shades of greens and oranges.  I tried to spread them across, quickly, but they just smeared into a radioactive looking piece of abstract art. This was supposed to be the dessert of the moment, The Trifle Tower, The Arc de Trifle and instead it looked like a half arsed effort by a 5 year old at the after school club, art table.
I wept again and then realised I really had to brush my hair.
I carried the Trifle to the car and everyone just stared at it silently which is even worse than anyone saying "WTF?"  I masked my shame well with large sunglasses and bad hair.  When I arrived at the party venue I made a swift detour to the kitchen and plonked the trifle next to the other desserts.  I stopped for a moment and wept.  Silently.  There, sat proudly the most beautiful gateaus and tarte tatin's with precision cut apple slices, shining in heavenly glaze and mocking me.  Sabotage crossed my mind but I couldn't see a knife.  Instead I went back to the salle de fete and necked a quick hair of the dog, despite craving water for the first time in my life.
The festivities continued with more drinking and endless platters of exceptional food and cheeses as we all sat at decorated trestle tables, chatting and eating.  Plates were cleared away and more drinks were served and for a moment there I was in a beautiful state of oblivion until I saw them bringing out the cakes.  All of them.  Except mine.  Rather than take offence, I breathed a sigh of relief until I heard someone shout, to the silent room,
"Ou est le gateau de Juliette?"
No.  Please tell me that didn't happen.  Someone went back into the kitchen to find it having clearly thought that it was a sloppy pile of leftovers and not an actual delicacy.  Out they came with it, in its mighty bowl of glory as the crowd stared on in disbelief.
"I think you should go and show people how to eat this.."  said French as I was busy explaining that it was necessary to get all the layers in your bowl to another.
There was an expectation. This was no trifling matter.  I stood and walked slowly across the dance floor to the pudding table feeling like I was on trial as the onlookers watched.  I could hear them sniggering, silently.
Have you ever served trifle onto a paper plate?  At the best of times, even in a crystal bowl, it looks like an abortion but as I served a several layered portion onto a paper plate, it looked like someone had thrown up.
"Ughhhhh!"  said a Frenchman standing nearby, loudly and with a screwed up face as he analysed my platter.
I refrained from slapping his face and instead took a deep breath and said," Shut it, Gordon Bleu!  This may look terrible (French accent) but it will give you a hard on for 6 days."
I walked away with my trifle and ate the lot.  I have to say it tasted delightful and of all the cakes left standing, mine was the the one that was completely finished.  You really can tell a bloke anything….
* I promise to catch up with all your posts in the next 3 days.  Cross my heart and hope to fly.  Forgive me.