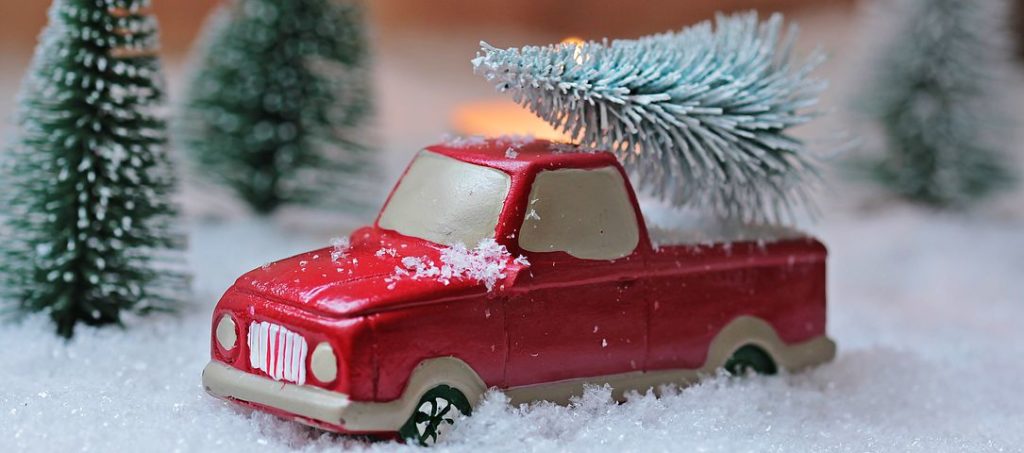 Satirical Snapshots Back From a Hiatus and Bringing You "It Could Only Happen To Me" Stories On A Random Day Of The Week Just To Be Awkward…
So there I was at the back of my pick-up truck, two Christmas trees (east and west wing) rammed into the back of the bed.  One of the trees still twinkled because I dragged it out of the house with the lights still wrapped around its branches. 
"Lights are still on…" the neighbour said.
"Yep." 
"Like that, is it?"
"Yep."
The tree with the lights still attached had started to die within two weeks of decoration despite it being a non-drop, fir-ever, extortionate spruce from some special place in Norway. 
Mine was probably the tree that all the half-cut Norwegians pissed against after a night on the Aquavit. And their dogs. My tree had probably lost the will to live on the truck from Oslomarka to England. 
Before we'd even hit the Christmas rush it was raining bloody needles by the second and when it came to removing the baubles it was as bald as a winter twig. So, the lights were staying put and going to the tip with the tree. 
I dragged that prick of a twig outside my house as soon as the Boxing Day, Christmas dinner sandwiches had been digested.
Pine needles everywhere. 
STILL, I find them.
They hide. 
I suppose it could have been worse
It's quite a thing to own a pick- up truck in England as our roads are smaller, windier, and we only have 8 million parking spaces for the 37 million cars on the road. It can get a bit tetchy between folk around these parts especially if you have a big car and you take up too much room. However, it's not often that other drivers play chicken with you cos at the end of the day it ain't you that's gonna get squished into your Fiat Uno, is it…
There's a lot of fun driving a truck here. I especially like that I can chuck a load of stuff in the back – mattresses, furniture, people, animals, contraband…
and Christmas trees. 
Off I sped to the tip with the still twinkly tree and its brother lobbed in the back.
But…
I forgot to tie them down…
And, I forgot to go 30 MPH…
And that's when I saw them fly out of the bed through my rear-view mirror and soar through the air.
Christmas Carnage
 Oh. My. God. 
Have I killed someone behind me? I asked myself. 
Thankfully not. Turns out that speeding has its advantages. However, I had stopped the traffic in the busy main road both sides and I'm sure I heard someone shouting something like, "What a silly stunt…"
It's very embarrassing going to rescue your spillage in the road with everyone glaring at you, but I felt the fear and did it anyway despite my initial reaction to do a runner and leave them there. 
I put the trees back in.  I pulled my shoulder, pierced my skin in a gazillion places, and wore my cowering shame in full blush, but I tidied up the road. I got back in my truck and drove very slowly to the tip.
When I got there I saw cars being turned away. I waited to see why.
A man who worked at the household waste centre came up to the car window and said, "Sorry, love. Tip's shut.  Someone's just dropped dead getting rid of their tree."
Dear God.
You really have gotta count your blessings, haven't you…
Happy New Year.