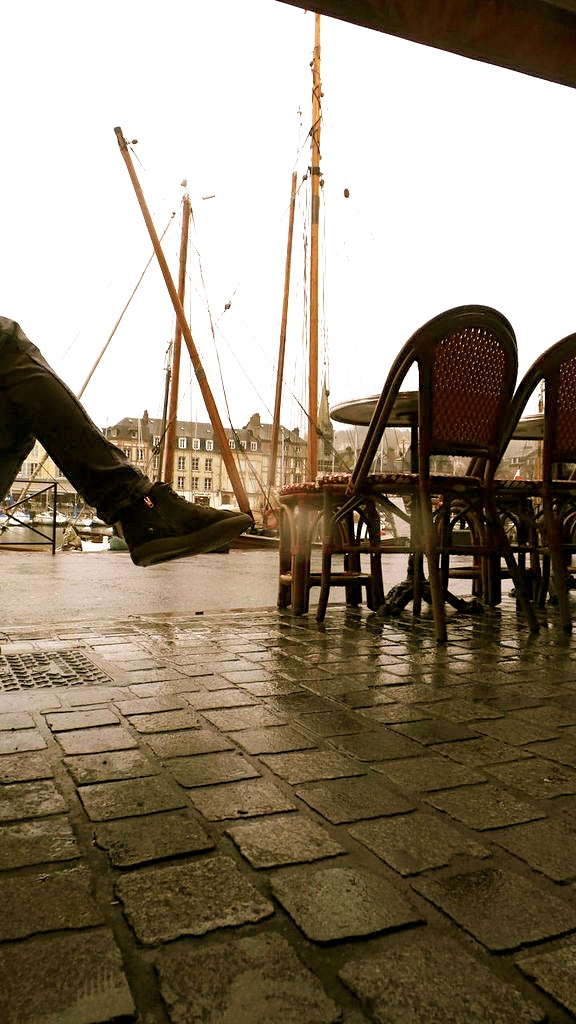 We sat opposite each other at the small, round, wicker table waiting for the barman to attend. It was raining and the raindrops jumped up and down on the grey cobblestones making them look new and shiny again. He sat with his legs crossed, the zip on his trainer boot occasionally catching the glimpses of sunlight that tried in vain to break through the clouds. He looked out at the harbour and I followed his gaze, sometimes glancing at the stubble on his chin and the shape of his jawline. Being able to study someone when they were unaware was a beautiful thing. You could unfold so much more about a person by quietly paying attention to them. Some people didn't allow that. Some folks insisted on talking for talking sake; filling the moment with unnecessary, trivial chat because they were scared to be still. He wasn't like that.
The barman appeared at the table with a little pad and pen and watery, pale blue eyes like reflections of the harbour on a somber day.
"I'll take a Martini Gin, Martini Bianco." He said, whilst at the same time lifting his chin to me across the table to give my order.
"Ummm…." I didn't know which drink befitted the day.
"The same?" He pushed.
"No. A Kir…" A fizzing concoction of poor mans champagne and sirop au coquelicot would have been better suited to a summers picnic but I liked to go against the norm.
The barman left, holding the door to the bar open for two wet patrons who sought the solace of the warmth inside. The smell of baked cheese whipped past my nostrils as the room exhaled outside.
We sat silently, watching the flags flap on the masts of the sailing boats as they bobbed idly in their parking puddle. I wondered what I would call my yacht were I ever to own one. I laughed out loud at my stupidity.
"What?" He turned to face me.
"I'm just looking at my boat over there and wondering what to name her."
The barman returned. He placed two folded serviettes on the table, putting the drinks on top of them and left a complimentary bowl of cashew nuts and the bill on a silver plate. The ice cube in the Martini bounced in time with the boat in my view. I leant forward, placing my elbows on the table to smell my poppy bubbles. The table rocked, precarious on the stones and he rushed to steady the glasses before they tumbled. I took the drink quickly to my mouth and settled back in my chair. The first sip danced over my tongue like liquid sherbet. It was a drink made for princesses.
"There's nothing wrong with dreaming," he said softly, "remember…one life."
I remembered. I was guilty of throwing that line out when people sought direction or support in their wild endeavours. "One life," I'd say, "one chance to do everything you want. One chance to live your dreams." But it wasn't quite that simple.
Two young girls stopped on the pavement in front of us, taking turns at posing for photos underneath their umbrellas in front of the pretty harbour. I watched as one young beauty posed for her friend and gave a big, toothy grin, tilting her head to one side and looking up from her long lashes; pulling her coat tight across her stomach to achieve a more flattering look. She made me smile but I hated staged pictures like that. A photo of someone hugged tight under their brolly, face plastered with wet hair, eyes squinting against the sideways rain and a pale hand holding a collar tight against a long neck. That was a photo. That would be more beautiful, more natural and say so much more. Who ever looked happy underneath an umbrella in reality?
The girls wandered off, giggling and checking their portraits on the camera. The two words hung heavy in my mind as I watched youth disappear down the street.
"Anything seems possible when you have your whole life in front of you. All the dreams are waiting for you to snatch them up." I said, "problem is, you're too young to know what your dreams really are and you're as fickle as the changing winds."
He didn't respond but just took a cigarette from his packet and lit it, exhaling the smoke up into the clouds before returning his eyes to mine.
A small sparrow hopped between the empty, waiting chairs beside us, looking for food. I cracked open a nut and threw it to the floor. He looked at me for a few seconds, considering his safety but knowing the risk was worth the reward. Risk was usually worth the reward in my opinion but then I had the blood of an adventurer running through my veins.
"It's still your life, no matter where you are in it." He said.
The cynic and adventurer inside me were once more at odds. I took a cigarette from his packet and put it between my lips. It had been two years since I'd drawn on that crutch.
"Those things will kill you." He mocked.
"So will the other things." I lit the cigarette and its fumes caught in my throat, burning and tickling. I coughed and laughed like a schoolgirl but I felt tremendously real for a moment.
"See now….now it feels too late. Now there are consequences to actions and some of those are too much hassle to take the risk of fighting for. Now I'm beset with responsibility. Beholden to others feelings. I'm now more confident to take what I want but lack the confidence to do it." I extinguished the cigarette because now it tasted sour. I drank from my glass which was half as sprightly than it was before.
"It's never too late," he said, "anything is possible if you want it to be."
The adventurer rejoiced inside me but the cynic gave a derisory snort. I watched as he swirled the turquoise, plastic cocktail stick in his glass, pressing it into the slice of lemon to release the bitter flavour.
"You know…" I started, "you know that sometimes in life you find something so beautiful and so precious that you can't believe it. You hold it with you for a moment, wanting to keep it forever but you know that you can't. You know that you're going to have to put it back down again."
Life had a way of tripping you up like that. The most special moments were apt to be so because that's all they would be; just a moment of time.
He reached over and took my hand, entwining my fingers within his as though locking us together for always. He pulled them up to his mouth and placed his lips on the back of my hand, leaving them there for a moment longer than necessary.
"One life." He whispered as he pulled his lips away. I felt the warmth of his mouth fade on my skin and his words evaporate into the chilly skies.