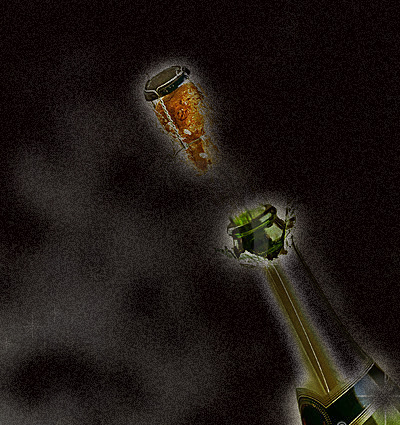 It started with a parking fine.
I drove to my local bank to have it out with some authority figure about charging me £25.00 for no justifiable reason. The person on 'telephone banking' wasn't playing ball so a visit was the next step.
I parked my car in the FREE car park and entered the blue and grey, stark building that stank of cheap nylon and superiority. The queue was longer than that for the chippy on a Friday and only two tellers were working. In slow motion. My angst was palpable and I believe it made an authority figure wander out from somewhere out the back of the building to see what was causing the chill in the air to rise. But, before I could grab her, some old biddy felt it was better to give her a tirade about the lengthy queue and how it was eating into her long filled, pensioners day and that she had the post office to get to as well as finishing knitting the Aran jumper for her grandchild this Christmas.
I'm not even kidding, I have better breathing out techniques than a Yoga master.
I eventually made my move as the old biddy went for support from the man next to her with a "Don't you agree, this is appalling. Back in my day you'd never be kept waiting for…"
"Excuse me," I stepped in, "I desperately need to speak to someone as a matter of urgency and it's of a very sensitive nature." I didn't blink so that my eyes filled with water. My acting skills are on par with my yogic breathing and I think I was a better option than the old biddy gaining a following. I was ushered quickly to the back room where I spent the next 20 minutes telling the authority figure that I wanted a refund or I'd be taking all my money to another, grey establishment. They caved and I left the bank feeling victorious against the machine. Right up until…..
I reached my car to find a big black and yellow ticket stuck to my windscreen. A penalty for parking in the FREE car park but neglecting to display my FREE ticket. The cost of this? £25.00. Yep. From the bank to the council, my saving was eaten in a nano second. So, let's just bear that in mind as I drove home looking for Traffic Wardens to mount the kerb for. As you can imagine, I was feeling a tad on the pissed off side. I arrived back home to find a little parcel on my doorstep, slung there by the delivery man who couldn't be arsed to put it into my post box. I didn't remember ordering anything so it came as a nice surprise. Maybe psycho wine killer was back with his random act of kindness.
I opened the package to find two tiny pots of face cream. I was disappointed and somewhat perplexed.
This cream, by the name of Aimee (please remember this name) had been delivered to me a month before as I had ordered a "TRIAL" promotion at the small cost of a fiver. I'd been distracted by an advert on Facebook you see, and after reading about this amazing paste, I decided to give it a shot. Besides, it was cheaper than the Boots no.7 that I usually used but with dramatic effects, apparently. Well let me tell you, it was shite. It was like smearing PVA glue onto your face. The damned stuff caused more wrinkles by having to drag its putty like texture across your skin. Needless to say, I slung it. Like I said, it was only a fiver. However, I hadn't ordered anymore so couldn't understand why it was sitting on my doorstep. I decided to go to their website to inform them of their mistake only to come across words like "Scam" and "Outrageous". I went to directly to my other bank account to find that they had taken £200.00 out without my authority AND 95 pence for delivery. Ha! Bless 'em. My yogic breathing started to fail and I felt the onset of hyperventilation.
I called the bank. I was transferred to the fraud squad. The fraud squad leader said I couldn't have my money back, even though they know of this company and their scamming ways, it was my mistake in ordering a promotional trial. Even though, the small print of repeatedly sending it to you is hidden from clear sight, once money has left and they have once again delivered, tough titty.
I threatened to remove all my money to another grey establishment but this time he could only apologise and stop any further payments leaving my account. My acting skills had also failed.
Rage.
I went back to Aimee's website and rang their customer phone number. I rang it several times only to be greeted with an American voice saying "Nobody is available to take your call. Have a nice day."
Have. A. Nice. Day.
Fuck. Off. The only way I'm going to have a nice day is if I'm getting the Traffic Warden to force feed you with your own toes and my parking ticket.
I resorted to sending them a nasty e mail. Guess what? They never responded. Who'd have thought.
So, instead I am going to use my freedom of speech to let everybody, on every social media platform, know about this scamming, rip off company that charge you two hundred smackers for PVA. Spread the word people.
My stress levels had reached the danger zone and so I went to my car ready to do a Thelma and Louise without the Louise. A few days earlier, I'd bought myself a nice, new car. Although it would be a shame to get blood on it already, I had paid for paintwork protection so it would wash off easily. When I'd viewed the car at the showroom, I'd been bamboozled by all the fabulous gadgets and had said to the salesman, "Goodness me, all that's missing is a mini bar!" Upon collection, they had left a bottle of Veuve Clicquot in the cup tray at my side. I found this rather lovely and had kept it in my car for the novelty factor. But now the moment had arrived.
I sat in my car, on the drive with Capital Radio blasting out and popped the cork. I spent the remainder of the late afternoon watching the sky turn dark and supping this fine, French nectar from the bottle until it had disappeared and my mood had been replaced with a bubbly indifference. And you'll never guess what….
You won't believe how bloody marvellous my skin looked afterwards when I looked in the rear view mirror. Champagne is definitely the answer.