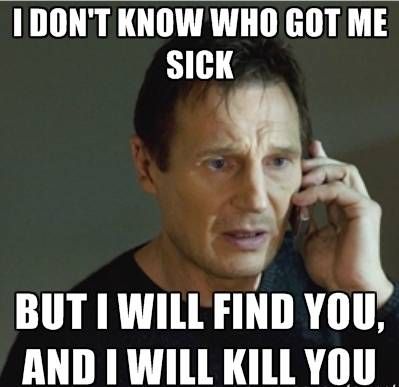 Satirical snapshots bringing you….
Sickness. Vile and wretched sickness.
Whimsy? Devoured by heinous bacteria caught from the great, spluttering unwashed as they infect you from every public angle.
I am currently in my bed where I have been for most of the month. This is now the second virus I have contracted in the space of five weeks. I think I had four whole days of feeling semi-alright.
I range between a trembling mass of freezing to death to a slick, sweaty mess. I swear I have lost a stone in liquid. I ache in places I never knew one could ache. Even going for a wee hurts and I sat and cried on the loo yesterday like a three-year-old.
I could give Rip Van Winkle a run for his money on sleeping and yet am still tired to the point of relentless hysteria.
In a nutshell, I'm proper poorly.
I still have twenty odd presents to buy, wrap and deliver, Christmas food to get, turkey to stuff and pigs to blanket.
To add insult to injury I had to leave my car in the garage the other day because some light kept coming on about loss of gear traction. They have informed me today that I need a haldex oil pump which is a mere £850 to replace.
Hahahaha….
It cost me £110 for them to tell me that.
Robbing bastards.
I refused, in an eloquent French sort of way, and now have to fetch my car. But I can't cos I'm SICK.
I knew I should have jumped ship and gone on a Husky Safari in Lapland like I wanted.