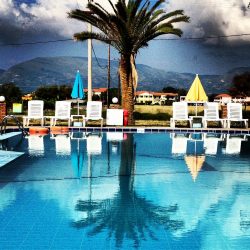 I eventually relaxed into my holiday. It takes me about four days to get to this point as I'm not very good at 'go slow'. Finally, when even walking to the pool became an effort, I'd collapse on a sun bed, rev up my iTunes and put my big sunglasses on.
Big, dark sunglasses have several benefits but the most important one is being able to spy on the fellow guests without them realising. People fascinate me normally but on holiday even more so: There's the couples that don't talk to each other; like EVER and just sit there staring into space for a whole week. I wonder if they've perhaps got Alzheimer's and actually haven't got a clue who they are with. I like to watch how people arrange their little areas ready for sun worshipping and see what book they are reading so I can analyse their personality. I pay attention to who's getting pissed at 10.30 am so I can avoid them like the plague incase they want to become 'bezziez' and I don't go in the pool when they do. And so on.
Anyway, this particular fine day I noticed a new, middle aged couple had arrived. Their area was very pristine with posh towels and bottles of 'Evian' and other named waters. A selection of 'Piz Buin' suntan lotion was neatly displayed on their little table with face sprays and electrical equipment. She had a massive bag like 'Sac magique' and I wondered what the hell she had in it that wasn't already on offer. I noticed she had Gucci sunglasses on and the side arms of her glasses matched her animal print bikini. Obviously they had money so I let the animal print thing slide from judgment because they did make the place look pretty. It's not that I'm averse to animal print (in very small doses) but when it's adorned with matching glasses, matching sarong and mules I tend to get a bit safaried out by it. And you shouldn't wear mules by a pool. In fact, wear red shoes. Everyone looks good in red shoes. Or put your flip flops on and stop pretending it's Milan High Street.
I got sidetracked for a moment, as is the case, by some rather horrendous flying bug with a red body and green wings and when I glanced back I noticed they were both lying down, looking non sweaty and elegant and reading their novels. How do people do that elegant thing? Anyway,who cares.
After a while I noticed her foot was tapping furiously, which was kind of irritating as it was in my peripheral vision. It was then that I realised she was reading 'Fifty shades of Grey' – OH HOW TWO THOUSAND AND LATE! That book annoyed me so much that I couldn't even get past chapter two of book two. The main girl in it drove me bonkers and I could have manacled her to a wall and whipped her arse myself for being so annoying, but that's another story. Fair play to the author who's now minting it and and lying on a yacht somewhere.
Going back to the lady, I figured she was probably at a steamy part of the novel and her sex life had never reached such heady delights as were being read. So, of course, this made me pay attention to her husband. Average looking bloke really, nothing to shout home about. Seemed well together and wasn't in matching animal print which went in his favour. I couldn't see what he was reading but it looked historical and was a thick book which made me like him a bit more. He wasn't likely to start being an arsehole.
The woman was becoming more and more agitated and clearly not comfortable on her sun bed despite her fluffy posh towel. Husband was oblivious to her horizontal shuffle and well engrossed in The battle of Trafalgar, or such like.
"Boy, are you in for a good seeing to later." I thought. "All your Christmasses are about to come at once." So to speak. Bless him. He didn't look the sort to be spanking his way through the animal clad bottom, but you never can tell can you? Don't judge a book by it's cover. The irony.
All of a sudden, the lady jumped from her bed and pulled another towel from her bag and quickly wrapped it around herself. I was then distracted by my Mother next to me who was already on her fourth novel.
"Why aren't you reading your book?" She asked. This is typical of my Mother. Everything has to be educational. Unless we're at the cocktail bar which, well…that was an education in itself.
"Shhh…There's far more interesting stuff going on elsewhere." I whispered.
"You're strange." She replied.
"Your genes." I retorted.
As I looked back over, the woman was taking off her bikini under her towel. Why? She'd only been there half an hour. Had Mr Grey had that serious an effect on her already? Good grief. She then pulled another bikini from the Mary Poppins bag and, all credit to her, it was a nice turquoise ensemble that was rather fetching. She put it on under her towel, straightened herself out and began to wander slowly to the pool steps.
Obviously she was a little hot.
She began to swim the breast stroke, slowly up and down the pool (glasses still on) pink lippy to boot and making desperately sure she didn't get her hair wet. Have never understood that. Don't go in water then.
Then, to my surprise, she began to freak out in the water.
"Oh, Oh, Roger!" She shouted across to her settled husband. What an appropriate name, I giggled to myself.
"Quickly!" she urged as her hands flew to her ears, "My earrings are swelling!"
WTF ?
Roger leapt up from his bed and rescued the swelling earrings from the clutches of his Mrs and all calmed down again.
Who has earrings that swell? Even with my superb analytical skill at over thinking, I couldn't come up with an answer. This woman was starting to disturb me.
She then got out of the pool and went back to her bed, retrieving the other fluffy towel and removing her now turquoise bikini. What? I mean can somebody help me out here?
Out of the bag came bikini number 3 in the space of an hour and a half! A red and gold one, to be precise.
"Mother," I whispered. "That woman has changed swimsuits three times."
"My Mum glanced over. "No she hasn't, don't be silly." She said.
"Yes she bloody well has! Do you think she's allergic to material?"
Later that evening as we made our way up the manmade road to the strip, I stumbled on a pot hole and went my full length cutting my leg and foot. Karma?
All week long I'd been telling my Mother to be careful of the dodgy roads as we made our way home, half cut from alcohol, in the pitch black and there goes me, sober and together, across the whole street. The funny thing was the people who picked me up, promptly carried me straight to a cocktail bar where I was plied with free drinks to make me feel better.
Whatever gave them that idea? People can get you so wrong…