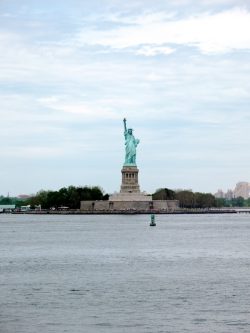 Started the day at my usual breakfast haunt where I had the most perfect poached eggs again. I did say "no potatoes" but I still got them and this time accompanied by a large gherkin. Unsure as to why I have to have to have a massive slab of mash with my breakfast but I just pushed it to the side like a sullen child. Maybe tomorrow they'll get it.
I made my way to the big red bus stop in Times Square at an early 8.20 am. Got on my open top double decker (like being in London) and headed off on the 'downtown loop' like a proper tourist (who thinks they can see New York in one day via this method) with my camera in hand. Went past a few things I'd already done but I must say it was actually very informative as the tour guide had a wealth of information about the city and it's buildings that I would not have been aware of had I not done the big red bus! My first hop off was ground zero. The last time I was in New York was the year before 9/11 and I felt that I must pay my respects to those who died in that horrific and distressing event. However I was disappointed to find no real memorial or place where you could do this. The place was a massive construction site with workers re building the area. I asked a couple of workmen if there was any sort of memorial and they told me that there wasn't really anything to see but there was a building that you needed to pay to get into which told the story of 9/11. I also asked another couple of tourists who were also were looking for a memorial but unable to find one. I was sure there was something but I couldn't locate it and I don't know why but people need something to actually look at and pay homage to. Particularly something like 9/11 which rocked the world.
Got back on the big red bus and headed for Battery park which is where I intended to catch a ferry to Ellis island to have a gander at Lady Liberty. However, the tour guide said you were able to get a free ferry to Staten island. As a true Brit the word ' free' rang loud and clear and it would have been rude of me not to take advantage of this. So I hopped onto the ferry to Staten island and sailed away. When I got off the other side I was a bit bewildered and unsure of what to do here. I hadn't looked up any information on the place and had no map or no idea exactly what Staten island was all about. Went for a short wander along and stopped to watch a baseball match for 5 minutes at St Georges ballpark. Looked at a monument there for victims of 9/11 and then took in the great view of Manhattan harbour from the island. If nothing else it was worth coming across for that great view. Got back on the ferry to Manhattan and got a great view of The statue of Liberty from the boat before we landed back near Battery park. Had a quick look round the park but to be honest I live in England and am surrounded by beautiful parks and countryside so I suppose I take it for granted although after a lot of concrete, flashing lights and noise a little greenery is somewhat soothing. Got back on the big red bus and travelled the rest of the tour back to Times Square. On route I learned that New York has a population of 8 million people across the 5 boroughs and 1.6 million of those are in Manhattan. There are 13,000 yellow cabs and 38,000 police ( known as New Yorkshire finest) to look after the 8 million people. I was quite shocked at that as everywhere you go there are New York cops around so I would have expected there to be more. Eating in Queens is supposed to be the best place to eat due to the various cultures but as I'm on my own maybe not a good idea although it is something I will bear in mind for next time. I considered the thought of having an apartment here but even out in East village they are renting out between $2,000-$4,000 a month! Go further into midtown and you seriously need to have won the lottery. Twice.
I left my bus late afternoon and strolled around a few blocks taking in the busy atmosphere. I ended up talking to a guy who was hustling people to buy bus tour tickets and I told him I already had one.
"You from London?" he asked. I used to live there as a child but listen up guys, not everybody from England lives in London ok!
He proceeded to speak to me about the Royal Wedding and how much William was like his Mother and how he hated Prince Charles and how beautiful the wedding was. I went back to my room hot and exhausted but with the determination to return to the big red bus this evening for the night tour. Hey! I've paid for it so I'm going!
Ok, so I got on the night time bus tour and it started to rain. Great. So guess what? They began to hand out white plastic rain ponchos, the one thing I said I'd NEVER wear. Well I did. I was forced to much to the entertainment of the tour guide. Street cred death. Thankfully I was with a whole group of stupid looking tourists clad in white plastic so didn't stand out! Went through Brooklyn by night and over the famous Brooklyn Bridge which is a handmade stone and steel- wire construction. Apparently when it was first built people were afraid to cross it so they marched 21 elephants across it from Barnum's circus to appease people. Unfortunately we were unable to get off the bus which was a shame as they have one of the best pizza houses called 'Grimaldis' where people were queuing up for their pizza pies! However dressed like I was I probably would have been turned away!