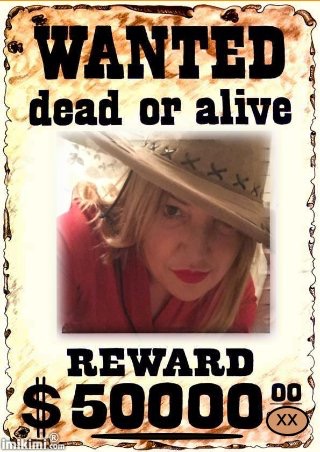 "Houston, we have a problem."
"What? Again?"
"It's worse this time. Much worse. Operation Hoedown."
*crickets*…………………
"Go on…?"
"She's coming. For a whole month. Maybe even longer if she gives us the slip."
"She? You mean HER? No, you cannot be serious. Can we not intervene?'
"No. She's protected by HRH, Her Majesty's Government and MI-6. As you know she's a master of disguise and a mentalist of the highest order so it's a DEFCON 1 situation."
"Deploy the National Guard and Special Forces without hesitation. Inform the President. Put the country on high alert. Code Red Lipstick."
………………………………..
Ya'll can go to hell. I am going to Texas! – Jules Smith's 2016, A-Z April Blog Challenge .
Yee- Haaw!  I shall be arriving in Houston, Texas at the end of March in preparation for your forthcoming entertainment. I am SO good to you lot.
I don't know what I will be writing about and am just going to let Lady Destiny take the lead and go with the flow. I have a few ideas of things I'd quite like to do such as:
1: Mastering the art of serious weaponry.
2: Going to a Rodeo.
3: Finding the way to Amarillo.
4: Going to Galveston, Oh, Galveston.
5: Checking out the Alamo in San Antonio and trying not to end up drunk in the river.
6: Making a cowboy hat and boots look cool and back in London fashion week.
7: Finding American manhole covers to photograph. And doors.
8: Trying to eat a whole cow with BBQ sauce on.
I've looked into Texas and found out that so long as I don't strip naked, get on my camel, swear in front of dead people or write on any cows, I won't get arrested. Despite me being a bit of a lot of a maverick, I will try not to do the aforementioned and neither will I eat calf fries or play rattle snake round up. I will however, try and capture some greenhouse gas to sell on eBay and find myself a pet armadillo and call it Basil. Sometimes I might just stay in and eat bacon. American bacon is my weakness and the thing that could lead me into trouble.
I may also 'el paso' from one state to another, and yes, I mean that in both senses. I suddenly had the notion to take the 'Midnight Train To Georgia' except there isn't one which is rather stupid.  I was going to go on a rainy night and make a bet with the Devil for a gold fiddle.  I will therefore have to take planes to other places should the temptation arise. Who knows where I'll end up but I have my Union flags ready to stake in the ground and reclaim the colonies. I shall also endeavour to teach y'all how to speak properly, make tea correctly and the art of English trifle. In order for me to remain sane I am going to smuggle in Walkers Cheese and Onion crisps, Monster Munch and PG Tips.
So, my American allies, when the skies start to darken, random typhoons appear, lightning strikes more than twice and the San Andreas fault shifts a little further on the afternoon of the 29th of March, you know why.
Could we have kippers for breakfast
Mummy dear, Mummy dear
They got to have 'em in Texas
Cos everyone's a millionaire
I'm a winner, I'm a sinner
Do you want my autograph?
I'm a loser, what a joker
I'm playing my jokes upon you
While there's nothing better to do….
Have a nice day!