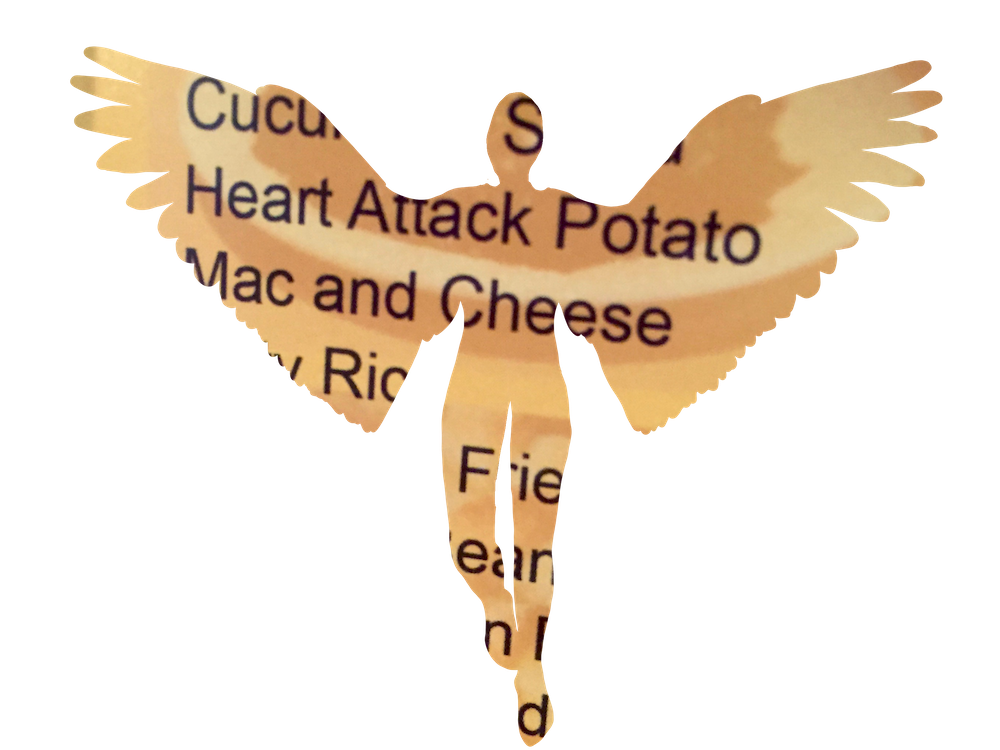 Satirical Snapshots Bringing You Whimsy On A Wednesday!
I don't know what you should feel like after gallbladder surgery but how I feel now, six days after the event, is a bit like a jacket potato. You know, when you take it out of the oven, lob it on a plate, cut in half and mash it up inside with your fork. I'd say I feel a bit like that.  
I had keyhole which is the least invasive kind of surgery even though three incisions were made and things invaded my inners. Ewww. I am now an incomplete human and on some level that freaks me out a bit. 
This is all the fault of American bacon. 
Sock It Up
The most terrifying thing to me was the thought of being put to sleep. I don't like being forced to do anything but being roofied by a bunch of strangers with knives is not top of my list. I think the scariest thing is, "Am I going to wake up on the other side?"
I arrived at 7 AM at the hospital and was given a room with a TV and a reclining chair and my own bathroom. I was told to get into my new attire of hospital gown, disgusting see-through woven pants, and the icing on the haute-couture cake, thick knee-length anti DVT socks. In a becoming shade of navy blue.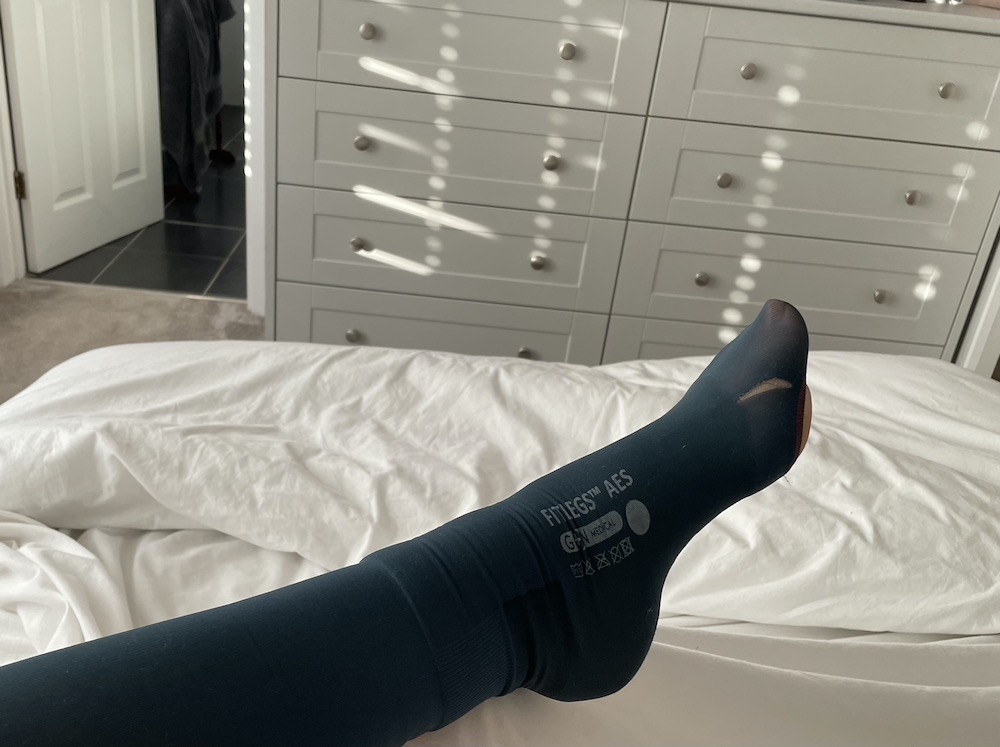 Putting these on was like trying to add a second skin.
"Does the doc have a schoolgirl fetish? I don't want him getting distracted…"
"Err… "
"Just kidding. Honestly, someone should TikTok me in this outfit. This could go viral."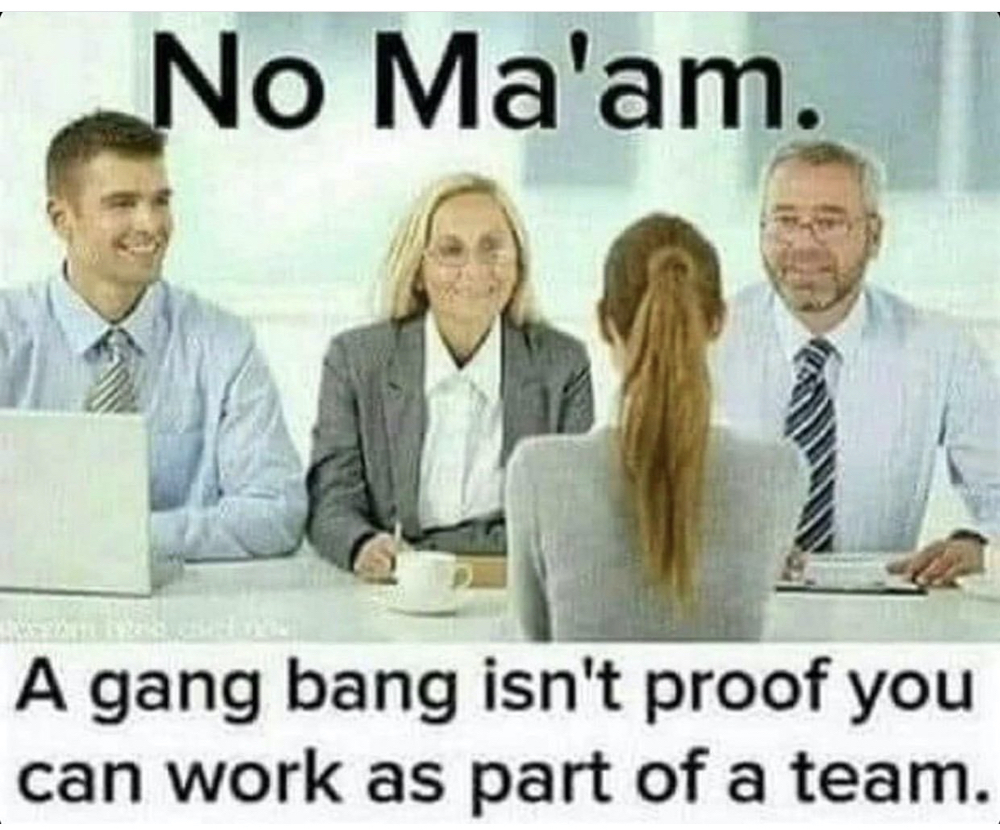 Apparently, I need to keep these socks on for 2 weeks non-stop. Right in the middle of an English heatwave in plus 30C. Lovely.
The Sneak
I got bumped from fourth on the list to second and then spent the next three hours working myself up into a fear frenzy. Why have I been bumped up? Am I a risk? Dear God, please save me. I'm gonna be so good this time. Every time I heard footsteps approaching my room I would hyperventilate and promise untold things to anything that could disintegrate a gallstone.
The nurse eventually came back, stuck her head around the wall like a mad woman from The Shining and said, "Here's Johnny!" "It's time…"
I nearly peed my new sexy pants and had it not been for the fact I hadn't had any food or drink for a day, I think I would have.
I had to walk, without fainting, all the way to the theatre where I met my anaesthetist and a scrub nurse. I was handed over to them. 
They untied my gown, got me to lie down on a trolley and straight away put one of those canolas in the back of my hand. Bloody hate those things – Nasty little devices. Anyway, my anaesthetist was quite a funny man and he started chatting with me. Like I didn't know what they were up to, lulling me into a false sense of security before taking away my control.
"Which one of your books should we read then, Jules?"
"Well, considering your profession, The Meaning of Life, obviously."
"Haha, that sounds interesting. The Meaning Of Life…"
"Hmmm."
"What do you think it is?" asked the scrub nurse.
"Well, I think it's…"
"You might start to feel a bit druggy," interrupted the anaesthetist.
A bit druggy? What kind of lingo is that for a top-paid medical professional, eh?  I have to say, that made me like him. No airs and graces or showing off. And he wasn't lying.
"WHOA! That's one margarita too many!" I said, as the drugs hit my system and I felt as drunk as a  Lord who'd misplaced his britches. 
"What's a margarita?" asked the nurse.
"Are you serious, lady? You haven't lived. It's the world's best ever cocktail, right drug lord?" I tried to look squarely at my drugger but he appeared to be laughing, a lot like The Joker. 
"She's right."
"Well, I've never had one," nursey replied.
"Well that needs to be wectifwied bleh – yewww need one in eeeech hand, pweferablyyyy. Bleh, I can't bwoody well talk."
And then, I swear I heard my drugger say the word, "Sneaky"
"Sneaky!" I shouted. "What do you mean, sneeeeaky?!"
"What?! What are you on about?!"
"Yewww sneaky man. SNEAKY ANAESTHETIST!
And that's the last thing I remember. Way to go Jules. Pick on the one man who is responsible for your life.
Time For A Bucharest
I then remember being constantly prodded in a different room with other nurses. 
"Breathe Jules, breathe. Deep breaths please."
Oxygen is on 6 – she's not breathing properly. 
PROD – "Breathe – come on – time to wake up." The drugger came back and said the same. 
"I'm tired!" I mean come on, you've just been breathing for me and now expect me to do it all on my own? I'm lazy! 
" I simply must go to Bulgaria," I said to the nurse next to me. Why did I say this? I have no idea. My mental state at this point is a complete mystery.
The nurse from The Shining re-appeared."Hi Jules, remember me?"
"Yes, Johnny."
"What's your pain level from one to ten?"
"Eight"
"Ooh, that's not good."
I had been given two lots of tablets and was then given another. Five tablets later and my pain had only dropped to a firm seven. 
A major discussion went on about moving me from my current electric trolley to another less favourable trolley. "We can't move her, she's in too much pain. I know theatre needs this one but we can't do it. We need to take her back on this. 
"Can you move, Jules?"
"No, don't touch me, lady. Shhh, tired…."
 I got wheeled off on the posh trolley and felt a sense of sweet victory. Why? I don't know. If this is the true me coming out then I have more issues than I realised. 
Hello Poppy, Have You Seen That Red Pigeon?
It was then decided that I needed a doctor-prescribed pill to kill the pain and off the nurse went to see my surgeon. She came back with a tablet for me to swallow.
I don't know what happened but I went into some kind of unresponsive consciousness where my only focus was on a red pigeon that was trying to get into my window. The rest of the room was spinning. However, my pain went from eight to zero and they even managed to get me into the chair. Problem was, that I apparently went into an opioid crisis. My heart began racing, medical staff gathered and whispered about me in the corners of the room, they elevated my legs, stood me up, sat me back down again, and started on the "DEEP BREATHS, JULES" malarkey again. See, I kept falling back to dribblesville and they needed me to wake up. No chance. I was smacked off my tits.
The next step was to flush this thing out with tons of water and tea. Never in all my life have I drank so much fluid. But here's the funny thing, despite drinking two full jugs of water, I had absolutely no saliva.
I found this out when the nurse tried to get me to eat something. A cup of tea and a packet of Digestive biscuits. There is no greater thing in England than this combination and particularly after starving yourself and going through six months of salad and broccoli. Oh, sweet Heaven! How you have blessed me! A pack of two Digestives lay provocatively on my table and I could have wept with joy. Slowly, I unwrapped them. Not to savour the moment but because my hands were trembling so violently from my magic pill. Better not dunk it just yet, I thought smartly.
Well… never in all my life have I been so violently disappointed. Eating the biscuit was just like eating builders sand and it accumulated in my mouth like a choking hazard. I went quickly for the tea, gulping both down together and trying desperately not to cough my stitches open. Two hours it took me to eat those biscuits with no saliva. Two. Hours. 
I still remained out of it and they wouldn't allow me to go home. "Look at her eyes," the nurses kept saying. "She's gone." Even the sneaky anaesthetist came to check in on me. 
Next, they tried a sandwich.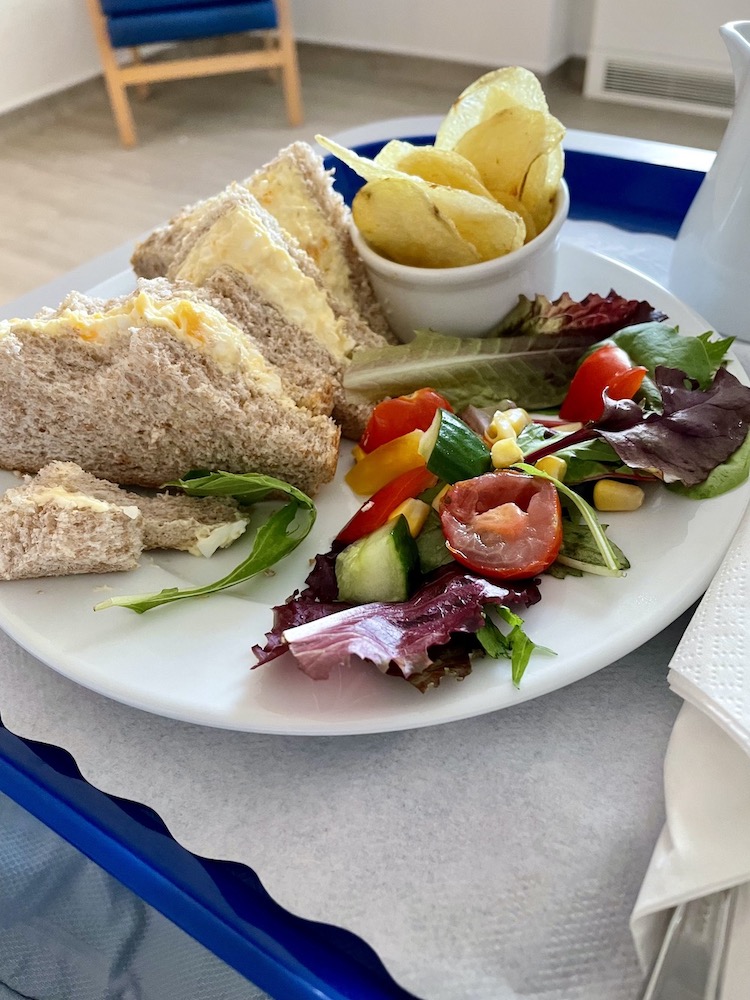 Egg and cress with a little pot of crisps and a side salad. Again, to witness such a plate of luxury made me so excited but I really wasn't hungry. Still, I took a picture of it cos nobody would believe that this was hospital food! 
Eventually, hours after I should have left, they let me go. The nurse tried again to explain my after-care and I simply told her that I had absolutely no idea what she was talking about. Thankfully, she had the sense to write it all down on the back of my dismissal papers. I went home, a little bit green, rather unsteady and blissfully unaffected by anything. And it sounds like it ended just perfectly, right?
No. SMACK BANG! came my reality the next day. On only over-the-counter meds that just weren't cutting it, an allergy to flowers in the room that were making me sneeze (not funny when simply glued together with one wound left open to discharge stuff) And then, three days constipated from the opioids causing untold discomfort that ended in me fighting for my life in the downstairs loo when I departed with what seemed like a litter of puppies in a cold sweat. 
Suffice it to say, as wonderful as my NHS staff were, I hope we do not meet again.