Satirical Snapshots bringing you 'Back in the Day!'
I've started to participate in Throwback Thursday on Instagram having come across a bunch of photos of when life was carefree, adventurous, and fun! As opposed to now where I'm TRAPPED, TRAPPED, and TRAPPED  in a mask-donned, corona-chaotic world with endless signs on how to and where I should stand and walk and so on. Not that it's affecting me or anything…
So, what was going on there, Jules?
I've been asked numerous times to tell the story behind the picture I post every Thursday and where better to tell those stories than on my blog which I started for the sole purpose of telling stories of my high jinks and holidays!  
On Yer Trike!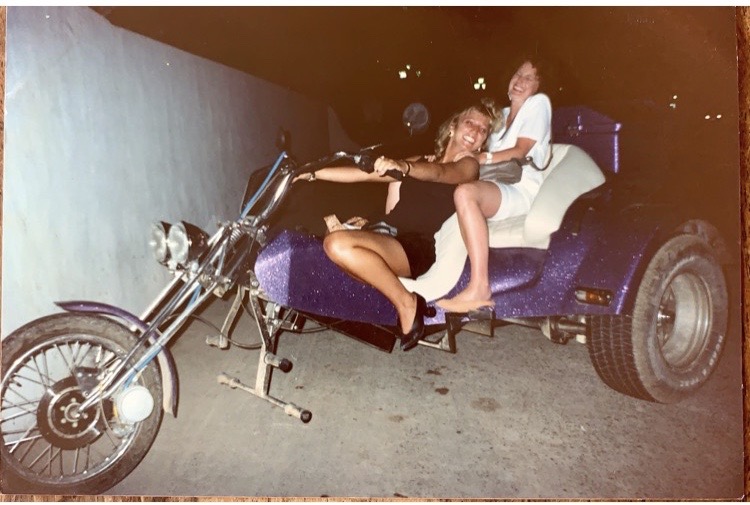 This is a photograph of myself and my best friend on holiday in Lanzarote. We bought a cheap, last-minute deal where you didn't know which hotel or resort you would end up in until you got there. But, we didn't care! Having done this many times we knew that no matter where we ended up we'd make the best of it and manage to manipulate the situation to our advantage. 
Resorting to Chaos
As luck would have it, we ended up in a top star, luxury resort with a two bed, two bath apartment right in the middle of everything. We had never been in such a beautiful place and couldn't believe our luck. Result!  However, not so much fun for the people who had paid top dollar to stay in this fabulous complex because this is what happened…
We came across this trike that was parked outside our apartment complex and found it hilarious. So much so that we decided to get on and play with it – posing for photos and suchlike. 
Then, in the midst of figuring out if we could hot-wire it and take it for a spin, the owner of the beloved trike came over and asked us what we thought we were doing because apparently, you shouldn't just help yourself to somebody else's pride and joy.  
Thankfully, he was a nice guy and let us off the fiddling with his toy and we got to have a go on his great, roaring, purple trike. He then introduced us to a bar where he and all his friends worked and we spent the rest of our holiday partying with the bar and all its staff.  Further stories of this particular holiday are to follow. 
Needless to say, every day our new gang of friends would roll up on their noisy trike and jeeps and come and hang out at our top-notch pool. They'd bring beers, loud music, and frivolity. Peace and quiet around the 5* pool ended violently. They even brought their Great Dane dog with them who also took a liking for a bit of a swim much to the outrage of the posh folk that had paid a fortune to be there. 
Obviously, my friend and I found it hilarious and couldn't understand why the rest of the holidaymakers did not. That's youth for ya. 
Repeat and Ruin the Rep
The poor holiday rep received numerous complaints about the rowdy, fun-loving youngsters that were disturbing their R&R and had to repeatedly visit us to tell us to stop having fun or he'd have to kick us out. 
We didn't. And, he didn't, because our new-found friends pretty much ran the island. 
By the end of the two-week holiday, he looked like a nervous wreck and couldn't wait for us to leave. I think he went back to England shortly after that and got a job in an accountant's office. 
Happy days.