Satirical Snapshots Bringing You Whimsy On A Wednesday!
So, here's what's been going on…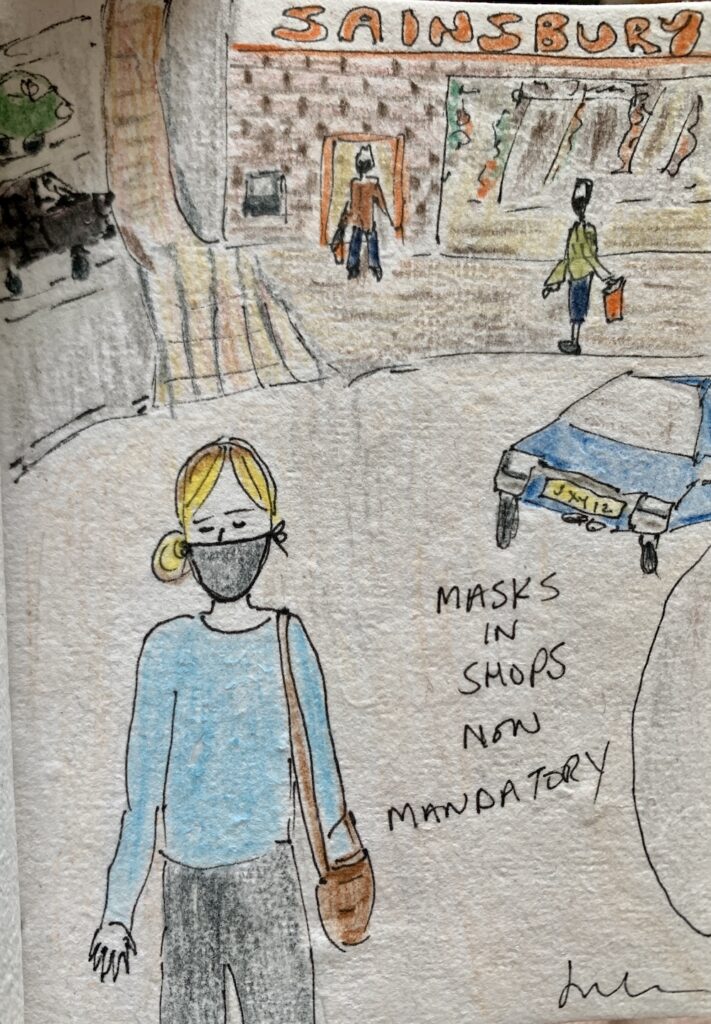 Things opened up a bit, right?  Masks on, we ventured out and tried to get on with life a little bit more how we remembered in old Blighty.
To give us a little bit of a shove our government kindly decided to pay 50% of all meals out in a restaurant from Mon-Weds throughout August. As any true Brit knows -we can face anything if there's something to be had for FREE.
Coronavirus? PFFFT!  There's a free plate of steak and chips here! Hold yer breath! You'll be reet!
Understandably, I've been taking advantage of this offer whenever possible. 
Best Foot Forward
Having become braver in this new world I decided it was high time I had my nails done. Mani/Pedi days were back on the menu and I booked in for some much-needed luxury.
Now, I'd normally frequent a little shop run by Asians – no booking required, cash only, cheap-as-chips for a good job done. However, it was pointed out to me that sanitisation of equipment in the said venue would not be happening – hygiene wasn't the focus in the first place. With that in mind, I booked into a posh nail and beauty salon at twice the price.  Twice the price PLUS an extra £5.00 to cover the cost of sanitisation sprays used on all didgery -pokery- toolery.
Well, what a bloody ordeal. The PPE was overboard with masks and visas and hand gel and gloves. Temperatures were taken, names were taken, all sense of freedom was thoroughly taken. How on earth the beautician worked in all this regalia is beyond me. She told me that it had been like learning her job all over again.
So much for all the hygiene procedures because a few days later I got an infection in my big toe.  Never-not-once have I had such a thing in all my life. I contemplated asking for my fiver back. 
After a few days of this getting worse and walking becoming an issue, I went to the chemist to get a remedy. 
"Hey, I've got foot and mouth," I said to the pharmacist. "Got any cream for this?" 
"Ooh… "*sharp intake of breath* "You need to go to the doctors with that – it's infected."
"This I know, dear pharmacist, but you must have a cream for it in the meantime?  I've been looking on t'internet and following advice from all and sundry – like using cortisone and Vicks Vaporub, which, incidentally, woke me up at 4 am with my toe throbbing like a bastard."
"No – stop that at once. You must get antibiotics."
The Quacks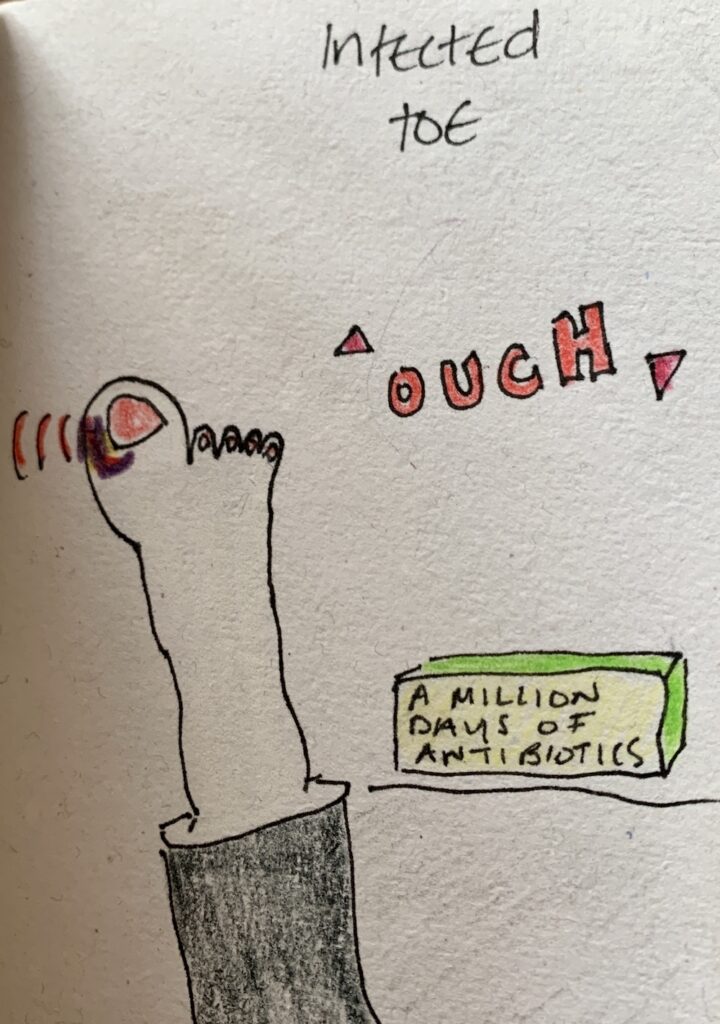 I've not been to the doctors for ages and didn't know if you could even go there in the throes of a pandemic. I called the gate-keeper receptionist and got straight to the point.
"I need antibiotics as a matter of urgency before I get gangrene" 
"You can't come in."
"No change there then."
"The doctor will call you this afternoon." 
"Deal."
To be honest, I much preferred having a chat with the GP on the phone rather than sitting in a waiting room for ages with a bunch of snotty, sick people. My prescription got sent immediately to my preferred pharmacy and all I had to do was roll up there and pay a tenner for my medicine. The pandemic has brought about some changes for the better and this is one of them. 
4 antibiotics a day for 10 days! Think twice before some posh totty fiddles with your feet.
However, doom-gloomers around me said that it could be an ingrowing toe-nail and I should get that checked out. Instilled with fear after reading about surgical toe procedures online I decided to contact podiatrists. The only ones prepared to take new clients at this time were the dodgy types. The types that answer the phone like this:
"Err…yeah, hello?"
"Is that Feet Feelers Chiropody?"
"Sorry?  Say again… hold on, love – Mandy!  Turn telly down. I can't hear owt! – Sorry duck, what did ya say?"
"Umm… I'm just ringing about feet" (and regretting it severely)
"Oh, yeah. What's wrong?"
"Just inquiring about ingrowing toenail removal…"
"OK. We have a couple of girls who can come out and do an 'ome visit.  If there's one there, they can gerrit out."
"With an injection first, yes?"
"No, duck. We can drill into it if it's a bit stubborn."
"Goodbye"
Dear God. I know I live in medieval England but come on…
The Podiatrist
After bleating to my mother about the state of things, she went and found a willing podiatrist to look at my foot. His practice was in a very salubrious village known for its millionaires so I knew they'd deal with the situation competently. 
My mother drove me with a promise of a cream tea afterwards (50% off, of course) It was one of the hottest days of the year and we sat in the car park waiting for me to be collected by the footman in temperatures of 33 degrees centigrade – known to boil an Englishman on the spot. Ten minutes later a vision walked out of the door like a Hollywood actor in scrubs. 6 ft 3", lean and muscular with dark hair and piercing blue eyes. Not that I noticed. But my mother did. 
"BLOODY HELL!" she shouted, way too loudly, staring wantonly at the footman.
"SHUT UP!" I whispered harshly, mortified by her outburst. 
There I was, forced to sit in a tiny room without air conditioning, mask on to make it even more oppressive with the added factor of embarrassment to ramp up the heat intensity. I feared near death.  And then he got out a big pokey tool and shoved it down the side of my toe to check for an ingrowing toenail issue. Brutal. If it wasn't for the fact I was concentrating on filling out a form with my details, so intently that my eyes nearly bled, I might have kicked the foot Adonis in the face which wouldn't have ended well. 
Turns out I didn't have an ingrowing toenail and the foot fetish fellow recommended a good old smearing of everyday Savlon.  Something which the bloody chemist couldn't even come up with.  
Here's to keeping your feet on the ground.