Satirical Snapshots Bringing You Whimsy On A Wednesday!
You might think that my new vehicle is just a truck – but it's not.  This isn't just any kind of car, this is an experience!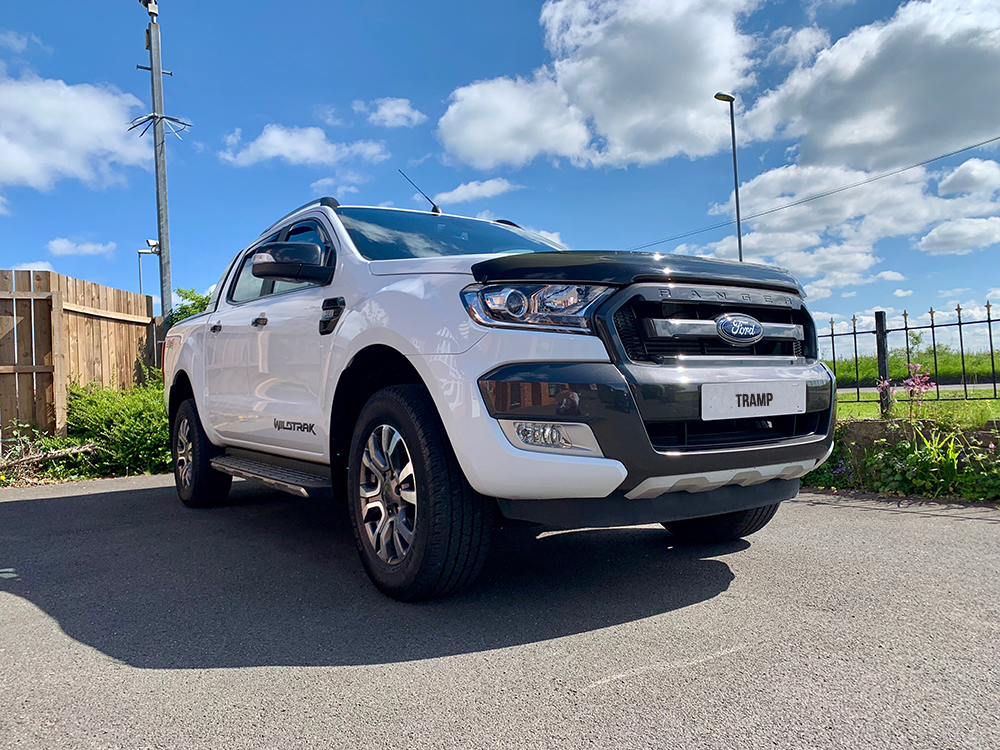 After playing around with this beast of a vehicle for the last week I have found a whole new way to enjoy my outdoor pursuits. This isn't just a nip around the block or drive from A to B, this is an outdoor orgasm on big fat wheels a brand new delight in personal adventure. 
And this is how it started…
After buying my big fat awesome pick-up truck because of a bike rack issue with my old car, I became fascinated with the truck bed and all of its room and possibilities. I went out for an ice cream and ate it in the middle of nowhere with my feet swinging under the tailgate, had a brain freeze epiphany, and realised I'd missed this kinda thing. I went back home and started looking online for truck accessories.
And I found this…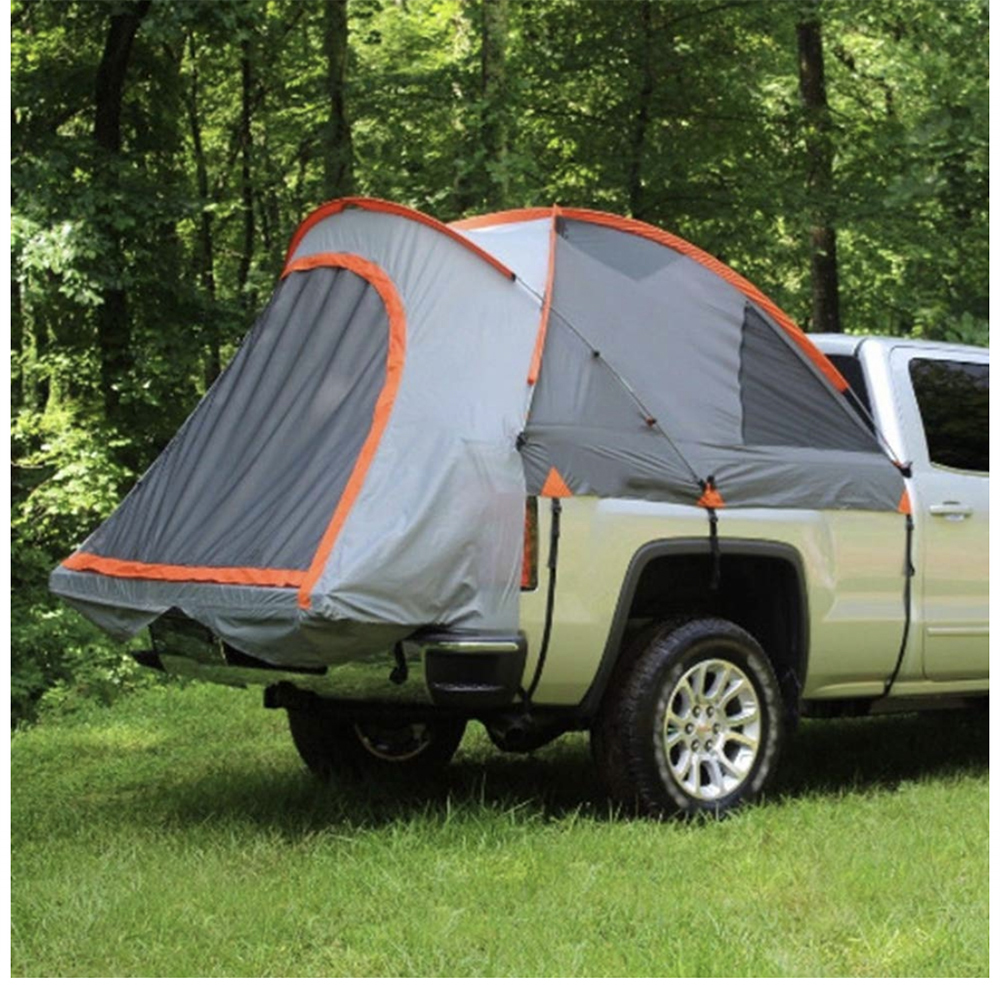 No more expensive hotels or skinny beds or dusty 4* cramped boxes on the 116th floor. No.  
FREEDOM. 
It isn't camping.
It isn't trucking.
It's way too tough and rustic to be considered as glamping.
This, my friends, is what I have aptly named as "Tramping"
Zip And Kip
After putting this truck tent on order I went straight to the great big camping shop for ideas. 
"I've bought a tent for my truck," I said. 
"What?" 
Pause. Eye roll. I showed them pictures.
"Ah." 
"I need a bed to go underneath. Comfy. Bouncy. Jules proof." 
"We have many. But, what size is the back of your truck – they might not fit…"
"DUH!  Well can you blow one up and go and see which one fits?! Spit-Spot, camping boy, I have adventures to have!"
I continued around the shop whilst this was being sorted out with another outdoorsy salesman and pointed things out. "Stove, yes, I need one of those.  Steps, definitely need those. And a torch. Oh look at that pretty little light! Get me two. Do you have a crossbow?"
Before it got way out of hand and me nearly buying awnings, a time share in motor homing, and a 7 tiered BBQ, I left the store with a bed, a cooker, gas bottles and accessories. 
"At least you'll now know how to deal with this problem if someone else comes in wanting to do this," I said as the outdoors staff waved me goodbye.
"I don't think we'll get much call for tents and beds in trucks," the store manager smirked with a wink.
I dropped my purchases on the floor in disbelief.  
"You, sir, will eat your words. I am about to set a trend. TRAMPING is the new camping. You better step it up, sunshine."  
The Tramp Test
Blessed with an exceptionally sunny weekend and not yet with truck tent, I decided to take a jaunt to a nearby country park for breakfast and practice tramping. I parked up on the field with a beautiful view of the forest. Within minutes the bed was blown up and adorned with cushions and blankets, my skillet was frying up breakfast on my new stove and I sipped on a nice cup of tea whilst staring out into the wilderness.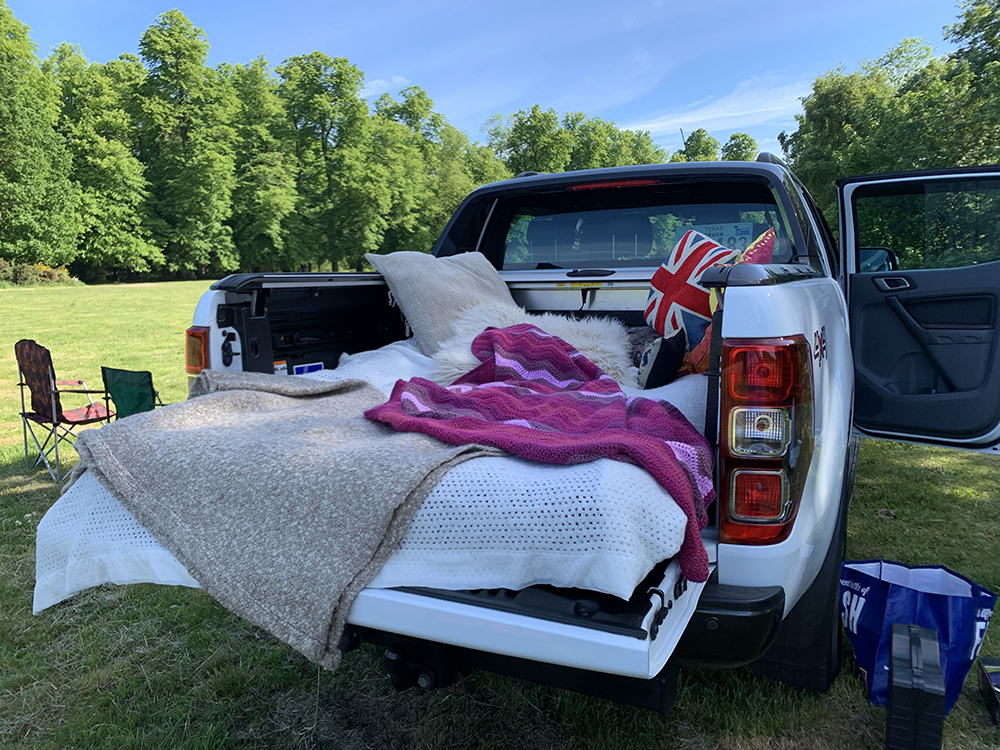 Bed made.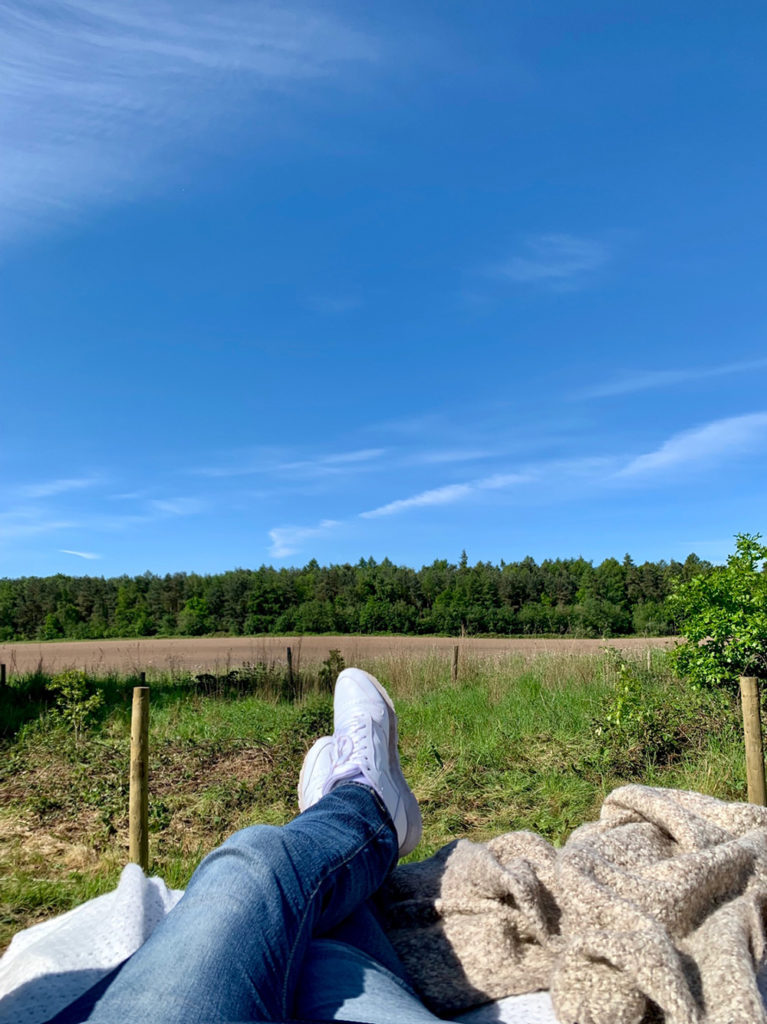 Stove on.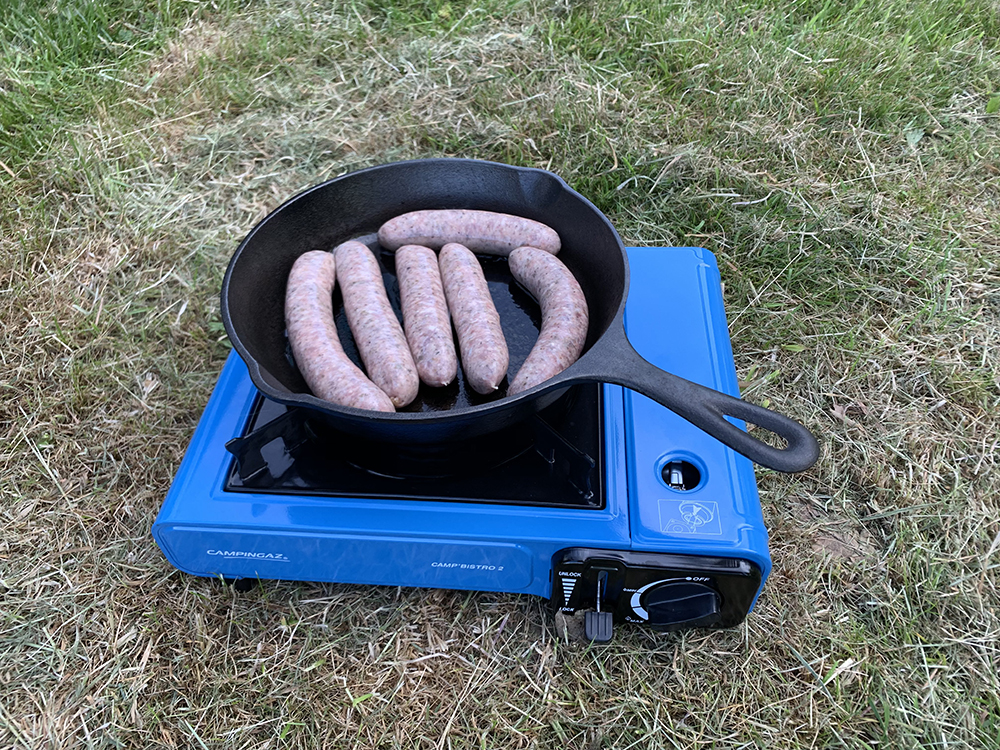 Farm shop sausages burnt to perfection.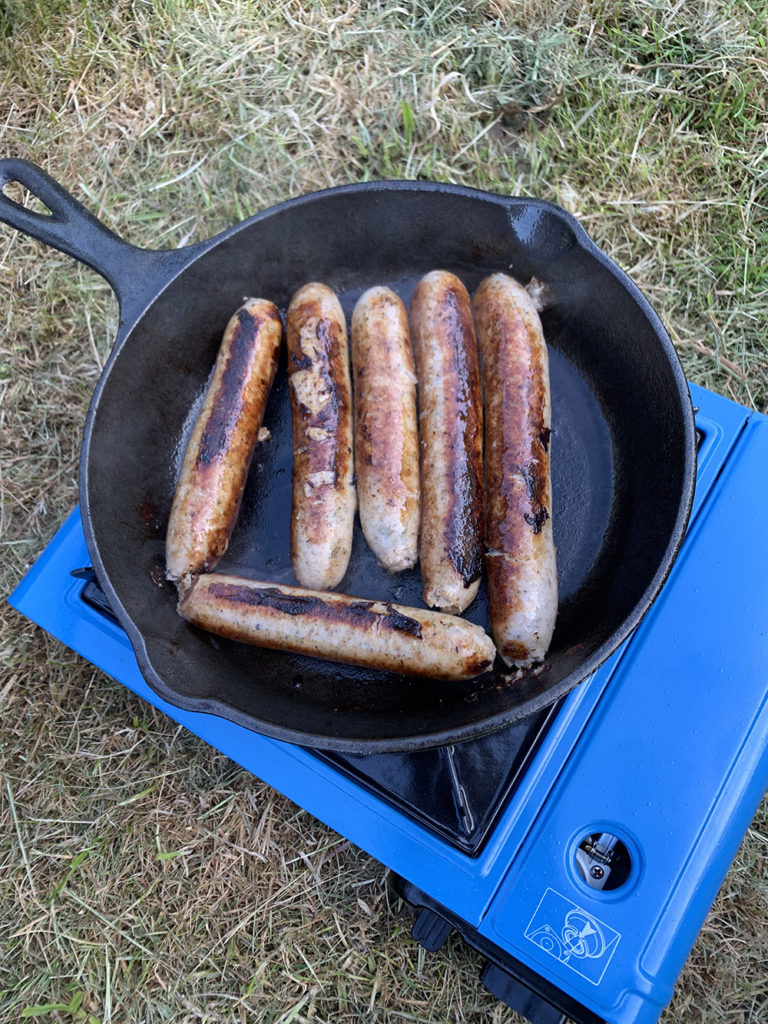 This much room for my post sausage digest…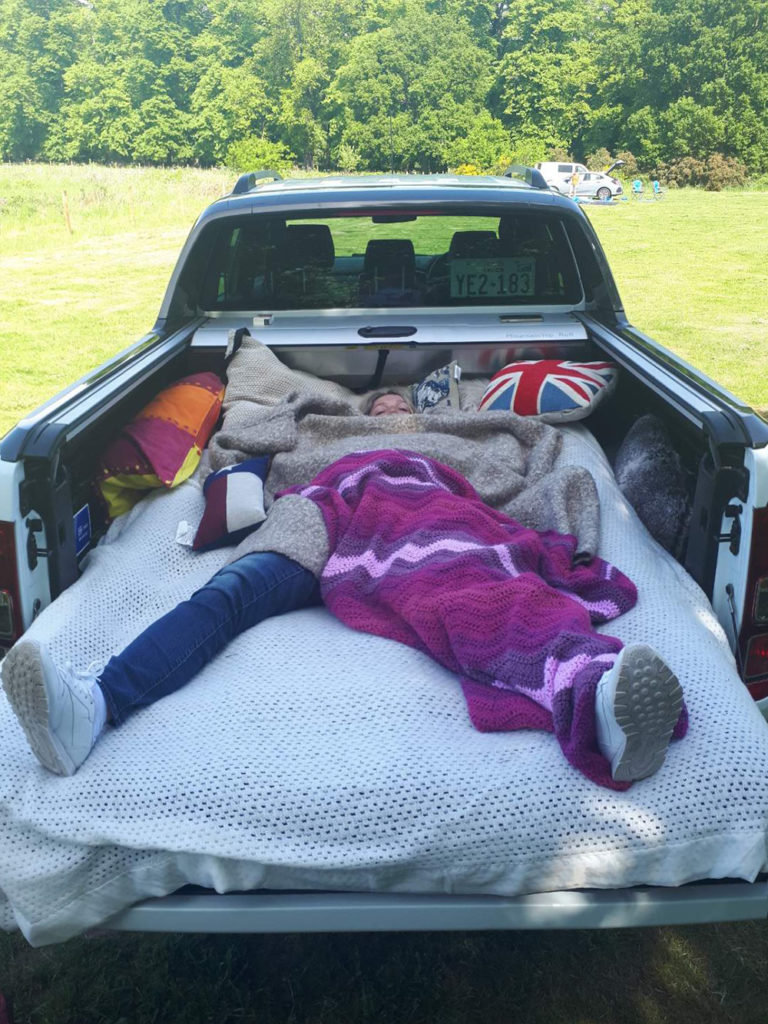 And, an after feeding kip.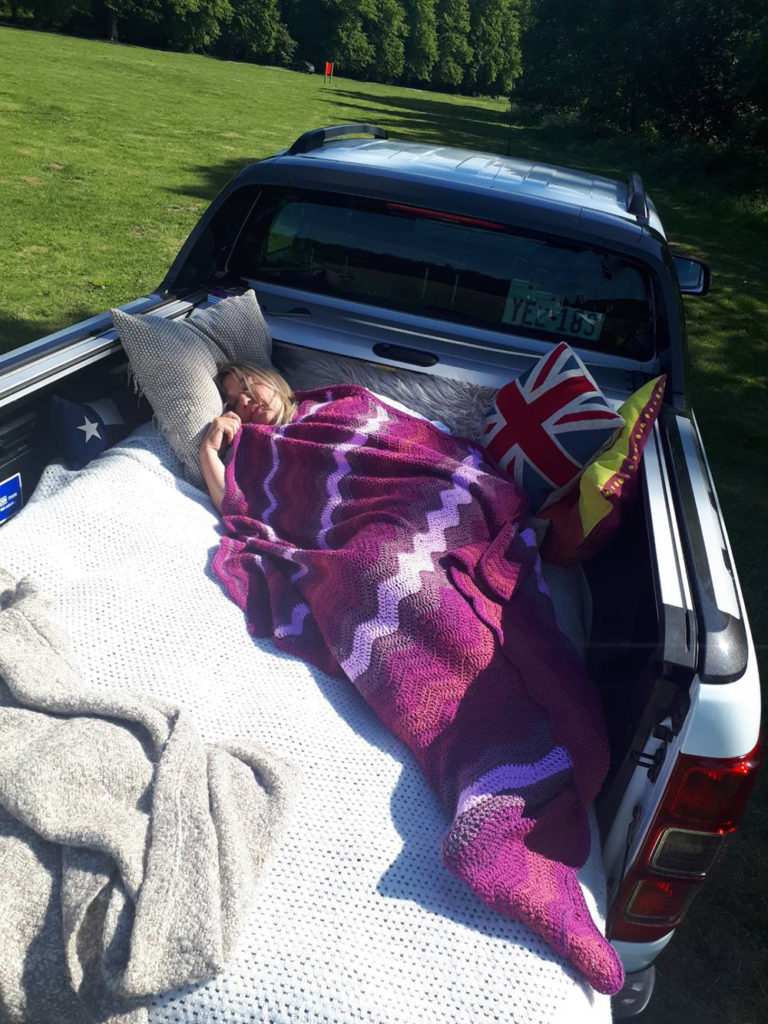 This is the future, my friends. I can't even be made homeless anymore  because wherever I drive my truck, that's my home. 
#Tramping – You Heard It Here First