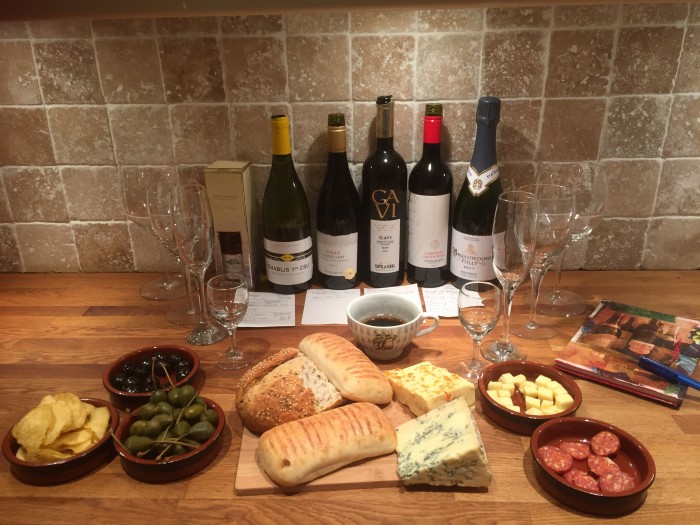 So, the best laid plans and all…..
WELCOME TO UPSTAGED -TWISTED TIME WASTING AND WINE TASTING VERDICT.
It started well. Professional. I had a clear head, one of my "I'm never going to write in this book because it's far too nice" notepads, a pen with a light on the end just incase there was a power cut, a fully charged Macbook and my JBL 3 portable speaker for excessive volume. The wines were all ready – some breathing, some chilled. The correct glasses for each were shining and splendidly Dartington Crystal. My wine snob was born. I even sat up straight and donned my serious face.
Then my speaker refused to connect to my Mac. Even though it said it had. Music DID NOT come out of it. Not that it mattered, it was loud enough from my laptop but that's not the point. I refuse to be beaten by technology. Thus, I had to go onto help forums to find out what the issue was. Every time I go on a forum there are answers that do NOT work for my problem. There's always me and some other poor sap that has come across an issue that NOBODY has an answer for. I was so irked I had to have a glass of wine to calm down and reset the pretentious snob back in place.
Here are the results. New Zealand won it for me but read on.
Broadwoods Folly: An English (I know – hilarious in itself) regional, sparkling Brut from Surrey, England.
Virginal taste: (that means total quiet and no music. Don't mention the speakers)
This was a very light fizz reminiscent of apples and celery. I was quite surprised as I expected it to be crap. It was fresh, like a day after rainfall (see how good I am at this malarkey) with an aftertaste of raw parsnip, liquorice and sherbet. I would say somewhat vegetal.
Score: 6.5 out of 10.
Cue same drink with Eric Clapton-Layla: Good grief! Now this tune rocks from then to eternity but I have to say that Eric just upped the acidity, making this Brut far more brutish, lemony and sharper. Even the smell changed to that of cream soda and I hate cream soda.
Score: 4 out of 10. I know, I was shocked too.
Black Beauty Theme tune by Denis King: Maybe, we thought, it would be better with a classic English theme tune. You know, fizzy drinks and majestic horses. It upped it a notch, becoming fruitier with essence of pineapple, mango and caramel. I'm not making this up. Remember this is my first glass! (apart from the one for medicinal purposes)
Score: 5 out of 10.
Alisa Sadikova – Harpist. Maybe, this drink needed a more refined angelic thing going on. Oh God. This totally sucked the life out of it leaving me with the taste one might acquire if sat sucking a metal bar all night.
Score: 2 out of 10.
Moving swiftly on to France: What could possibly go wrong here, eh?
Chablis Premier Cru: The most expensive bottle of the night. I was so excited about this little number being a bit of a Chablis fan. Nothing like a nice, crisp, dry Chablis with a fresh caught Dover sole. Not that we had Dover sole, we had olives and bread and cheese. Just for palate cleansing you understand.
Virginal taste: WTF? I had to look at the label to see if Lidl were lying. This was £15 a bottle! That's a LOT for a Supermarket vino. In a restaurant that would likely triple and let me tell you now if I paid three times as much for that Cru, the waiter and I would be having a stand up row. Anyway, we gave it a second chance.
It had a light sea smell like oyster shells and lemon. Maybe even light, creamy sponge. It was remarkably full in the mouth which isn't usual of a Chablis (hello wine snob) It was smooth which is something in its favour and had a slight essence of gooseberry aftertaste.
Score: 6 out of 10. Which is on the heavy side of nice.
Django Reinhardt – Minor swing: Maybe with this French guitarist it might get better. Hmmm. Ok, it felt like more of a party going on in my mouth. It unfolded a little and didn't taste as cloying or sweet. However, it still tasted far too young. Verdict – no change.
Score: Still 6.
Valid Iran Shahi – Spanish guitarist: Bloody loved this guy! Ooh such nimble fingers! Great music and if this couldn't bring the Premier Cru to life then nothing could, right? Well, slightly, yes. His plucking seemed to find the beat in the glass and picked up the tempo. However, the Chablis left a more oily aftertaste. Maybe I was just thinking about Spanish men, I don't know.
Score: 6.5 out of 10.
On to Italia!
Cortese Di Gavi – Piemonte, usually known for the likes of great reds like Barolo. MMMM, Barolo. But this was a dry white.
Virginal taste: Smokey essence. Crisp and citrus. A very complex little number with layers. It lingered on the palate evolving into essence of young rhubarb and those sweets you used to get called pear drops. Cheapest bloody bottle of the night and the best so far.
Score: 7 out of 10.
Carlo Carfagna – Frammento: Ooh, Carlo went well with his native wine, he did. He turned it into a more honeyed tone and unveiled the layers with more subtlety.
Score: 7.5 out of 10.
The Clash – London Calling.: Well, why not? gotta mix it up a bit haven't you? Pair vulnerability with anarchy and see what happens.
Well, the bitch just grew up. This young little number went totally toxic with a sharper bite that didn't nibble but went straight, full on down the middle. Good combo.
Score: 7.5 out of 10.
New Zealand. 
Hawkes Bay- Syrah. Dry red:
Virginal taste: Nice. Black Forest gateau, jelly babies and fruit gums. Dry, almost gamey with a soupçon of chestnut and fresh milled pepper. Herby and spicy and I rather flipping liked it.
Score: 8 out of 10.
Luke Hurley – NZ guitarist: No real change with our Luke and his native riff. Same score. Time to mix it up.
Boy George – Karma Chameleon said my friend. OK, then…
No. Oh no. Boy George sucked the colour right out of it leaving it flat, dead and oily. How bizarre. Since there was still some English folly fizz on the table I tried that with George. Much better. Only drink pale fizz with 80's glam boys.
Ram Jam- Black Betty (Goddam you speakers)
This track has major guitar riff and attitude which I thought would go well with this spicy NZ number.
Holy shit, it was like drinking with the Devil. In came Beelzebub, ripped off my clothes and stuck his tongue right down my throat. I daren't play The Ace of Spades incase I went on an S&M mind trip. People, this one is a winner.
Score: 9 out of 10. Get me a case load.
There was brief interlude where my friend and I did the Haka in respect for this NZ number and in support of England's brilliance in the current Six Nations. Unfortunately, my friends husband videoed it and sent it viral. I'm avoiding social media.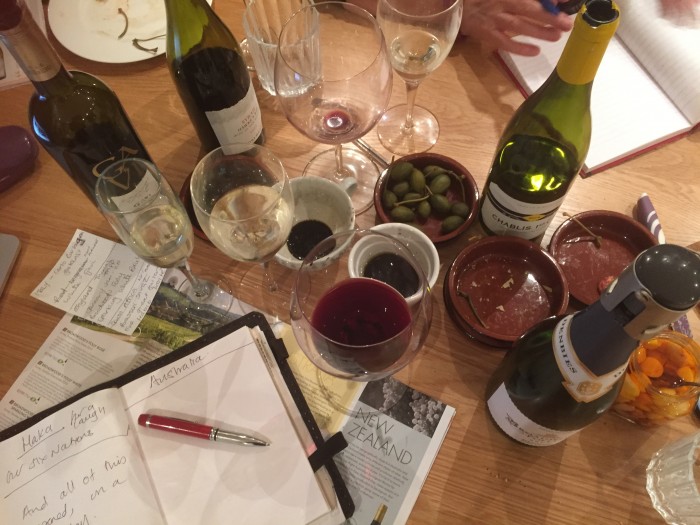 See how seriously we took this?
Off to Australia, Sheila.
Coonawarra Cabernet Sauvignon:
Virginal taste: Such a very berry odour came forward on the nose here. Bit like Benelyn cough medicine in a good way and shoe polish, in a good way. Dates, figs, and even a bit of germolene. I'm making it sound horrid but it was a nice spirited red with a lot of power. Would be very good with a chili con carne or wild boar stew, know what I mean?
Score: 8.5 out of 10.
Elvis Presley – In the Ghetto: Ok, slightly off topic but it's the King. No. Didn't work. Too sad. I think it might have been too much of a sensory experience and I was distracted by how good looking Elvis was as a young man.
Score: 5 out of 10.
Book Ends – Simon and Garfunkel:
"God, this makes me sad and reminds me of Chicago, " I said.
"Makes me sad and reminds me of benches in Blackpool," said friend. Thank GOD we didn't think of putting Morrissey on.
Score: 4 out of 10.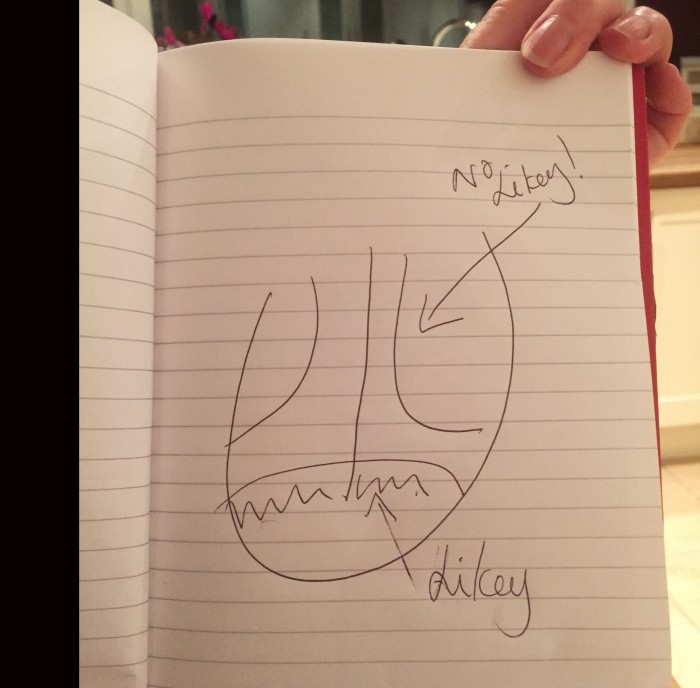 For some reason my friend decided to draw how the wine tasted on her tongue rather than explain…
Lets go to Hungary, quickly.
Tokaji: A sweet, after dinner dessert wine.
Virginal taste: MMM….sweet like apricot summer rain (whatever that is) Surprisingly pleasing like an after dinner liqueur. Fruits soaking for your Christmas cake sort of thing. A field full of buttercups. Easy like a sunday night without the back to school feeling.
Score: 7 out of 10.
Gabor Szabo – Spellbinder: Ooh, I'm a bit of a Gabor fan now. Good tunes and he made this drink  more sophisticated. He made it dance a little bit and pulled on the fruity notes. Go Gab.
Score 7.5 out of 10.
Now what happened next was a bit of a fuddle.It all went south and resulted in a bizarre cocktail of drink whatever you want that's left on the table. You know how it is. My attention span is short.
24 hours from Tulsa – Gene Pitney: – seemed to make everything sweet 'n' peachy somehow.
Glen Campbell – By the time I get to Phoenix: Totally fizzed the fizz off. Even made the surprising Gavi taste like bitter rejection which works beautifully with country sorrow. The misty taste of moonshine, he said.
Then John Denver came on and I forgot what happened except I ran out of the house begging my friend not to sing 'Annie's Song' to me and tip me over the edge. The next thing was my pal's husband driving me home and he was teary eyed. He's a hardcore, no shit, copper and I've never seen him cry before. I didn't know if it was because of the amusement or he was glad to see the back of me.
And all this frivolity happened on a Monday night.