Satirical Snapshots bringing you frivolity on a Friday cos…well.. Whimsy on a Wednesday got blown away by this….
WET WET WET
Remember them? I used to call them crap crap crap but that's just me.
Rain. Relentless, thrashing down rain from morning to night for two days solid. That's what New York had to offer on my final two days in America. Nice. Take me from the heady, high temperatures of Texas and throw me into a waterlogged city with angry people.
I feel it in my fingers I feel it in my toes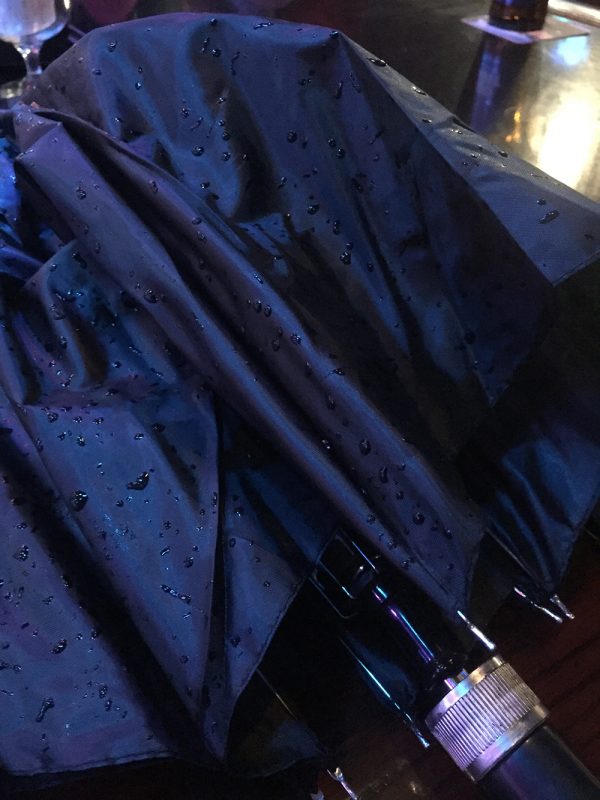 Not kidding. The first thing I bought in the Big Apple? A brolly. The first and only thing. Not that it worked. Sideways rain has a way of finding its way through your jeans and plastering them to your legs and making you feel not very Marti Pellow mellow.
Brolly Wars.
This, people, is a real thing. Oh yes. At first my British politeness kicked in and I started to apologise to every passing umbrellist. "Sorry, oops. Oh, dear. Don't mind me."
That didn't last too long. Even Mary Poppins can be a bitch.
YOU WANT A BROLLY WAR? BRING IT. How do you like that river of water tipping down the back of your neck you ignoramus? What? You nearly lost an eye? NOBODY CARES.
Have you ever tried to get through a swarm of people all holding brollies on 5th Avenue while the Rockefeller Christmas tree lights are about to come on? INSANITY.
My Mother and I took refuge in Macy's. There's nine floors in this store. I know this because I did ALL of them just to get dry.
Forward thinking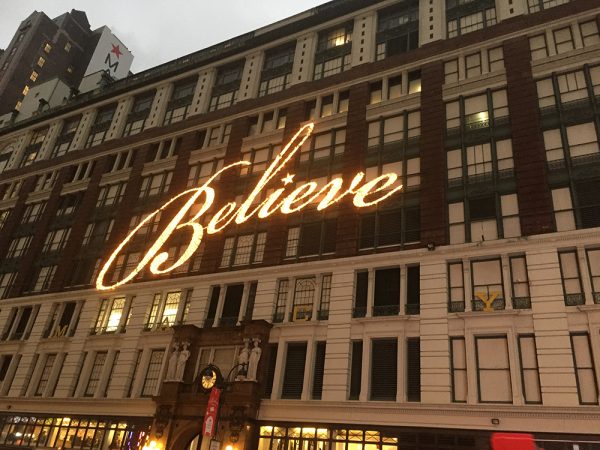 Posh department stores in America think about rain. They don't want it dripping across their polished floors. No. Having the the Chanel bird in high heels skedaddling across the floor in her high heels as she tries to spray you with 'musk a la moment' doesn't look good. So what do they do? They give someone a job at the door handing out umbrella condoms. I'm serious.
"You got one of those for my body, pal?"
"No, Ma'am."
"Hmmm. Can't promise not to drip on your haute couture. Just sayin'"
My mother bought loads of stuff. I followed her around with essence of severe petulance.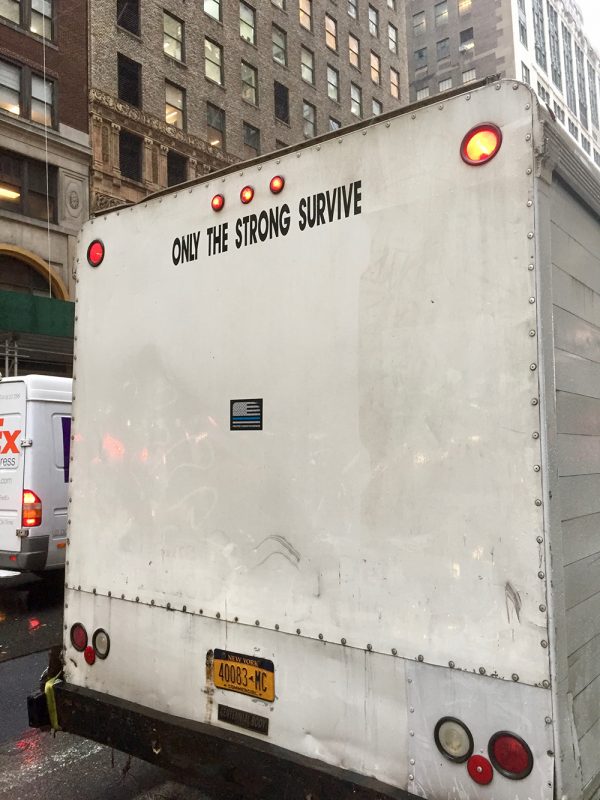 What did the shop pack her clothes in? Brown paper bags. How long do you think they hold up in torrential rain, eh? About half an hour. What happened next? Oh, they split and and empty their contents all over the pavement which is being tromped along by angry, east coast people. Great. REAL forward thinking Macy's. Get carrier bags like everyone else before I come back and strangle someone with your brolly bag.
My temper was very, very frayed. Then I saw this man and nearly joined him.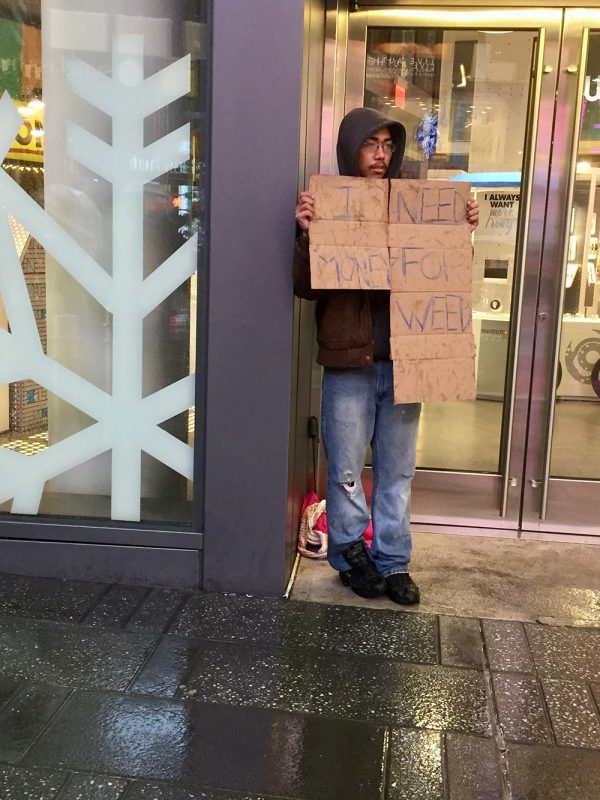 I couldn't help but give him all my loose change because I appreciated his honesty.
I'm calling Trumps
"We're going to Trump tower," I declared. "President Elect is bound to have something to cheer me up in his golden tower."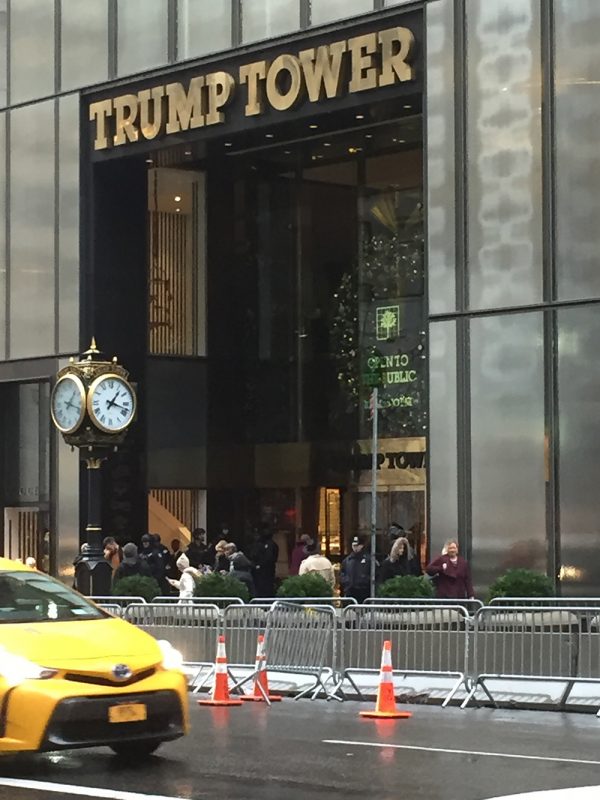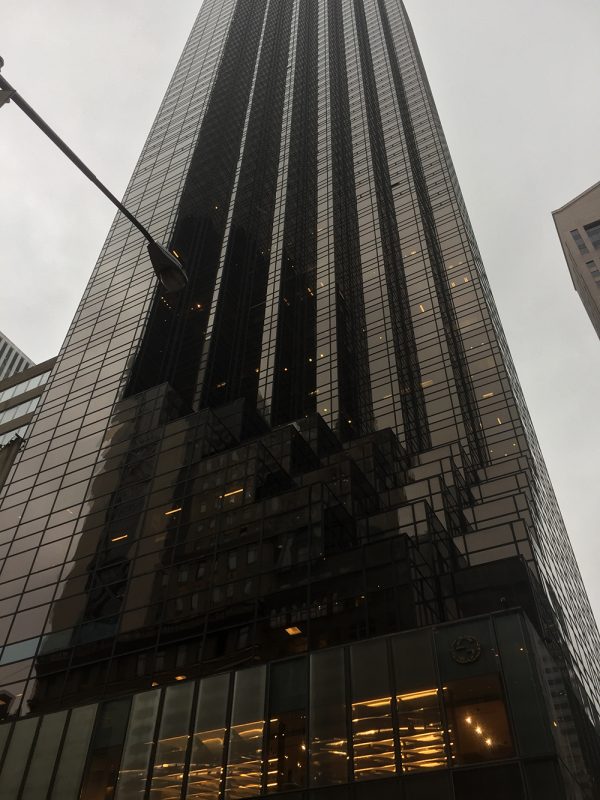 I managed to get past machine guns, coppers, The News Crew and The Secret Service despite looking like a drenched vagabond. I ate a Trump burger and had a lovely glass of red wine. #MakeJulesGreatAgain.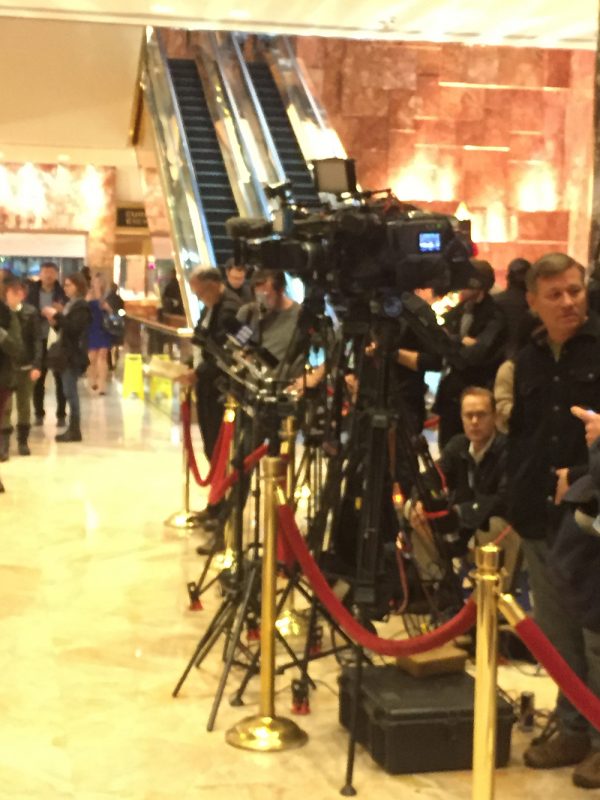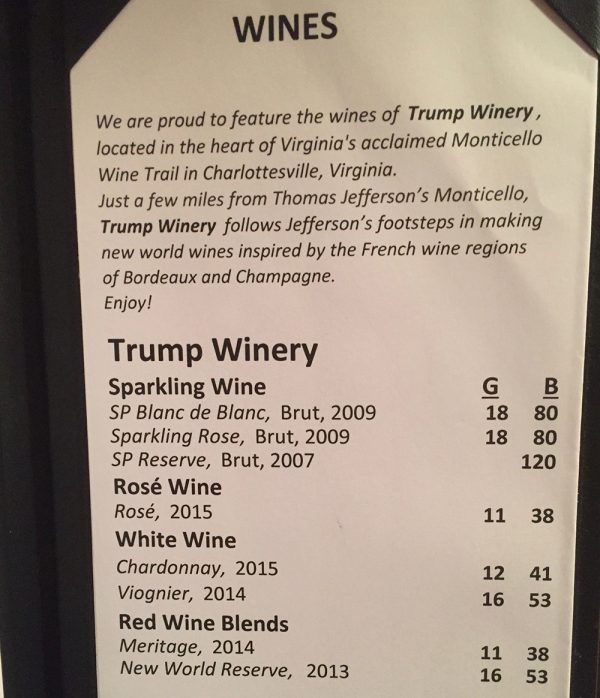 Heh!
Bit of a stretch
It came time to leave and I sat in the hotel foyer emptying my case in order to find something dry to wear on the plane. I might have been a bit stroppy and atrocious which made the doorman come and try to appease me.
"Can I order you a cab, Ma'am?"
"No. I'm getting an Uber. That's how I roll. "
"Let me get you a nice car for the airport journey to make you feel better. "
"Fine. Knock yourself out."
This turned up..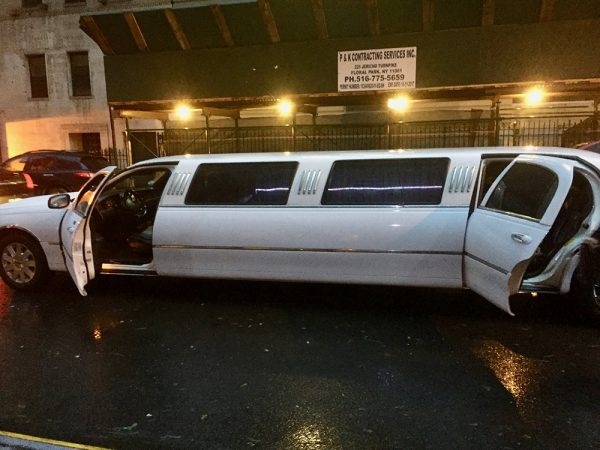 Finally, someone gets it! However, as fabulous as this was have you ever tried to negotiate rush hour traffic, holiday lights and gold robberies in a LONG car? The forty minute journey to the airport took two hours.
My mother and I were flying back on different airlines. Each of us had twenty minutes before our flights boarded. Impossible. She got dropped off first, being Queen and all, and me after.
The queue to drop luggage off was very long. I looked for my prey. I spotted him in seconds in his BA uniform. Slight of build, hunched shoulders signifying lack of confidence, slightly balding and no eye contact. Perfect.
"For goodness sake you have to help me I'm so terribly late! My limousine has been two hours on the road getting here. My flight leaves in a minute and I simply MUST get home to London or there's going to be a world crisis!"
"The desk is closed for that flight, Madam."
"Then re- open it!"
"Follow me."
Of course, they re-opened it.
"Now you have to rush me to the head of the security line, Sir. I have no time to waste!'
"Of course."
I was marched to the front and arrived at my gate as my plane boarded. Seven minutes from limo to plane. Maybe this is what I should do in future?
And all of that would have been so worth it if my bloody mother hadn't missed her flight. Not only missed it but ended up being delayed and thus resulting in me waiting round in the minus 3 LHR temperature for an hour and a half for her arrival.
Karma. Thought I'd left her back in Texas…
In the meantime, here's a Rodeo video from Dallas Fort Worth. Enjoy that whilst I recover from my jet lag.