Satirical Snapshots Bringing You Whimsy On A Wednesday!
So, as you all know I went to a three-day music festival in a field at the weekend. Fortunately for you, I am still here to tell the tale.
Raining On My Parade
Despite the fact that the weather here has been a glorious, proper summer, festival rain has to make an appearance. It's the law. In fact, the weather was quite insane, ranging from boiling hot to chucking it down. Perfect for screwing up your cowboy boots.
Word got around that "Jules doesn't do camping" and a glamping village was arranged by the sound engineer on my behalf. What this meant is that I had a big tent with a bay window and two zippy up rooms inside.  AKA – Cupboards.
Said canvas mansion was put up on my behalf as I stood deciding which way I wanted my door to face. They also brought me a bed. A proper bed on slats with a real mattress, a pillow and a double sleeping bag. And though I was somewhat hesitant about this malarkey, I felt very proud at owning the best pad on the "Artists and Groupie" field.
I Never Slept In It Once.
And don't think I wasn't enjoying myself because the evidence is to the contrary.
The cider tent…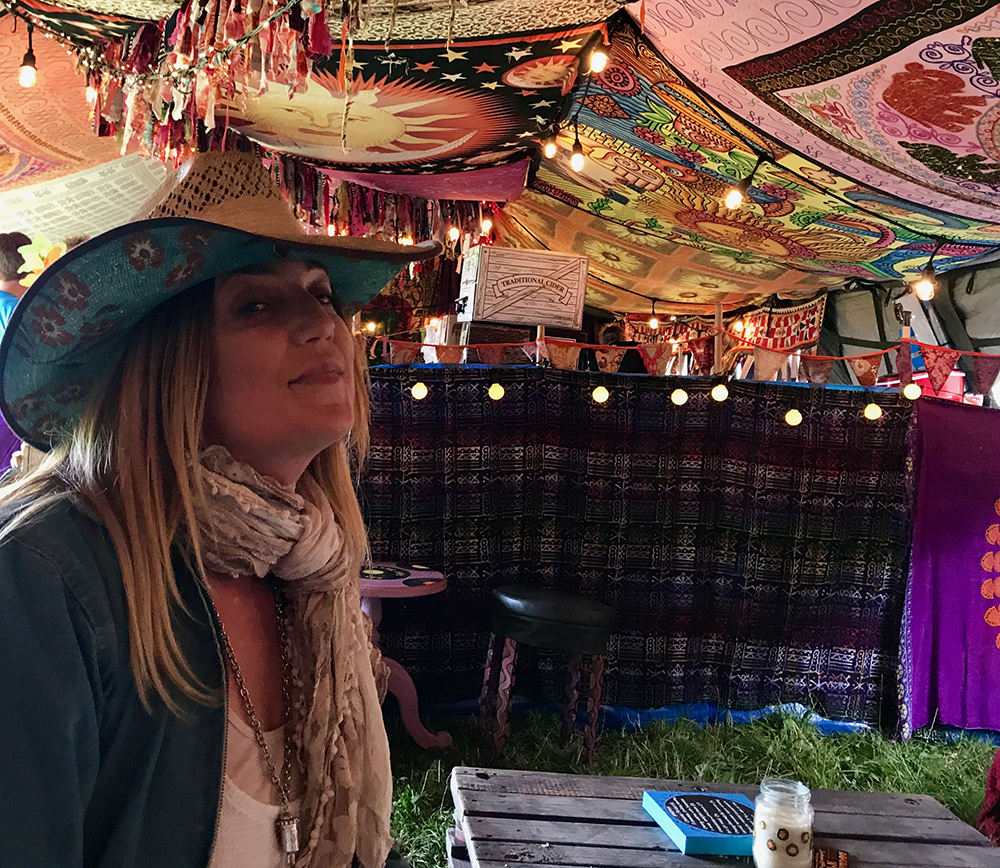 And, shortly after the cider tent.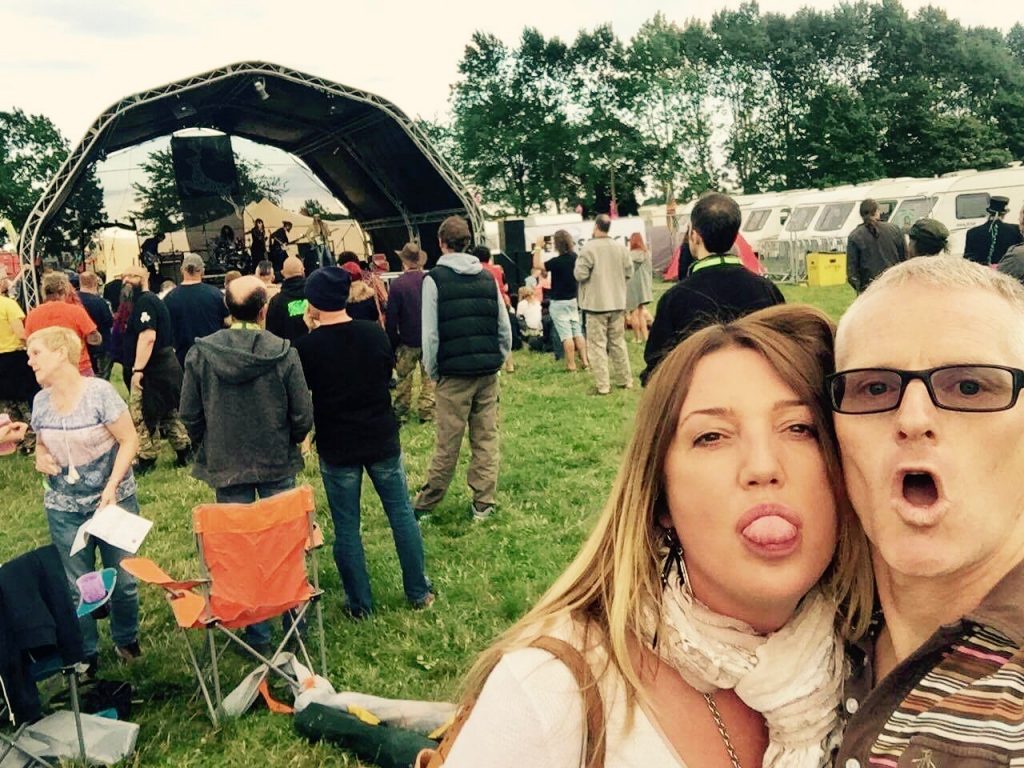 I Told You Freebies Were My Undoing…
As a crew member I got  free food, free drinks along with great bands playing on stages all around me. But the first day, I got poisoned by platters of home made cider that, well, basically tasted like pop but were far from it. And then the only other option was wine. I gave that a shot. I mistakenly went to raid my mother's caravan to get something nicer; I think she poisoned me too. Then it rained, I got all ever so diva emotional and didn't love my tent anymore. At some ungodly hour I demanded a lift home to my own bed.
"Why have you left?" asked my ride home.
"Because it's not suiting my balanced nature."
"Balanced? You?  Hahahaha! I'd call you a lot of things but balanced ain't frikking one of them!"
"Rude."
"You saying you're balanced is like a tightrope artist saying he's grounded!"
"This taxi is shit,"  I replied.
The Roving Reporter Having A Field Day
I woke up with the mother of all hangovers but I had to go back. 'This time, I will stay in my tent, 'I vowed.
I arrived at the muddy field loaded with aspirin, an overnight bag and a camera.
I decided to go out and meet festival type people in order to become a more balanced and rounded individual. I'm often very anxious around Druids, witches and Henna tattoo fairies or anyone wearing home pressed felt. I don't know why, but there ya go.
First off, I sat at the ticket desk as people came and went. This is the ideal place to control nomads as they wander in and out. People revere the ticket master. Especially when it has a camera.
First off, I met the king.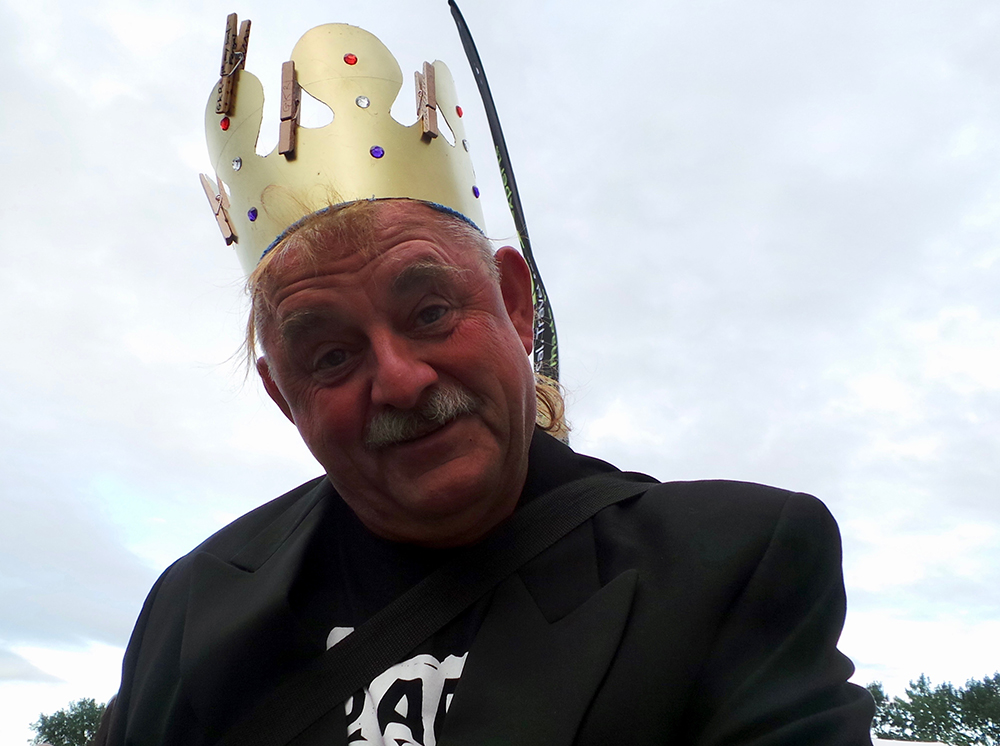 He actually introduced himself as King somebody, I forget the details, and told me he wanted to take over British and American politics. I let that soak in for a minute.  I mean, a man who dons a gold paper crown with clothes pegs clipped to it obviously has the answers to all our woes.  Stranger things have happened.  You never know.
"I'll need to see some ID,"  I said.
Instead, he wielded a weapon.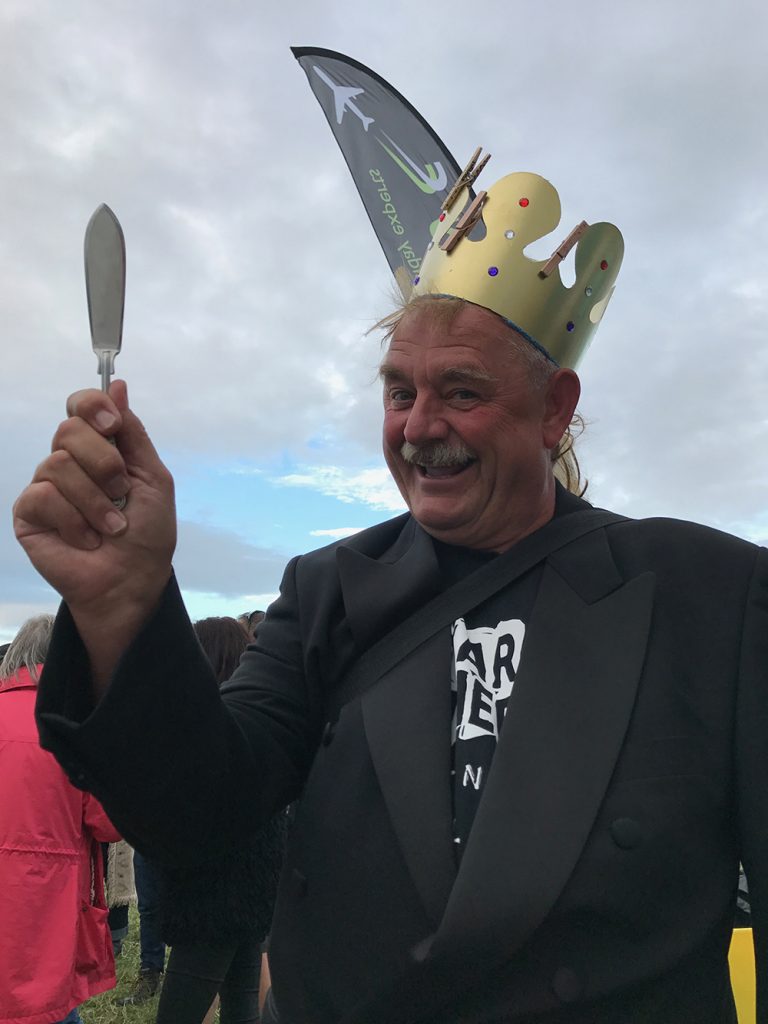 "I have this silver knife!" he exclaimed.
Again, I let that soak in for a moment. I whipped my Texas blade from my boots, "Me too!"
"Err…that's illegal…"
"Why is it? You've got one,"  I replied.
"But mine's a cake knife."
"Then I guess that makes me queen!"
Shortly after, I met another queen. Oh yes.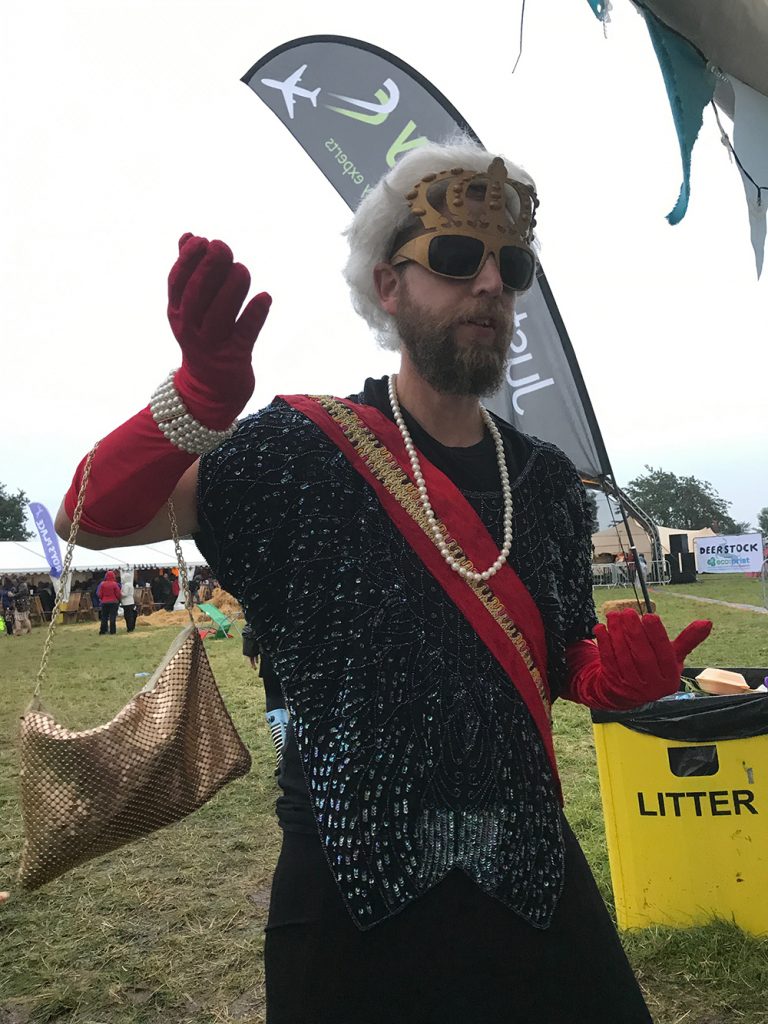 He even spoke like the Queen. Or tried to. It sounded more like a Monty Python sketch, to be honest. It was kind of funny in an uncomfortable way, but I'm all for a bit of bonkers.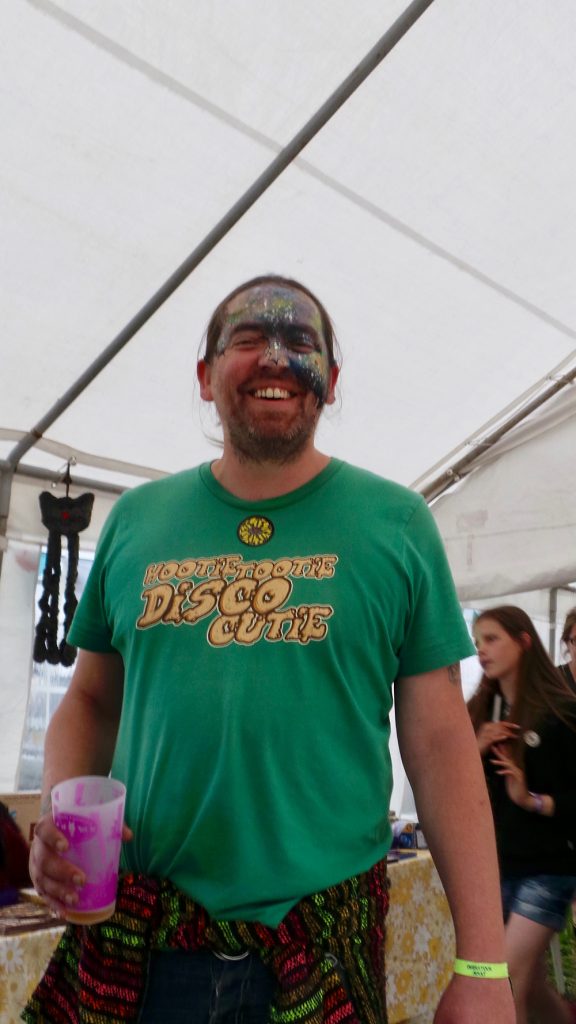 And then there was the Hootie Tootie, Disco Cutie. Thank God my clubbing days are over.
Followed swiftly by Terry the tape. ..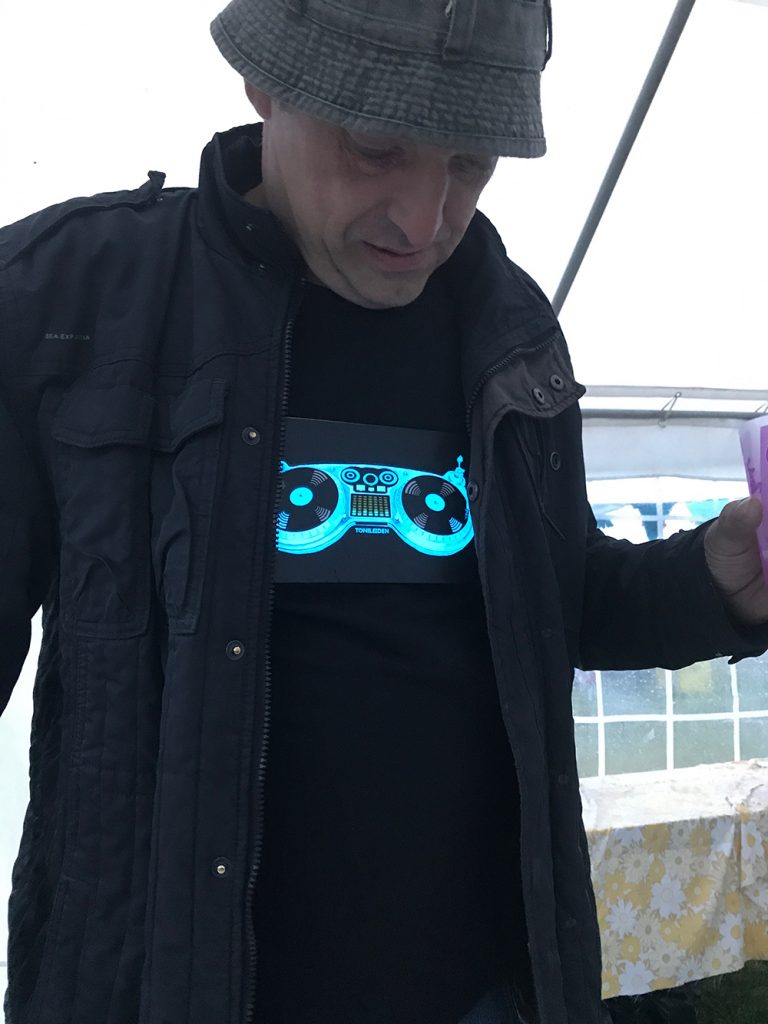 Who stood for ever at the front desk looking at the  illuminated, flashing deck on his T-shirt. You'd think he'd just sprouted a pair of tits, such was his fascination.
"Terry, go and get yourself a cider, mate.  They're three for two at the minute."  They weren't but Terry wouldn't have noticed that because Terry was long gone in the abyss of his festi-shirt.
And just when I thought I was going to get lost down a rabbit hole, the Hatter arrived.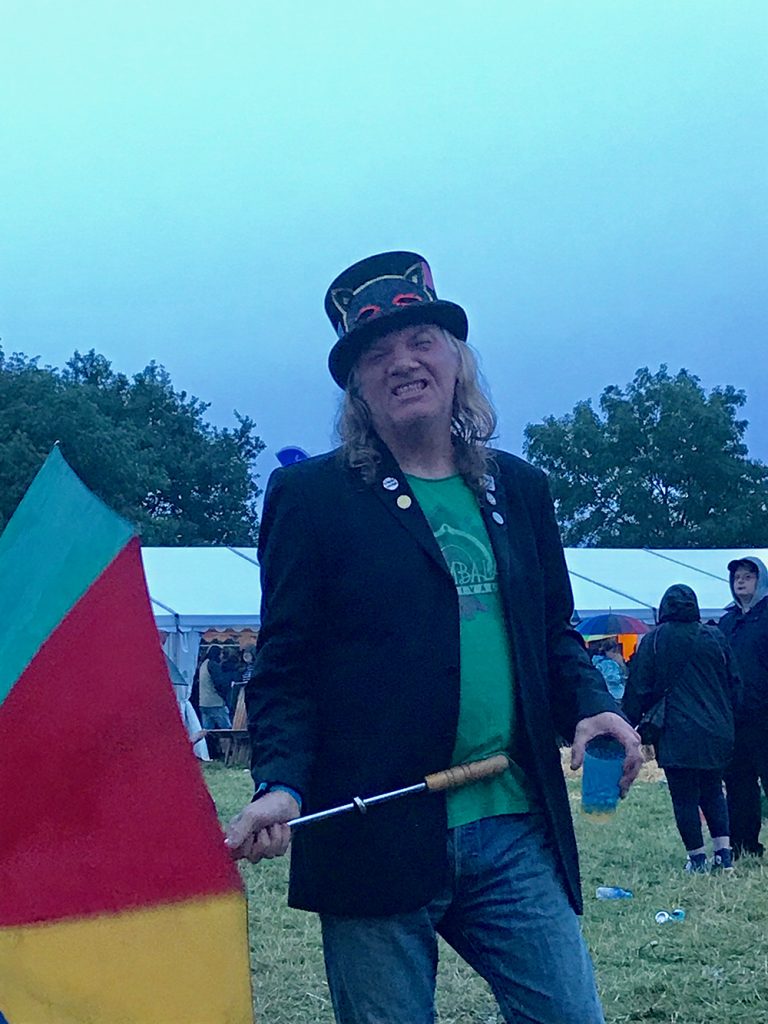 I don't know if he was a little bit confused but I don't ever remember the Mad Hatter doing a rendition of Gene Kelly's "Singing In The Rain'
I decided to go for a walk to clear my head and took a camouflage coat to protect myself..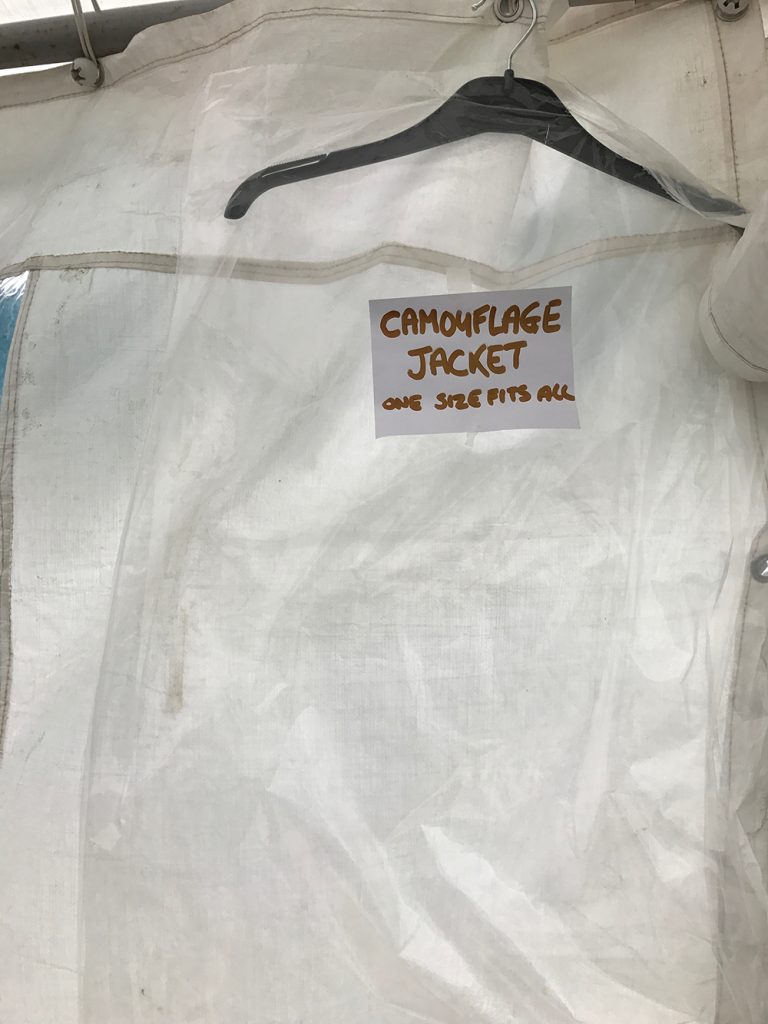 You've got to admit that these people have a sense of humour. On my way I met Tweedle Dum and Tweedle Dee.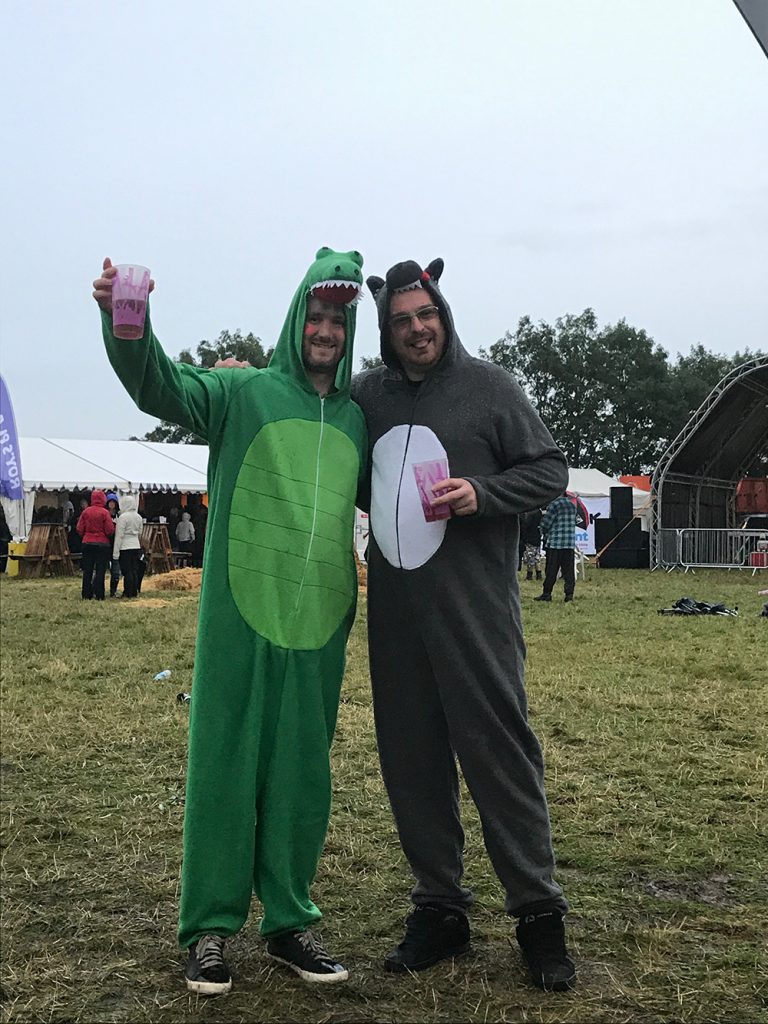 I made a sharp exit  …narrowly missing the Bride of Dracula..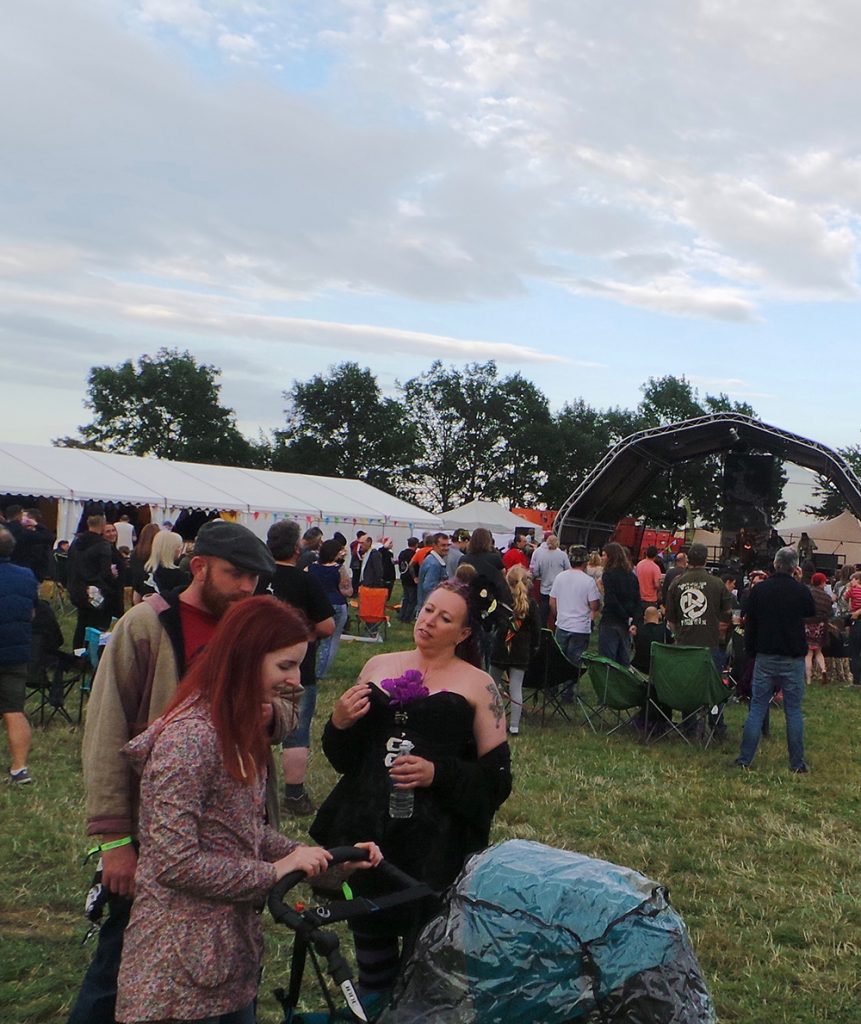 Who apparently eats babies because it's cheaper than Creme De La Mer but with the same benefits.  I made it to' Vinyl Love' ~ the tantra hippy bed and realised how lovely my tent was.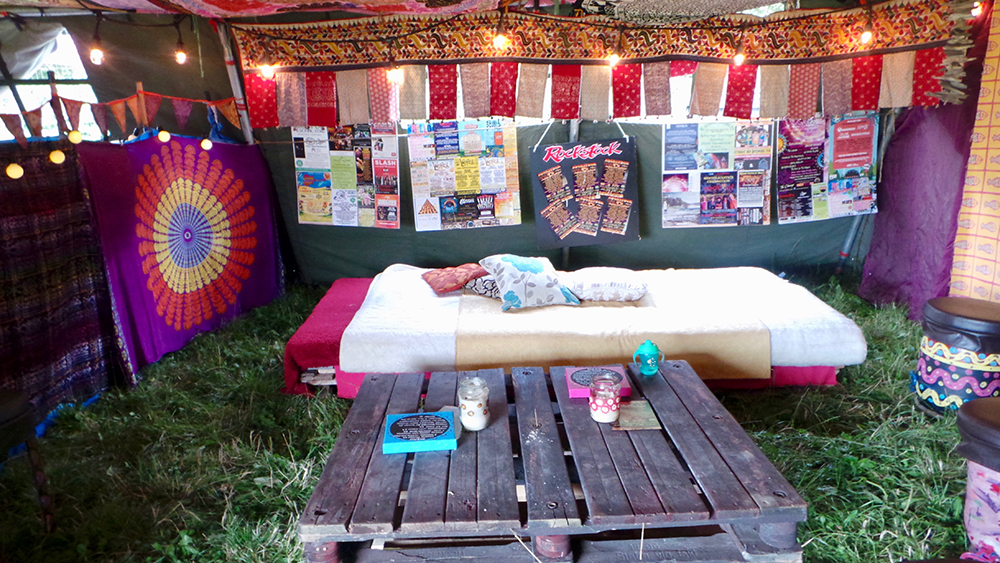 I decided I needed a drink.  I got it delivered in a plastic Unicorn..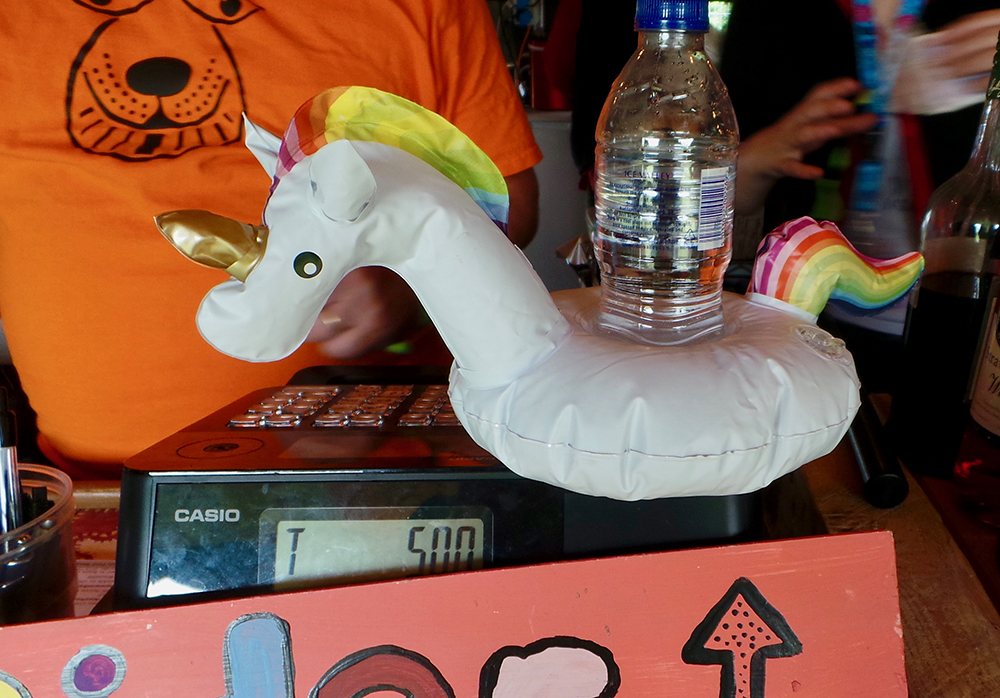 which I kept buying and keeping despite the £5.00 deposit.  It was fun to set them floating off, deliberately  punctured, down the muddy stream.  If they'd have done bigger ones at least I wouldn't have got my boots wet.
And then I saw this..
Now those who know me well are aware of my aversion to body warmers. There is no point in a coat without sleeves. It's ridiculous. But a wooly body warmer?  Baaaaa….nope. Get out.
My Dressing Room Is Bare, Darling!
I went back to the desk where I met up with my mother and one of the stage managers.
"Look, you need to go shopping, pronto,"  the stage manager protested. "We have serious riders that the headline acts are wanting.  Here's the list:  Fever Tree tonic water – no exceptions.  A selection of fruit, pure juices, particularly grapefruit, a dozen towels, two cases of premium beers, premium vodka and red wine and quality mixers – not diet. Oh and fresh cream and ginger ale. You need to hurry."
"You do realise it's a Saturday evening miles from the city with just a village down the road?"  I said.
"There's a Lidl down there, " he pointed and there's the Co-Op in the village and I think there's an Aldi.  Please can you go and get this stuff or they'll be pissed off."
"What a bunch of divas," I scoffed.
"Shut up!" my mother snapped.
Since it was lagging it down with rain, I decided that going shopping with her would be preferable to standing in a muddy field full of odd clothing.
Three bloody shops we had to go to for all this stuff.
"How can these bands make such outlandish demands. They're not even in the top 40 charts!"
"It doesn't matter. Bands want things because they're important,"  my mum snapped again.
"Err… no they aren't. There are people out there saving lives or fighting wars..  Are they demanding fresh fruit?"  I threw a can of mangoes in the trolley.
"They can't have canned fruit!  Take that out!"
"No – let 'em deal with it."
"People like entertainment, Juliette.  And people will pay for it."
"Pfft.  I'm entertaining. I entertain you all the time. Can I have a shed load of goodies?"
"No.  You can have a smacked arse in a minute though."  She then started to fuss around in the chiller cabinet looking for juices.  "I can't find any fresh grapefruit, I don't know what to do.."
"I do."   I loaded the trolley with all the other fruit juices in the cabinet.  "There, they have seven different juices, I'm sure they'll manage."
"No.  We NEED grapefruit juice.  It's the only one that works with viagra."
I let that sink in for a moment.  "Oh, My. God. How do you know that?  No. Don't answer that question. Ewww…You're supposed to be my moral guidance.  It's no wonder people think I'm unbalanced.  I want to go home."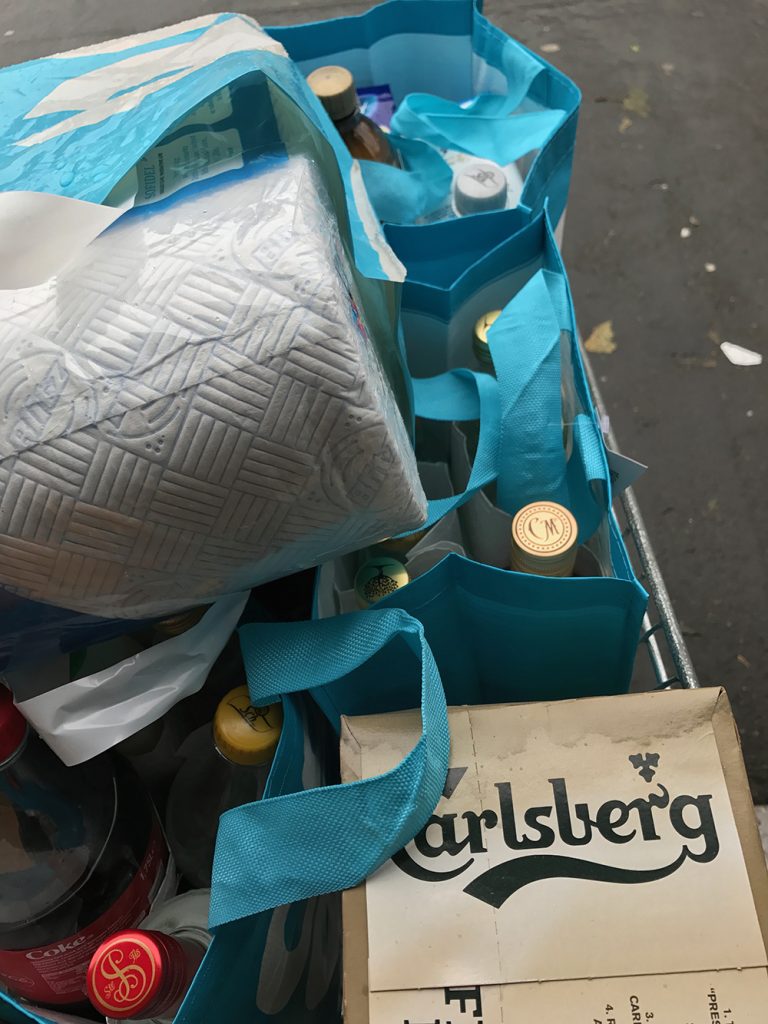 After depositing several trollies worth of diva goods in the car we went back to the water logged quagmire and dropped it all off. My mother walked me to the main gate to wait for another lift home.  I may as well have slid on my arse to the entrance it was that bad. I stood there, wet and freezing in the relentless downpour as I watched a pair of headlights come up the farmers long road.
"This must be my ride home,"  I said.  But it wasn't. Instead, a dodgy old Ford rolled up and stopped at the gate.  A man got out and introduced himself as the lead singer of that nights, headline band.
"Oh, you."  I said. "I've spent the last two bloody hours shopping for you and your bands endless, needy requests.  Don't they have shops where you live?"
My mother was aghast.
The singer took my hand, bowed slightly( he really did)  and said, "I'm so sorry, I hope it wasn't too much trouble.  We've been driving all the way from Cambridge non-stop to get here from another gig. I really, truly appreciate your help."
"Yeah…well…"  I sniffed.  "S'alright."
My mother shook her head at me and opened the gate for the really nice, way sweeter than me, rock stars.  I got into my lift home that was waiting behind.
"I thought you were staying here tonight?'
"Don't talk to me. I'm very unbalanced."
I still went back the next day and I still didn't sleep in my tent.  And though it was a great event, with some very interesting people,  something tells me that festivals are not for me.