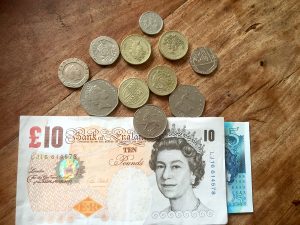 Yeah…you lot wanna be careful because I've got an indestructible bunch of fives.
And aside form a sharp right hook, I also have a beautiful run of first edition, new £ five pound notes.
This is a whole new type of plastic my friends, oh yes.
Scrumple proof
Waterproof
Built to last
Not fire proof ( I tried) – not entirely indestructible cos when I got my scissors out and cut one in half it lost but, I'll give it its due, this note really IS waterproof because when I cried after going through twenty quids worth of them, my tears ran over it like rivulets of rain down a pane of glass.
Do you want me to show you the money?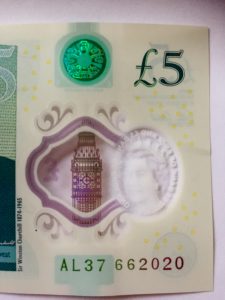 Thats the Elizabeth Tower AKA – Big Ben, from the south bank of the Thames looking across Westminster Bridge. Ding Dong.  I've been up that tower and into the workings of the clock and heard Big Ben chime at 3.00 pm.  You can only do that if you're English and get a special pass from your MP.  That's how important I am. You can see through it like a window on this fiver and the clock's hands are at 3 o'clock – the time on 13th May 1940 Churchill made his famous "I have nothing to offer but blood, toil, tears and sweat," speech in the House of Commons.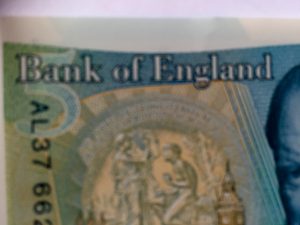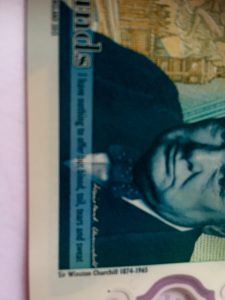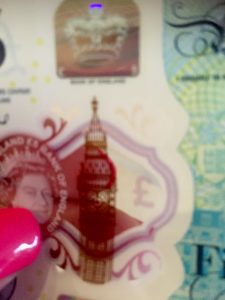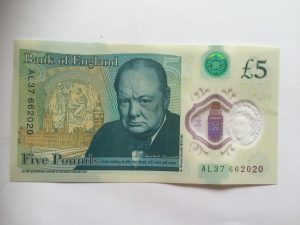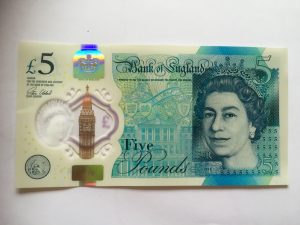 There's also a background image of the Nobel Prize medal he was awarded in 1953 for literature, together with the wording of the prize citation.
Since I'm coming back to America in less than a fortnight I'm bringing a whole bunch of these notes with me and will be selling them off for $30 each.  What? A starving artist has got to try her hand at making a few quid, ya know!
And the old fivers (which will cease to be legal tender by spring next year) well… I can do those at the discounted rate of $29.99
Snooze, you lose.
Who said Brits were stupid, eh?