Be the first to get your child actively reading with success with
Make-A-Monstory!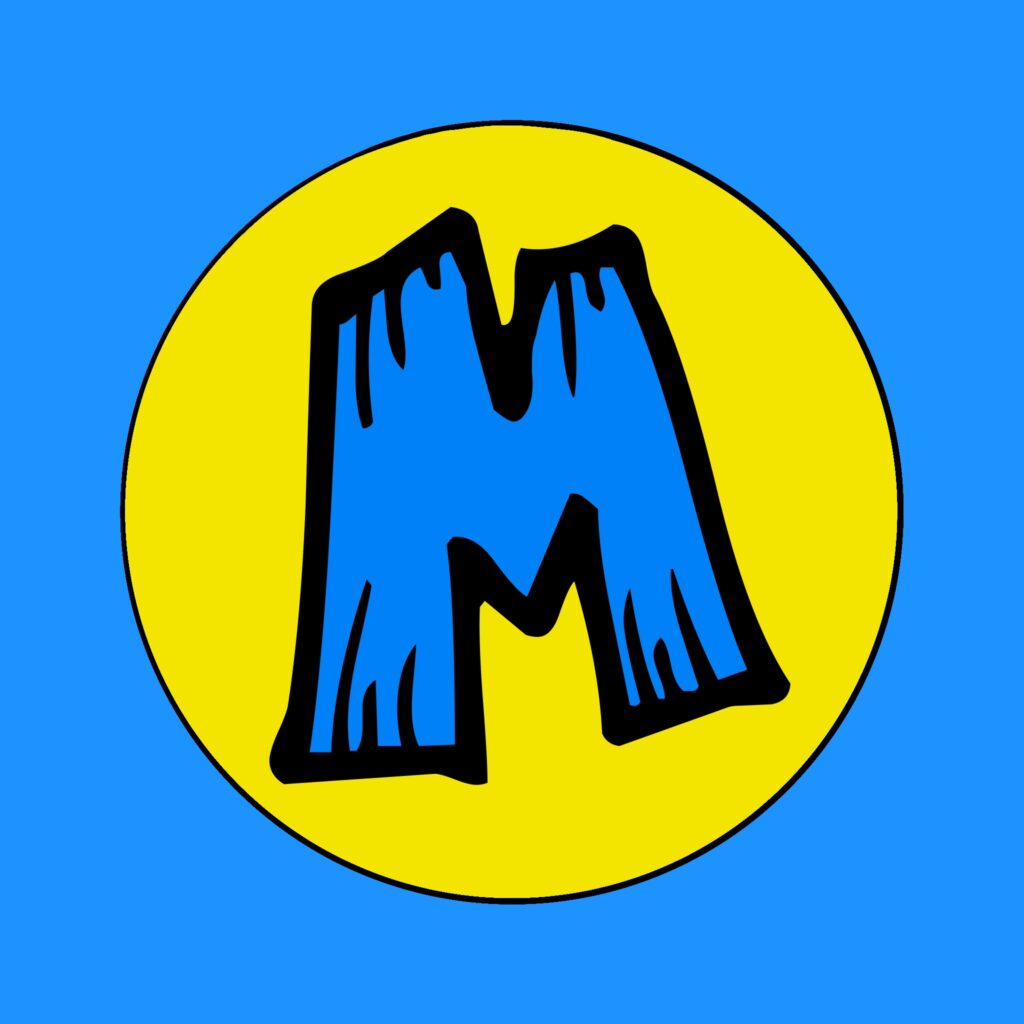 Make-A -Monstory is the next generation of educational flashcards using a unique storytelling and rhyming formula to get your child reading fast through fun and games with a friendly monster!
Imagine a scenario where your child wants to learn to read because the activity is now more fun and engaging!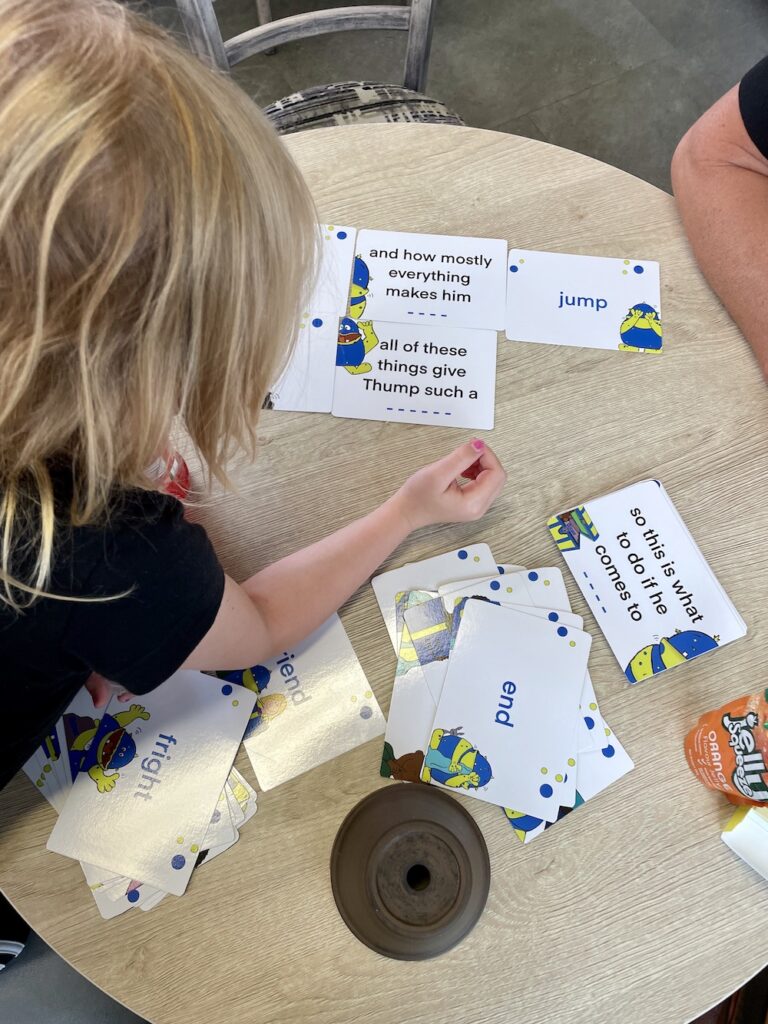 Active reading rather than passive reading
Rhyming words and couplets to help your child work out what comes next
Engaged and involved in assembling a story
Interacting with a friendly character
Fun illustrations offering clues and prompts to help your child decode and succeed
Developing phonological and phonemic awareness
Exploring the shape and sounds of words
Learning sentence structure
Numbers and counting spots on the reverse of cards to learn order and numerical games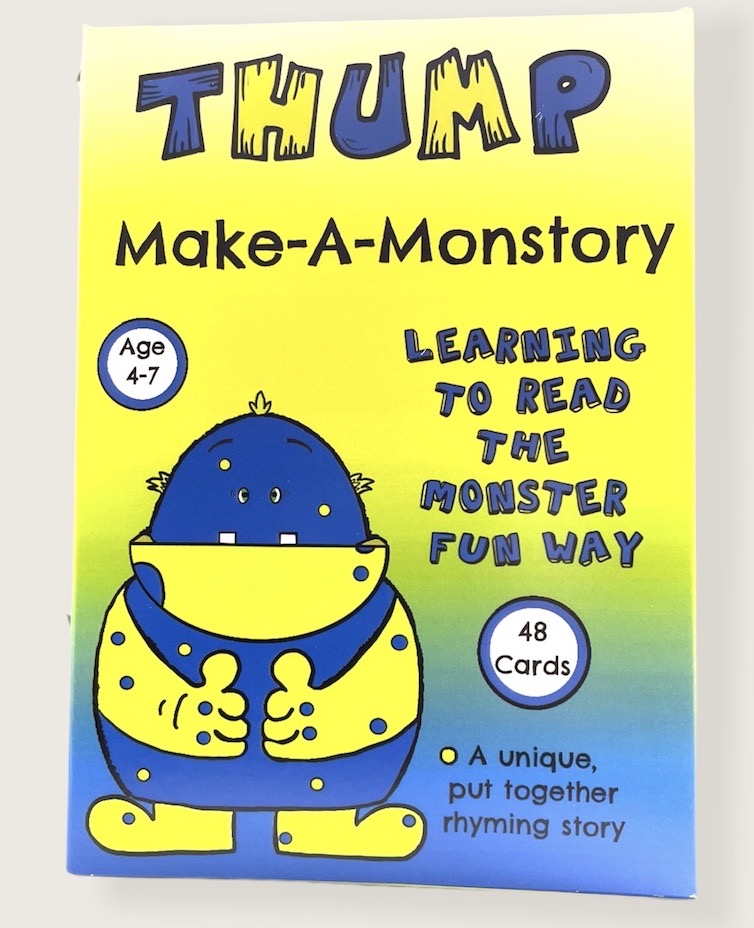 Actively encourages your child to learn to read without it being a chore
Make- A -Monstory flashcards have been made with your imaginative child's brain in mind. Children learn better and quicker through games and positive engagement. Reading is a must and whilst we have "reading time" with great books and bedtime stories this is usually in a more passive setting. With Make-A-Monstory cards your child is involved from the outset in an interactive story experience.
Learning to read the monster fun way!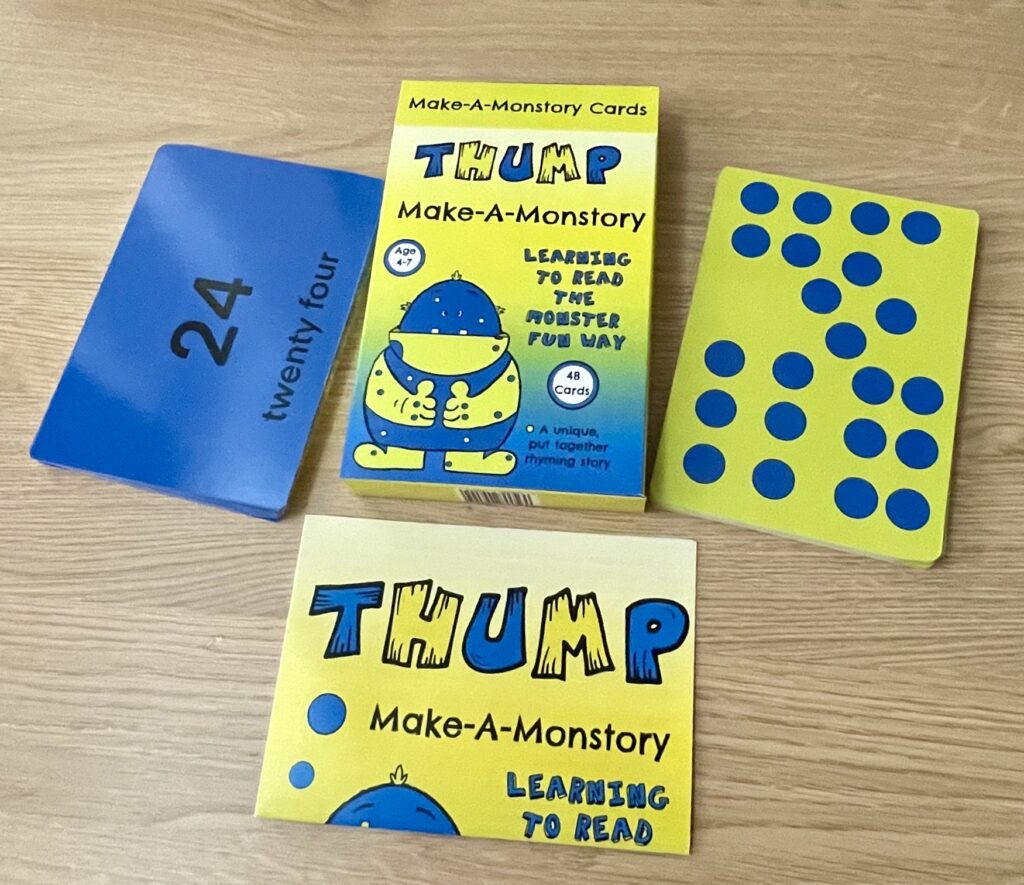 ONLY £12-99 for 4 games in one pack! (UK Only)
These entertaining stories are created to introduce your child to a likeable character whose story unfolds card by card creating excitement about what happens next. Your child will then look for the card from the rhyming deck that finishes the sentence and rhymes with the ending word in the next story card.
Why rhyming is so important to your child
Rhyme teaches your child about language.
Rhymes exposes your child to the rhythm of the language.
Rhyming helps your child learn about word families and connect sounds and letter symbols.
Rhyme teaches your child about the patterns and structures of both spoken and written language.
Rhyme develops phonological awareness – the ability to notice and work with the sounds in language.
Rhymes help your child with phonemic and phonetic awareness, which leads to reading and writing success.
Rhyme prepares your child to make predictions while learning words and gives them crucial decoding skills.
Because rhyming is fun and memorable it brings joy to the task of learning to read.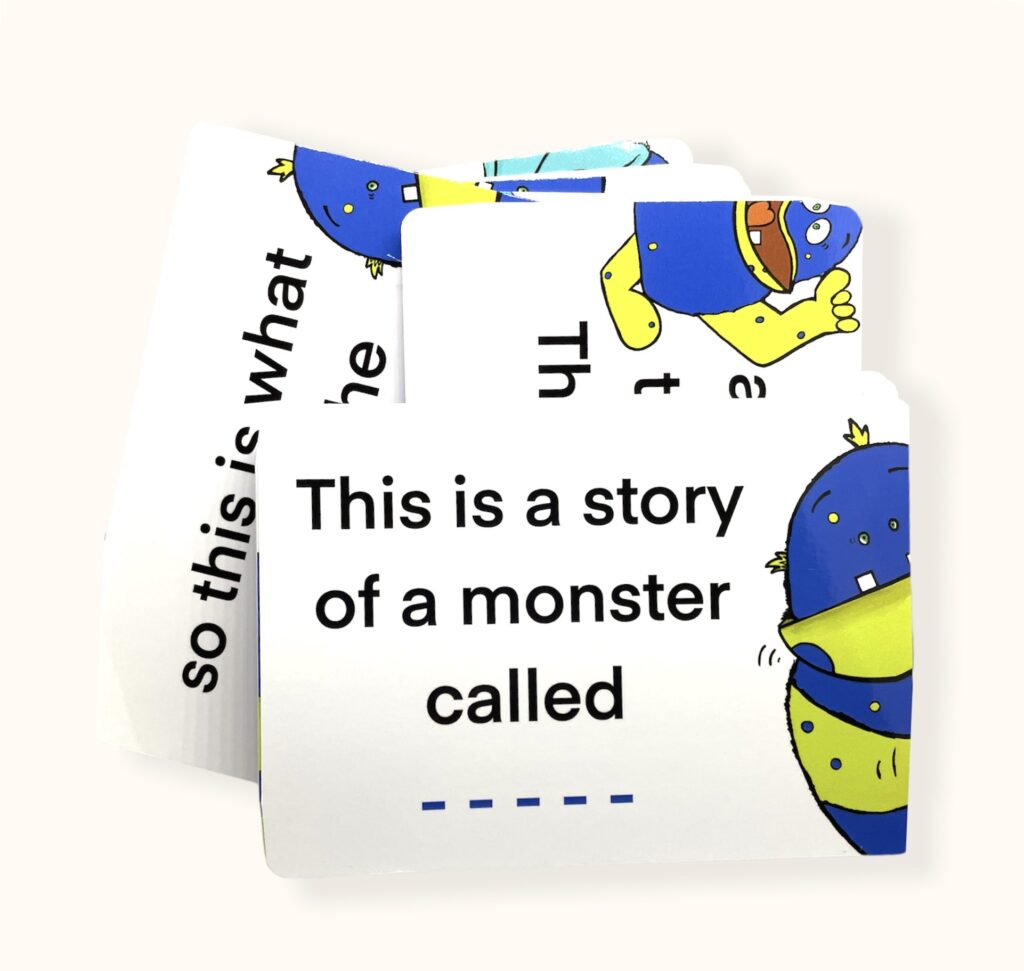 Read what our customers have to say!
Edward liked matching the rhyming words and Robyn liked finding the word for the correct card and then checking that the number matched!
I like that cards are clear and easy to use. I also liked how the pictures matched.
R. Soper – Mum  -UK
They are really, really good cards. Killian learnt new words and ways to pronounce them as he hasn't done them at school yet. He loved the little pictures and it was nice to see one-to-one family time.
Charlotte – Aunty and Nursery School teacher – UK
The cards enabled us to create a funny and interesting story using new words, learn phonics, understand sentence structure, count and match up links between the story.  I would highly recommend!
Sarah Brunton – Tutor and Mum – UK
The Thump Monstory Cards are fabulous!  Lovely clear instructions on how to use them, but I really enjoyed exploring them myself: there are several unexpected ways to help your child build up the story, each of which strengthens not just literacy skills but also numeracy.
The cards are bright, playful, and large enough for small hands to manipulate easily.
I also tried them out with my 'big" children and they really enjoyed the rhythm of the story as they built it up.  They also got a kick out of working out the other strategies for building up the story.
Anne – CYP Counsellor and Play-Worker
A child learns best by engaging and interacting with their environment. This is equally true when spending time with a parent.
Get started today and see rapid reading results!
ONLy £12.99 INcluding FREE P&P to the UK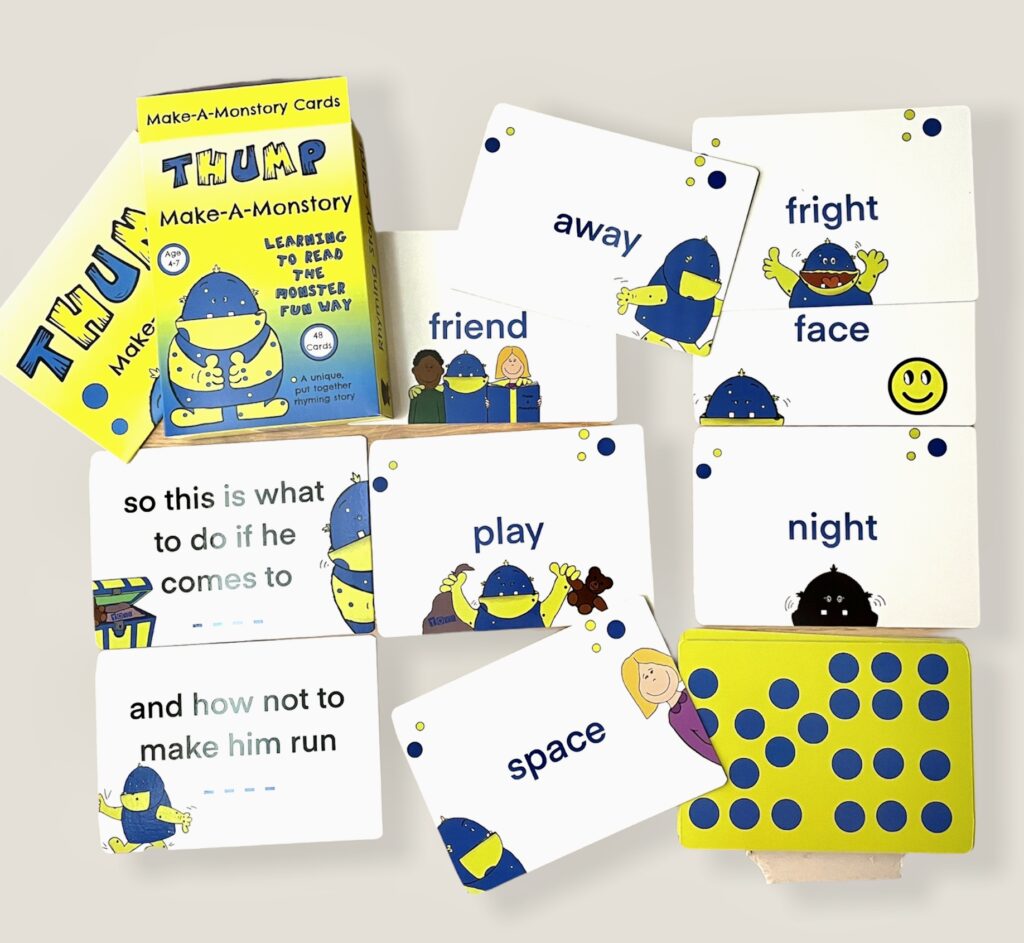 Designed for children aged 4-7 years who are starting the journey of learning to read. Initially to be played with parents while learning the sounds and shapes of words, rhyme, and the structure of the story until they are quickly at a stage where they can put the whole story together themselves.
48 full-colour A6 illustrated cards (30% bigger than usual flashcards for ease of use)
24 story cards
24 rhyming words
Quality 350gsm heavy-duty card
Laminated
Rounded corners
The reverse of the story cards are in blue to define the deck and printed with numbers 1-24  (number and word) to help order and help your child learn numbers and number words.
The reverse of the rhyming story words in yellow to define rhyming deck and printed with monster spots (1-24) to help order and teach your child to count.
The reverse of both decks of cards can be used to match numbers to spots for playing number games!
Rhyming deck can be used as a "SNAP" style card game alone to help understand language patterns.
Comes boxed with a full-colour 4-page instruction leaflet including the whole story for your ease.
Watch your child excel, learn new words and decoding skills through a unique and engaging way of learning to read!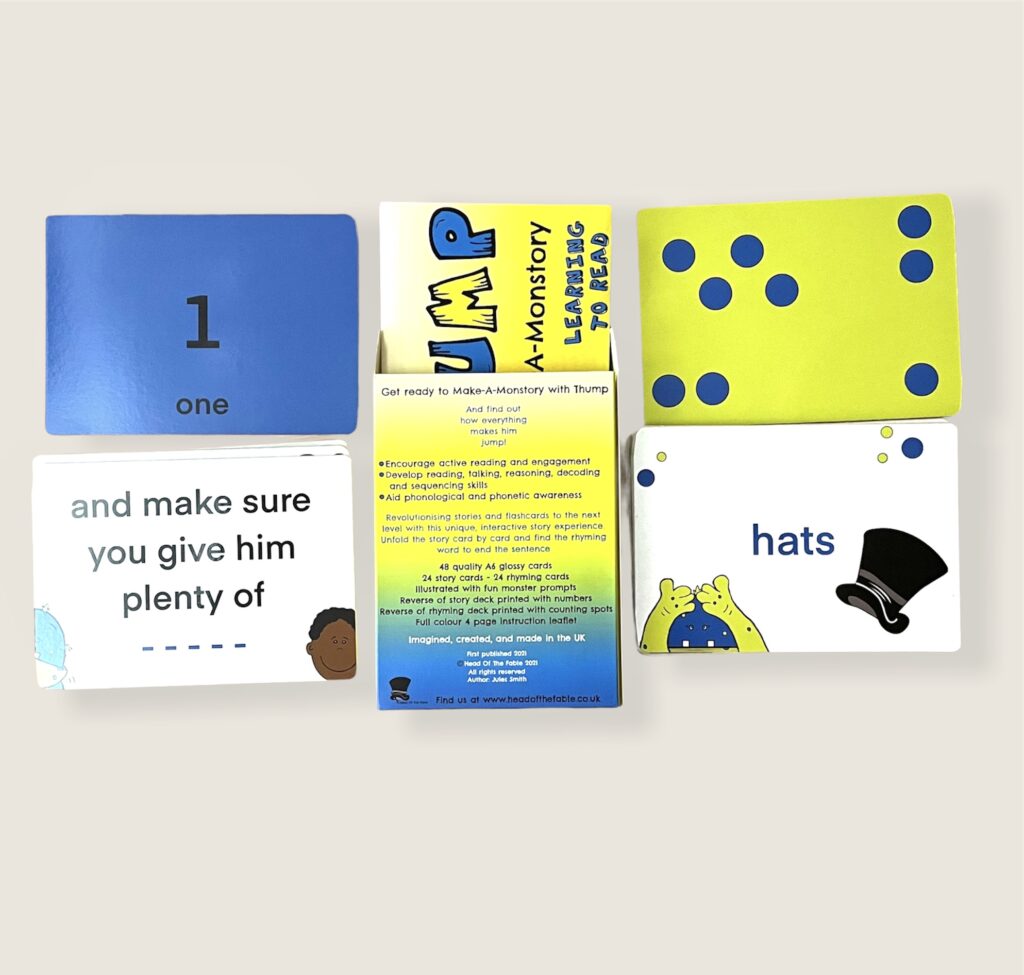 Brand new to the market and re-inventing flashcards to the next level, your first Make-A Monstory features the friendly monster Thump and how everything makes him jump!
Your child will love this cute little monster and there aren't many monsters more adorable than Thump!
Although he is big with a rather large mouth, hands and feet, Thump is not a monster to be afraid of – in fact, you'll find out he is pretty much scared of everything!
In this Make-A-Monstory your child will find out how to make Thump feel better and what to do to become his very best friend.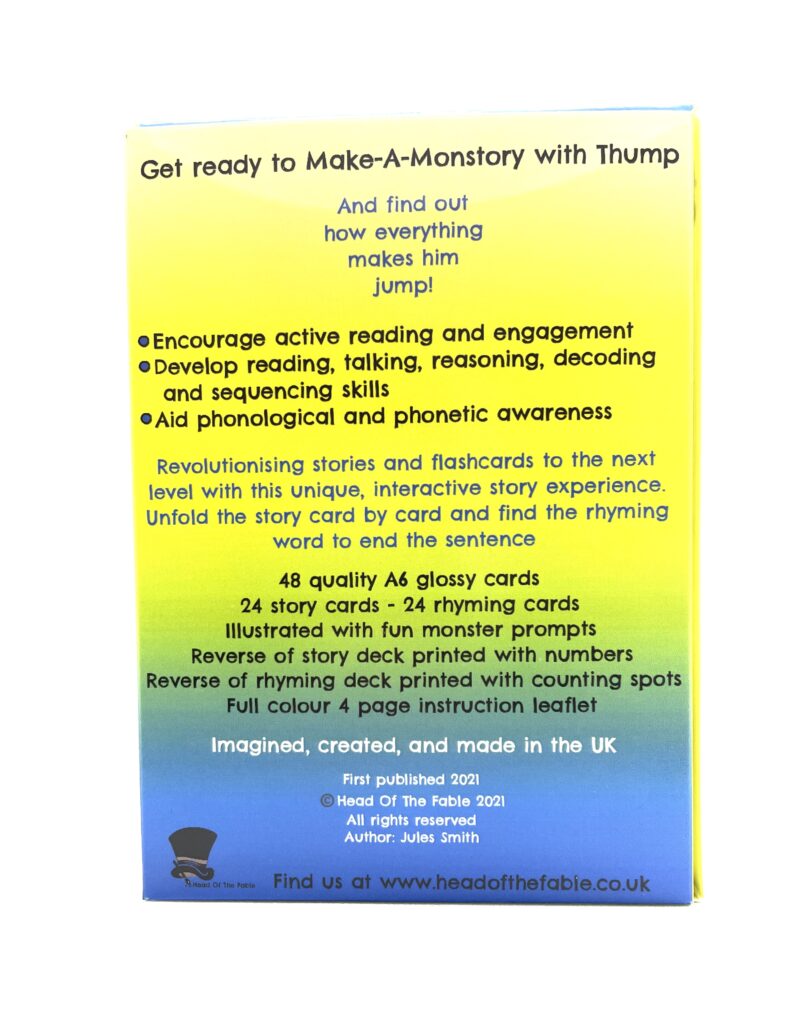 Imagined, created, and made in the UK. Supporting local businesses and ensuring superior, quality-controlled products you can trust.
Get a jump on Thump fast and witness your child's reading success with Make-A-Monstory
Please contact me here for shipping prices outside of the UK
Also Available to help Your Child learn to read:
Winning With Words – The 100 Key Words Your child needs To learn To Read – 100 Page Full Colour Picture Book!
The Fysigunkus Finds His Curiosity – Rhyming Picture Book