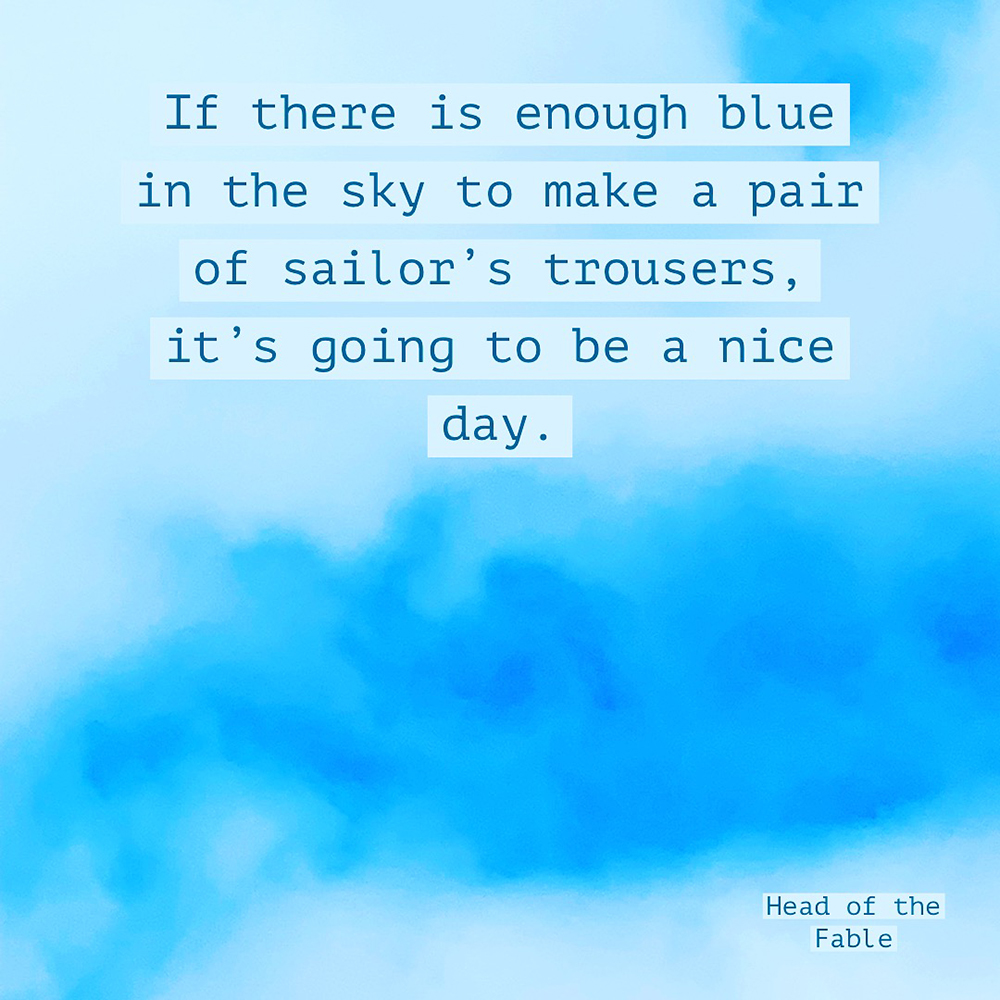 Satirical Snapshots Bringing You Travelogue Thursday!
You might have noticed I've been away. And you'd be right.  It might serve you to pay attention when I go on holiday as I have a canny knack of picking just the right time. 
Floody Hell
My first trip was a top secret, extremely last minute get-away to Rhodes in Greece. Timely to the point of divine wisdom because as I left on a rainy day to a glorious 30 C balmy island, England turned into a river of hell and non-stop rain den.  There were floods everywhere and not a drop to drink.  Needless to say, everyone despised me. 
I thought about their watery plight as I meandered through my own flood…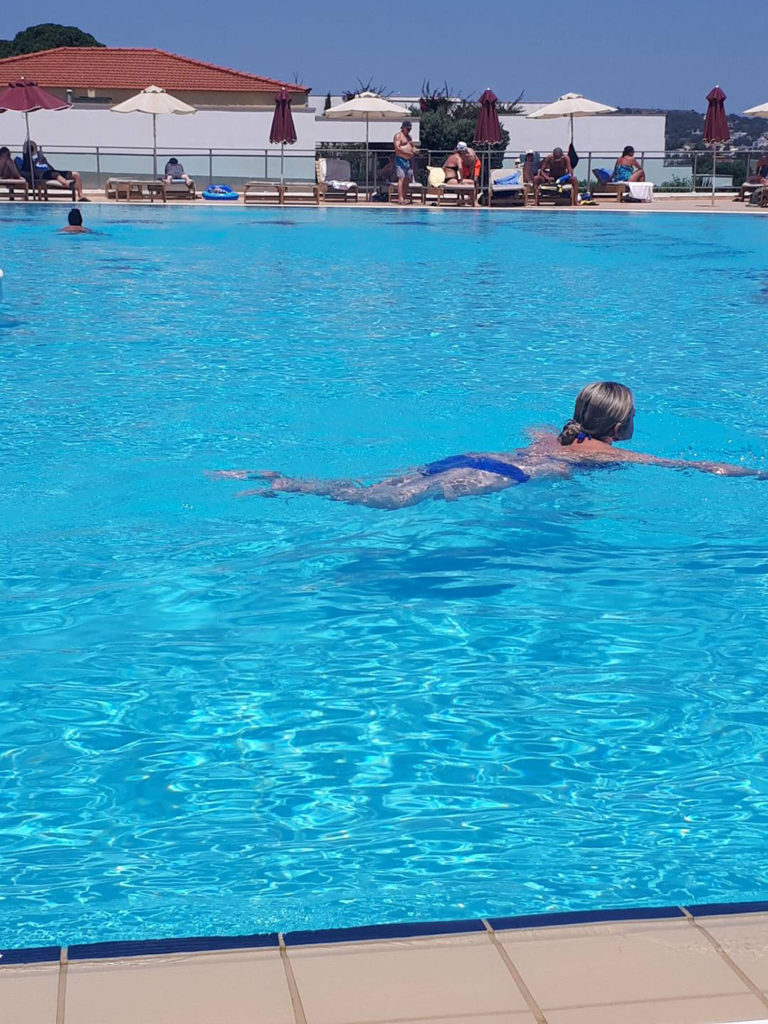 Which was tough.  And actually, my hotel was hard going.  Upstairs to the pool – up more stairs to the other pool. Downstairs to the beach, downstairs to the dining area. Up and down stairs more times than I've trodden a stair in all my life.  It took me three whole days to figure out that if I was going up and down stairs all the time that there had to be a non-stair route in the middle.  By which time my calf muscles had decided to knot into balls of steel and threaten to snap when going down the slightest of slopes.  When the Greek guy who drives the golf cart around the premises asks if you need a lift 100 yards away it's safe to say that other guests have noticed your sluggish gait and whimpers.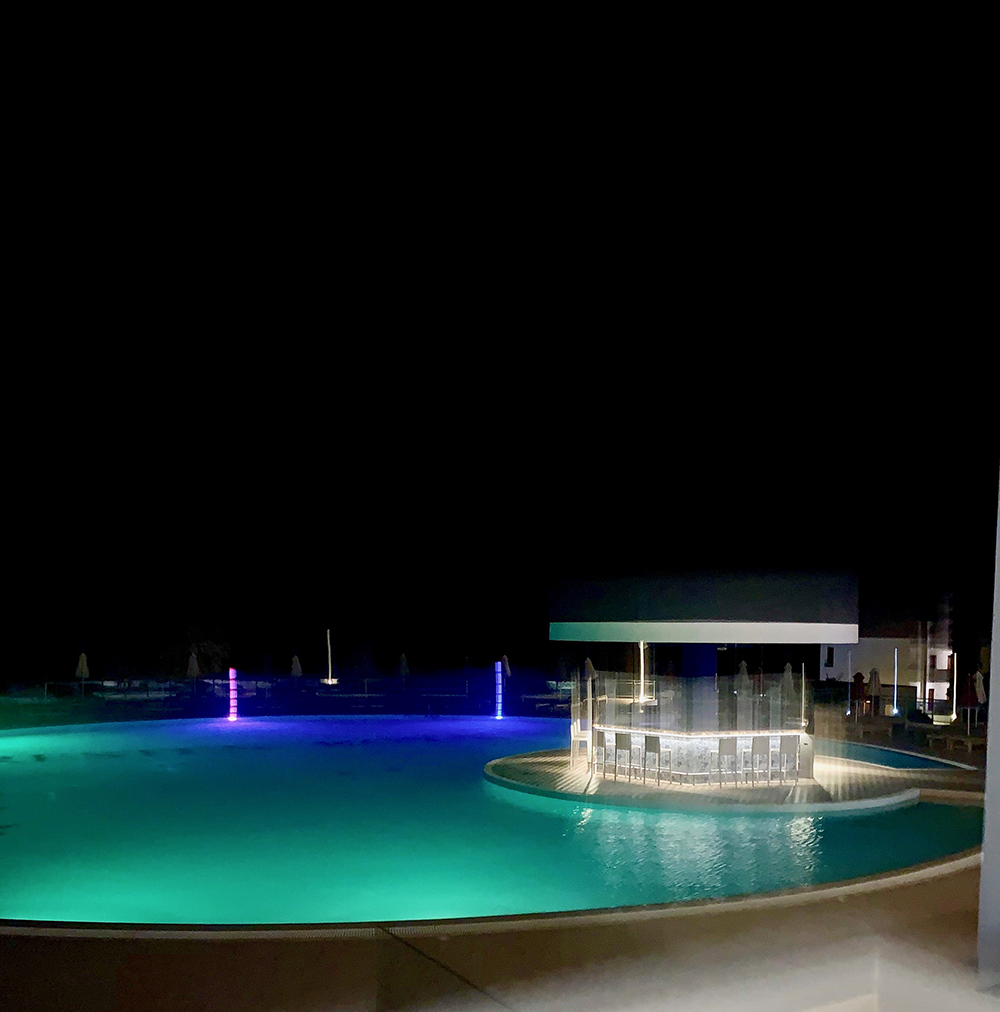 Still, the waiter at the pool bar served up a spectacular antidote…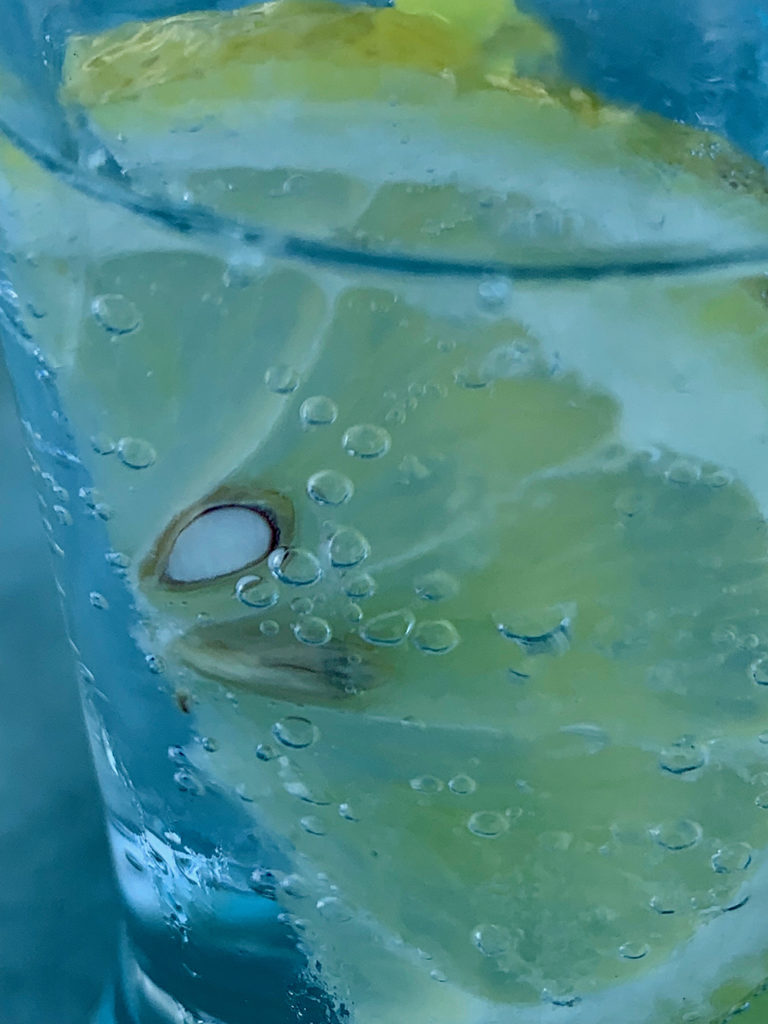 Despite this being all-inclusive, let's buy it on the cheap cos the English are holidaying here, gin and tonic, I have to say that the sun and salty breeze made it taste out of this world.  So much so, I have returned with a new found desire for un-named liquor brands sold at Lidl mixed with inferior tonic.  Greece has a way of erasing the snobbery.
But when this is your view, how can it not?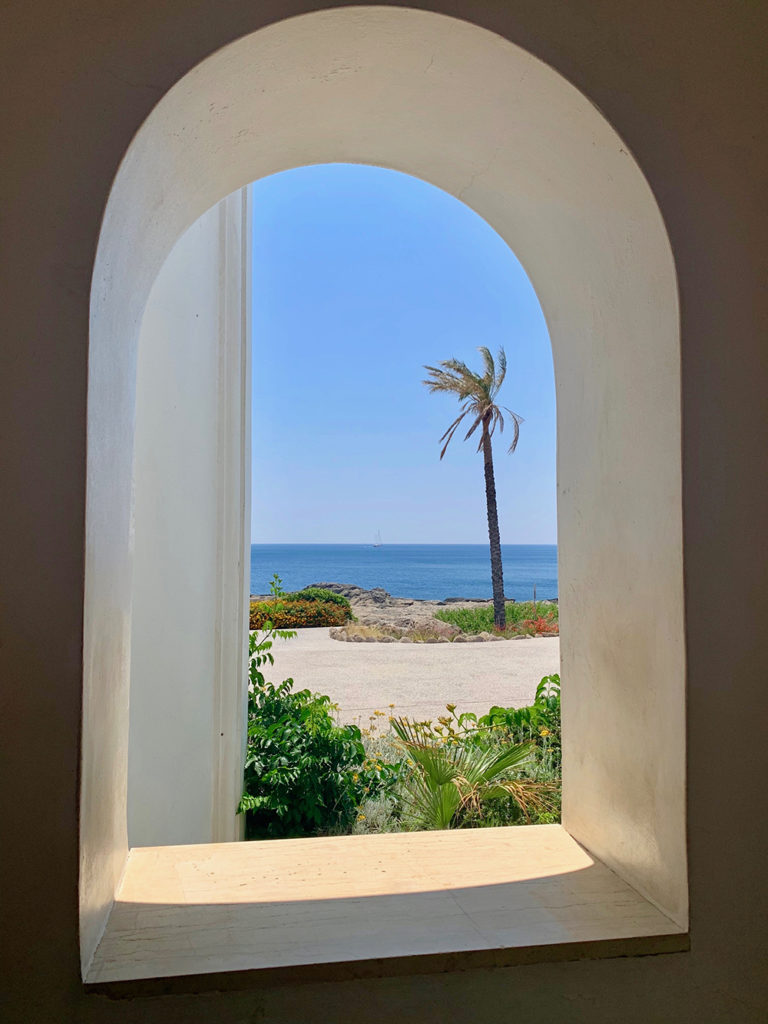 I found a beautiful bay down the road at Kalithea Springs: perfect snorkelling, an elevated, horizontal bed, a vista, and butlers on tap providing Feta and Fanta within 17 minutes of a finger click.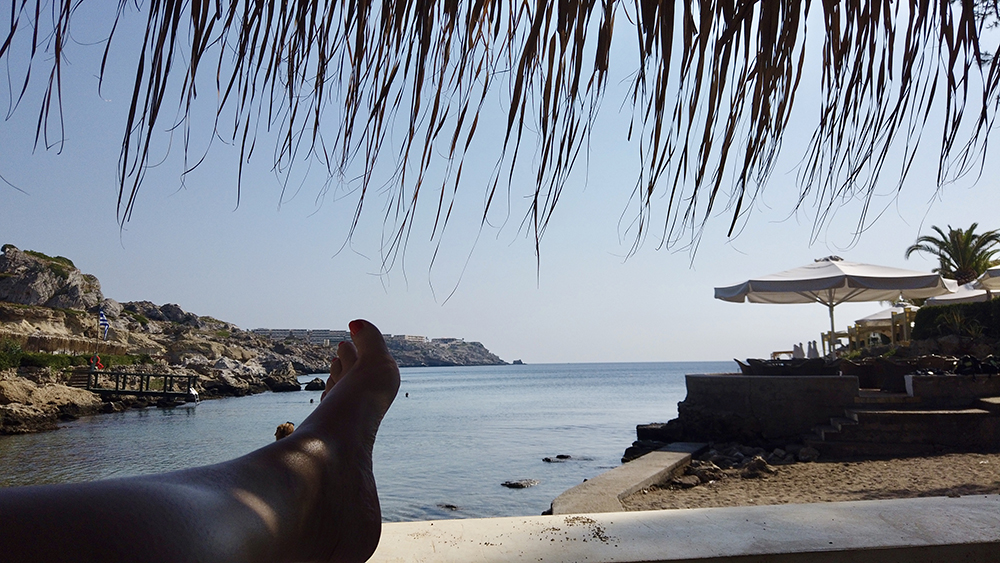 But there comes a point when you need to get your hat on and out into the thick of it all.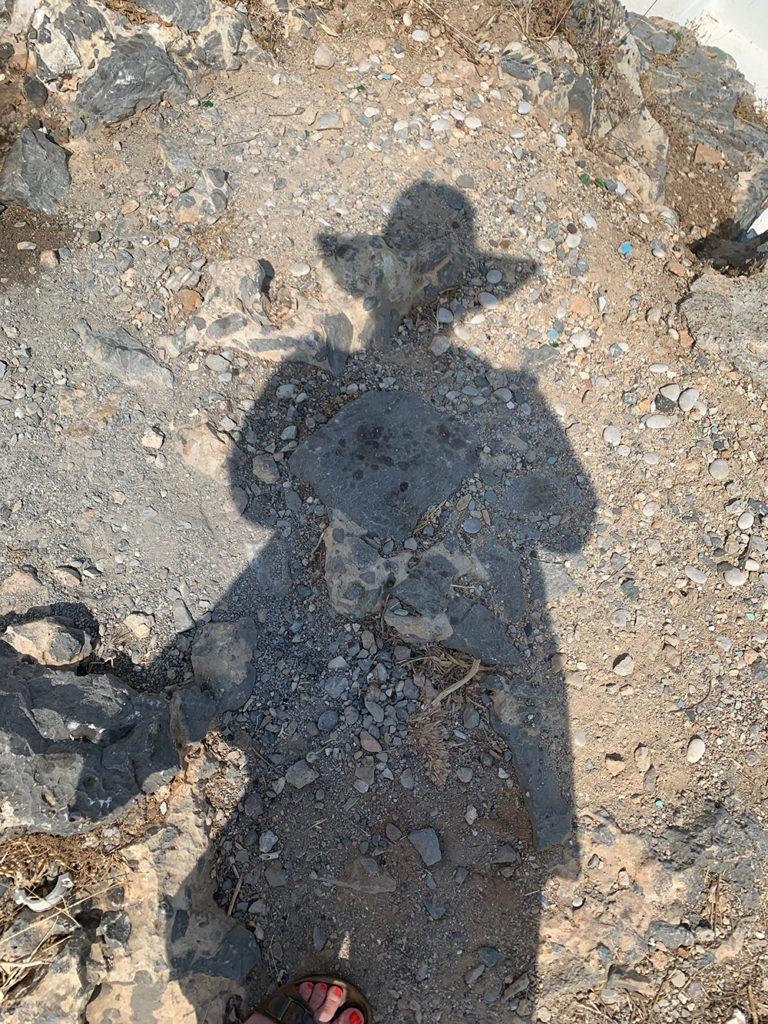 I decided to descend on Lindos which is a beautiful and typical Greek fishing village. Like a true Knight I set out to see the Temple of Athena Lindia until I realised that 10,000 other people had too.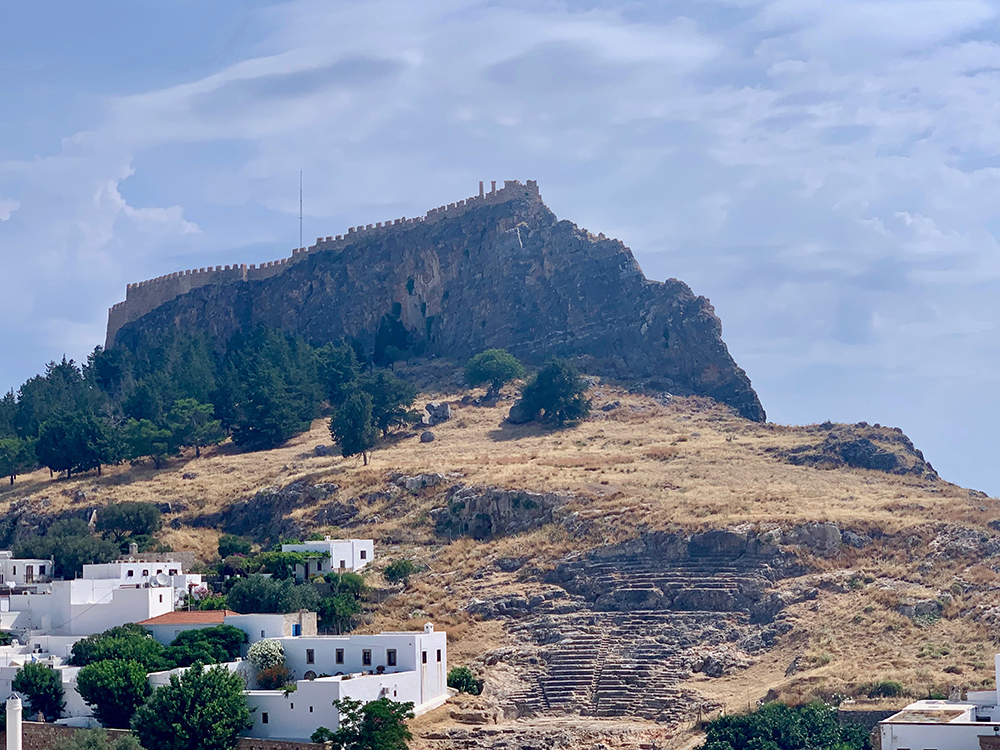 The heat was searing down and as I looked up the great mountainous walk to the Acropolis I spotted someone puking about halfway up and decided to give it a miss. Fortunately, I've been here before so bailing out didn't seem so bad.  At the end of the day, the beauty and history of Lindos is not something you want to share with excessive crowds whilst boiling to death.  The whole essence of the place is spoiled by this along with the need for Greeks to open up a "Mikey's English Food Bar" to attract tourists. I come on holiday to escape such things.  However, I walked the back streets and managed to avoid the madding crowd.
With more steps…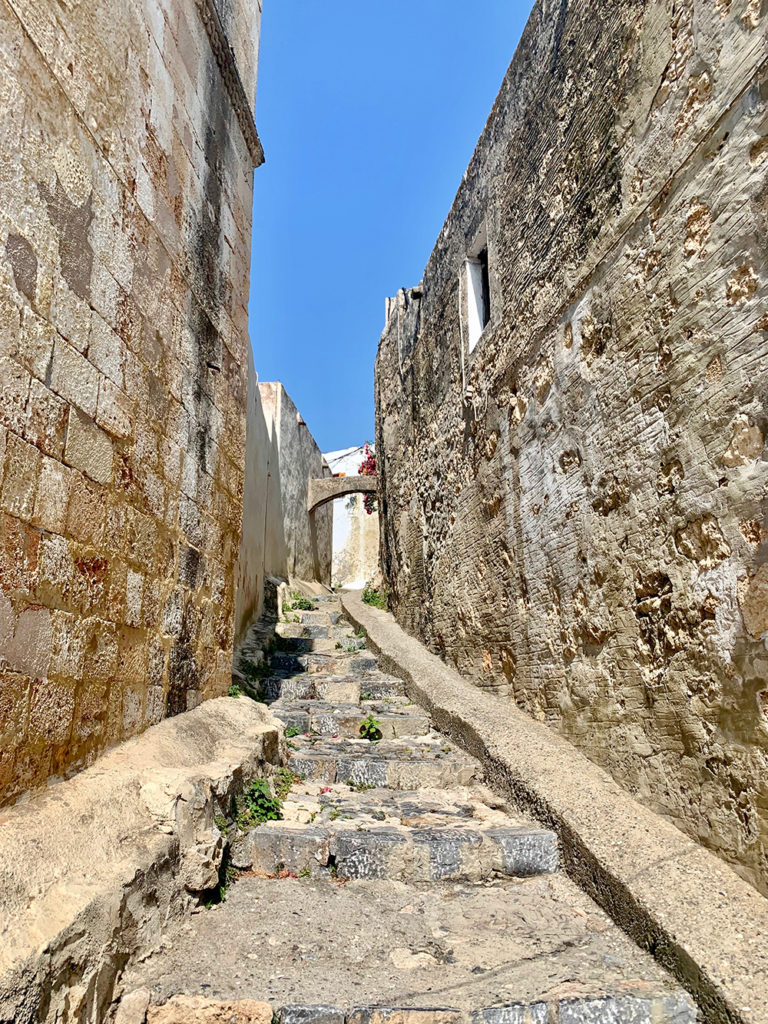 But much better cafes…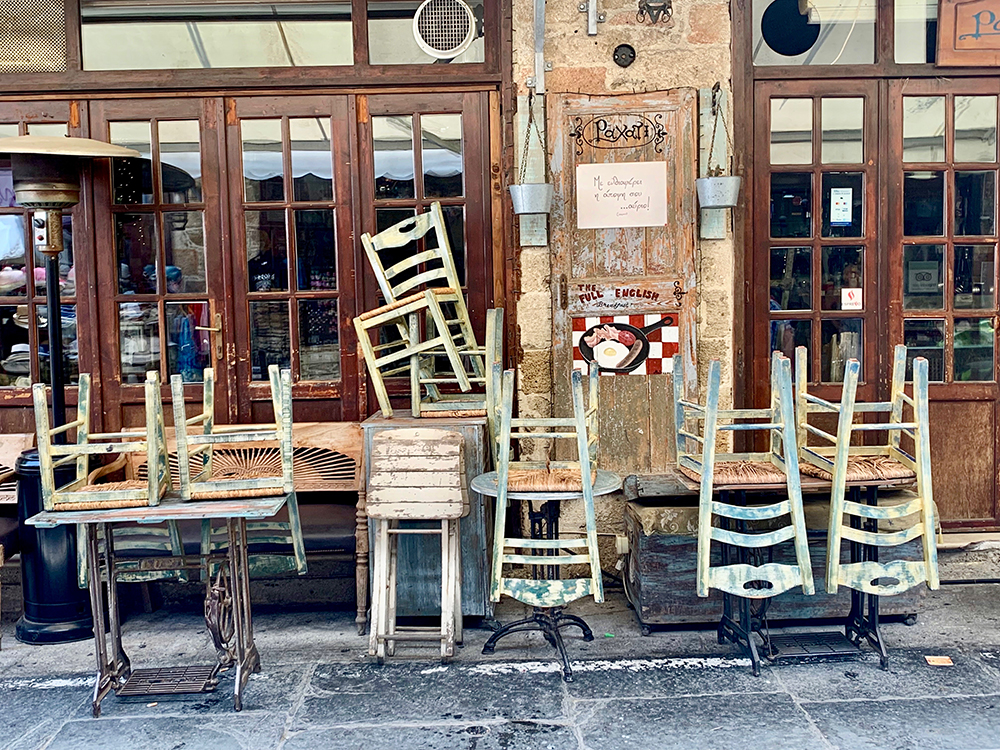 And a delectable door or two…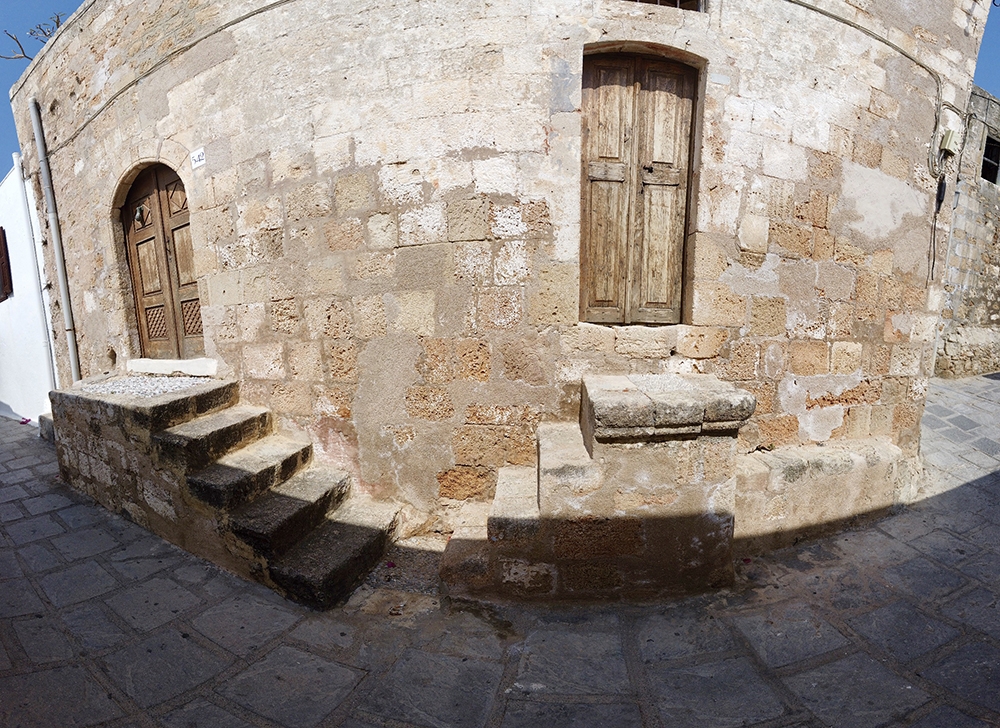 I've discovered all the things I love about life by extensive travelling but not in the way I thought I might.  It is by finding what I do not like that I have truly uncovered what I yearn for to calm body and soul.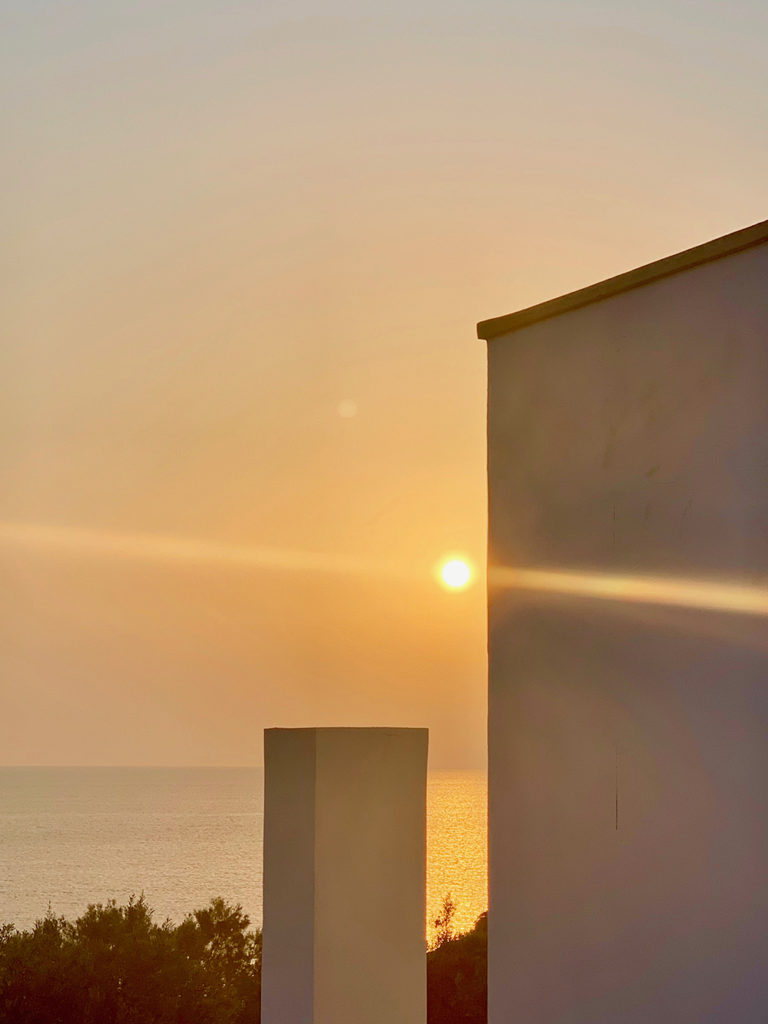 Keeping it simple is what works for me and if you can manage to lose yourself in a Greek island, it's almost perfect.
However, no time for that because I had to move on to the…
Italian Job
Bags unpacked, clobber washed, and back on the plane to Genoa.  The capital of Liguria.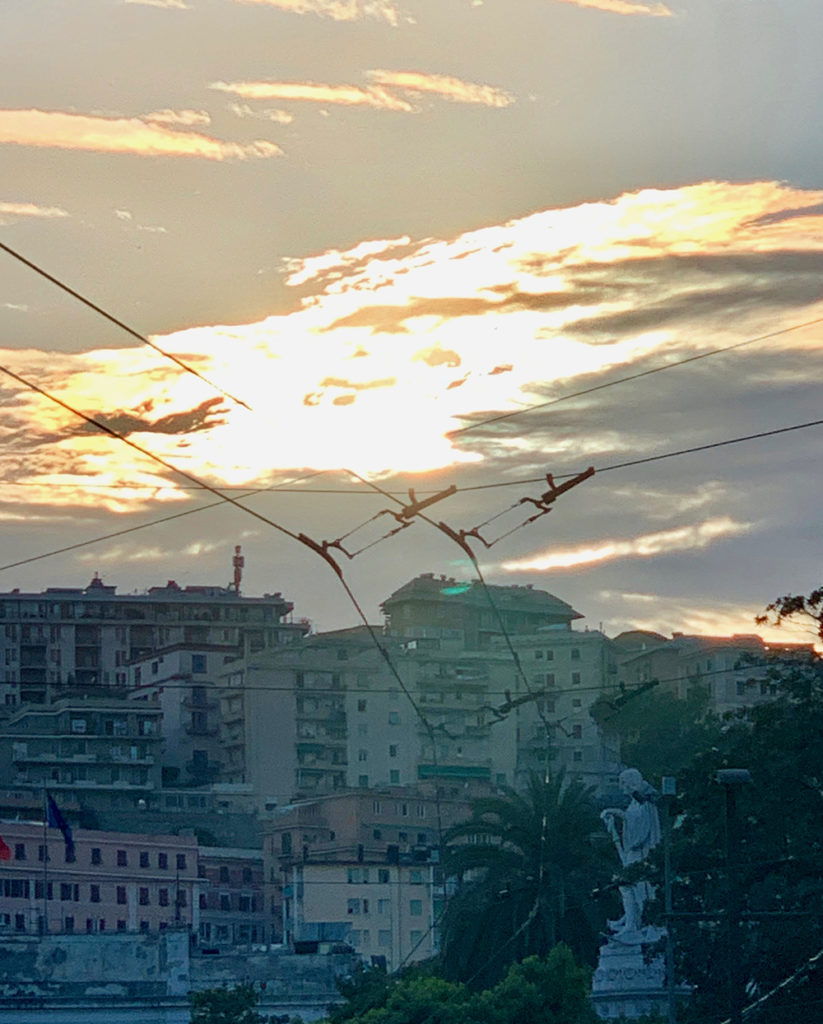 Italy is one of my favourite places and Liguria in particular as I spent 3 months there back in my early 20's.  I spoke wonderful Italian, hardly spent a penny, and ended up meeting a Mafia gang and bringing them back to England.  I must blog that story – it's fabulous!
Anyway, what I particularly love about Italy is the food, the wine, the passion, and the go-slow tempo against a dramatic backdrop.  
Fresco and Frascati…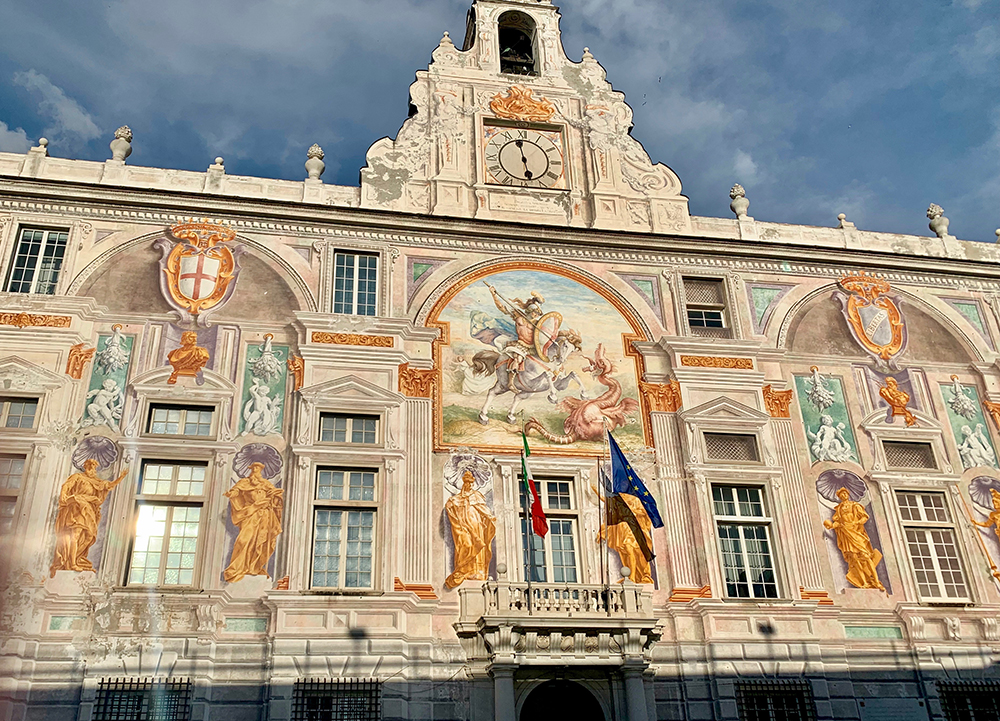 The best MacDonalds I've ever been inside was in Rome.  The building could rival the Trevi Fountain with its flamboyance!
I walked the dusty, cobbled streets in search of Bardolino and espresso, pasta and prosciutto and whatever Genoa had to offer.  Which, on the first night was utterly atrocious.  
Having stopped at a random cafe type restaurant that looked pretty nice, I found that I'd eaten better ravioli out of a smart-price tin at Asda.  The waitress was a surly bint with a severe hatred for tourists and had the audacity to bring me cold red wine.  In Italy.  That's when I lost my shit.
"No.  I cannot possibly drink this,"  I stated – all snobbery back in full play. 
"You want it caldo?"
"No, I want it room temperature. It should complement the warm breeze of the evening."
"You can 'ave it 'ot or cold."
Wow. Where am I? Grimsby? I swear to God I nearly slapped her. 
 Fortunately, all righted itself and the next few days found me eating local dishes in beautiful places,  such as gnocchi pesto and focaccia for which Genoa is famous.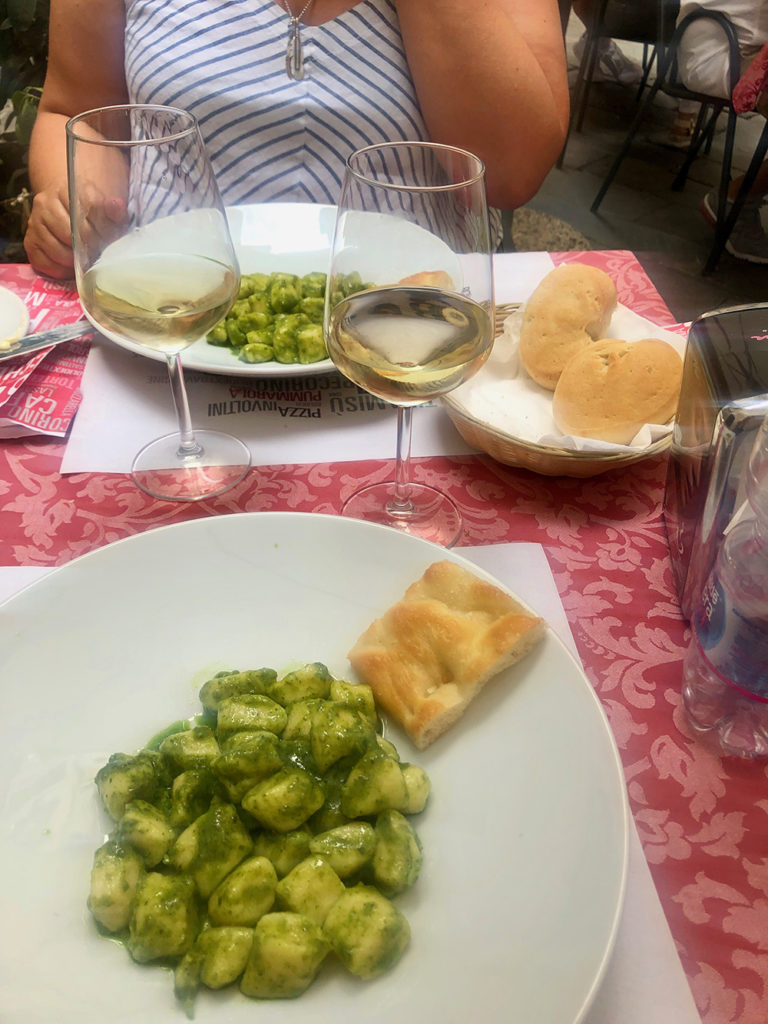 saluté to that!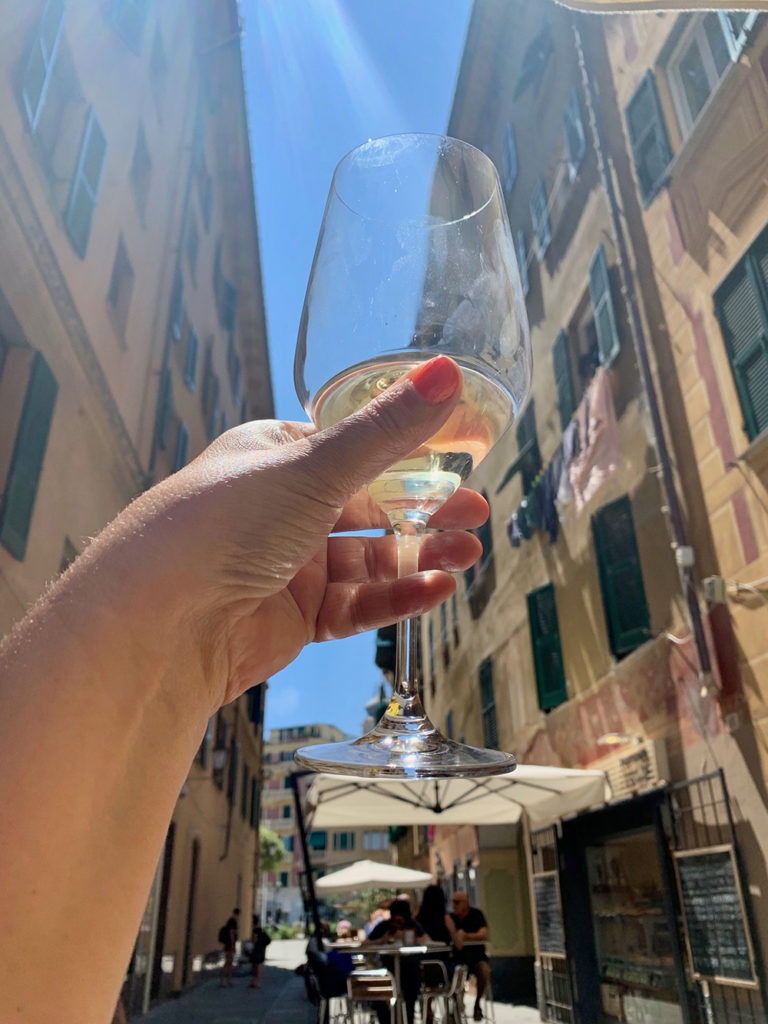 After a few hard-heeled days of scouting out the city, I took a train to Santa Margherita / Portofino for a day of seaside swag and sophistication. Pretty, idyllic, and very expensive.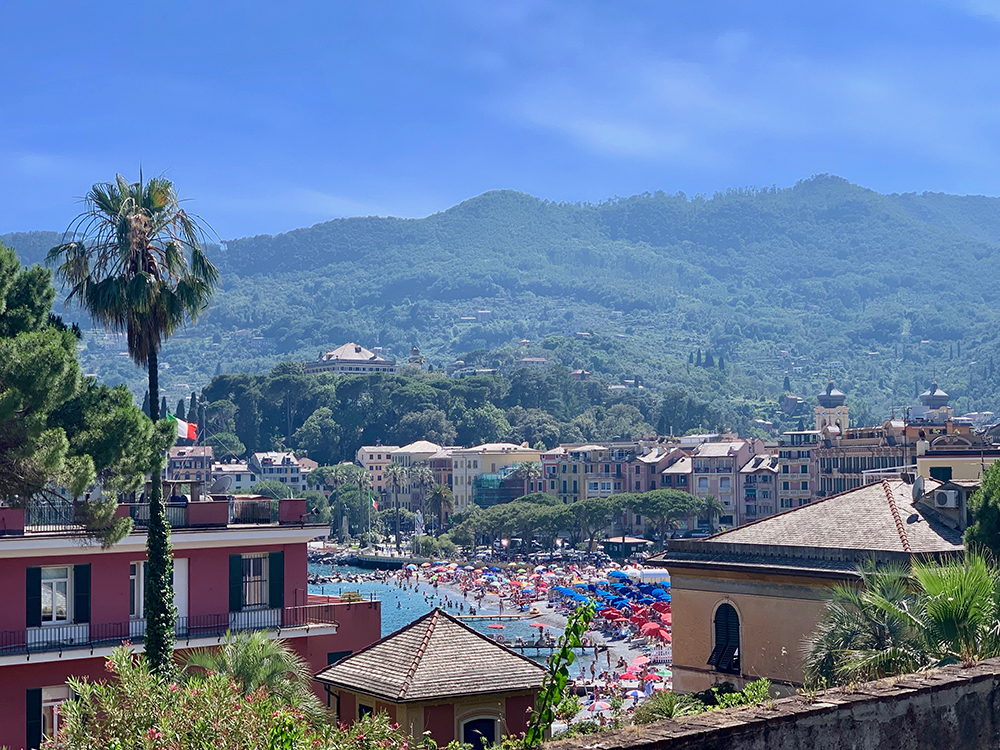 As you can see, everyone else in Genoa had pretty much the same idea except they weren't stupid enough to forget to bring a towel and have to pay a gazillion Euro for a sun-bed and a rag. But it's still not as expensive as Copenhagen. That is going to take some beating.