Just before Christmas I decided to spend 10 days in Chicago. The windy city. Now I thought it was called the windy city because it's windy – and IT IS! But that's not why it's called that. Chicago got it's moniker 'The windy city' because of the Chicagoans shameless boasting of yore. I found the people there very friendly and especially the people I met who went out of their way to show me a great time.
My initial perception of Chicago was it's windy, Al Capone, big lake and jazz and blues music.
Let's start with the lake. Lake Michigan. THIS IS NOT A LAKE. This pool of water is enormous! It is half the size of my country and I have worked out that it would take me 80 days to walk round it if I were to walk 20 miles a day. See what I mean? Also it has waves. LAKES DON'T HAVE WAVES! Sea has waves. For me it was just like being at the seaside and I can imagine this to be a fantastic place to hang out in Summer. I would be there lots if I had that on my doorstep.
Does this look like a lake to you?
The Willis Tower (formerly Sears) was my next adventure. This is the tallest building in the western hemisphere standing a proud 1,450 feet and 110 stories high. I thought I did well to get to the top of the Empire State in NYC but this is a whole new experience. You see, right at the top they have a sky deck which has 3 glass boxes that extend 4 ft 3" outside the building. I cannot begin to describe to you how scary it is to go into one of these boxes and nor do my photos do it justice. I was determined to get in that box. It took a while. You put one foot in and your whole body goes into shock. "I can't look down, I can't look down, I can't look down" I said repeatedly to my friend. It was a bit like doing the 'hokey cokey' with your one leg in and then one leg out, in, out, in, out, and… you get the idea. Then when you do finally muster the courage to look all the way down to the concrete floor below and at cars the size of your fingernails, your brain screams "GET OUT NOW, YOU ARE GOING TO DIE!"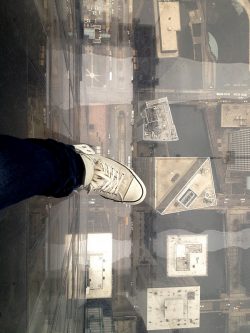 One foot bravely forward
Little by little I pushed the fear boundaries away until I was lying on the floor face down looking at the world from a very unusual perspective. It's like thinking outside the box whilst inside the box.
The building also sways slightly because it is tall. "WHOA, the buildings moving!" I said out loud.
"Yes" said the CEO who was nonchalantly walking around the sky deck as CEO's do. "That's because it's so high it has to give" he said.
"Give?" I retorted " This is like a blade of grass in the wind!" I urged. I happen to be very aware of movement. When I am on a plane I can feel every dip and end up gripping the arm seats, looking fervently round wondering why everyone else is sleeping! However, this was one of my favourite experiences and I would encourage everyone to visit. My friend and I went up there late afternoon and stayed until dark which was the best time to go and look at the views of the city as it changed from day to night. Awesome.
Lying in the box. Feet up. Fears conquered.
Mad Brit makes it to The Chicago Tribune.
The Lima bean at Millennium Park. I was fascinated by this thing! A huge 40 ft long silver, reflective blob that looks like a Lima bean. You can touch it, stand under it, walk round it and see everything reflected in it. A sculpture that totally captured my attention, particularly from a photography point of view as you could take some really interesting pictures of the buildings and people around on Michigan Avenue.


I was blinded by it's awesomeness
The Art Institute and the photography museum. Now to be honest, the photography museum was a bit of a let down. Probably because the theme wasn't the most uplifting and inspiring – 'Crime Scenes' hmmm. My friend and I walked round this museum slightly disturbed and not overly impressed with the standard of photography. There is definitely a lot more scope for improvement and we both left slightly deflated and yet convinced that we could be the next up and coming photographers of the century! The Art Institute was superb and a museum definitely worth a visit. I was shocked at some of the paintings they had that I least expected to be in a museum in Chicago. Some very famous paintings from Van Gogh, Monet, Picasso and many more. The only area that was difficult to consider as 'art' from my perspective were some of the exhibits in the modern art area. For example a pile of sweets in a corner? I don't get it. It proved to a little bit more acceptable when I found that you could actually take a sweet from the art display and eat it.
Art? Yes.
Art? No.
Those were some of my highlights but I also enjoyed the whole feel of the city. Chicago boasts an impressive skyline with searing towers including The John Hancock Tower and The Willis Tower. The architecture was very appealing to me as it was a mixture of styles giving it a unique look and there was a certain European feeling to some of the buildings. The Magnificent Mile is a must do for shopaholics, great restaurants and mooching around taking in the ambience. I spent a lot of time walking the streets and getting into the city and still have the blisters to prove it! I'd go back there in a heartbeat.