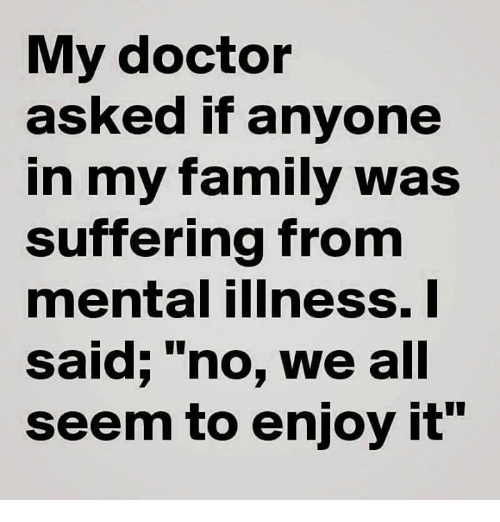 Satirical Snapshots Bringing You Whimsy On A Wednesday!
Well, truth be told it's more like woeful on a Wednesday. I'm very poorly.
It started with a feeling in my throat akin to swallowing broken glass with meths. I knew then that this wasn't going to be pretty.
WALLOP!
I called the doctor for an appointment, such was my agony. There's an art to getting past the doctor's receptionists whom, in truth, think they're more qualified than the doctor. They hold on to their precious little appointments like prizes and won't let you have one unless you're dying. It makes you want to go and breathe your germs on them but you have to try ringing first.
"Hello, doctors surgery, Marjorie speaking."
"I'm desperately ill and need to see a doctor immediately." Always use strong words and get straight to the point. Being all polite in that classic British way gets you flipping nowhere.
"Is it an emergency?"
*Sigh..here we go*
"I feel it's past emergency, Marjorie. It took me several attempts to dial the number my vision is so distorted. I can barely breathe, swallowing is a thing of the past and my chest sounds like the farmer's tractor. And that's not all, Marjorie. I've spent 8 months in America and got bitten by so many mosquitoes that I had to spend weeks in a Benadryl induced coma. I don't know if you've seen the Benadryl commercials over there but I am at serious risk of heart disease, epilepsy, ectopic pregnancy and mini strokes. I'm wondering if that's where it all started…in foreign lands."
"I can get you in this afternoon at 2.00 pm."
Well, I about fell off my bloody chair.
Waiting To Die
My objective was serious meds. Again, not easy to acquire. The receptionist is the first hurdle, the doctor the next. They don't like to give out medicine unless it's absolutely necessary. Go home, gargle with salt water and stop being a pussy is the usual advice.
I sat in the waiting room doing things to make myself look and sound more dreadful than I did. I rubbed my eyes really hard and then tried not to blink. I didn't blow my nose and I didn't cough. I let all that stuff build up ready for the stethoscope. I then sat running fingers through my hair again and again to make it look lank and greasy. The person next to me got up and moved.
As I was doing this I glanced at the posters on the wall. Nurturing, positive, up beat material that makes the suffering patient feel….
Like they're going to die.
First off, before we get onto the "You may be fatally ill" POS, how is this OK?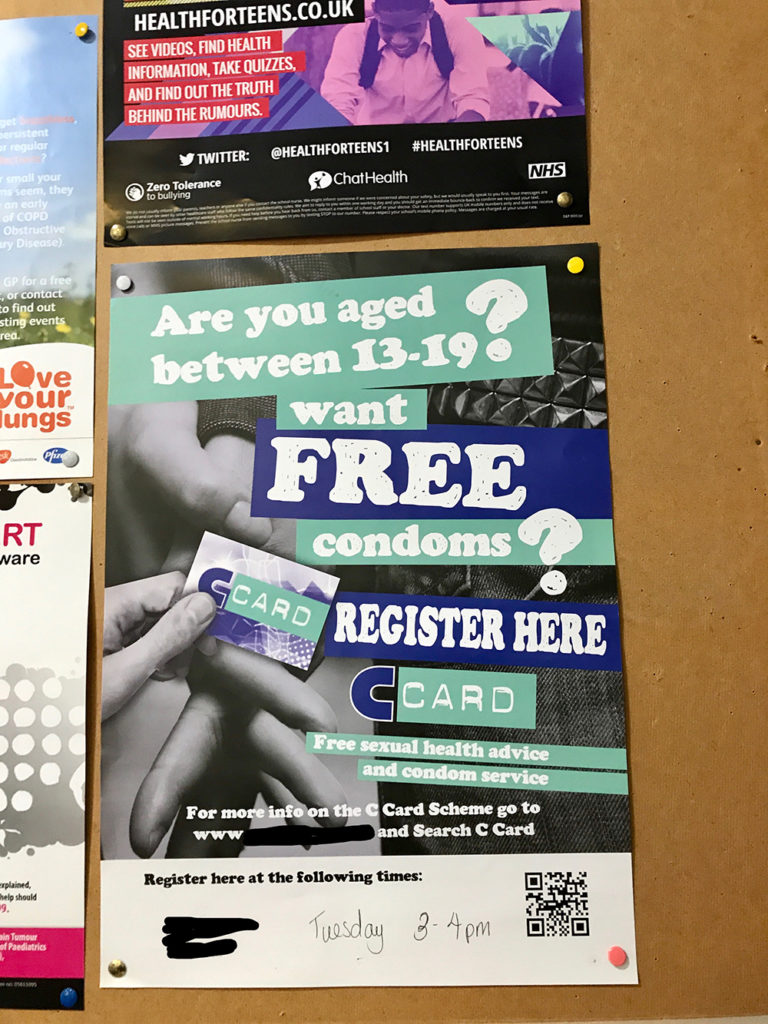 You can have condoms at 13? I mean, at this tender age shouldn't you be gazing gooey eyed at your first crush and nearly fainting if they talk to you? At a push, maybe a peck of a kiss. But no, how things have changed. What goes on in the school yard now, I beg to ask?
"Alright," says gangly, spotty youth with a mouth full of iron brace.
"Yeah, you?" giggles girl with freshly groomed, high top ponytail.
"You wanna…move things along, like," he says.
"Have you, err, have you got.."
"Condoms. Yeah. Pocket full. Got my C card, B."
"I've got a couple too. Registered the other day. Joey P filled one up with water and dropped it from the bridge onto the science building and nearly knocked Dr Farqua out! Didn't wanna use it wiv 'im anyway. He stinks of B.O."
"LOL. That's joke. So, err, where d'ya want do it? Bike sheds or common lounge toilets?"
"Not bovvered, really…"
DEAR GOD.
Am I misremembering?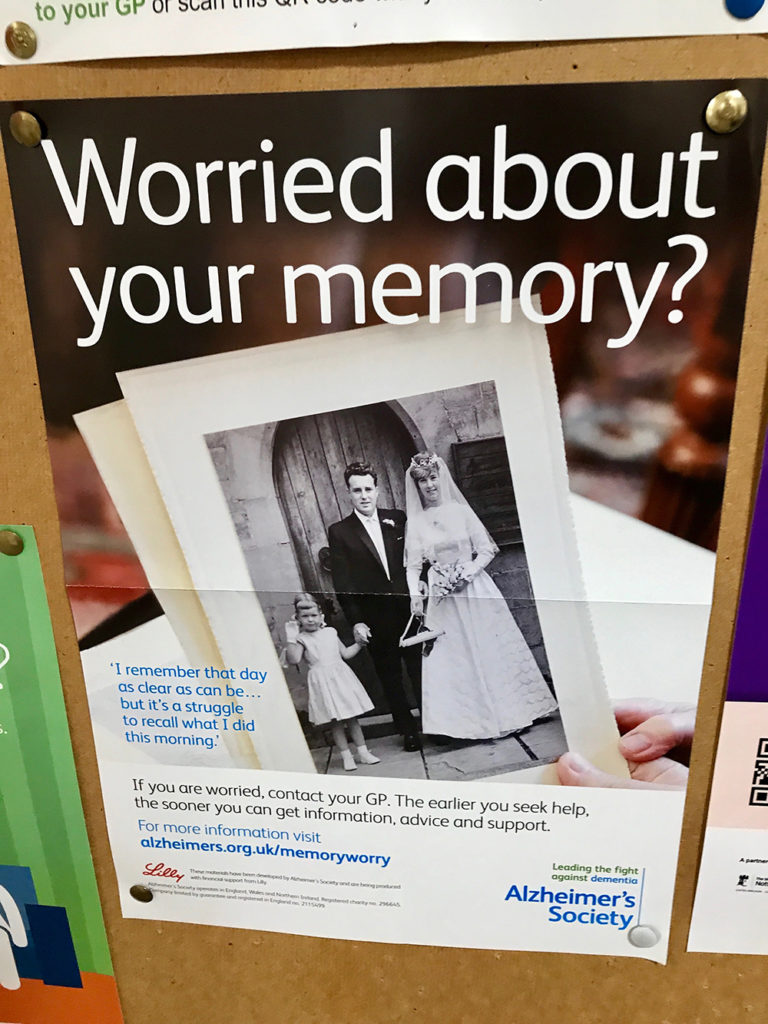 Well, yes actually I am now! I can remember everything I did a few years back but finding my car keys before this appointment took 17 minutes. And what did I do this morning apart from talk to Marjorie? Not a clue. But that could be the shock of getting an almost instantaneous appointment. Almost worthy of opening a bottle of champagne.
Or not.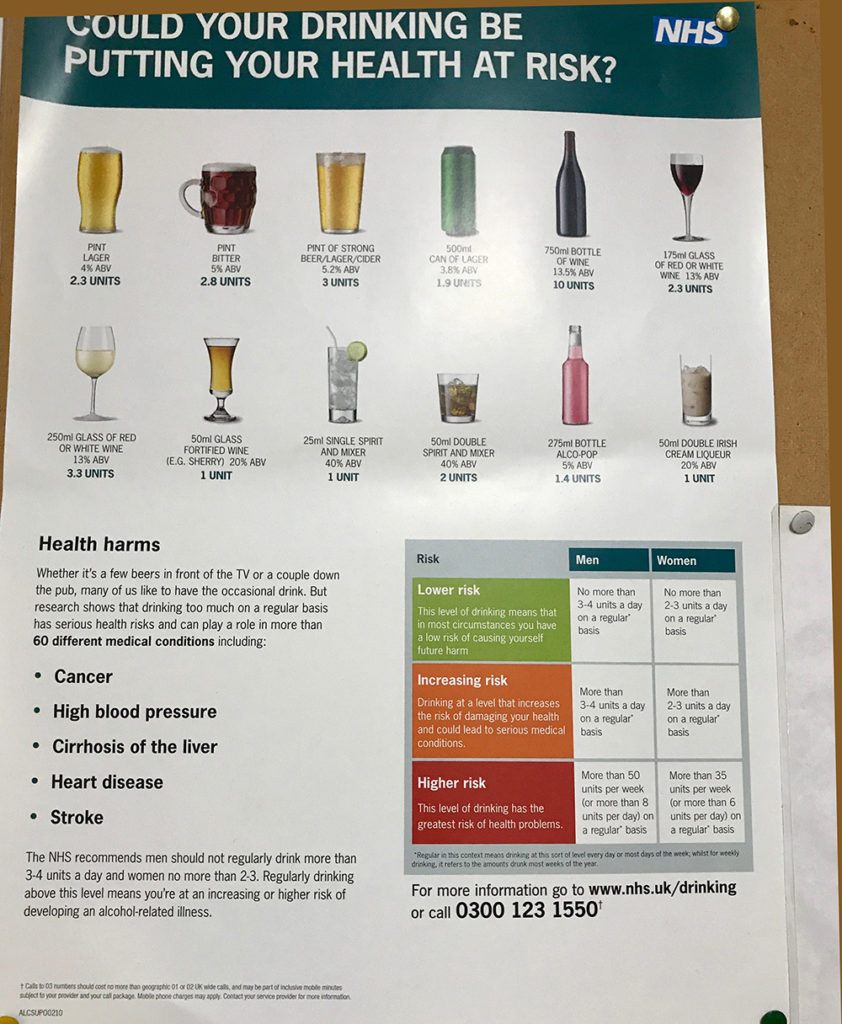 How is a tiny glass of vin rouge 2.3 units? Are the French aware of zees? Note to fun-sponge quacks: Having this cheery notice on the wall causes health harm, raises my blood pressure but, to be fair,  improves my spelling – I never knew you spelt cirrhosis like that. Because I really wanted to know.
I felt sick to my stomach. Not good, apparently.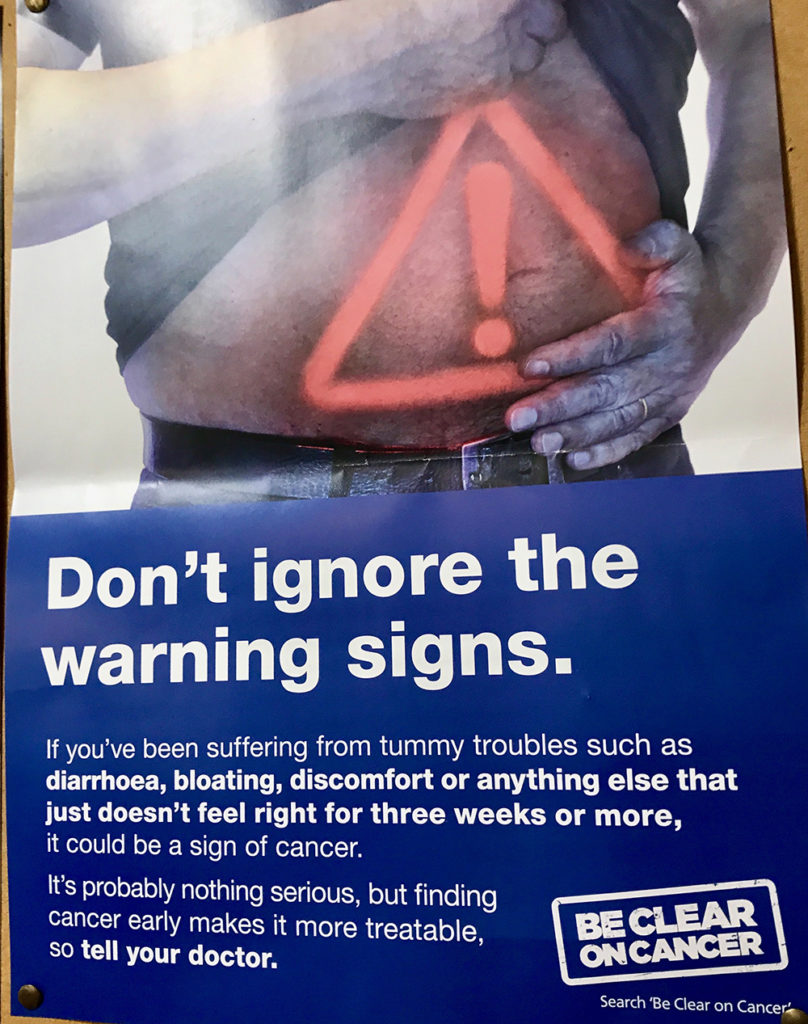 Oh good. That's not caused the onset of anxiety and got my heart racing.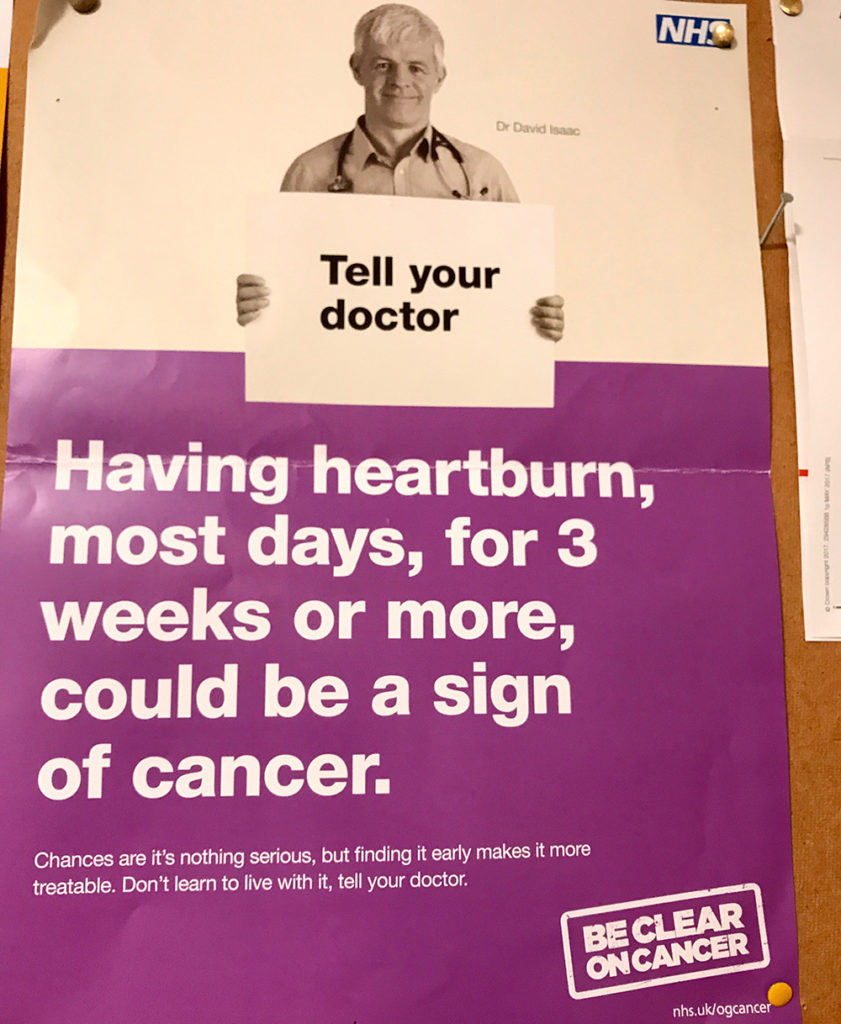 That helps.
And now they have "special mystery medical people" who you can chat with. That's right. Spill it all out to a stranger.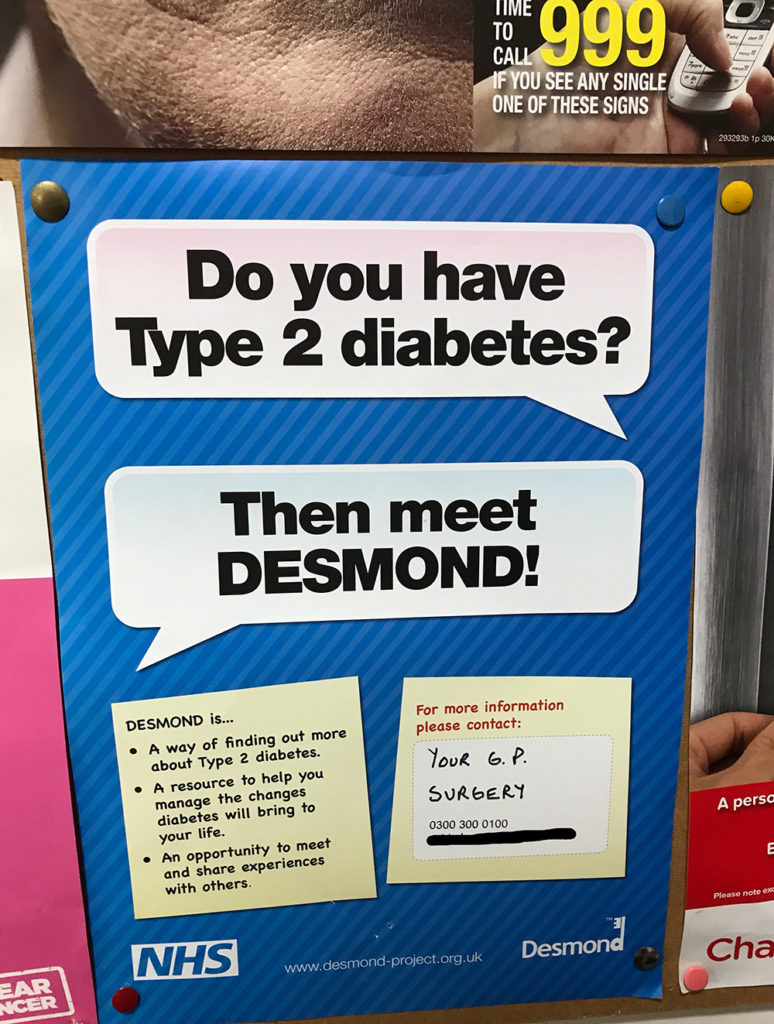 Don't worry, Des has probably registered his C card.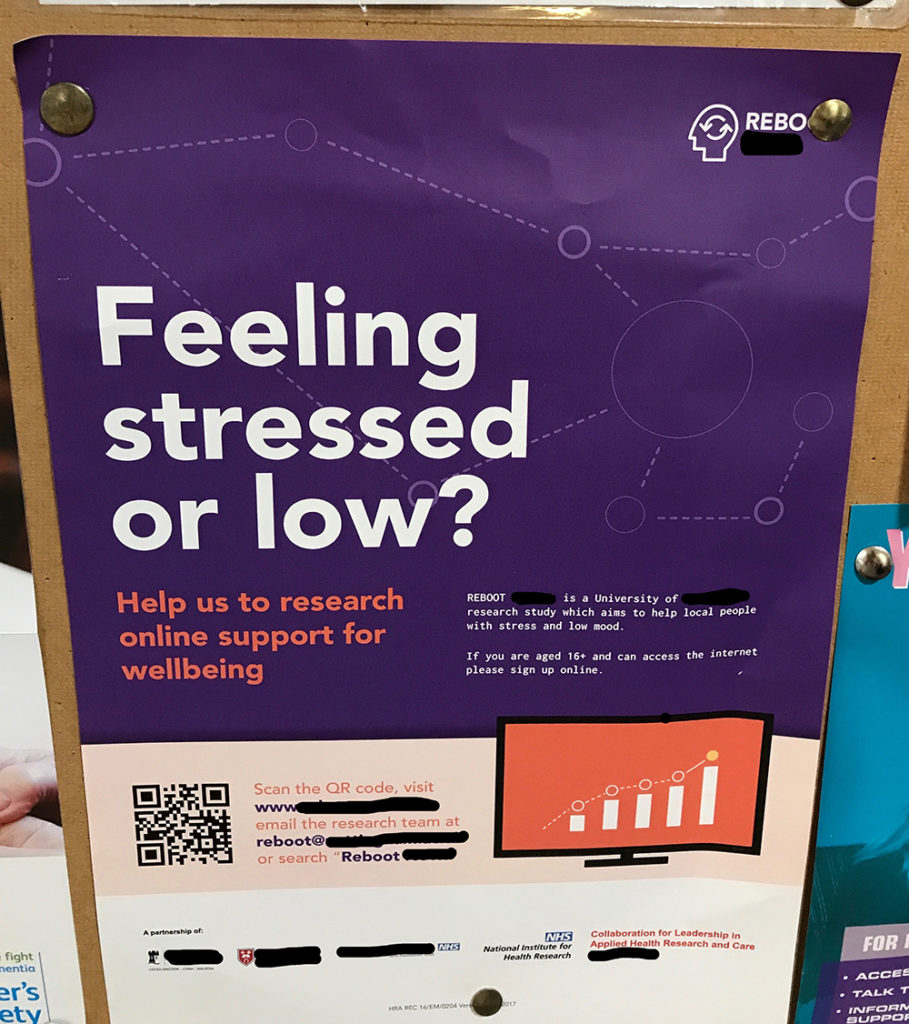 YOU THINK? WELL DONE EINSTEIN! That was your cunning plan all along, wasn't it! Oh yes. This is what we do to patients who demand appointments. Passive aggressive voodoo in the waiting room. Sick? You're gonna be… BWAHAHAHAHA.
The Doctor came out and shouted my name. I just about came to from the bad JuJu and followed the High Priestess into her den like a zombie.
"What seems to be the problem?"
"Well, initially I came in with the mother of all viruses but since then, it seems I could have all manner of fatal diseases. I may have to meet with Desmond. Is he good for a couple of units?"
Like all that wasn't enough, I glanced at the doctor's table and saw this.
Poetwee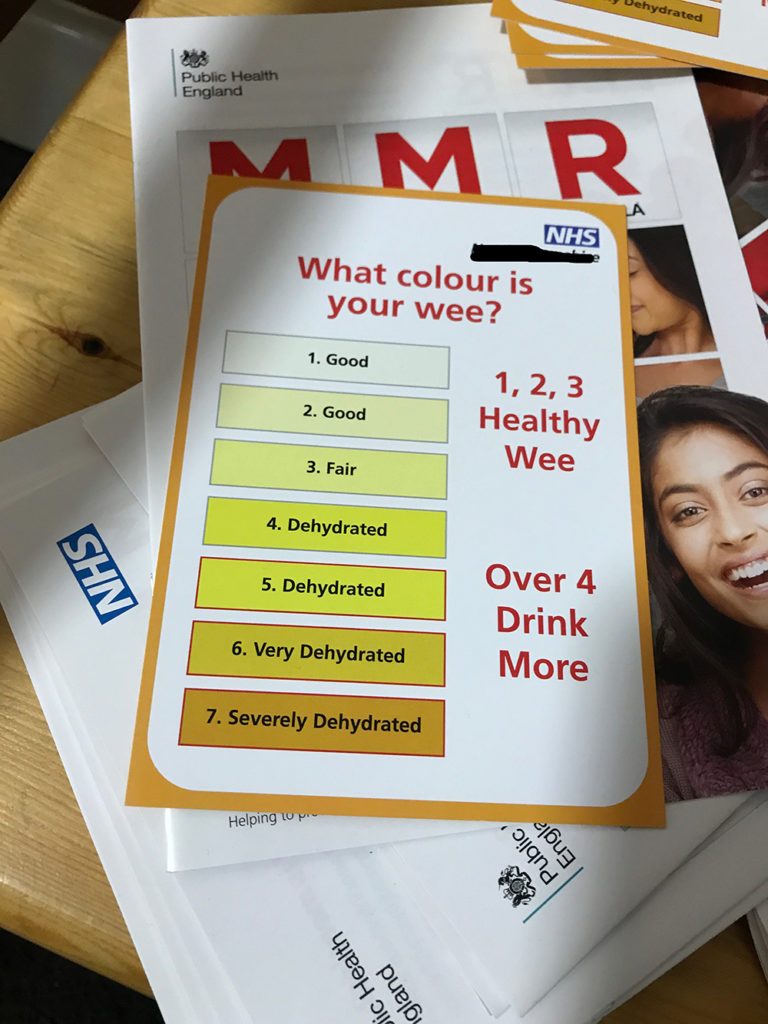 "Are you serious?" I asked, picking up the colour chart.
"Hydration is very important."
"Let me ask you a hypothetical question, doc. Let's imagine that you've been very ill and to help your immune system, you've been taking a high dose of vitamin C. Thing is, when you go for a wee, the colour is off the chart," I said pointing to the wee chart. "Like it's way down in the colour section that seems to be missing here, more like Farrow and Ball's "Babouche" and verging on radioactive. What does that mean?"
"You could have vitamin C poisoning."
"It's like coming on a black comedy game show and winning the lot here," I retorted.
"Let me just look in your ears….hmmmmm…"
Out came the stethoscope next. I had a pretty coral coloured bra top on (pre planned) so the doctor would think I was classy except you couldn't really tell anymore. It was impossible to see where the lace ended and my skin started due to my increased blood pressure from sabotage induced panic.
"And breathe in-and-out-and-in-and-out -and-in-and-out"
Torture. Legal torture. Nobody can breathe in and out this fast without their left ventricle slamming shut. Doctors are psychopathic.
"Hmmmm…that doesn't sound good." Positive reinforcement.
"Open wide and say ahhhhhh."
"AHHHHHHHHHHH"
"Have you had your tonsils out?"
"No."
"Are you sure?"
"I think I'm pretty sure. I think I might have noticed. Unless I've been abducted by aliens or someone's slipped some Rohypnol into one of my "units" and sold them off on the black market."
"Odd. I can't see them."
"Brilliant. Either I have some sort of flesh eating disease or they've shrivelled up in fright."
"I'm quite concerned about you."
"You're not the first."
"I'm giving you seven days of antibiotics instead of five and I want you to come back at the end of the week."
"Can't wait."
Medicine Man
I hurried out, as best as one with a book of illnesses can hurry, from the surgery and drove a few streets up to the 24-hour chemist. I passed my paper over to Sanjeet the Scrip.
"Do you pay for prescriptions?"
"Usually. Unless having disappearing tonsils counts as a disability."
"That'll be £8.60"
"Bloody hell, that's gone up. It was only a fiver last time I came."
This reaction was ridiculous and yet typically British. See, over here (for the benefit of my American readers) we don't object to paying £1.15 for a litre of petrol. ( 4.54 litres equates to a gallon which is £5.22 which is basically $7.00 a gallon) we're used to it being expensive but when prescriptions go up. Now, we have an issue. It's the other way round at your end.
Anyway, I begrudgingly passed a tenner over to Sanjeet the Scrip and he went off to get me these.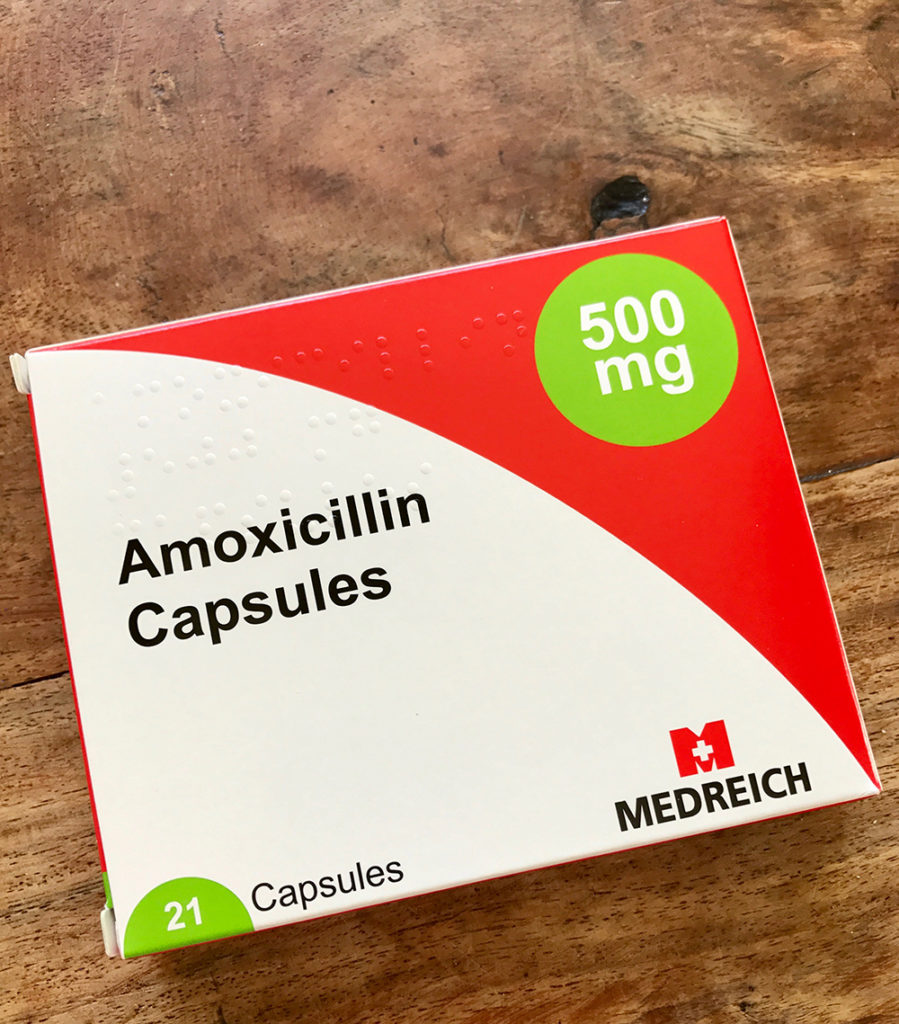 "Are you allergic to penicillin"
"I don't think it matters, mate. Ship and sailed on the medical front here."
I'm three days in and still alive. Though in all likelihood, at this point, I've probably lost a kidney.